We took a Scott's Pizza Tour with kids in 2013 and loved it. We learned so much and we constantly refer to things we learned when taking that tour. We decided to take another Scott's pizza tour with kids this summer, and we were glad to see Scott's business survived the pandemic.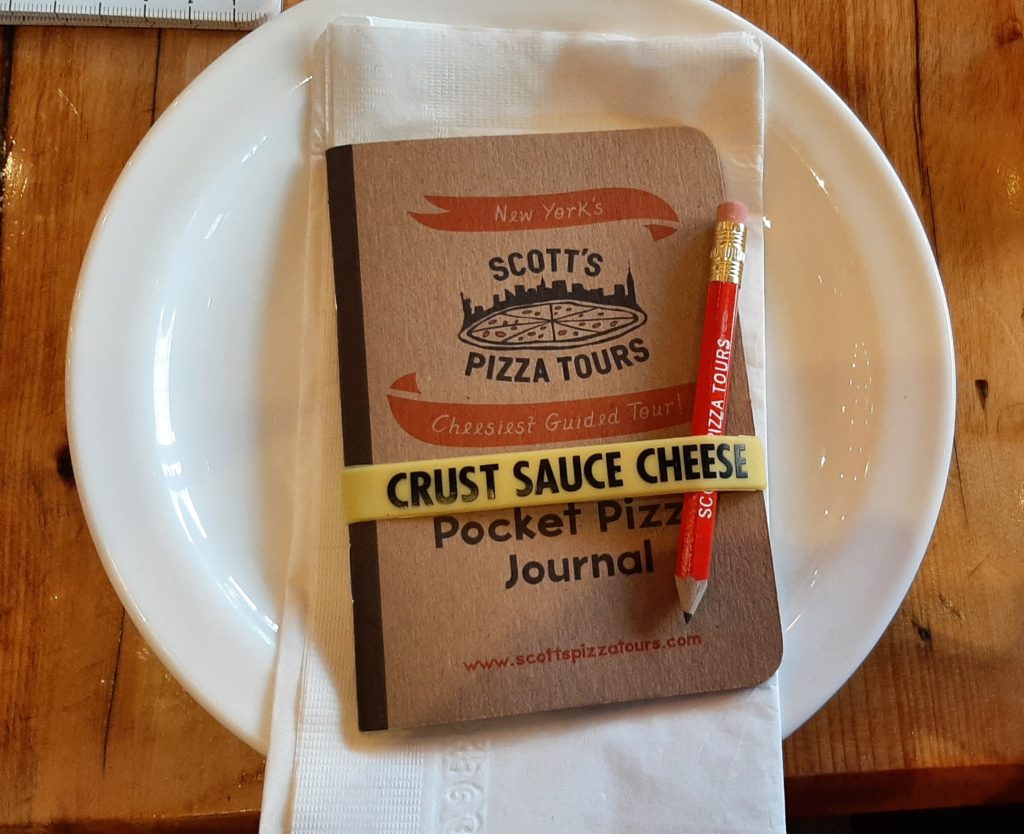 Like many, Scott pivoted his business and started offering pizza-making and dough-making classes online. And he's back now with pizza tours. As of this summer, he was doing weekend tours and hopefully going to hire back on some of the tour guides. Our tour happened to be the first live our for the West Village since March, 2020 (our tour was in late June 2021). Our tour was smaller than the past tours to keep numbers lower. But I just looked at the calendar online, and Sunday bus tours are now back, as are walking tours in several neighborhoods on Fridays and Saturdays.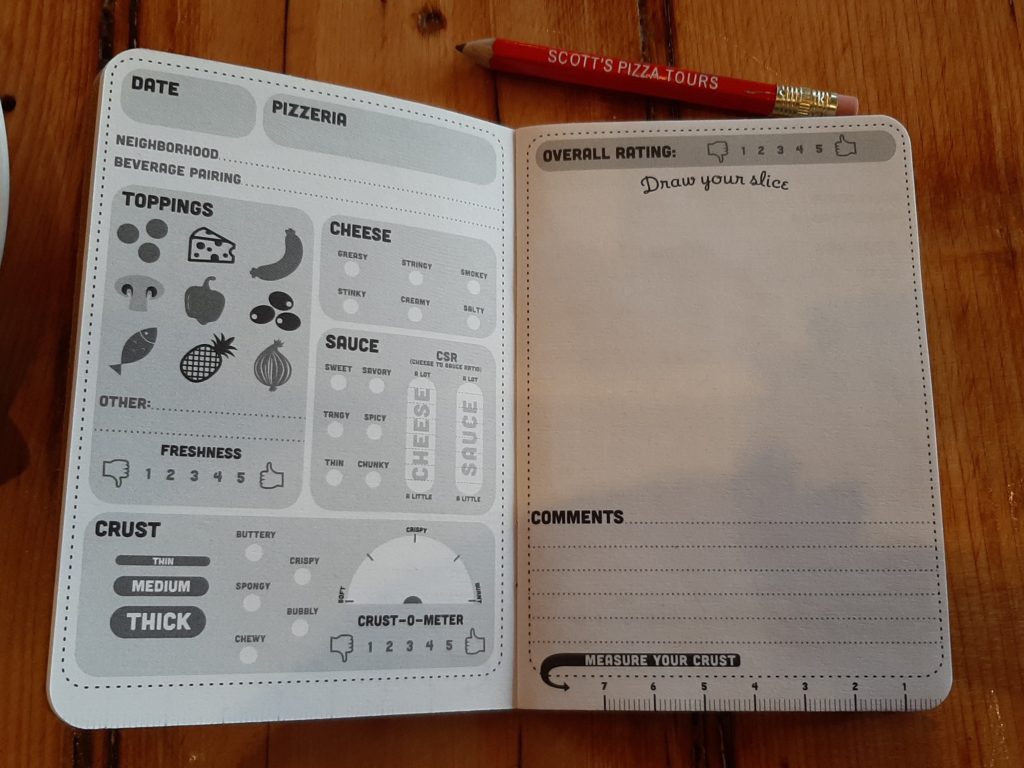 We did the West Village tour, starting at Brunetti's on Hudson Street. This pizzeria has a wood-fired oven, but gas-fired ovens are is responsible for the popularity and rise in New York pizza (gas is used for reheating the slices). Scott told us about the diversity in pizza styles. The oven you see below was built on site, with the wood-burning inside the oven.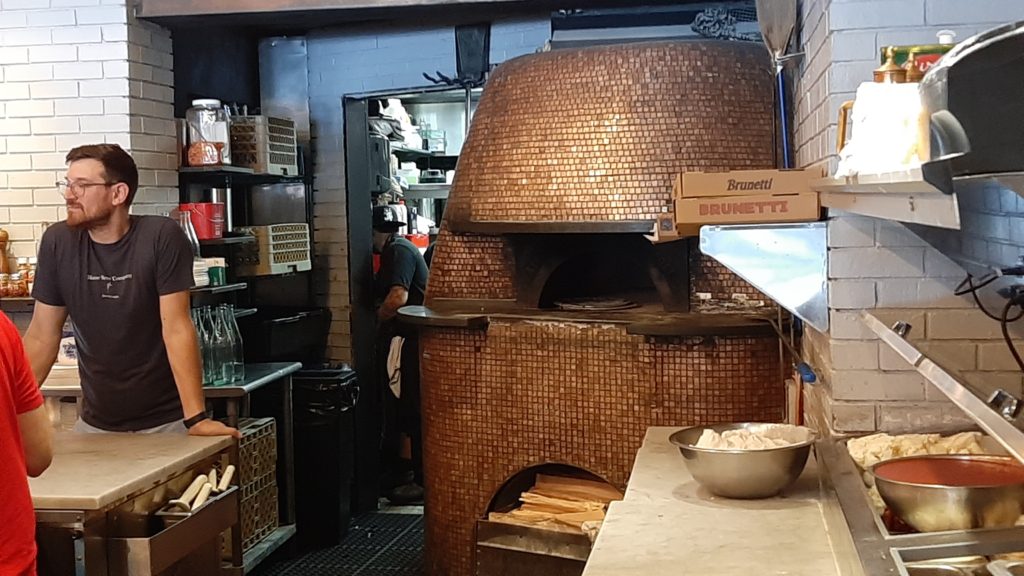 The floor of the oven is 700 degrees, and the top was 803 degrees. We know this because Scott has a temperature meter that points to different areas and can measure the heat. The pizzas are baked in 2 to 2.5 minutes, and are Naples style. They add olive oil to the crust to protect the crust from burning, and they move the pizzas around while they're baking. The oven has a built-in hood.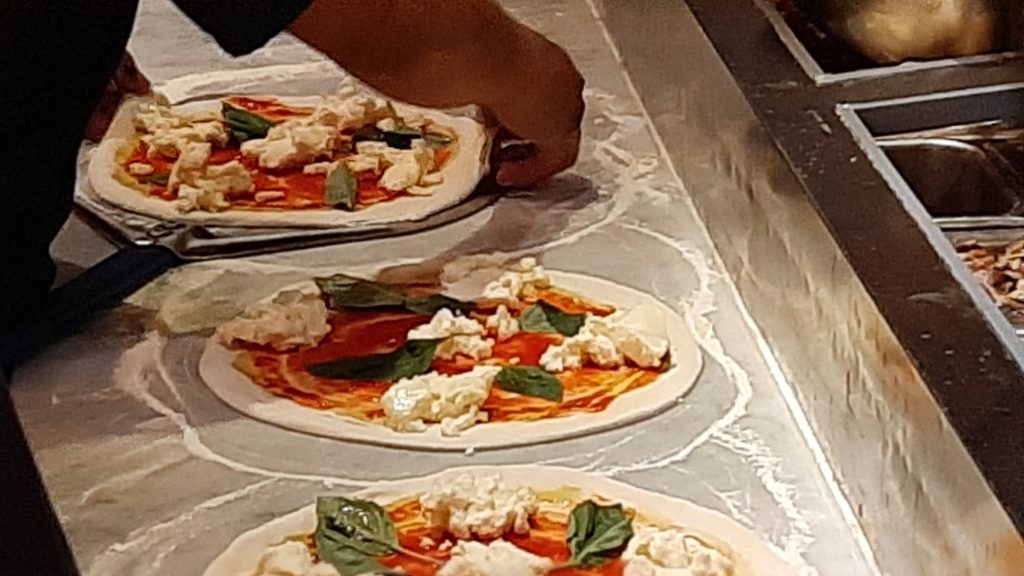 Brunetti's uses fresh mozzarella, which has more than 50% water. Low moisture mozzarella has less than 50%. Mozzarella comes from the root "mozzare" which means "to pull off." We talked about whether it's good or bad to put the basil on before it goes in the oven (most of us didn't like the basil crisped up and prefer it added on after).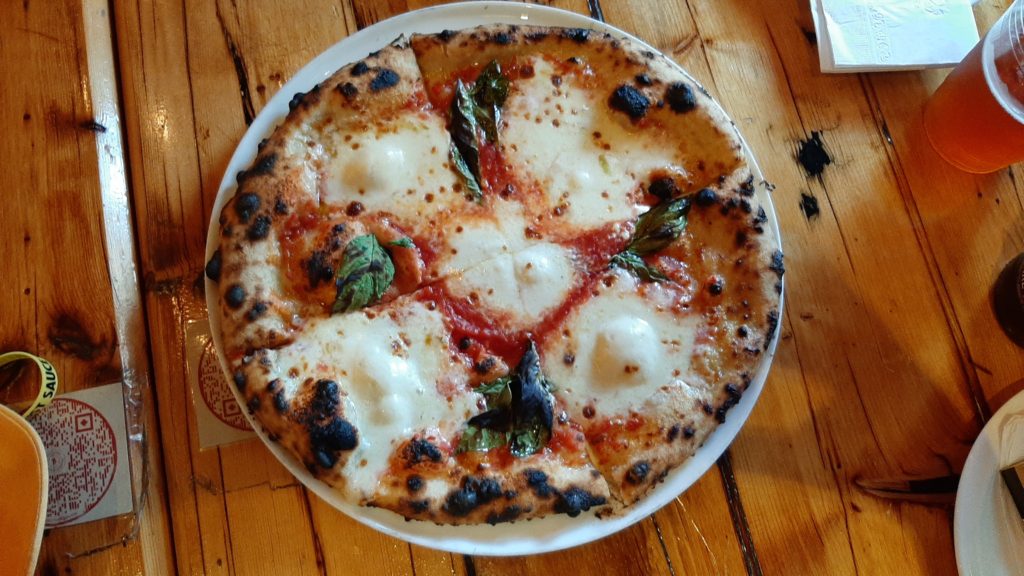 We stop in between pizzerias to talk about cheese, sauce and basil. There was a whole explanation of mozzarella and salt and water, and how it was made to be able to ship and sit (which is why the hard mozzarella balls are so different than fresh mozzarella, which I learned how to make a few years ago). We learned a lot of ways of making the pizza sauce, about tomato type, sugar usage, and other ingredients.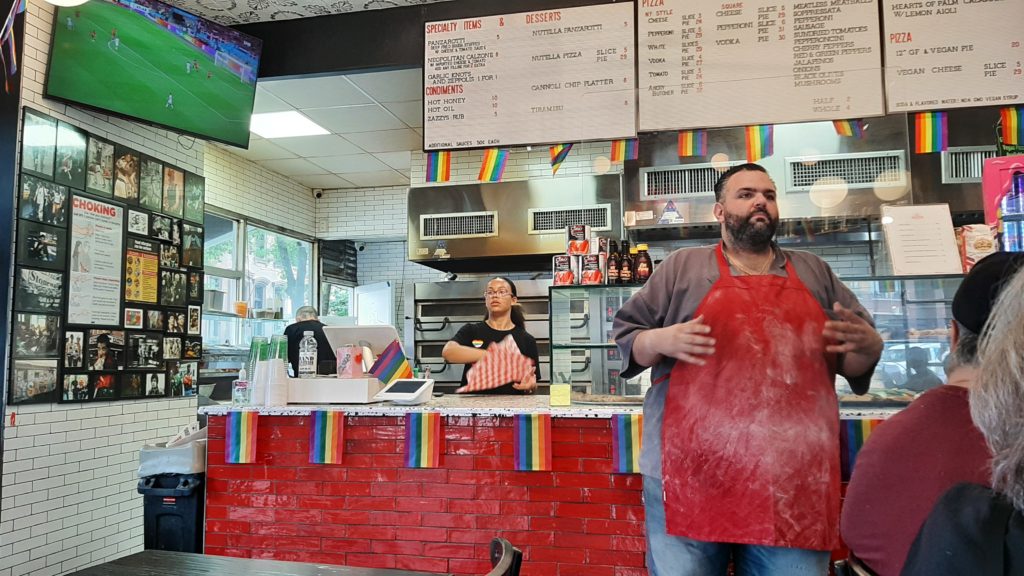 Our next stop was Zazzy's on Greenwich. It's a smaller shop that opened recently. This pizzeria uses an imported Nina sauce, which is made with raw Roma tomatoes and salt. They have a longer bake with oil in the dough so it doesn't dehydrate. This pizza has a cornichon edge. The dough takes 48 hours to make.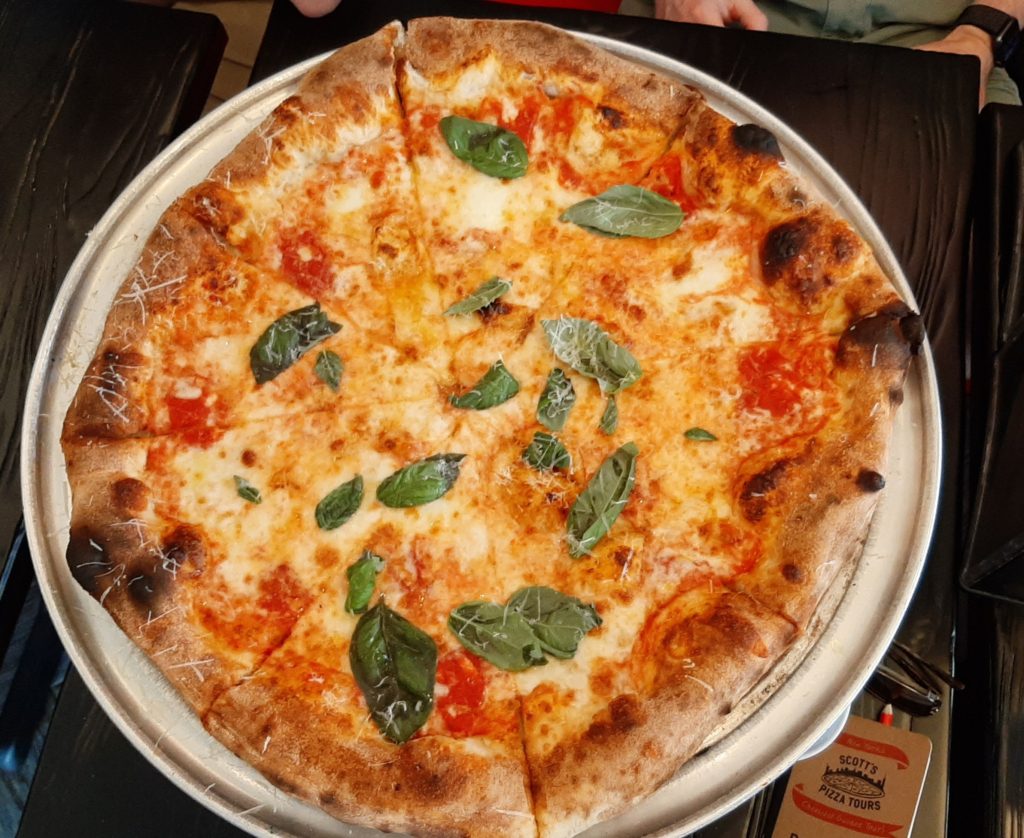 This pizza was enormous. And you can see they threw on the basil after. Zazzy's sells by the slice. To find a good pizza by-the-slice place, Scott says, look for slices that don't have their tips up (that means they're dry), and ones with condensation on the glass. No condensation means they're not selling them fast enough to replace them with hot pizzas. Also avoid shops without people, as that means the slices aren't good.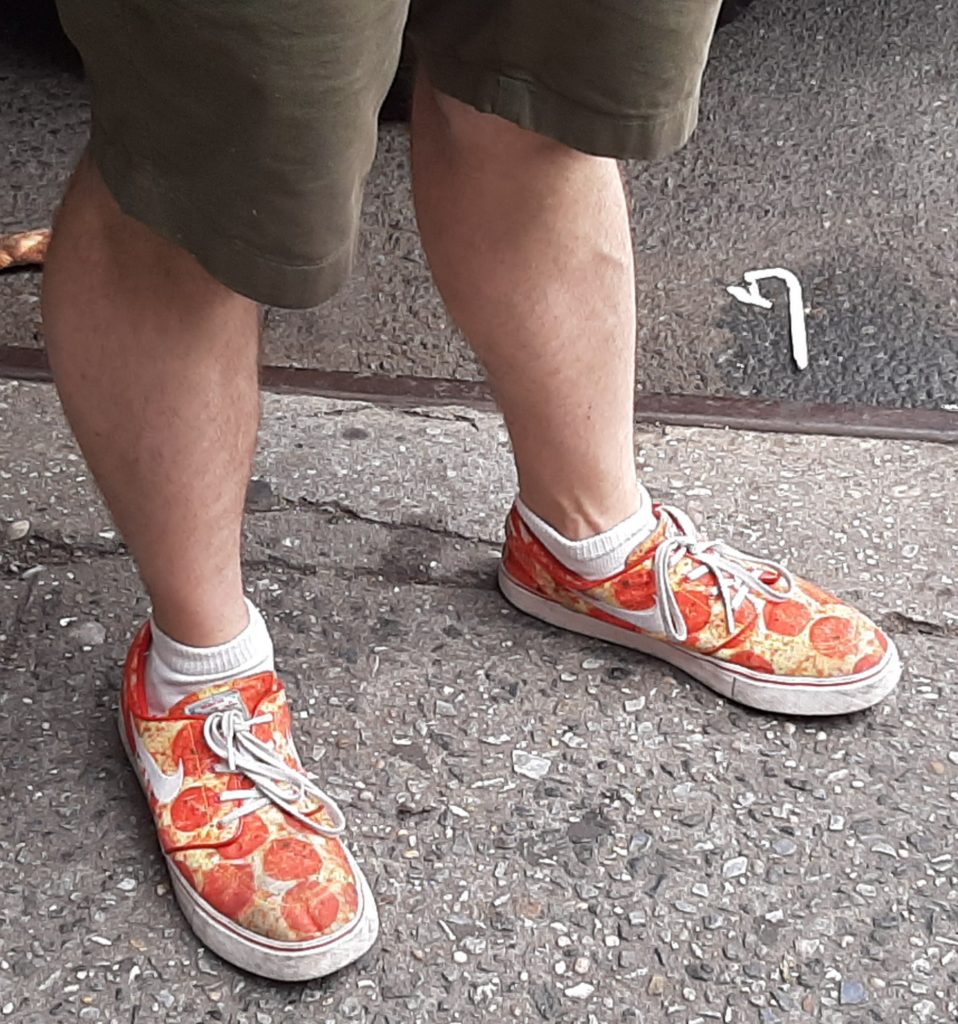 Scott ran into all kinds of people on the way who knew him or knew of him. People stopped him to ask about different pizza places.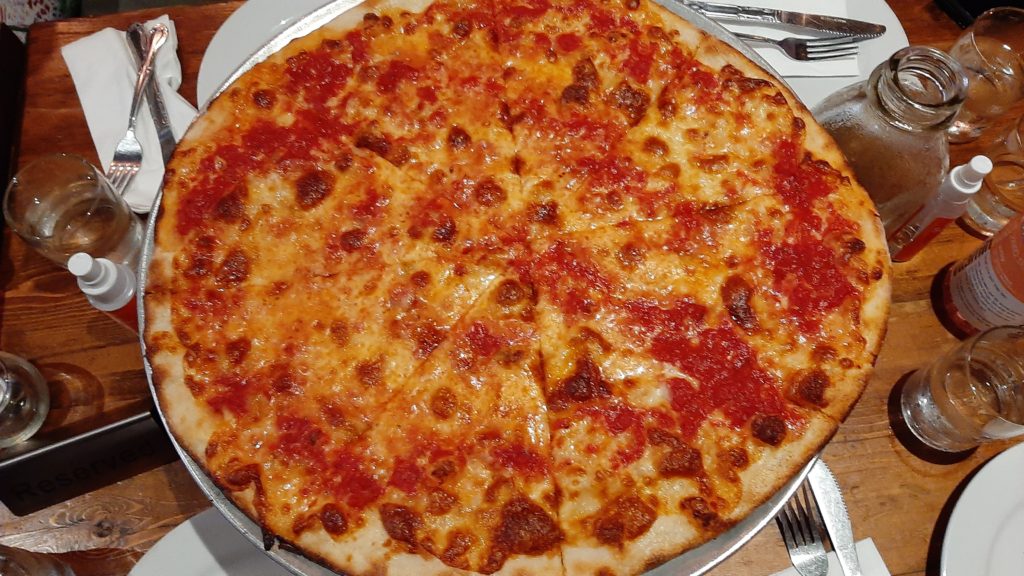 Our last stop was Denino's on MacDougal, which we'd had in Staten Island. This was a traditional sit-down restaurant, and we were early enough that no one else was there. This is bar-style pizza baked at 550 degrees in a gas oven. It's a longer bake. By now we were pretty full. Scott threw out trivia to see who got the final slices, but even the teen boys in our tour were too full for that last slice.
Scott's pizza tour during with kids – what you should know
Should you take Scott's Pizza Tour with kids? Absolutely. Scott is dynamic, funny and knowledgeable. And the kids will absolutely listen to him. He is able to change a tour on the fly, in terms of which pizza place to visit depending on group pizza preferences, and other circumstances. Kids will learn a lot and they can ask him tons of questions which he'll answer with glee.
The tour is following COVID precautions. As of this writing, you need proof of vaccination to eat indoors. For those who can't eat indoors, he'll figure out outdoor eating. Bring a water bottle and use the restrooms when they are available. You'll need them. You can order drinks along with the pizza, and those you pay for on-site.