A few months ago, someone at the gym mentioned a Vine Ripe mozzarella class in Westfield. Ooh – I love classes like this, but when I looked it up, the class was $99 and lasted an hour. Ouch! I put it in the back of my mind, but when it popped up on Groupon for $49, I bought it and sent out an announcement to friends to join me. And if you use Ebates when buying something on Groupon, you get money back – it's awesome and very easy (yes, I get credit if you sign up with my link, but I recommend it because it's awesome).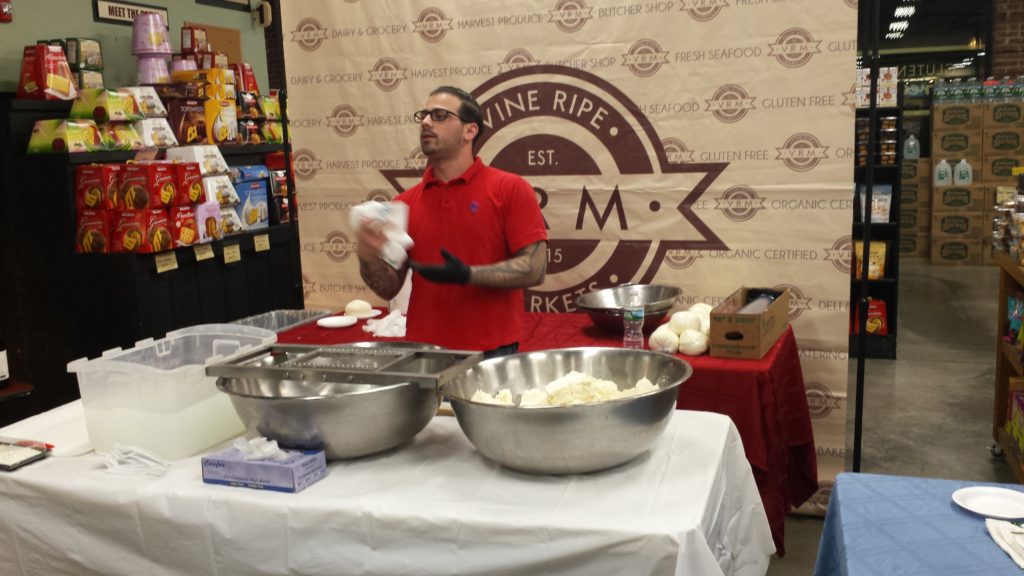 So four of us gathered for a girls' night out (with about a dozen total  for the Vine Ripe mozzarella class in the Westfield store. They moved some of their wares out of the way to set up for this class, which is given at 6 and 7 p.m. every Monday night. They had some high tops set up and gave out wine (in glasses, not plastic), and had a tray of meat and cheese to munch on. Come hungry.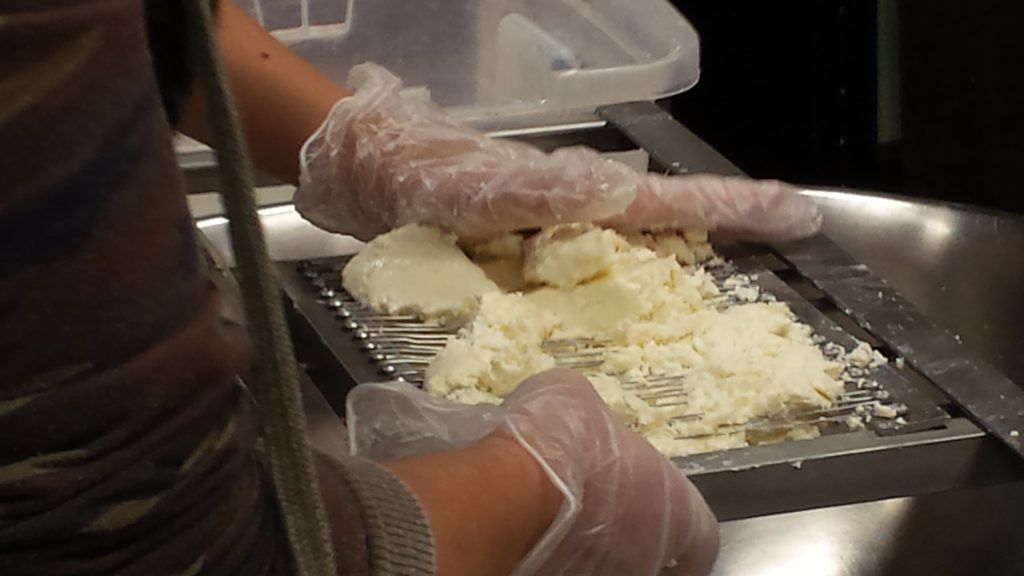 Our mozzarella maker was Vinny, He make the fresh mozzarella daily there, and has been making the cheese for six years. He said you can make it in about 20 minutes, once you know what you're doing.
You start off with cheese curd, which you can buy from any store that makes its own mozzarella. They get theirs from a NY supplier. The curds last about two weeks in your fridge, or you can freeze them up to three months.
He then uses what he calls a "cheese guitar" – which is also known as a curd cutter. Press the curds through the cutter and they look like what's in the bowl below. We got to try our hands at doing this – it was pretty exciting, as you can imagine.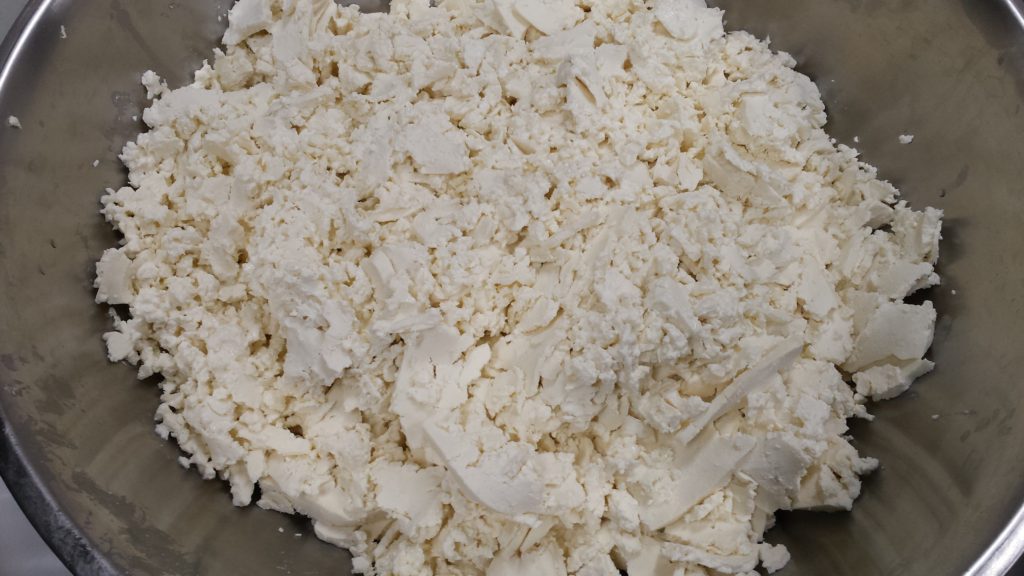 Next is one of two water additions. The first can't be too hot, because you don't want to cook the curds, just warm them up and make them crumbly – about 150-180 degrees. He poured the water in, covering them about 3/4 of the way, and then mixed it up a bit. Then it's time to strained the water out. Vinny said it's best to have the super hot water waiting for the next step, but he didn't have that ready and it was still good.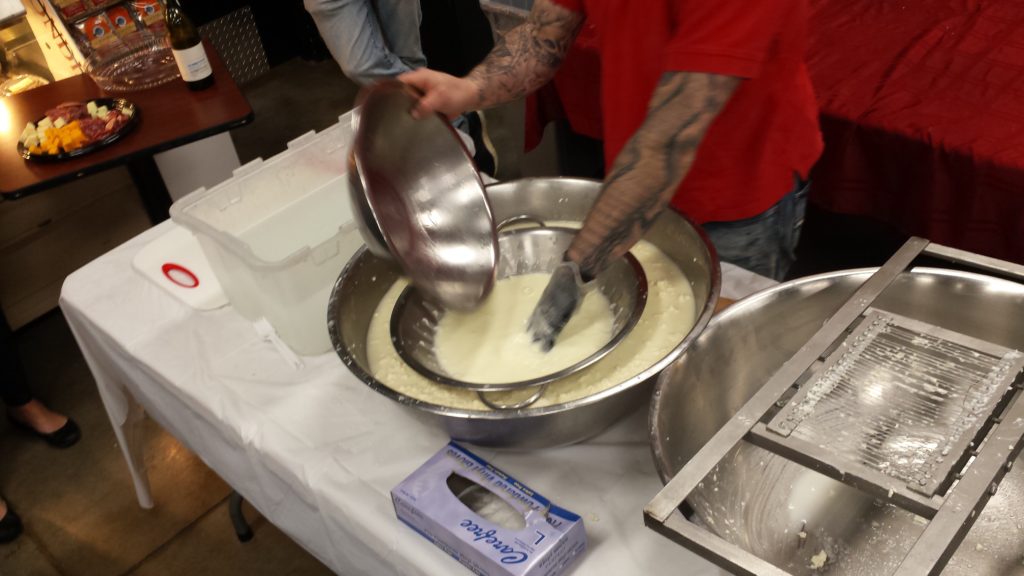 Before he added the 220 degree water, submerging the curds, and started mixing, it looked like the photo below, with the strained water to the side.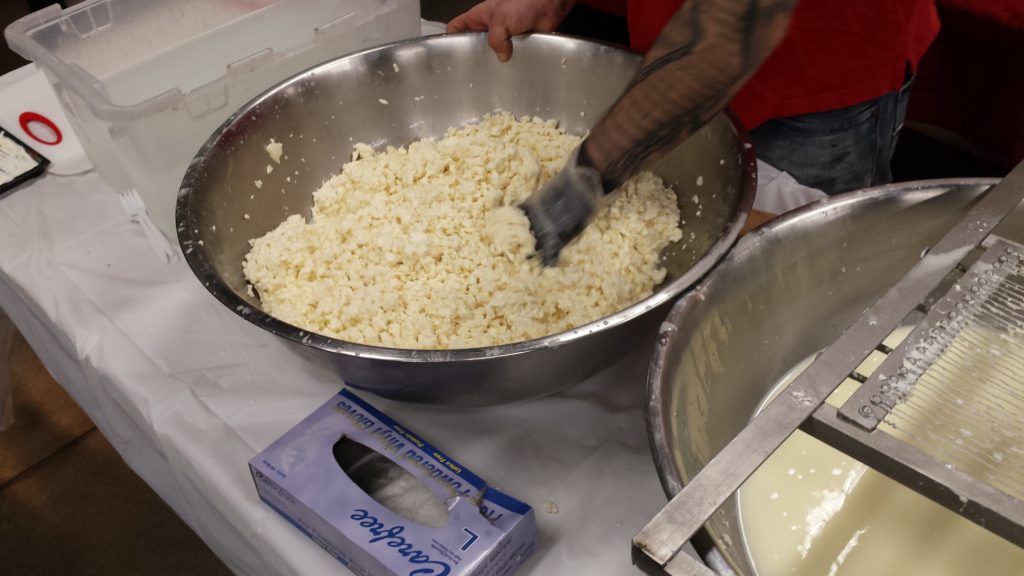 He added the 200 degree water, and Vinny used a paddle to mix it up, though you can use a wooden spoon with a wider grip, to help the cheese stretch more. He also added some kosher salt into the bowl, though he didn't measure it. It was amazing how quickly the cheese curds turned into mozzarella that was more recognizable. He said if you've had chewy mozzarella, that's because it's overcooked.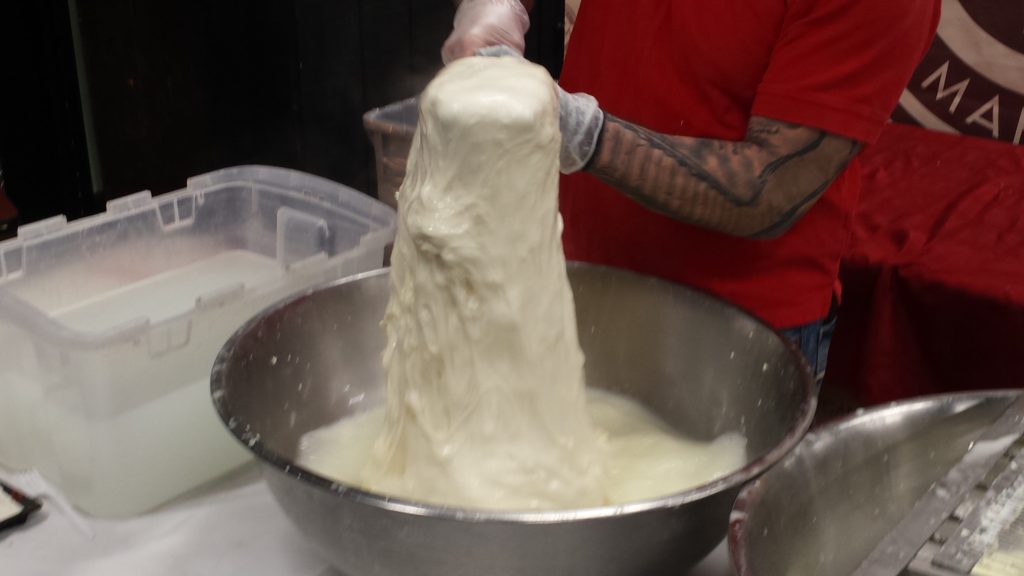 The water bath you see to the side (the plastic bucket) is for rapid cooling.  After Vinny determined that the consistency was good, he had a special technique for making it into a ball and popping it into the cooling bath (which is salted too).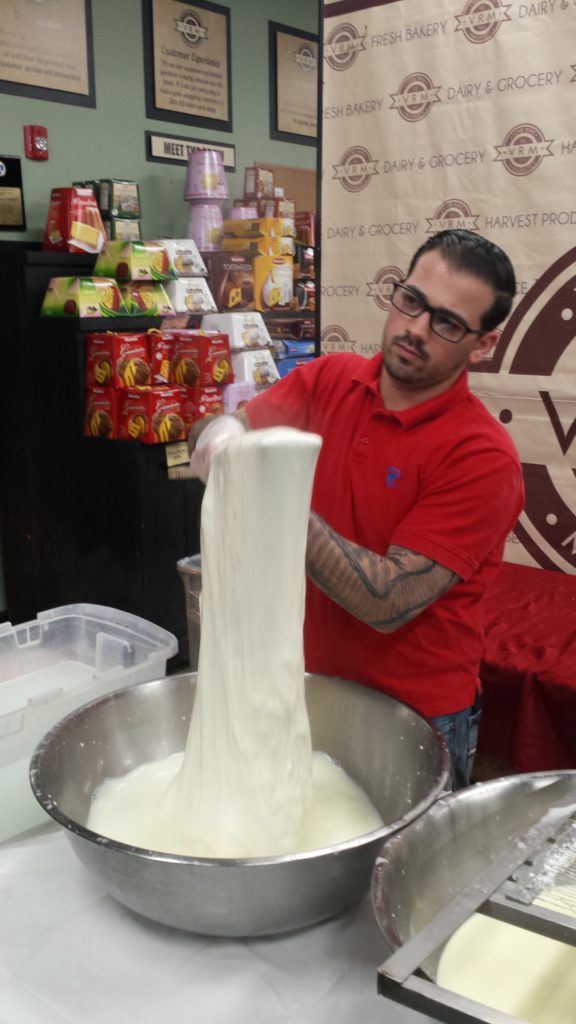 It's almost done!You can see how Vinny made it into recognizable balls in the video below (that's not me talking).
While the balls cooled off, Vinny let us try some of his grandmother's ricotta cheese (yum) and also showed us a cheat way to make burrata. Basically, wrap fresh, warm mozzarella around ricotta. It didn't stick together well, but it was delicious. And warm mozzarella is also good! The ricotta is made with the leftover watery mixture (whey) from the cheese curds. He couldn't tell us how that was done, only that you have to add in some additional ingredients.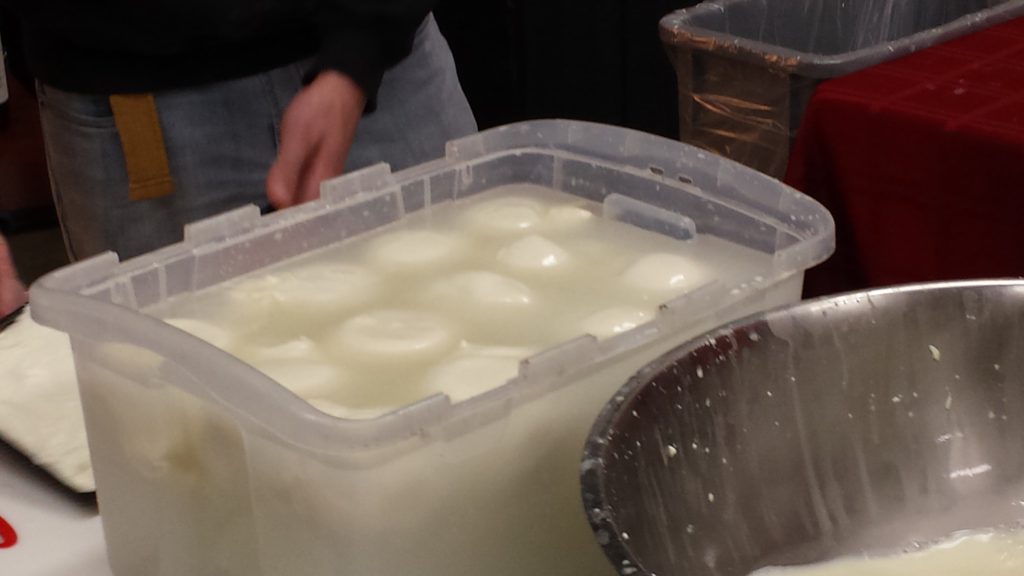 After this, Vinny taught us how to wrap up the mozzarella, as we each got to take one of them home. I thought we did a pretty good job, until I got home and noticed that it was leaking in my bag. Vine Ripe gives you a fabric shopping bag, bottle of olive oil and warm bread to take home with you. My mozzarella leaked on the bread bag (sad face) but I put it in a Ziploc at home, after eating some more. And the bread was still good – just the paper bag was a mess.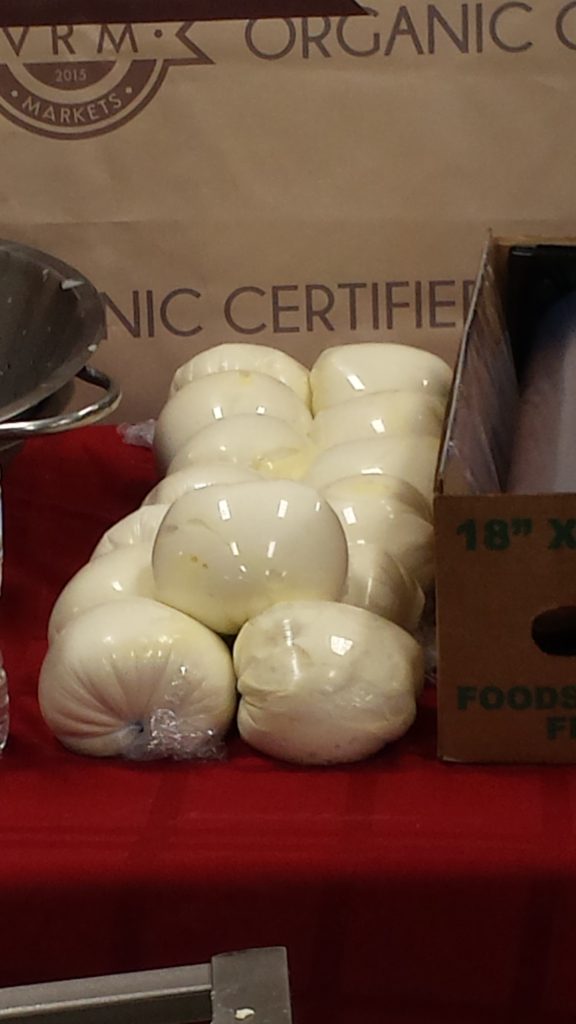 Will I make mozzarella at home? No. I can't imagine I would eat enough to make it worthwhile. But it's fun to learn how, and a great evening activity with friends (that ended with us grabbing a few things we needed from the store – which is a great store, by the way).
Vine Ripe Markets: 430 North Avenue East, Westfield. Call them up to make the class reservation: 908-233-2424.
Vine Ripe – if you're reading this, here's how you can make your class better. Stagger the high top tables so there's not a barrier to getting into the middle area. It was too crowded a space with the high tops blocking us for the hands-on portion, so stagger the tables.
Change the price to $49. Groupon is great for many things (like awareness and class sales), but surely they're taking a big cut of your class price. And if you're not already dong this, offer private classes and parties. This class would work great as a holiday party for a work group or other organization. It was fun!