We haven't been to Ellis Island in about 10 years, so when we had out-of-town visitors for the first time since the COVID-19 lockdown, we were eager to get out and about. Even in July, it was easy to get next-day ferry tickets to visit Ellis Island with kids.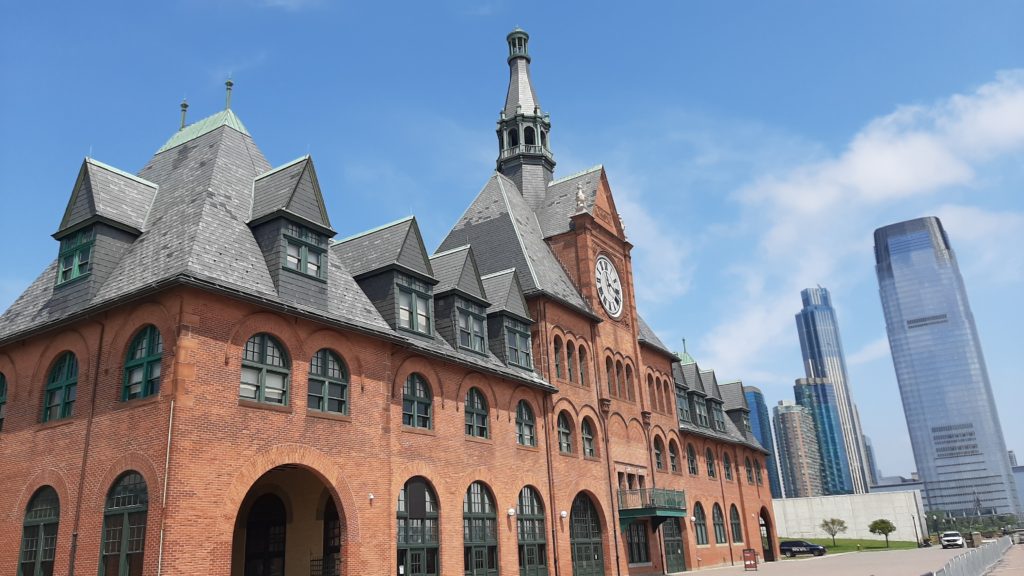 The ferry ride is short – maybe 10 minutes. There is an audio component over the loudspeaker, which you can hear from the top – but less so from inside/the main level of the ferry.
Audio tours at Ellis Island: New (to us): they are giving free headsets with audio tours. Pick one up on the first floor, on the right when you enter. They offer them in many languages. You enter the number at each stop, like you would at a museum. They have separate Ellis Island with kids' tracks and tracks for those who are vision-impaired. They offered a lot more information than you get in the signs, but they're pretty long, so you'll probably want to pick and choose which you listen to.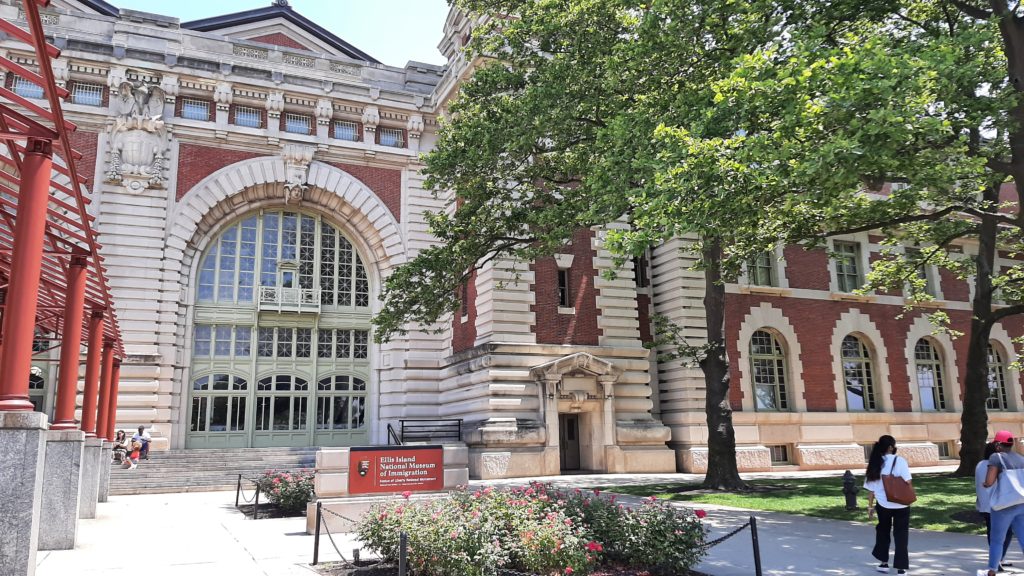 Ellis Island: first floor
Baggage room: The first floor of Ellis Island has the baggage room (not much to see). When immigrants came through, they could check their baggage with a private concession company, which would also ship the baggage to the final destination for an additional fee.
"The Peopling of America 1550-1890:" The first floor also has this exhibit toward the back, enter on the left side. It covers immigration and people living in the U.S. prior to Ellis Island's immigration use. There are a lot of interactive components here, good for kids. We ran through this section pretty quickly on our way out. I recommend heading up to the 2nd floor as your initial move.
American Family Immigration History Center: We stopped here too, as someone in our group wanted to research a manifest to find a family member. With COVID, you need to book time in advance (and you need your ticket to reserve time – a problem if the group separates and has one ticket). They are not printing out the manifests on site – they would be mailed to you for a fee. So that was less successful than we hoped.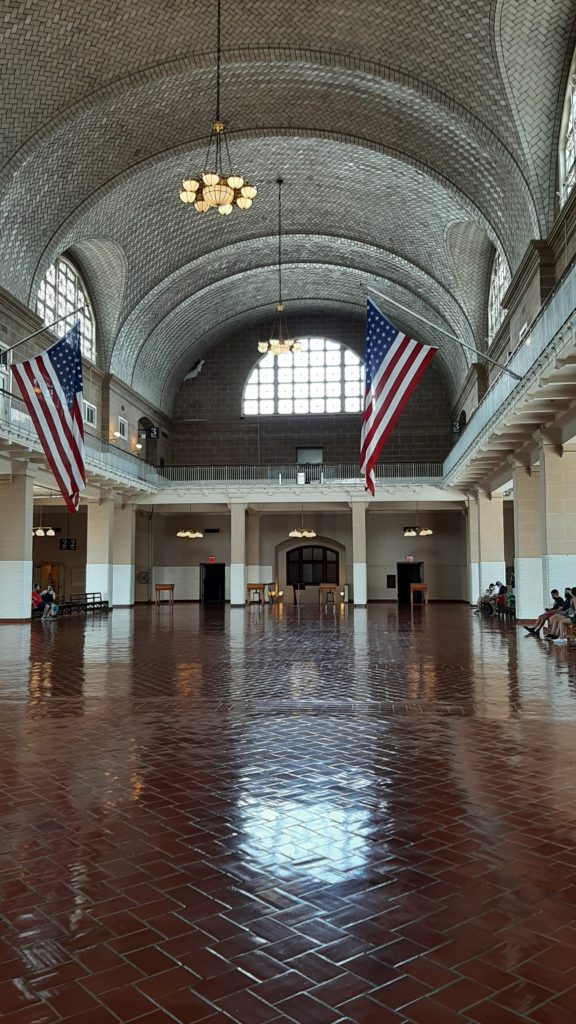 Ellis Island: second floor
The second floor has the bulk of the exhibits. You can easily spend several hours on this floor, and there is plenty the kids may find interesting (albeit maybe a little less interesting for them than for adults).
Registry Room: After climbing the stairs into the main large room (there is also an elevator), we learned that during Ellis Island's usage, doctors and others would watch the immigrants climb the stairs to see who had trouble and who may need additional medical screening. While the Registry Room is largely empty now, there were lines set up for the immigrants, and they would make their way to the other side, where people at podiums would move them into the next phase. The room was used almost daily from 1900-1924, and at peak times, more than 5,000 people would go through.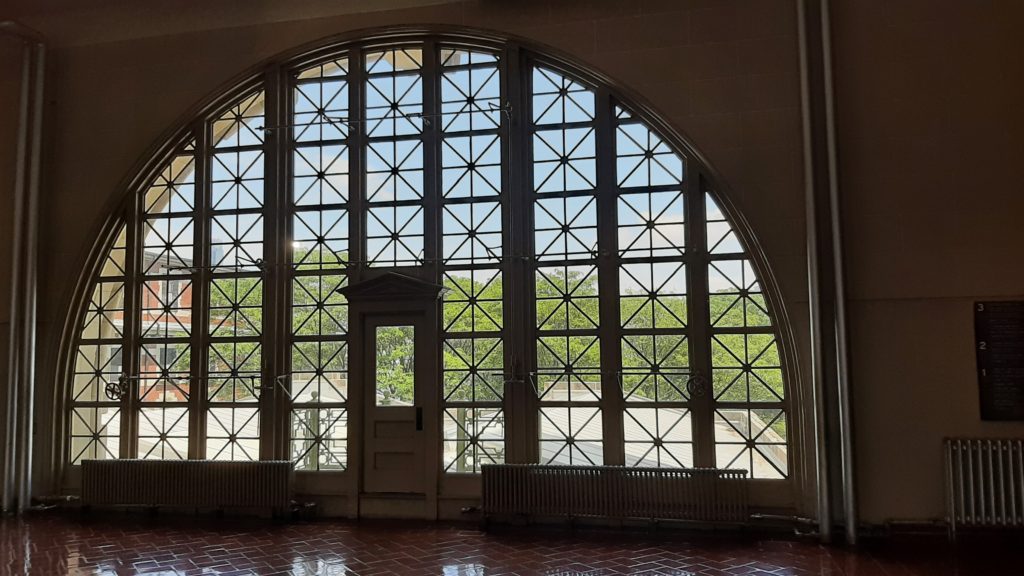 Through America's Gate: This section will likely be of interest to kids, as they make their way from room to room, seeing the various steps immigrants would go through for processing. As the first inspection depot for immigration in this country, Ellis Island's main role was to screen out those considered undesirable, whether due to illness, disabilities, financial issues (too poor to sustain themselves), or a criminal past. Most immigrants spent 3-5 hours at Ellis Island, waiting for a brief medical and legal examination prior to being admitted.
Others stayed longer. While the museum is just one building, the island has many other buildings, including dormitories, a hospital (more on that later), and a dining room. 12 million immigrants went through Ellis Island, and 2% of them were sent back home. About 1.2 million were treated by physicians due to minor injuries up to rare diseases.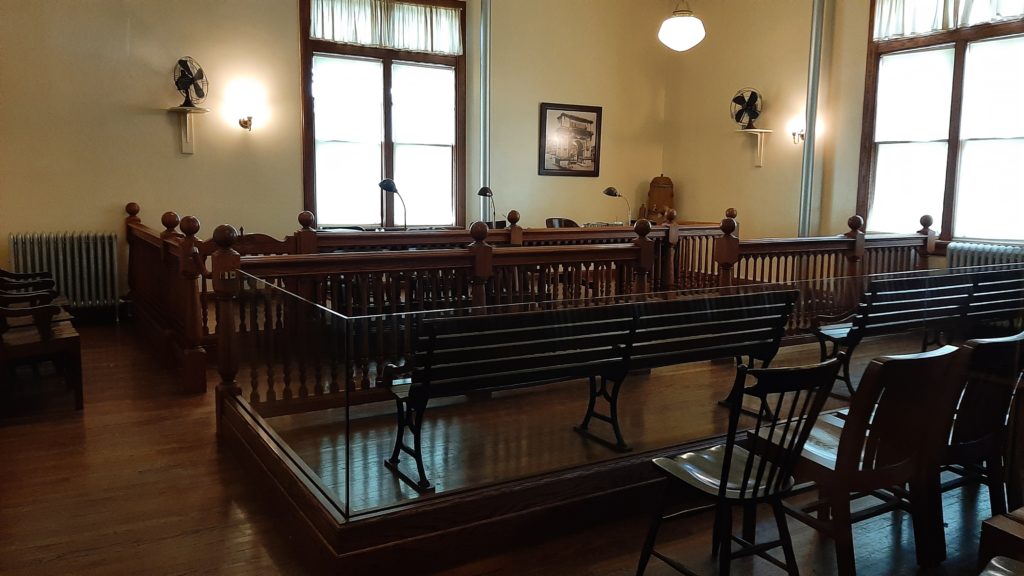 In this section, you'll see a recreated legal hearing room, where 10% of immigrants were processed. They might have been suspected of being contract laborers or criminals. Three to four hearing rooms were in session each day, each with 50-100 hearings daily. Almost 80% of cases ruled in the immigrants' favor, though immigrants could appeal to Washington DC for unfavorable rulings.
You'll pass through an exhibit on medical and mental health screenings. For mental health exams, immigrants may have had to complete a puzzle or interpret a picture. They show a photo of "Last honors to Bunny" with well-dressed American kids watching a boy dig a hole in the garden, with a dead rabbit on the ground. The lesson here is that immigrants may have a different interpretation than Americans at that time, with the rabbit being seen in some cultures as dinner, not as a pet burial.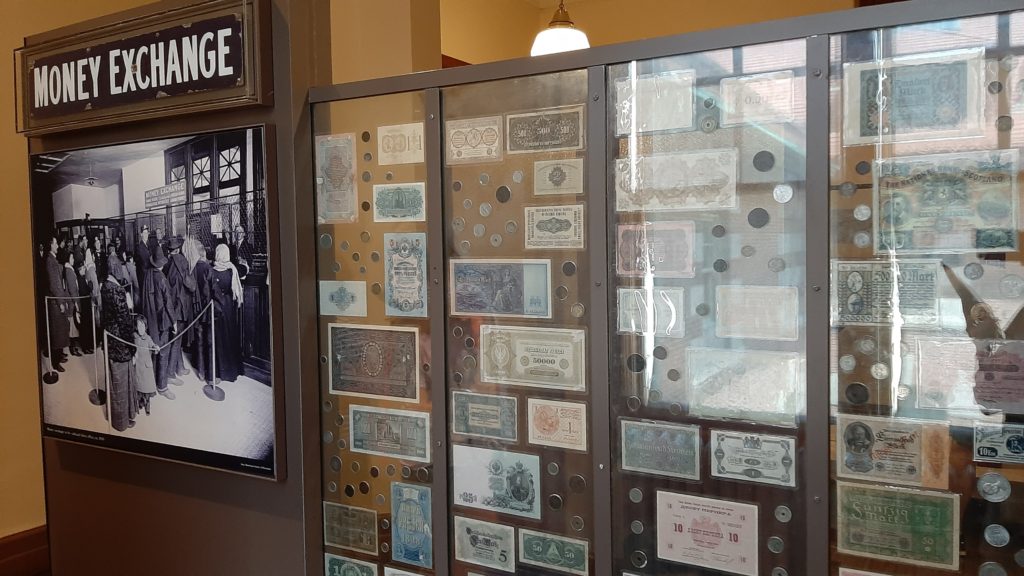 You can also see cards that immigrants had to read (based on their native language), as anti-immigration forces imposed a literacy test in 1917 to restrict immigration (with efforts in the works since the 1880s). The test required all immigrants 16+ to read a 40-word passage in their native language.
Once the immigrants were accepted, they could buy train tickets, change money, buy snacks and send luggage, before leaving for the next leg of their journey. Those taking the train would get their information pinned to their outerwear, so conductors knew where they were going. Many arrived with prepurchased train tickets.
You can see pictures of the dining room at Ellis Island, where the immigrants received meals on nice dinnerware. In 1911, they added a kosher kitchen to serve the many Jewish immigrants from Eastern Europe. They have a display showing the different immigrant aid societies which helped people get through the process, acted as interpreters, and held religious services for them.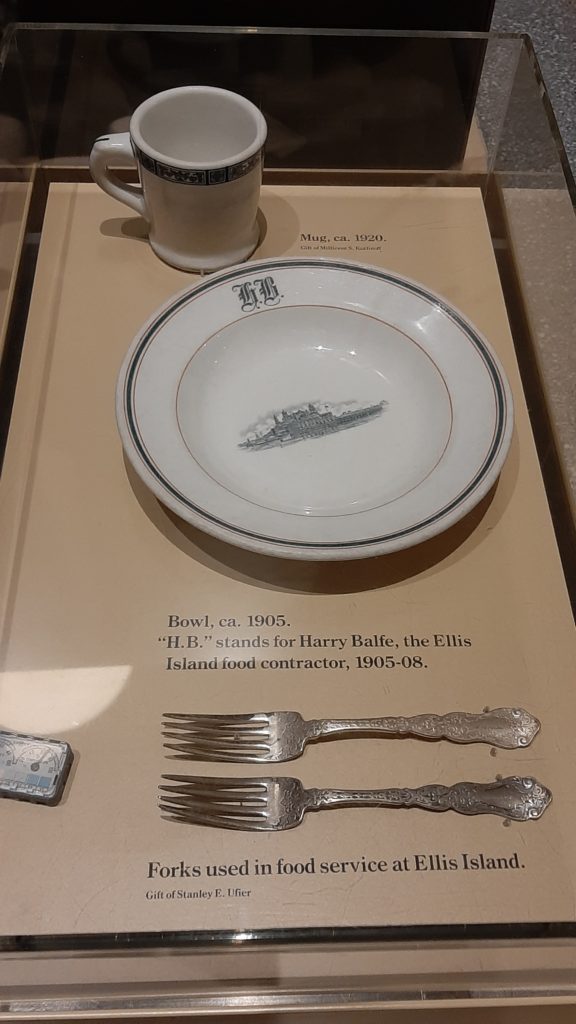 Peak Immigration Years: The other side of the Registry Room (closer to the main staircase), had a fascinating set of exhibits about life in the U.S. once admitted. The peak immigration years were 1880-1921. By 1910, 75% of residents of New York City, Chicago, Detroit, Cleveland and Boston were immigrants or children of immigrants. Not surprisingly, they generally lived in the poorest sections of the cities, and during this time, their communities developed self-sufficient cultures through religious organizations, neighborhood clubs, mutual aid societies and national organizations.
During these peak years, immigration was greatest from Eastern European Jews and Italians. Immigration in this time period included 9 million people from northwest Europe, 8.2 million from eastern Europe, 5.3 million from southern Europe, 1.85 million from Canada, 475,000 from Mexico, and 650,000 from Asia. Among others.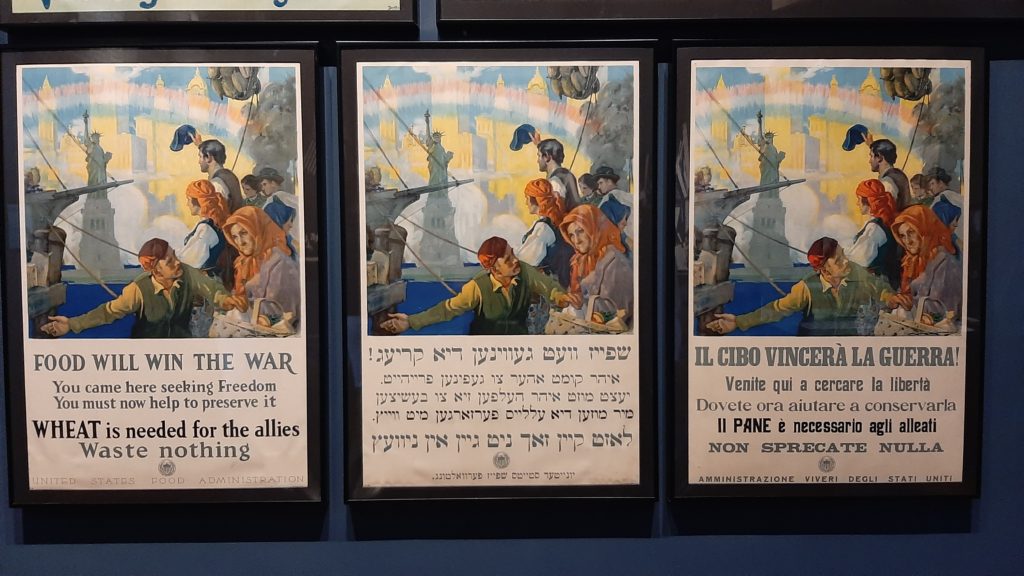 The U.S. pushed citizenship, which only became standardized federally in 1906. Previously it was a state responsibility. Federal law required a 5-year residency in the U.S., knowledge of English, American history and civics. Aid societies taught some immigrants what they needed to know, whether it was the language, or even how to vote. Different cities sought immigrants to move there, using posters in various languages.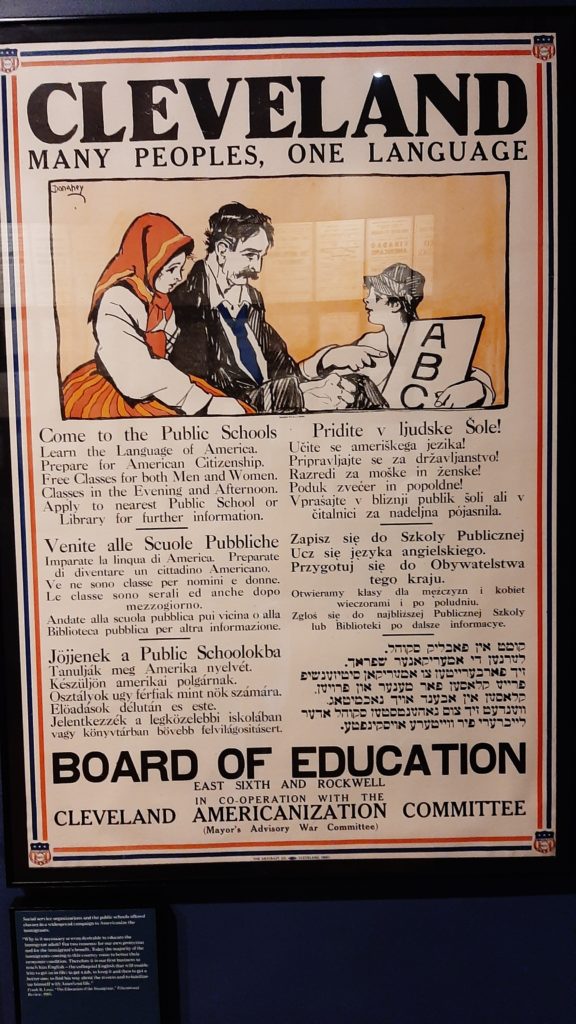 An interesting display talked about changes in immigration policies, something resonant to what's been happening in recent years. When visiting Ellis Island with kids, they will be interested to see changes made more than a century ago, and the racist rules put in place to keep out Asians (in particular, Chinese and Japanese people). Other categories of people not allowed into the country included kids under 16 not accompanied by parents (law in 1907), professional beggars, anarchists and epileptics (1903), lunatics and idiots (1882), polygamists (1885), and prostitutes (1875). Almost all immigration from Asia was banned in 1917, and various quotas including an annual ceiling on immigration were implemented in the early 1920s, and later.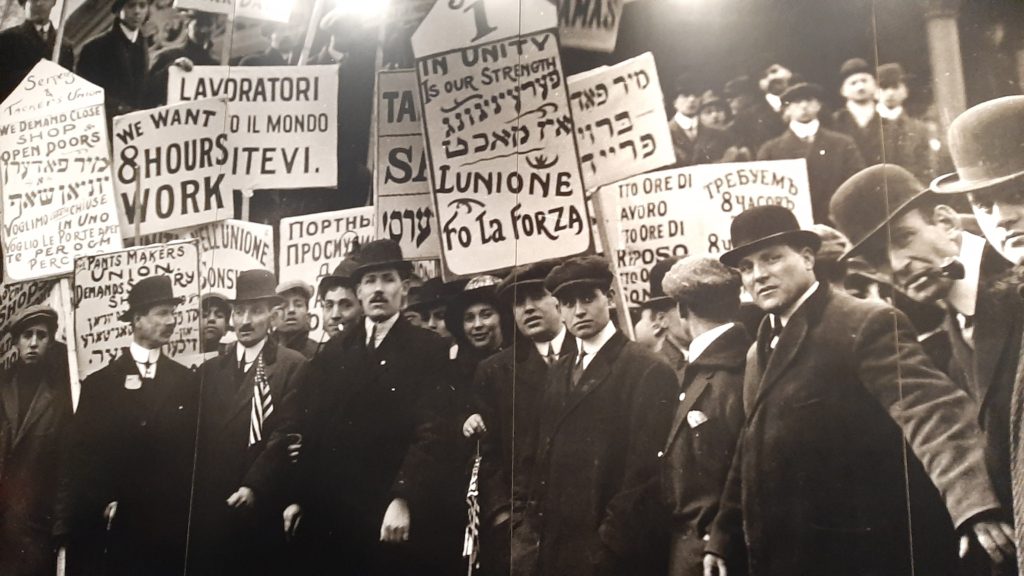 Another section focused on the labor force, unionization and changes to labor laws. And another exhibit showed some of the cultural activities from the various ethnic groups who came to the U.S.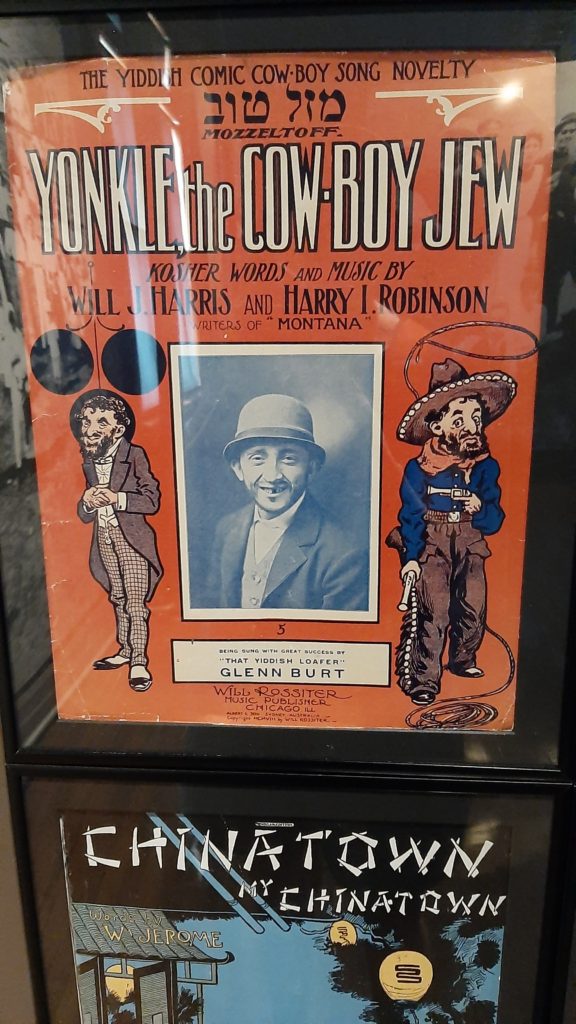 Ellis Island: Third floor
The third floor had a few interesting exhibits, though we rushed through for the sake of catching the next ferry.
Treasures from home: I think kids would like this exhibit, to see what people brought with them when they left their home country. Most is clothing and religious artifacts, and there are photos on the walls showing what the people looked like from various places.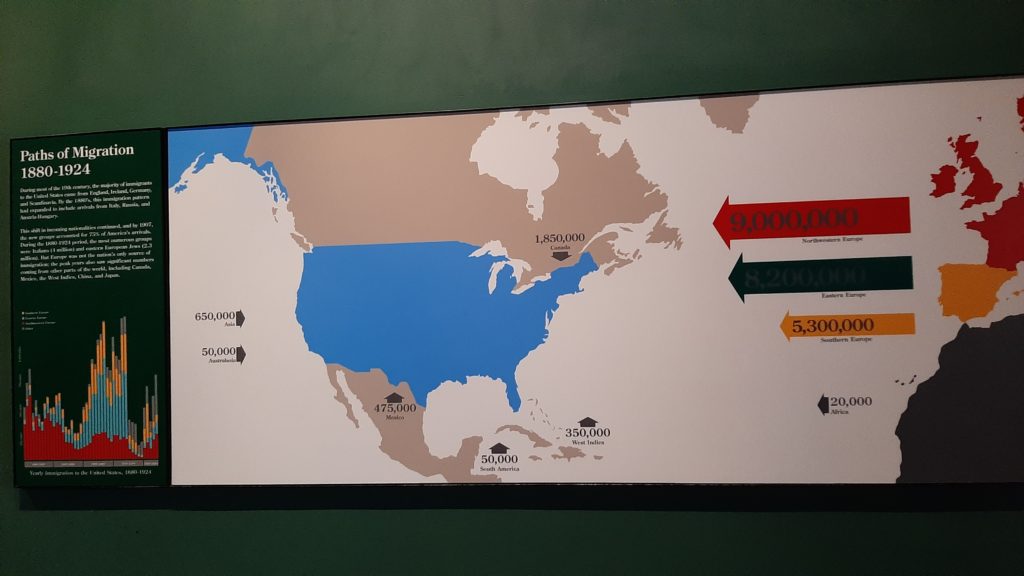 Ellis Island Chronicles: I thought it was interesting to see the models and explanations about Ellis Island over the years, in terms of how it was built up, and how landfill was added to connect some of the the buildings and land. Ellis Island expanded from 3.3 acres in 1808 to 27.5 acres today.
Silent Voices and Restoring a landmark: You can see some of the abandoned items from Ellis Island, and how the building was restored to what you see now. When visiting Ellis Island with kids, it's worth a quick walk-through.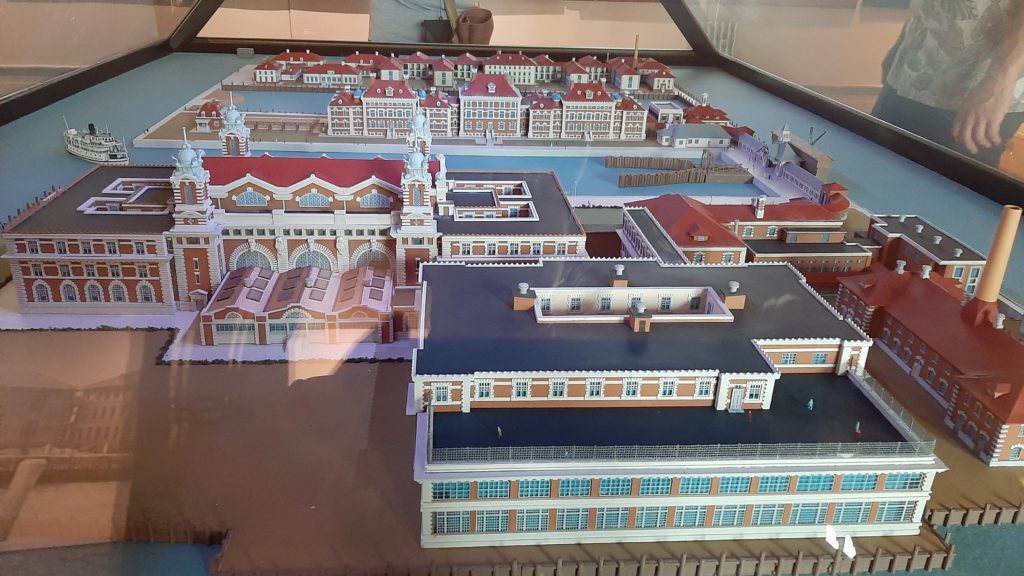 Other stops at Ellis Island:
Documentary films: These were not showing due to the pandemic
Gift shop/food: Ellis Island with kids? The gift shop and café are on the first floor. We did not go in the café, but they have ice cream. There is also patio seating outside the museum, and some great views of Manhattan and Brooklyn.

Hard hat tour of Ellis Island Hospital
If you're taking a hard-hat tour (which I totally want to do), that leaves from the first floor. This tour is currently available through October 2021, and apparently begins 2.5 hours after your departure security check-in time. It's a 90-minute guided tour of the unrestored Ellis Island immigrant hospital buildings. The 750-bed Ellis Island Hospital included infectious and contagious disease wards, a laundry room (more than 3,000 pieces of laundry were cleaned daily), a mortuary, autopsy room, and a kitchen. When it was operating at its peak in the early 20th century, it was the largest public health service facility in the U.S. During the tour, you'll learn about the hospital and its role in preserving public health. Tour members must be 13 or older, and able to be on their feet for 90 minutes. The building is not climate-controlled and not weather-dependent. You need to wear closed-toe shoes. Note there are no working bathrooms available during the tour. The tour is conducted by Save Ellis Island.
Screening and planning for Ellis Island: We left from the New Jersey side, which now has a new (to us) screening facility on the far side of the ticket station (NYC has the same screening). Note that your ticket time is the screening time, not the ferry time. The ferry left about an hour after that screening time, so keep that in mind for your planning! The screening was more comprehensive than most airports, in that we had to remove watches too.
The route: The NJ ferry stops first at Ellis Island, and then goes to the Statue of Liberty and back to NJ. The NY ferries stop first at the Statue of Liberty, then Ellis Island, then back to NY. They have signs with ferry times and locations when you get off each stop. It's easier to follow the route I just mentioned for your ferry, but you can switch it up. You just can't go back to the original NJ or NY ferry terminal and then get back on/stay on. They do not check your tickets when getting on the ferry at Ellis Island or Statue of Liberty.
Ellis Island and Statue of Liberty tickets: The official ferry vendor is Statue Cruises. You can get tickets online, at Castle Clinton in Battery Park NYC, at the ferry station in New Jersey's Liberty Park, or by phone at 1-877-LADY-TIX (877-523-9849) or 201-604-2800. The ferry is free for kids under age 4. You can see a list of fees at the NPS Statue of Liberty site.
As of July 2021, masks are required inside the Ellis Island museum, but were not required on the ferry.