–This is part of our series on Philadelphia with kids. See all the posts in the series at the bottom.–
This post might easily be called a Tale of Two Restauants. Totally different vibes. Totally different menus. First let me say that it's really hard to pick restaurants in Philly. There are a lot of good choices, and a lot depends on what part of the city you want to explore. Our first choice was something kid-friendly, and the second was something more historic.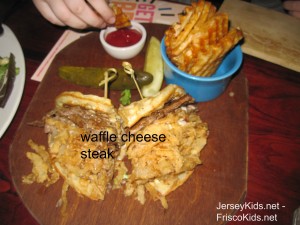 Max Brenner is a chain. I went for an afternoon snack with a friend last summer in Boston. I had a frozen chocolate coffee drink in a really cute cup (see the Drink Me cup below) and my friend had a salad. Both were good. Since Max Brenner focuses on chocolate desserts and funky presentations, we thought the kids would enjoy it. And they did.
We ordered a cheese steak that came in a waffle. Sounds disgusting, right? It was so good. I'm afraid to find out how many calories was in that, but it was delicious. They make the waffles in house. We countered that with a healthy salad, which was huge. I don't think we finished it between three of us. My son got the macaroni and cheese with a syringe of marinara sauce. He didn't actually put the sauce on the macaroni, because he doesn't like sauce and heaven forbid it TOUCHES the macaroni.
The kids' menu had a cute story on it. We were more intrigued by the Hebrew writing on it. On the bottom we can read "chocolate for kids" but I'm not sure what the top one says (it's upside down)
What we were dying for, though, was dessert. We ordered three, including the mixture of things above (I forget what it was called), but it included a molten chocolate cake, ice cream, a little shake, and something else. It was good, not great.
We also got the chocolate fondue. Again, good not great.
————————————————
[ad name="Google Adsense"]
————————————————
Above (again, I forget the name) is a waffle with ice cream, strawberries, chocolate sauce in a beaker, and a brownie. Good, not great. The drink below is one of their chocolate frozen things. It was a bit cold to go for that in November, but I recommend it for a warm weather day. Yummy!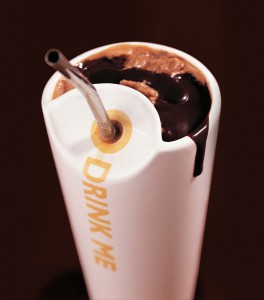 The downsides to the Philly Max Brenner restaurant (there were a few): it was super loud when we went for dinner. We were seated in the kids' section, which was fine. But the whole restaurant was really loud – and a bit crowded/claustrophobic feeling. We were glad we didn't choose this restaurant to eat at with our friends – a larger group would have a hard time hearing each other.
The desserts were good, not great (have I said that already?). I wasn't that impressed with the chocolate quality in the desserts, especially since this is a chocolate themed restaurant. I wish we stuck to one dessert for the four of us instead of three.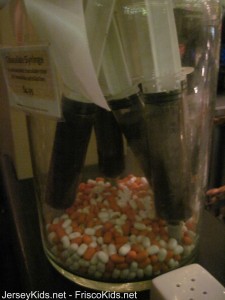 The upside: Our waitress was fabulous, and service was quick. The presentation was amazing. Which is why I took so many pictures! Some of the plates and glasses are unique and very funky. The restaurant design is heavy on the graphics. I liked it the first time in Boston. By the time I went in Philly it was growing old, and the constant depictions of Max himself were a bit vain.
The next night we went to City Tavern, which opened in 1773, hosting the first July 4 celebration and was a stopping point for Paul Revere during his midnight ride. The founding fathers used to hang out here. While the location is the same (2nd and Walnut, very close to the Independence Mall area), the building is not original. The original burned down in 1834, and the restaurant reopened in 1976. The chef prepares 18th century food, served in seven period dining rooms.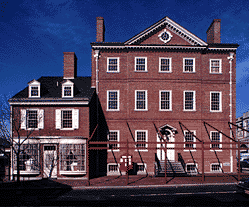 We went with another family, and were seated downstairs. The service was slower and more leisurely than our Max Brenner experience. We could hear each other and weren't crammed in. They have a kids' menu. The regular menu is meat-heavy, but they do have fish and tofu. We questioned the server about tofu being served in 18th century U.S., however the server assured us that this was a recipe available at the time. The rack of lamb was DIVINE. They served several types of homemade bread, which were delicious.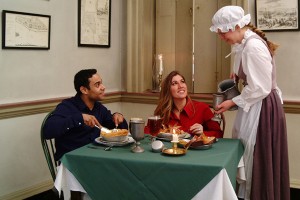 They serve some period drinks as well, like Yards Ales, and I got a hot cider with brandy. For dessert we had an apple ginger pie with ice cream, that was good, not great. The apples weren't fully cooked and the ginger was super strong.
Outside our dining area, in the hallway, was a harp player dressed in traditional garb. It was lovely to listen to. We really enjoyed our dinner there and would go back. The kids had fun there too. You can get coupons around town and at the Independence Mall Visitor's Center, for a 2 for 1 entree, not valid on Friday or Saturday nights.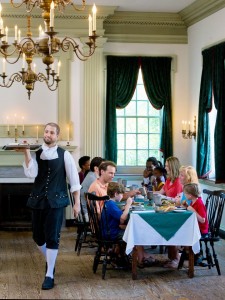 Disclosure: We paid for our own meals.