–This is part of our series on Philadelphia with kids. See all the posts in the series at the bottom.–
Let's start out by saying this is not the Mutter Museum, pronounced like it looks. The "u" should have an umlaut over it – two dots next to each other. Say it like "Mooter Museum." This museum was on my list to visit for a long time, and I figured the kids would find it strangely fascinating. They did, but they also found it unsettling enough that they sat out out a good portion of it because they couldn't stomach looking through it all.
Of note, you can't take pictures inside. These photos are all courtesy of the museum. Dr. Mutter collected these strange specimens to use in teaching. The museum is part of  the College of Physicians of Philadelphia.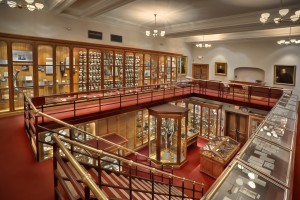 When we first walked in, we saw the exhibit on fairy tales, and we learned about a condition called "plica" where the hair shaft is tangled and matted and comes out sticky. Maybe this is what Rapunzel had in Grimm's fairy tale. Did you know there are people who have an obsession and compulsively eat human hair? Yeah. Doctors removed a 10 pound hairball from someone – called a bezoar.
————————————————
[ad name="Google Adsense"]
————————————————
Some things we saw:
-full wall of a skull collection
-skeleton with a human horn
-hand with a 10 inch horn
-book bound with human leather
-gangrenous hand in a jar
-slides of Einstein's brain
-photographs of conjoined twins. Jars of conjoined twins. Mold of famous Chang and Eng conjoined twins
-photograph of a woman with a penis and baby with its brain exposed
-Giant colon – 25 to 27 inches at its widest point. The male's colon was so large there was 40 pounds of poop inside when he died. My daughter still thinks of the colon when in the bathroom.
-lots of fetuses, including a set of fetuses ranging from 4-9 months
-giant scrotum
-ovarian cyst that was 70 pounds when removed
-extrauterine pregnancy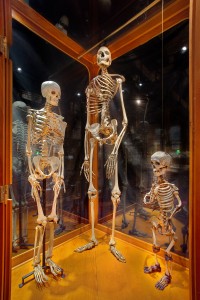 Some things we learned:
-To get the skeleton clean, you boil it until the flesh falls off and the grease comes out
-about the famous soap lady (I hadn't heard of her before). The exhibit shows a skeleton with a mummified type of skin still on, due to adipocere formation. The body turns waxy. Fatter bodies lead to better presentation. A lack of oxygen and warmer temperatures help as well. It's most common in women, babies and obese people. The soap woman here is one of the most fully preserved adipocere specimens.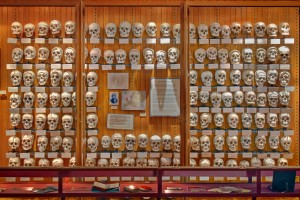 The exhibit on Civil War injuries was interesting from an academic point of view, learning about what types of injuries they had and how they were treated. That was the only interactive part of the museum. You could go into a booth and see what it was like to lose an arm, with the help of a magic mirror (the kids liked this part). The doctors saved some of the diseased bodies for teaching and research. Only one-third of the deaths during the Civil War came from war battles, and two thirds came from infections and disease. At the time of the Civil War, there were 46 military and civil hospitals in Philadelphia alone, and Washington D.C. had even more. Learn more about the advances in medicine that occurred during the Civil War here and also here.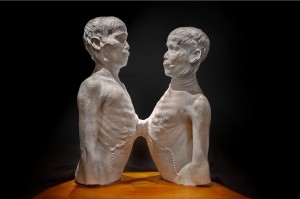 Was it appropriate for kids?
My kids found it interesting…for a bit. My son didn't make it all the way through – he got a little queasy and decided to sit down with his sister in a corner of the skeleton section and wait for us. I can see why it made him uncomfortable. Not only do you feel vouristic when viewing these body parts, but they're a bit unsettling.
Mostly the museum was not interactive. That's not a criticism. After all, the original intent was for doctors to learn about medical maladies and things of interest, not to be a bit of an odditorium for lay people like us. But that can be difficult for kids.
They do offer additional information via phone, where you dial in the numbers you want to hear about. We tried that with the kids, but it was too loud inside to actually hear.
It's also kind of tight quarters, and if you go on a weekend like we did, it's very crowded. To be honest, we were a little claustrophobic in there. I'm sure we exceeded the maximum number of occupants by the fire marshall. It was really crowded. That said, I'm glad we went.
The gift shop was fun, and the kids each found their trip souvenir there. My daughter got a scarf that looked like crime scene caution tape. My son got the flesh eating stuffed microbe. They both wanted the plush giant colon, exclusive to the Mutter Museum.
Disclosure: We received media tickets. All opinions are my own.