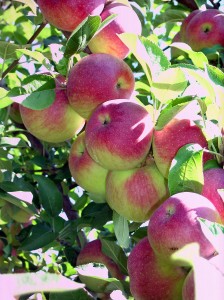 Fall air brings apple picking. Did you know:
– it takes 36 apples to make a gallon of cider
– it takes 8-10 years for an apple tree to begin producing fruit
– the science of apple growing is called pomology
– a bushel of apples weighs 42 pounds
Thank you Hillview Farms for the apple facts.
Too many apples? Learn how to make caramel apples here.
Here's a list of some great apple picking farms and orchards in New Jersey.
Peaceful Valley Orchards in Pittstown
In addition to apples you'll find fall decorations, baked goods, and an observation bee hive.
150 Pittstown Road, Pittstown, NJ
(908) 730-7748
Windy Brow Farm in Fredon Township
Look for homemade cider and pies. Plus pick your own apples
359 Ridge Road, Fredon Township.
(973) 579-9657
Melick Family Town Farm in Oldwick and Califon
Take the hay ride or horse-drawn carriage to the fields (or just walk). Lots of varieties. Stock up on cider, jams and other farm goodies here. There's a small playground at the Oldwick lccation.
Two locations:
–170 Oldwick Road, Oldwick
(908) 439-2955
Longmeadow Farm in Hope
Pick your own apples and raspberries. Pumpkin picking and hayrides. 14 apple varieties. Fall raspberries.
561 Blairstown Road (Route. 521), Hope NJ
(908) 459-5351
Hillview Farms in Gillette
Pick your own apples and blueberries. You can also buy beeswax candles, honey, pies, donuts and more.
223 Meyersville Road, Gillette, NJ
(908) 647-0957
Terhune Orchards in Princeton
In addition to apple picking, check out the barnyard animals, kiddie tractors (they can pedal them), a farm trail (suitable for strollers) and wagon rides.
330 Cold Soil Road, Princeton
(609) 924-2310
Find Jersey Kids on Facebook!