We chose the perfect day to go to Hurricane Harbor (albeit, a weekday might have been even better). It was warm, in the mid-80s, but not too hot. We hit no traffic on the way there (going home was a different story). We didn't get sunburned! I didn't leave with a headache from motion sickness. All in all, a great day at Hurricane Harbor, our first time at this water park.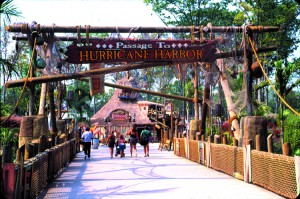 If it weren't for my husband's contact lens emergency, we might have shaved 15 minutes off our wait in the first line. Lesson learned: if you wear contact lenses to the park, bring a spare set AND a bottle of saline solution, neither of which my husband did.
And here's another tip. If you have contacts, bring a mirror, especially if you're a guy. There's no mirror in the giant men's bathroom by the first locker section (by Paradise Grill). My husband had to go in the women's bathroom, with me standing guard so no one though that a pervert was in the ladies room.
What's it like?
Hurricane Harbor had more water slides than we were able to do in one day. Granted, we also ate lunch and spent a good amount of time in the lazy river. And we tried out the wave pool for a short time too. We easily could have fit in a few more slides. It was an attractive park with a cute theme, and pretty easy to find your way around. See a map of Six Flags Hurricane Harbor here.
The highlights:
We went first to the biggest attractions. The King Cobra is an impressive looking slide shaped like a giant snake. The tubes you slide through initially are the body, and you slide down (big drop) the neck and up into the snake's mouth, and then back and forth. You can see the official Six Flags King Cobra video here.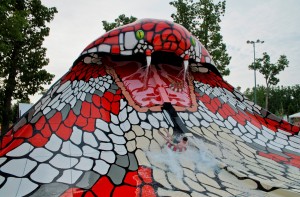 The Tornado was probably our favorite. Pictures don't do it justice. The funnel is HUGE. The raft is also extremely heavy, and you have to carry it up the staircase, though it holds four people, so you shouldn't be carrying it by yourself. You get a great view into the funnel from the beginning of the line (after you get your raft). If you want someone to take pictures, that's a great spot to stand, though you do have to get through the line entrance to do that. I couldn't believe how high up on the sides of the funnel we went. You can see a video here.
————————————————
[ad name="Google Adsense"]
————————————————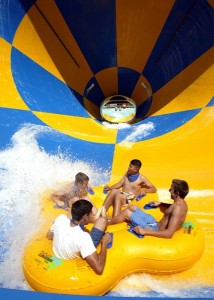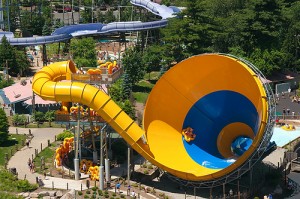 Another favorite was the Big Wave Racer. I didn't think I'd like going head first on a raft, but it turns out it was really fun. The tunnels on top were pretty short, and then you shoot out into an open slide area. If the line weren't long, I would have gotten right back in line again.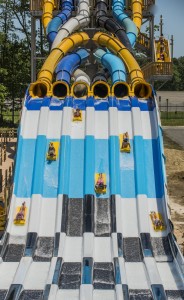 Unfortunately we didn't get to do Jurahnimo Falls, which has a slide that goes almost straight down from the top of the tower. It was an incredibly short ride given it had no twists, but looked super fun. Here's my video of Jurahnimo Falls.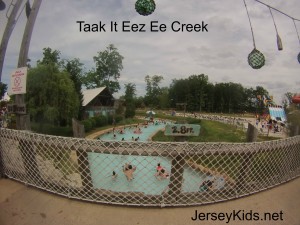 The kids really enjoyed some down time in the Taak It Eez Ee Creek (see my video here), a lazy river that was pretty long. If you're lucky you can snag a tube to use, but there weren't enough tubes for everyone, so many people were just walking through the river, that's 2 feet, 8 inches deep. My husband thought everyone looked like refugees walking through the river and pulling their kids along in an inner tube, after a disaster. He was right. I had a hard time looking at the lazy river and not seeing people fleeing their homes post earthquake the rest of the day!
Here's a press photo of the lazy river, combined with my photo: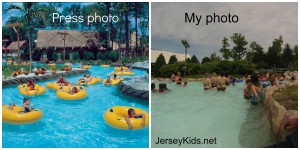 You can find free life jackets for the little ones, so grab one if your kid needs or might need one.
How were the lines?
I was told by someone working there that the day we went was a typical summer day. I expected much worse in terms of crowds and lines, so I didn't think it was so bad. The longest we waited was about 30 minutes. Granted, we did the "big" rides first, so perhaps our lines were a bit shorter than they would be if we went later. Those were the Tornado and the Cobra.
If you can, get there early. They seemed to open the gates before the 10:30 opening time, and I'm guessing you can get in line early too. That would be a good thing to do, especially since you probably need to also go to the restroom and stash your things in a locker first.
The lines (at least when we went) looked surprisingly short, especially since the lines did not go all the way up the staircase towers. However we underestimated how long they would take. We realized that the person on top had to wait until the person on the bottom exited, which really increases wait time (but obviously also increases safety!). A slide like the Cobra only runs two people at a time – each on their own divided side. That line takes longer than a slide complex sending six riders down at a time.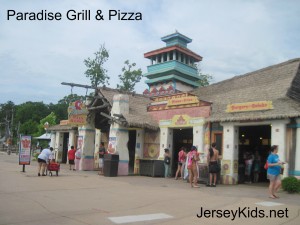 Often the line would start while waiting for a tube or raft to become available. An attendant monitored the situation, so it was not a free for all. Then you wait in another line, which for us looked short because there were lines and lines of empty roped-off waiting area. Then an attendant lets you climb the stairs. While you climb several stories up, usually only the top part of the staircase has a line (an exception being the Tornado, where the entire staircase was full).
What's there to do if you don't like water slides?
If you want to hang out in a beach chair all day, you can do that. The chairs by the Blue Lagoon were covered in towels pretty early in the day, though we did manage to find some toward the back at one point. There were a lot of available chairs in the sand (great for kid who want to play in sand) next to the Big Wave Racer. But it's not immediately next to water you can cool off in.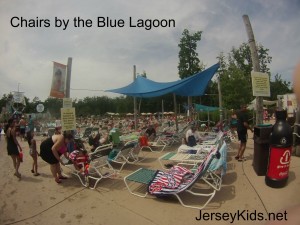 Cooling stations were scattered throughout the park.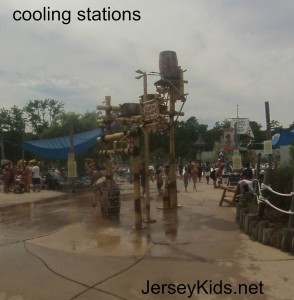 What can little kids do?
The slides were all very high, and I didn't see any "intro" types of water slides, except for two in Discovery Bay.
The park lists these as family rides – there's a complex of four slides (Boreas, Eurus, Zephrus and Nortus) near the kids' area, which are still 54 feet up in the air, lower than the others, but still not baby slides. The other ride is the Big Bambu and Reef Runner, which are raft rides holding three to four passengers each. One is an open-air slide (the red one), the other is partly closed. The open-aired one is a better bet for the novice, since they can see where they're going and it doesn't have a big drop at the end.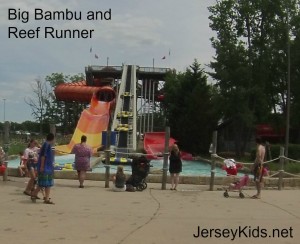 Otherwise, there's the Blue Lagoon wave pool – you can bring an orange rental tube in there, but most people were just swimming/standing. It's six feet deep at the furthest point, but definitely a lot of shallower areas.
And while we didn't make it over there, there's Discovery Bay, a giant complex that's supposed to be a Tiki village. It's a water play area and play structure (plus beach chairs).
Kids can also enjoy the lazy river (see above).
Some park quirks:
Closing time: The park closed at 5:30 the day we went. Oddly, when we tried to get Dipping Dots at 4:50, the vendor by the Tornado (#14 on the map) was already closed, including the hot dog stand with it. The employee was sweeping up. The lifeguard at the lazy river was ushering people out of there at that time as well. I guess when they say the park closes at 5:30, they mean you have to get your butt out of the park at 5:30, not get off the rides then. So if there's something you really want to do, don't leave it until the last half hour. You may get shut out.
Signage: I thought the signage for the ride entrances was misleading. We saw Flash Pass signs at all entrances, saying "Flash Pass only" which to me means that only Flash Pass people should enter there. No, it often meant that everybody was to enter there, and the Flash Pass people would be separated out part way through the line. The Cobra line was an exception, where the Flash Pass line really was only for Flash Pass holders.
The line for Bada Bing, Bada Bang, Bada Boom had a line for "no tubes" which I thought meant you could get on the ride with or without tubes. I guess what it really meant was that you could take a rental tube on and not wait in line, but everyone else had to wait in the "no tube line" to get a tube. It was very confusing.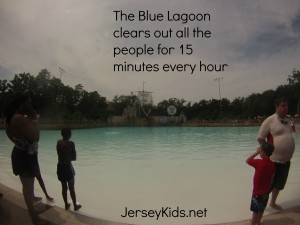 Blue Lagoon wave pool: The giant wave pool, the Blue Lagoon, shuts down for 15 minutes every hour. Not sure why. Maybe it's a legal thing? I don't know. But ushering hundreds of people out of a giant pool for 15 minutes just seems silly. Here's a video of the evacuation.
Tube rentals:
You're alerted that you can rent tubes before you even set foot in the park. What? They don't include tubes? It's all very confusing and I still don't completely understand it. From my reading of it, all the tubes you NEED for the park are included in your entrance fee. That includes the tubes you probably won't be able to find for the lazy river, because they're already taken (but my son thought it was awesome to just get propelled through without one).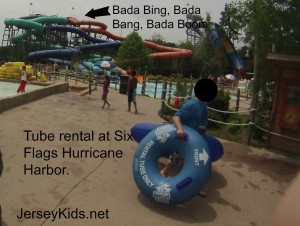 You CAN rent tubes – three types – for the day. They charge a $1 deposit, and now I understand why. They're probably not concerned about you stealing a tube, but rather holding on to your tube the entire day. What a pain in the butt that must be!
You can rent a single or double blue tube for $7 or $11, which is good everywhere EXCEPT for the wave pool (where you'd really want it), the speed slide, the family raft, the Tornado, King Cobra and Big Wave Racer. So I guess you can bring it on the other water slides, which from the rides I went on, would only save you a 20 minute wait for the Bada Boom complex.
You can rent an orange tube for $9 which has the same restrictions as blue, except you can bring it in the wave pool. I did see people lugging them around all day, so I guess they have a purpose.  Please let me know in the comments section what I"m missing.
Please let me know in the comments section what I"m missing.
Flash Pass: Six Flags is excellent at finding ways to upsell you, and the Flash Pass is a big one. For $20 you can get the standard Flash Pass and $30 buys you the deluxe version. For the standard one, you go to a kiosk and reserve your spot in line for the ride you want to go on. You don't have to wait in line, but you do "wait" the standard amount of time it would normally take – you can just do other things while you wait (like laze around in the wave pool). The deluxe version apparently shaves 50% off your wait time. Not sure how it works exactly, since we didn't spring for $30/person though my son begged me to do so.
Park rules: I asked before I went if I could bring my GoPro Hero camera on the rides, and was told no, because there's a no loose articles rule. That makes sense. However, I saw one woman get on her tube at the top of the ride holding her full Six Flags plastic drink container (!!!), other women get on carrying scarves, and someone else with a GoPro attached with a chest harness. I don't think the attendants fully enforce the no loose articles rule.
Also, they have posted rules that only proper swimwear is required. I saw several people wearing denim PANTS or long denim type shorts, and shirts. How you go to a water park and don't bring a bathing suit is beyond me.
NOW FOR LOGISTICS
Hurricane Harbor is next to Great Adventure, and from parts of the park (especially the top of the stair cases leading to the slide entrances) you can see some of the coasters). The parking lots are separate, however (get in the left lane when entering the Six Flags park, because that's where you eventually need to go).
Food:
The park has a variety of food including the usual staples of burgers, pizza, chicken tenders and $5 ice cream bars. They do offer some healthy food too, and we found a reasonably priced fruit cup ($2.99) and several salads to choose from ($7.99-$9.99) at Paradise Grill and Pizza.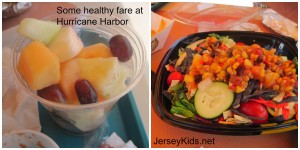 What to do with your stuff?
See below for lockers. You can wear your shoes around the park. They sell water shoes ($12-$16) however you can't wear water shoes on all the rides. You still might have to take them off. The attendants don't care if you leave your shoes at the bottom of the ride, or bring them with you and hold them as you go down. I found that awkward, and usually left them at the bottom. The ground was not hot.
I saw many people (including my husband) wearing glasses on the water slides. I don't think it hurts to wear a strap with the glasses, but I didn't hear about anyone losing their glasses. I also saw people with waterproof containers hanging around their necks (uh, loose articles policy?). The park offers a bracelet that you can load with money to use at the park, and any unused money is fully refundable. That seems like a good option if you don't want to go to the locker when you want to buy something. However, you'll still need to store your keys and wallet somewhere.
Lockers:
If someone in your group isn't planning to go on the slides, you may as well bring a beach cart and pay the $41 entrance fee for that person to be a pack mule.
Otherwise, pony up the $14, $18 or $22 for a locker. You get unlimited in/out privileges for these super expensive storage spaces. The lockers hold the equivalent of 1, 2 or 3 backpacks full of stuff. We got the jumbo one ($22) which easily fit our two duffles holding 5 towels, clothes plus my purse and leftover pizza from lunch (I told my son he was ordering too much!). It easily would have held the saline solution too, if we thought to bring it!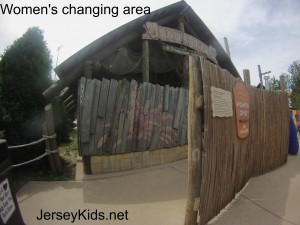 As you can see from the above picture, they have changing areas for men and women, with private stalls.
Parking: Parking is $25.
Admission: Six Flags offers a slew of ticket options and Six Flags Hurricane Harbor discounts, which I won't detail fully here. If you're buying that day, full time tickets are $42.99 for anyone taller than 48″, $32.99 under 42″, and free for kids 2 and under. You can save $5-10 buying them from home. Six Flags offers a $5 AAA discount at the ticket booth – bring your card. You may be able to get discounted Hurricane Harbor tickets if you're in the military, from your base, and from your town if they offer ticket programs. Discover Card holders save 5% on most tickets and merchandise.
If you want to go to Six Flags Great Adventure for the evening, you can trade in your water park ticket when you leave, and pay $19.99 to get in, starting at 6 p.m. They have shuttles going from the front of Hurricane Harbor to the front of Great Adventure.
What are your best tips and thoughts about Hurricane Harbor?
Disclosure: We were provided tickets to facilitate our review, however we still spent a kazillion dollars on parking, lunch and locker rental.