I've been wanting to go to the Great Jack O'Lantern Blaze in Croton-on-Hudson for a long time, and finally did it. Interested in seeing Blaze with kids in Hudson Valley? Here's what you'll see, and what you need to know.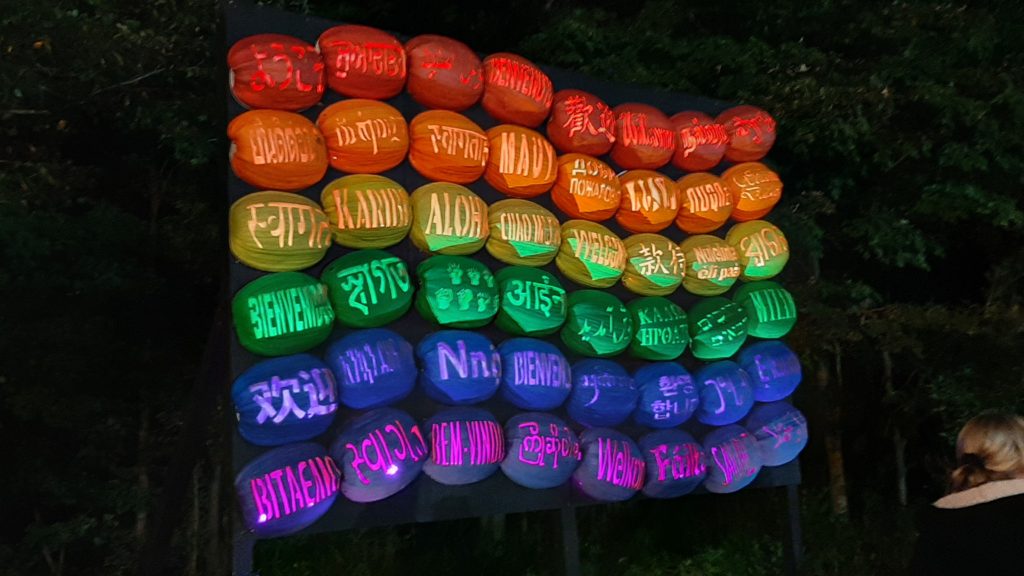 Blaze has more than 7,000 illuminated pumpkins. There are some fake ones, but many (most?) are real. They are designed and hand-carved on site. There's a one-way path that meanders through the area, and you'll hear spooky music coordinated with the displays.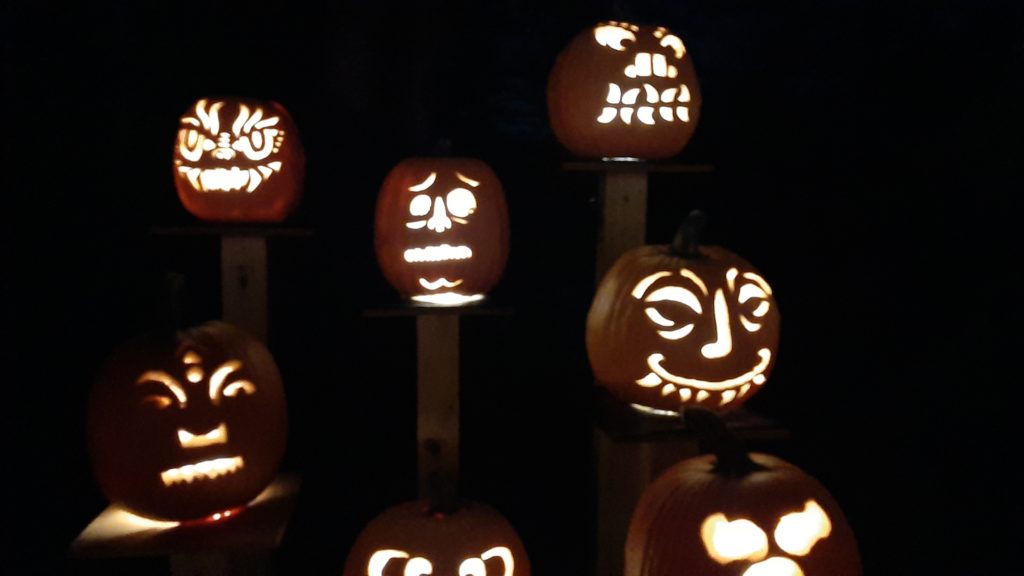 COVID safety: They reduced capacity (according to the website, they "drastically reduced capacity", and another website said they reduced it by 67%). When we were there it did not feel too crowded. It wasn't sparse, by any means, but I did not feel unsafe or like I was in the middle of a crowd. Masks are required for unvaccinated visitors 12+ but no one is checking vaccine status. The entire experience is outdoors. Given fewer crowds, I'd recommend going now. Less fun with a lot more people.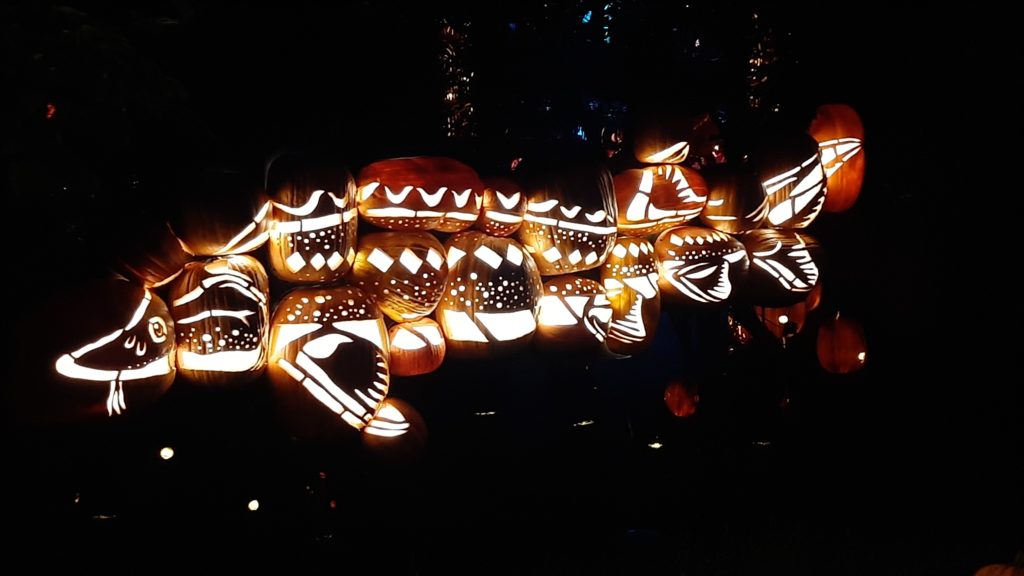 Blaze has been around since 2005. There are different sections with themes. The pumpkins are lit, sometimes with paper covering the holes on the inside, sometimes not. According to one article, much of the carving is done by volunteers, and they replace 1,000 pumpkins a week during the event. The seeds, scraps and discarded pumpkins are composted.
The jellyfish and accompanying Blazing River (referencing the Croton and Hudson rivers) are apparently new this year. Also new in 2021, a ceramic pumpkin exhibit – which are not ceramic pumpkins, but rather cream pottery designs carved into pumpkins.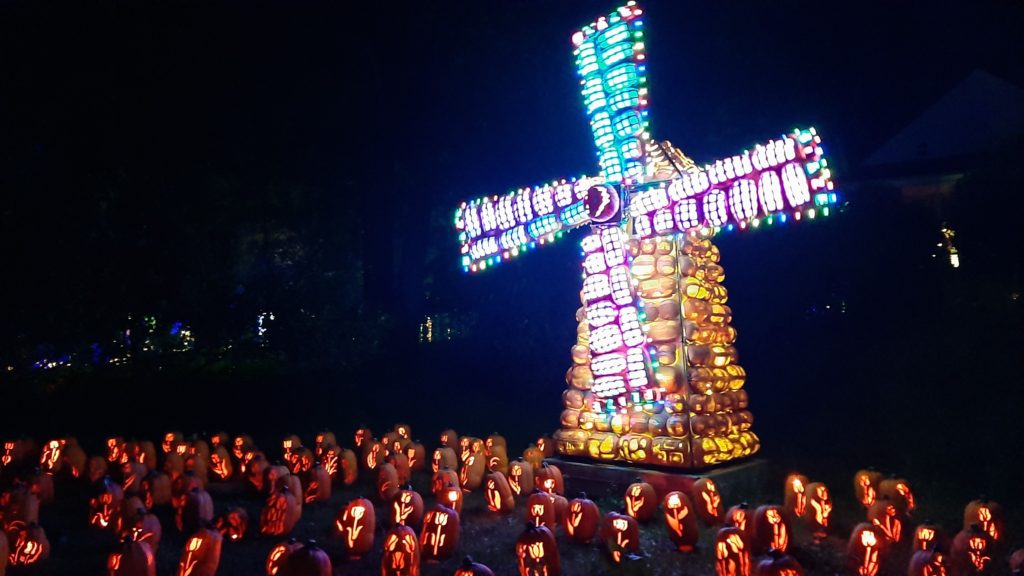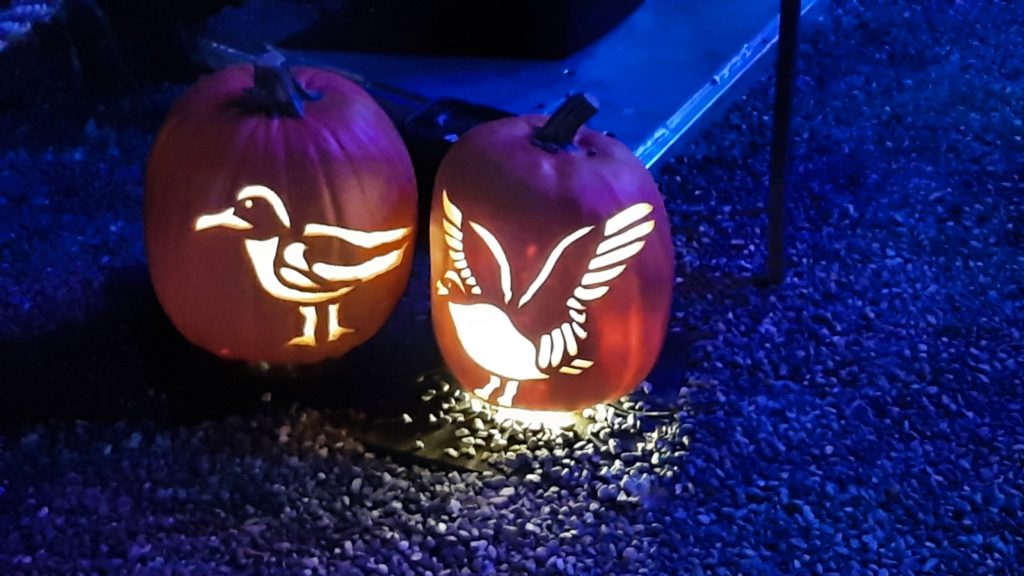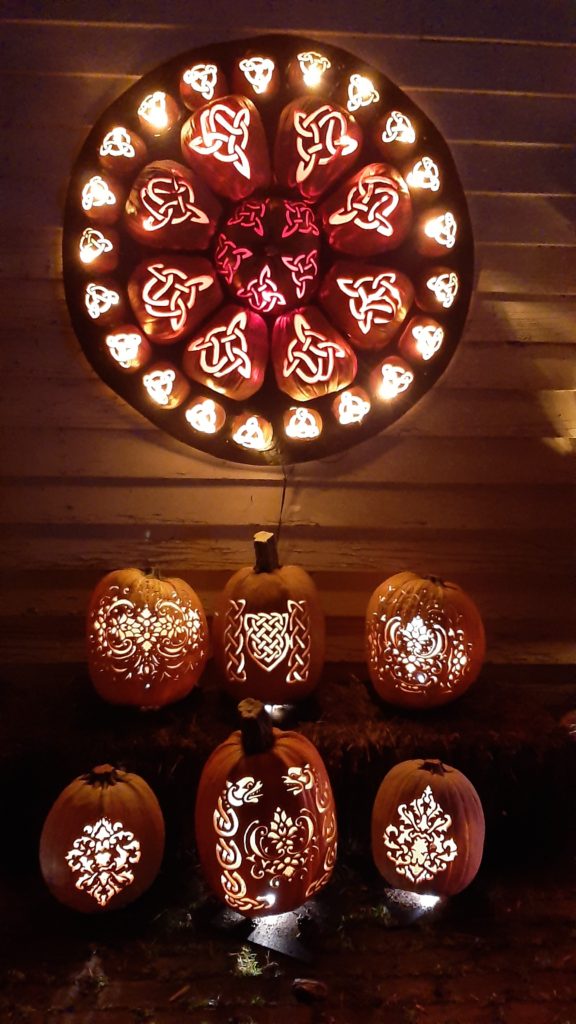 The Celtic knot section was large, especially knowing it was all carved by one person. And there's more on the other side that you'll see when you round the bend and come back that way later. This is just one tiny part of the Celtic knot section.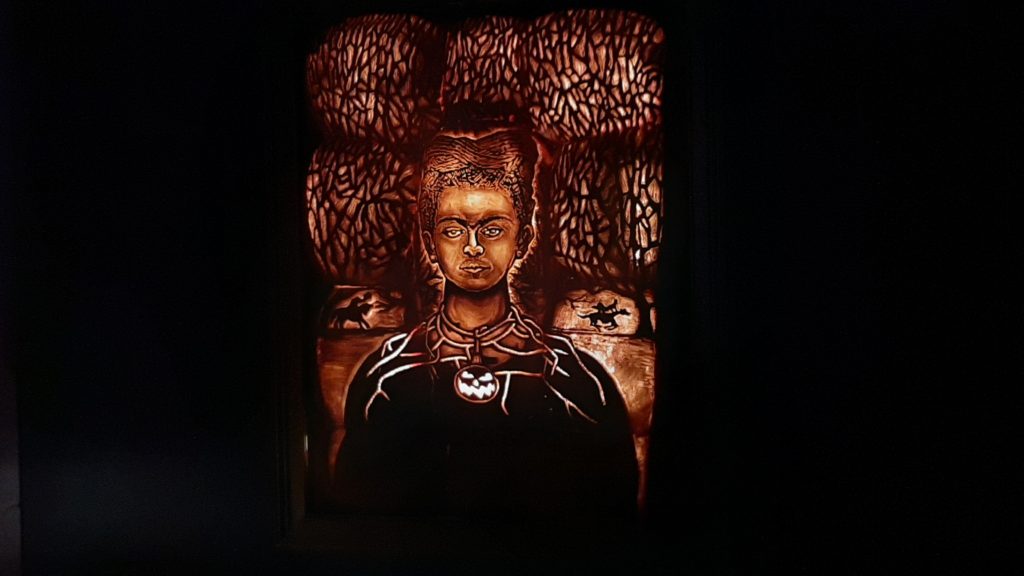 The Museum of Pumpkin Art was our favorite, with lots of art/artists you'll recognize.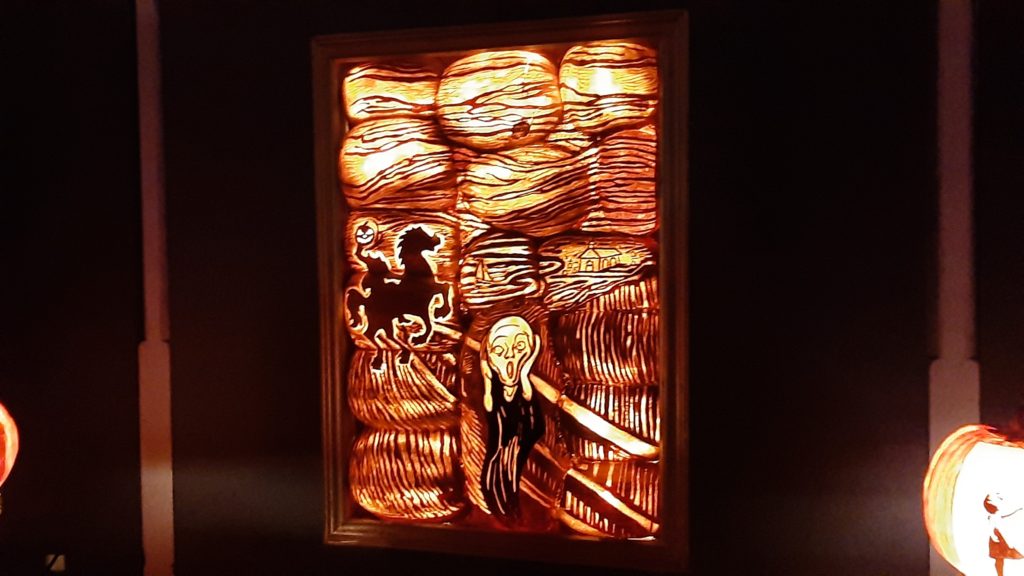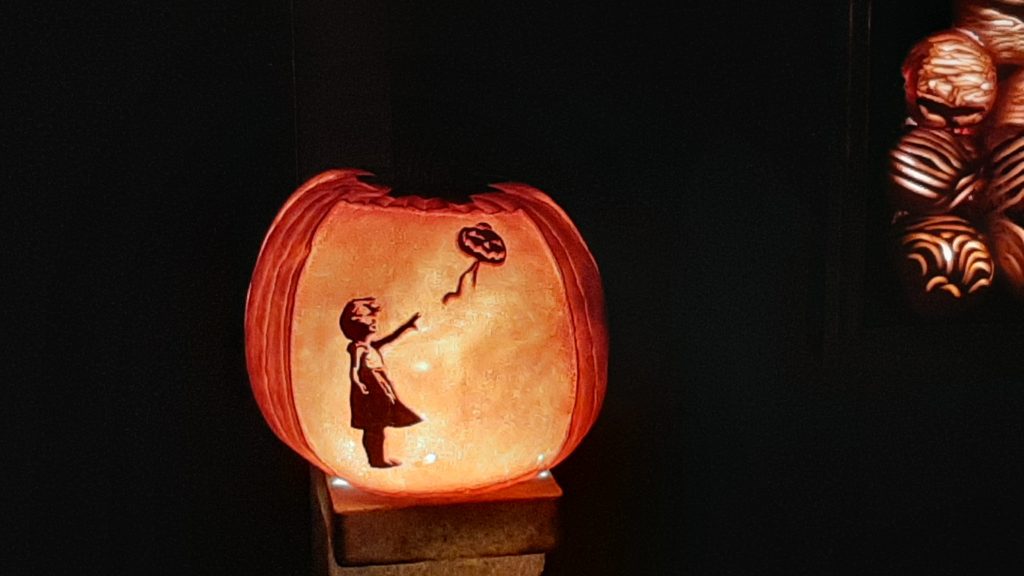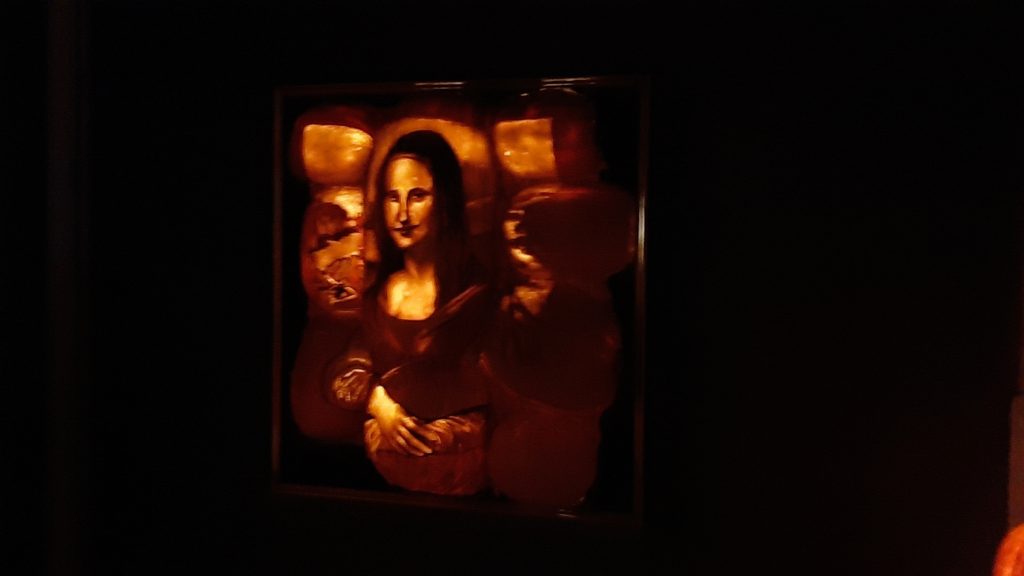 Wait at the dragon area to see the dragon breathe fire.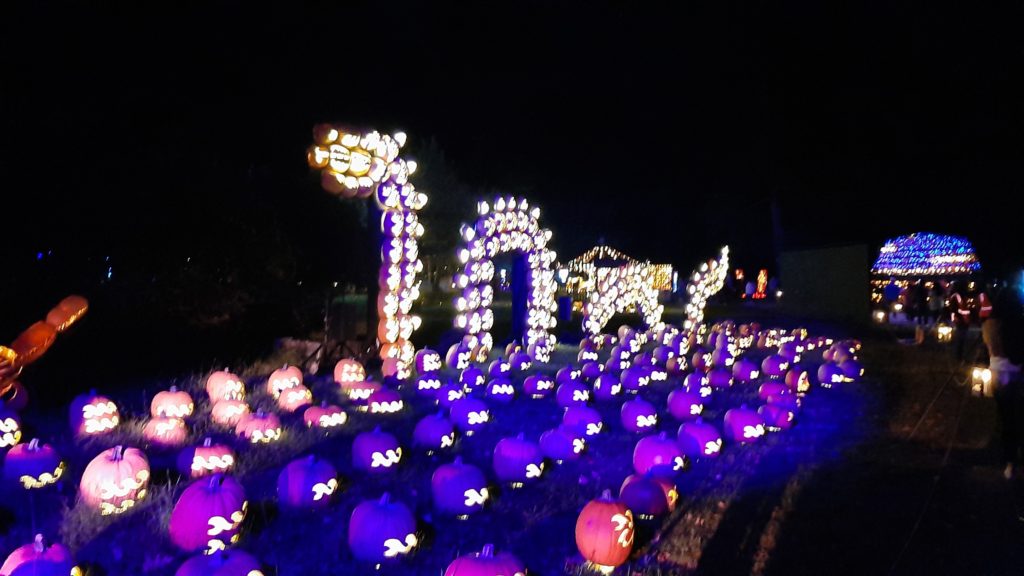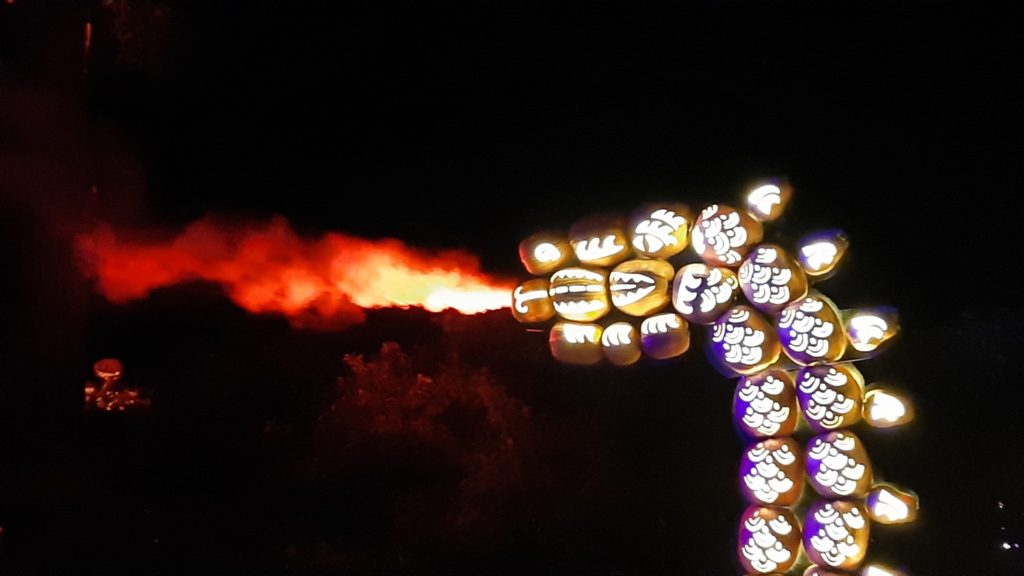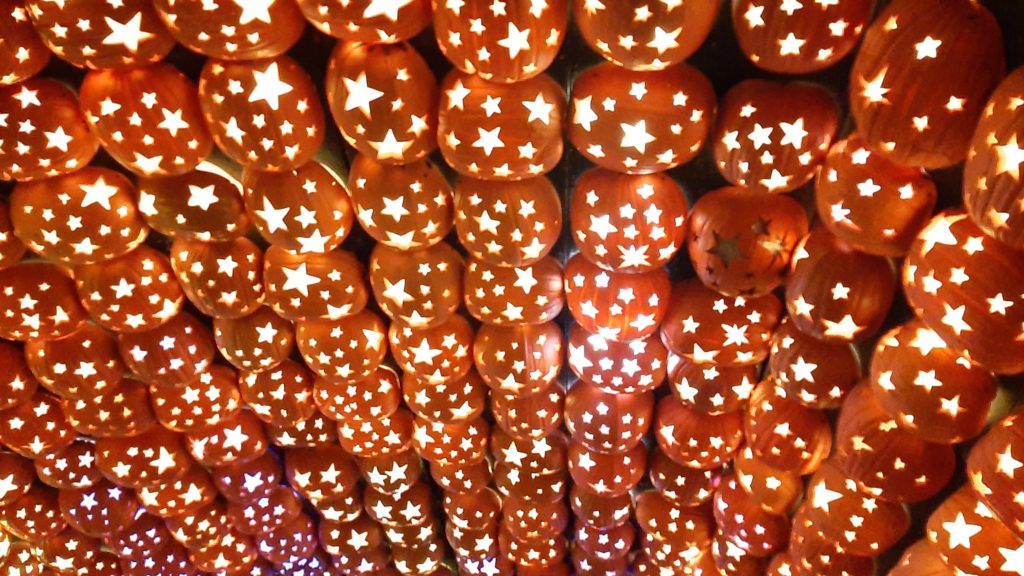 The carousel was designed by William Dentzel, and it works. It was fascinating to watch.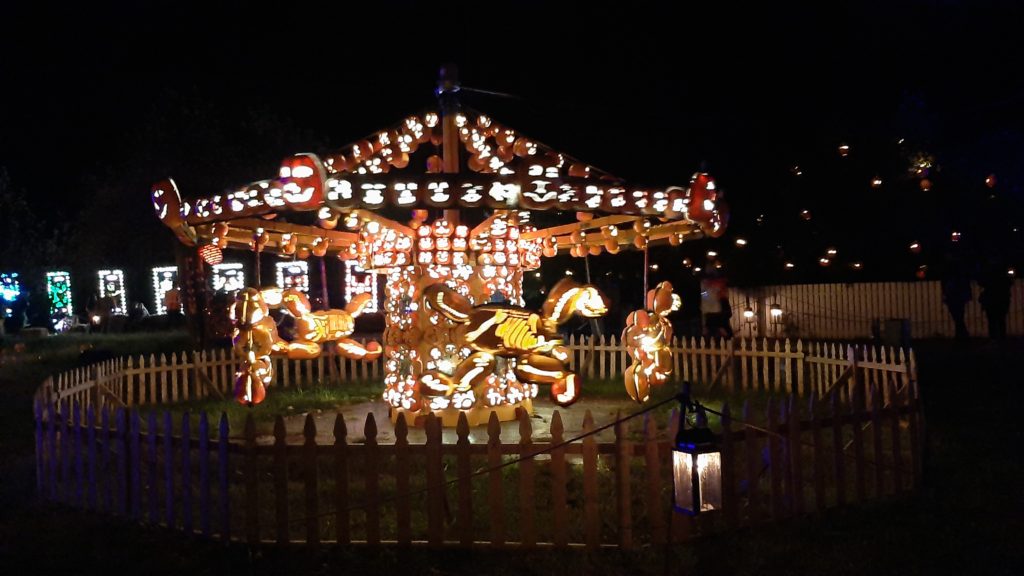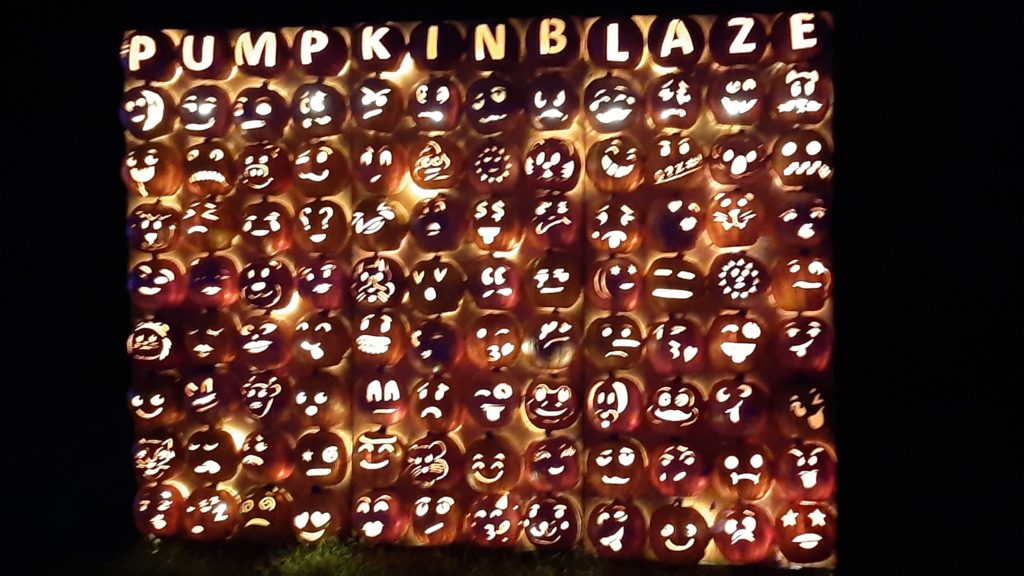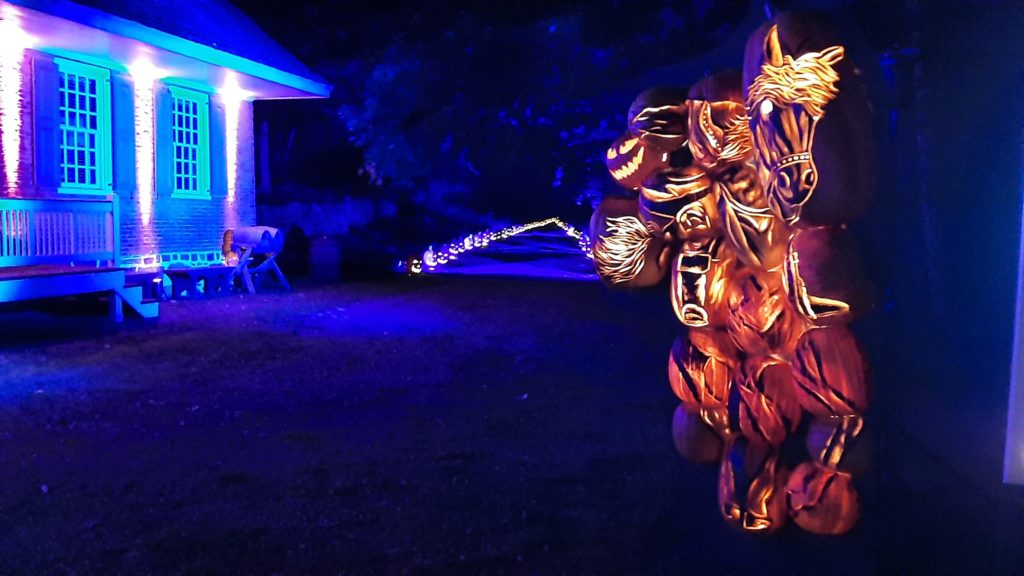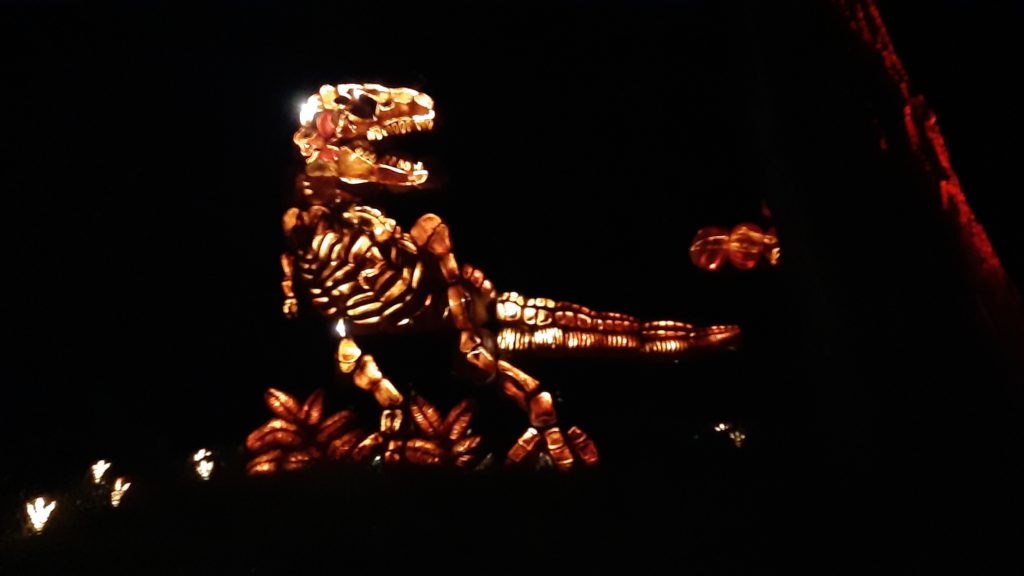 The New York skyline is new this year, and there was a hot dog cart, elderly couple on a bench feeding pigeons, a pedicab, and the Statue of Liberty (the statue may not be new).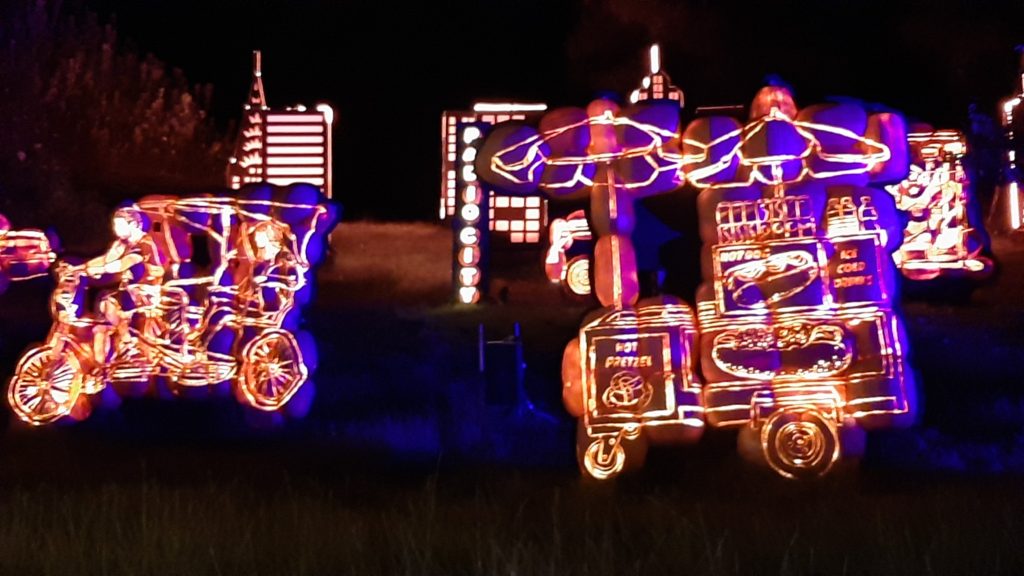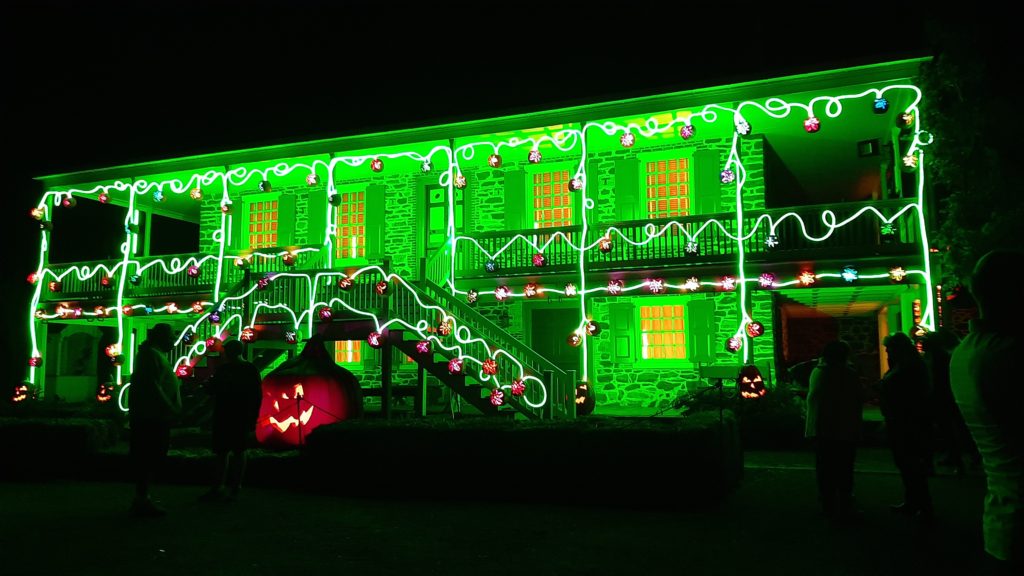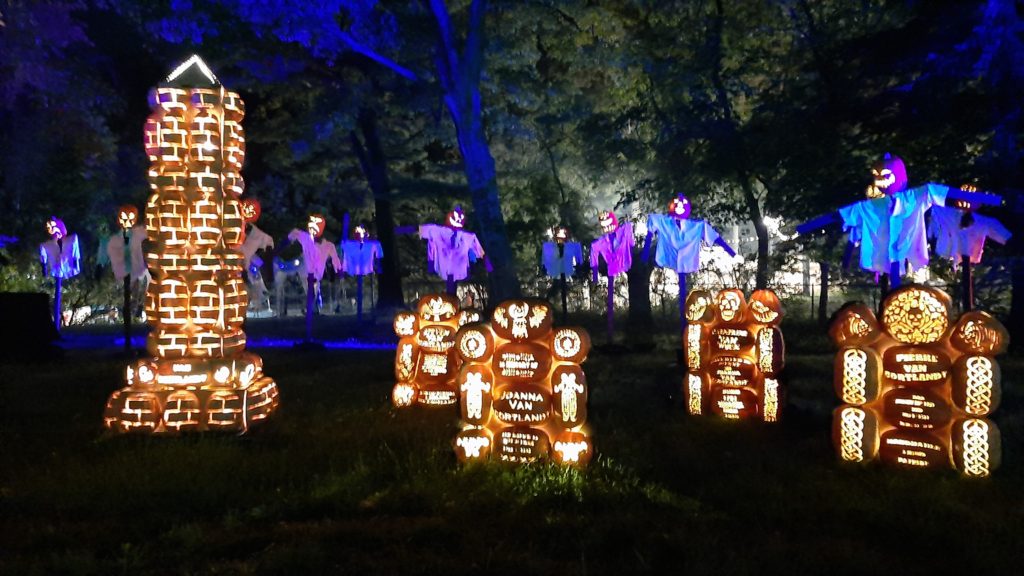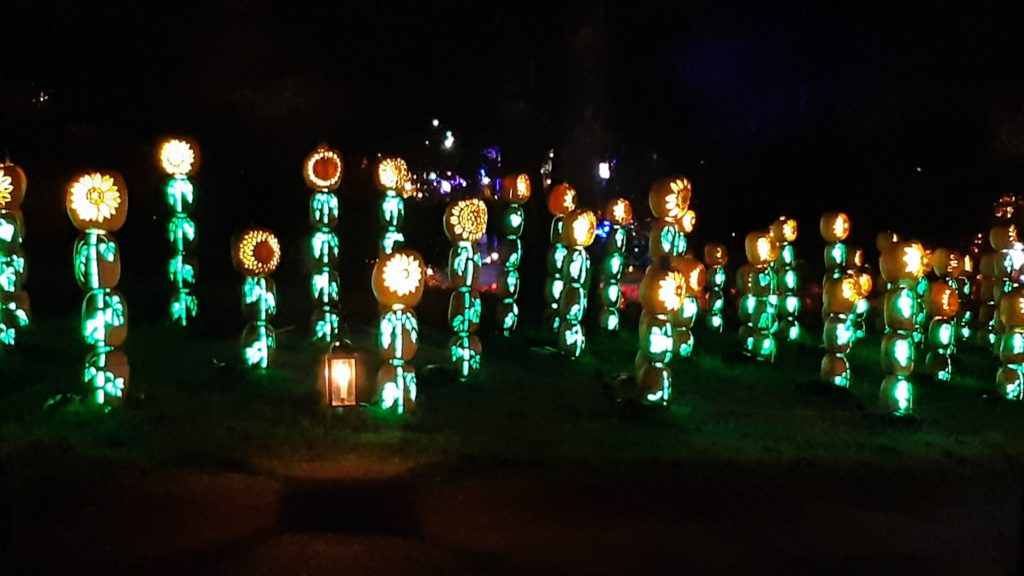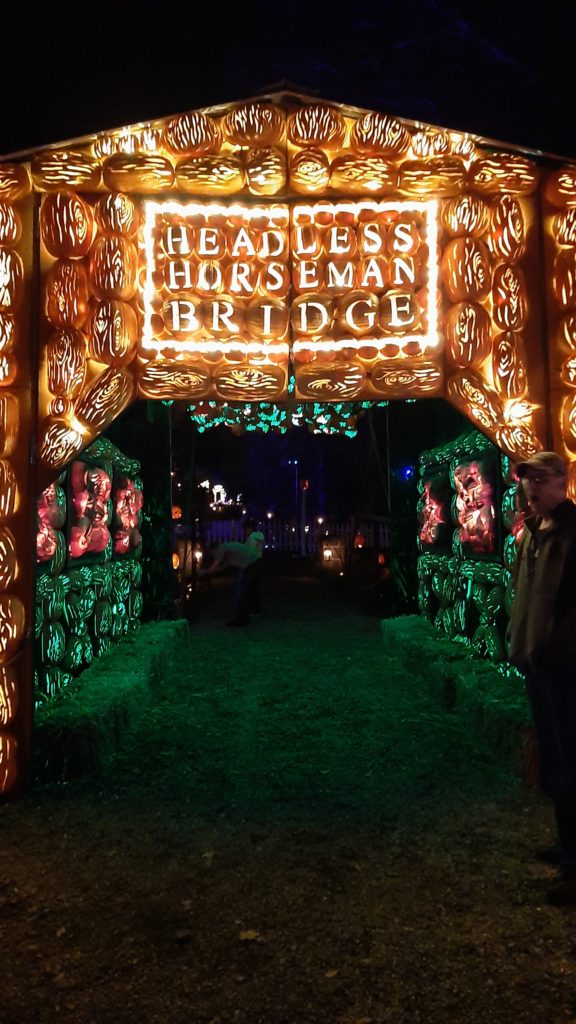 Blaze with Kids in Hudson Valley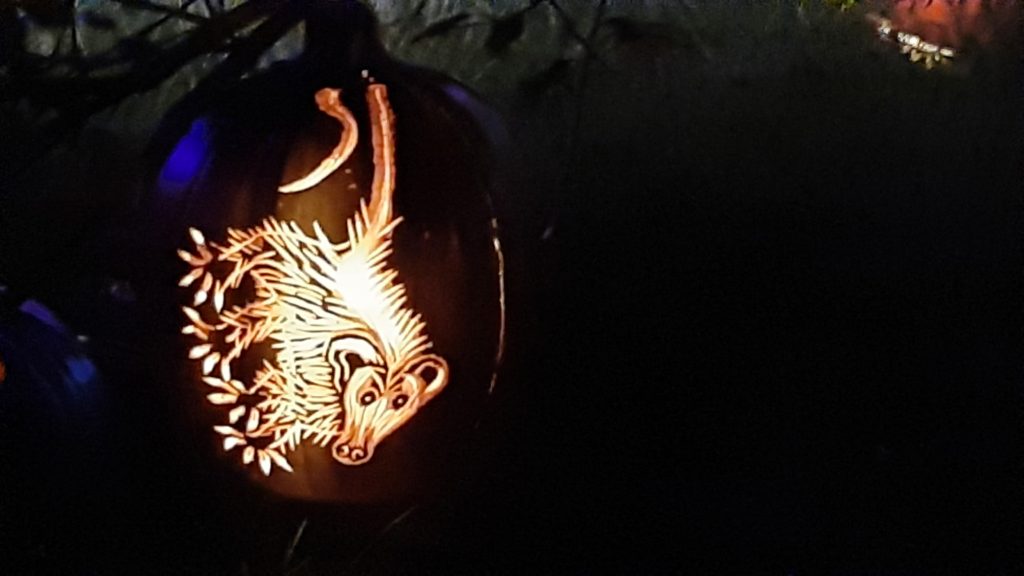 Is Blaze with Kids in Hudson Valley scary?
The music is a little scary at times, combined with being outdoors in the dark. Nothing moves (aside from the carousel) or jumps out at you. If you think your kids will be scared, get early tickets before it's too dark out.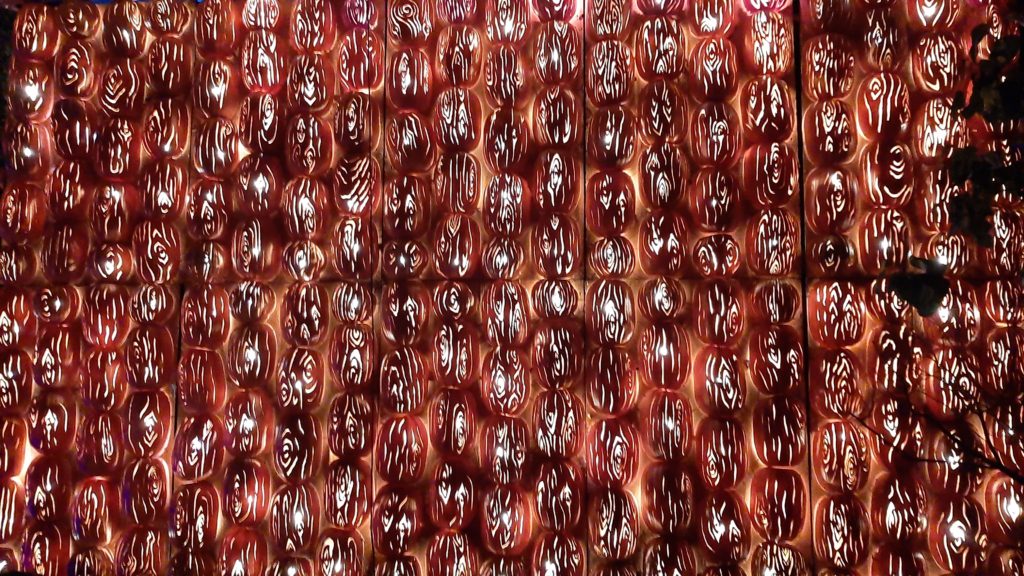 If you go: Blaze with Kids, Hudson Valley
When: September through November. In 2021, it's through November 21.
Tickets: Must buy timed tickets in advance (Flex tickets are sold as well but are currently sold out). No tickets are sold on site. There is also a Blaze in Long Island. Tickets start at $24. We paid $44 each for a Sunday night, and a friend bought his last minute for $50.
Where: Van Cortlandt Manor, 525 S Riverside, Croton-on-Hudson
Parking: There is free parking on site, and you can arrive no more than 30 minutes in advance. They will check your tickets before you're allowed into the parking lot. You can also take the train – the station is about .3 miles from the event.
How long? They recommend 90 minutes on site. We went through at a leisurely pace in about an hour.
Snacks? They sell beer, cider, wine, hot chocolate, popcorn, and cider donuts
Is it accessible? It is wheelchair and stroller accessible, but it is rocky and a dirt path, with slight slopes in some areas. Some areas are also narrow.
What about rain? It is open in the rain.
All proceeds support Historic Hudson Valley programs.