With Broadway back, we had a staycation weekend in NYC. We found the Staypineapple Hotel in midtown and prices weren't too bad for a Saturday night. It was such a cute hotel I wanted to post about it! Here's our review: Staypinapple Hotel.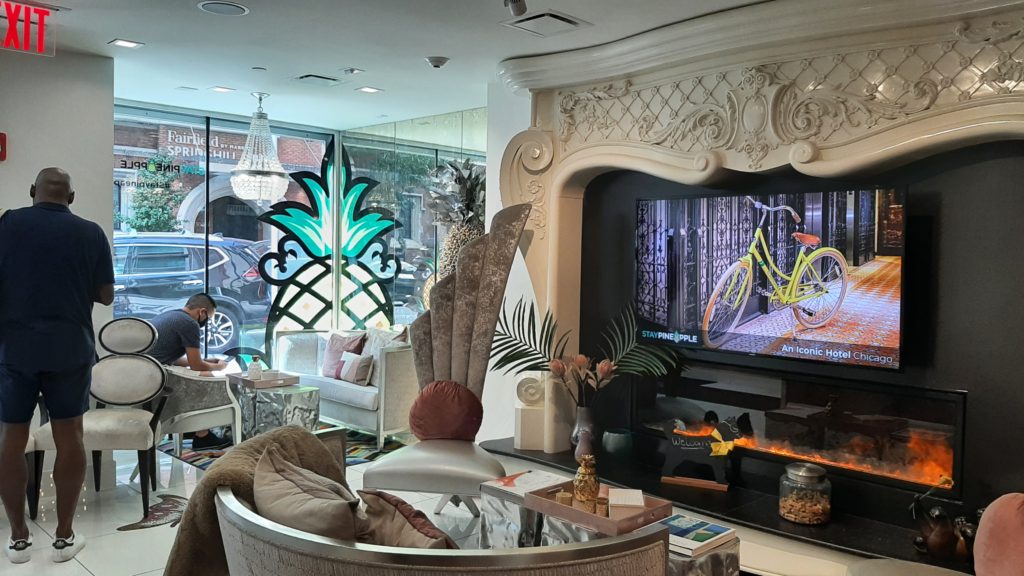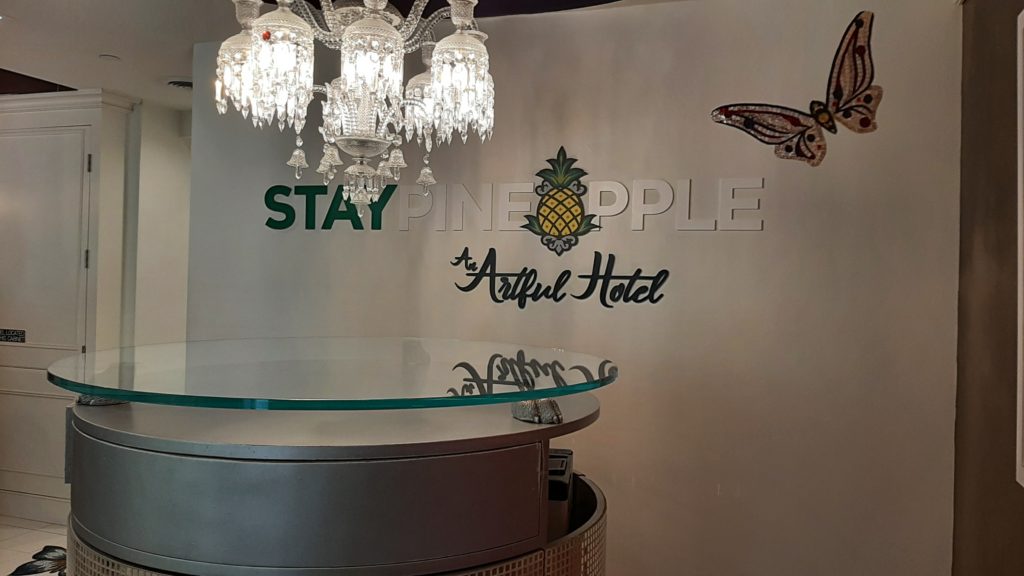 The Staypineapple Hotel is part of a small boutique group. It's the only one in Manhattan, and there's one in major cities like Boston, Chicago, San Francisco, San Diego and a few in Seattle (and a few other cities).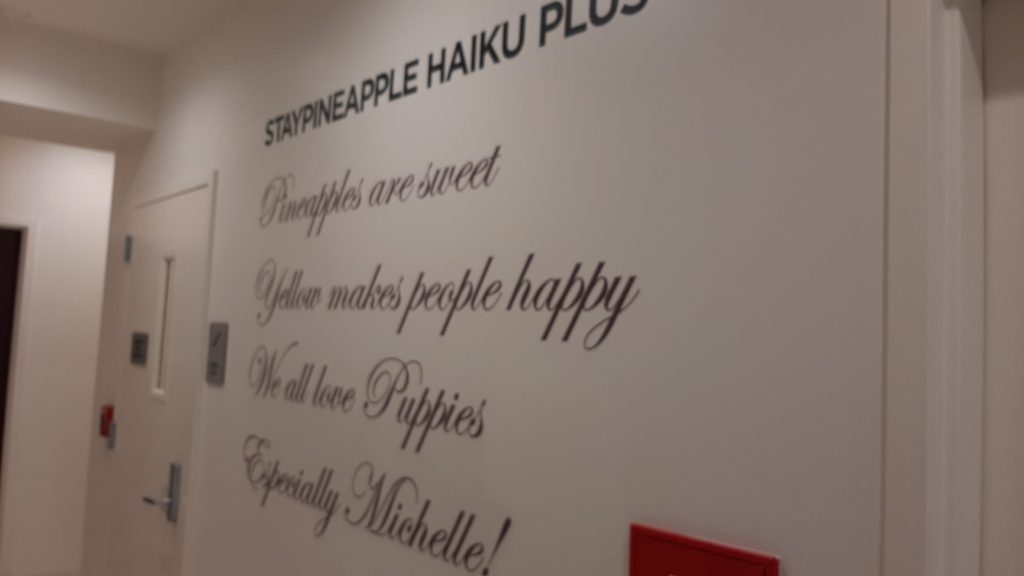 It's a quirky place, with a haiku on the wall facing the lobby elevator. They are dog-friendly (for a fee). The staff was super friendly and gave us information before we asked for it, which was appreciated.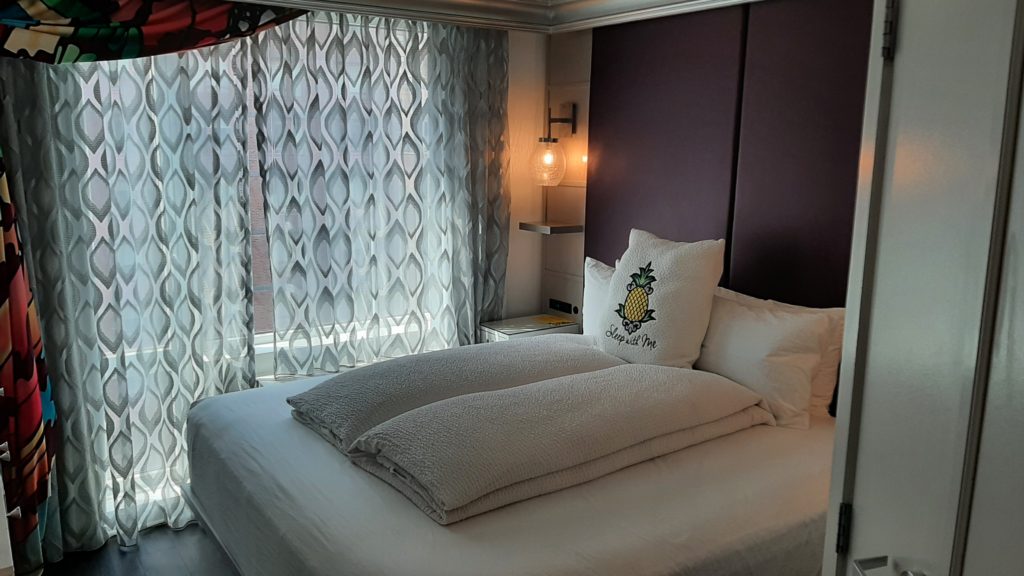 We got the basic king room. This is pretty much the size. It's small but they put a pull-out tray below the bed for luggage storage. You can't see the AC unit on the far side of the bed, but the unit location means it's kind of hard to get into the bed from that side – there's not much room.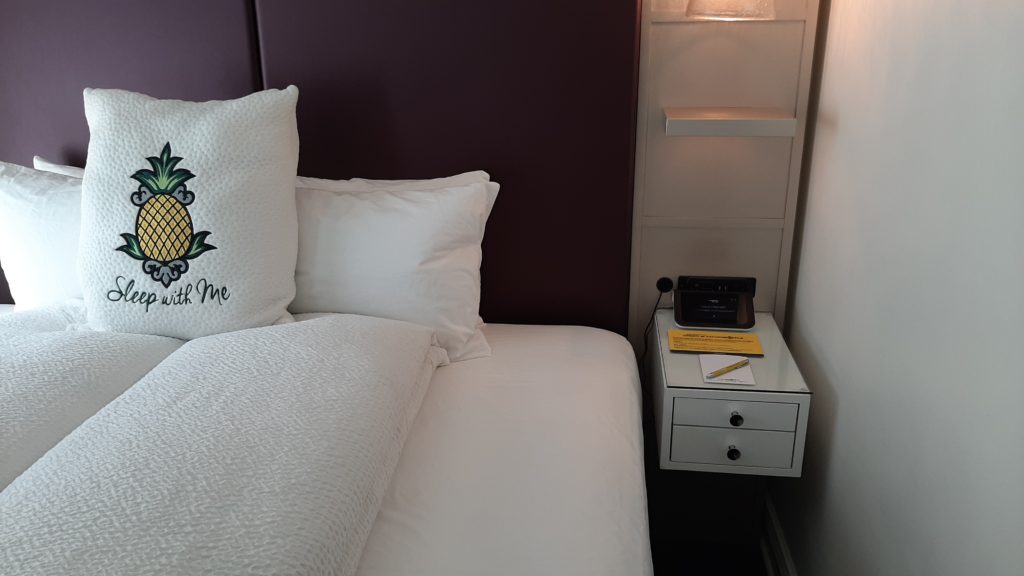 The top drawer of the side tables pull out to form a longer surface or "desk." That black thing on the table is their phone. Not a traditional phone. You can use it to set wake-up calls or contact the front desk by saying "Okay Pineapple." That freaked me out enough that I wouldn't say the hotel name in the room for fear of having someone hear us talking (or worse). I'm not big on smart speakers.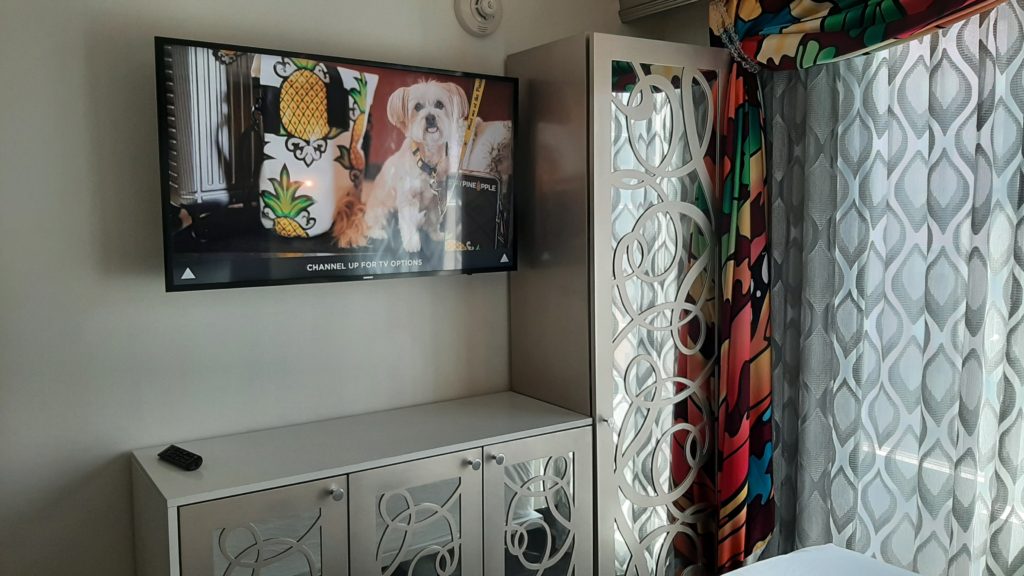 The unit above has some drawers and the Keurig maker etc. The wardrobe has hanging space and two bathrobes. The colorful curtain pulls down to make the room darker.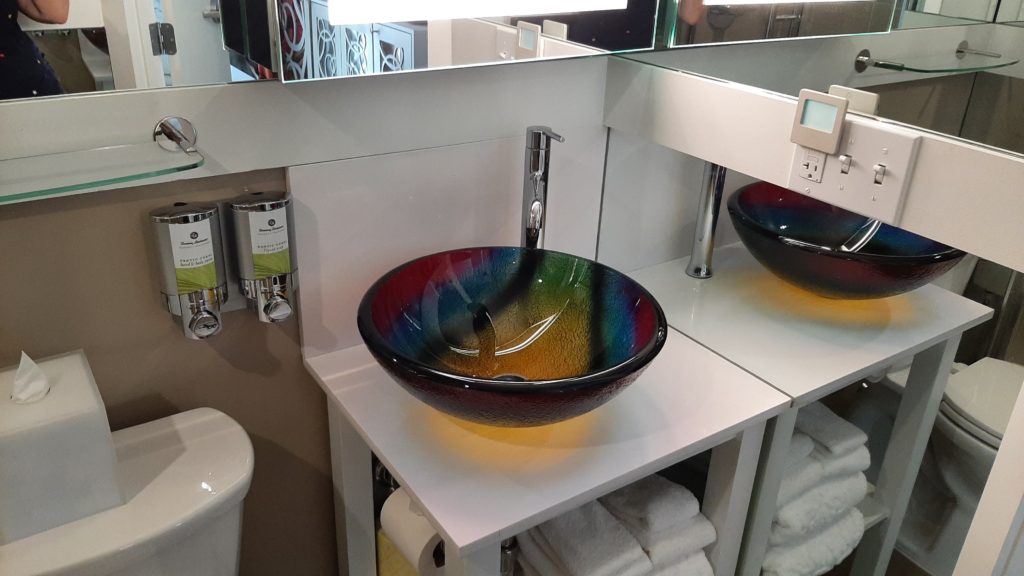 The hotel has built-in soap, shampoo, lotion etc. from Tommy Bahama. The room uses mirrors probably to make everything look bigger. So when you're sitting on the toilet, there's an almost fully mirrored wall across from you. I did not enjoy seeing myself sit on the toilet.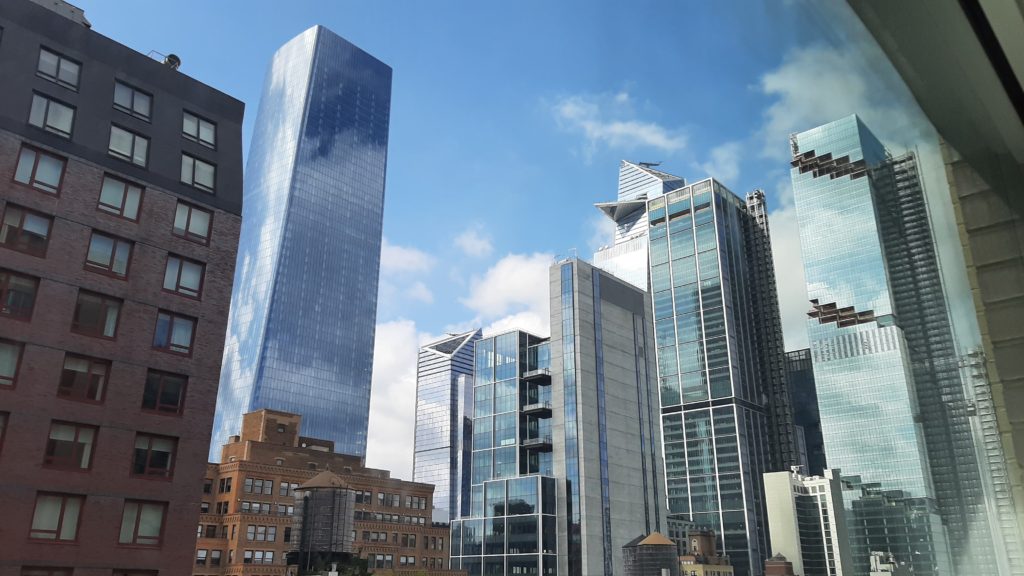 Each floor has probably 4 rooms – it's narrow! This was the view from room 2002. Nice, huh! When checking in, the staff member told us what we could see from our window (e.g. the Edge, which you can see as the triangular overhang in the middle building – you can pay to go on the Edge – it's at Hudson Yard).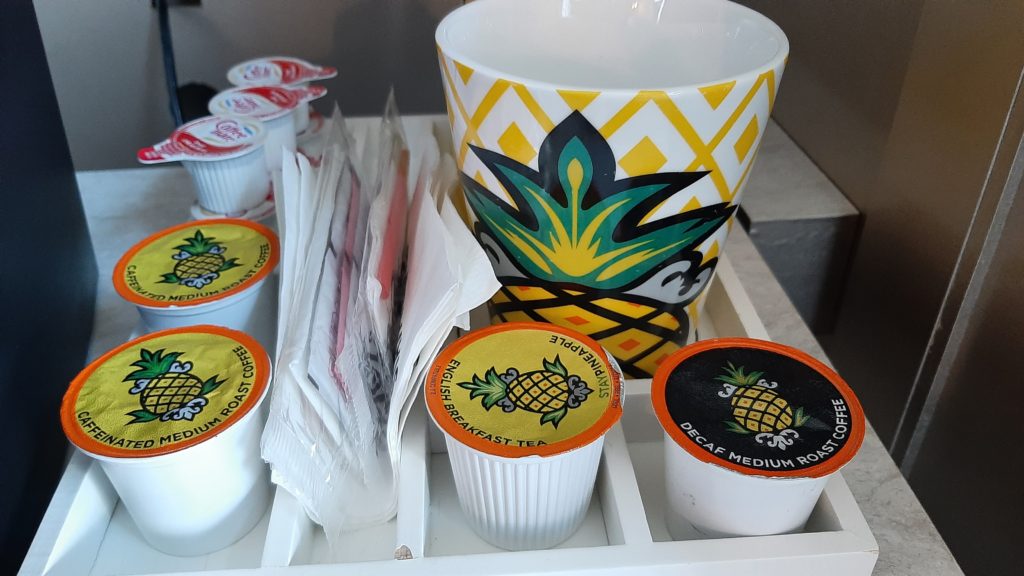 The hotel has its own branded coffee and tea and cute mugs (you can buy the mugs, of course).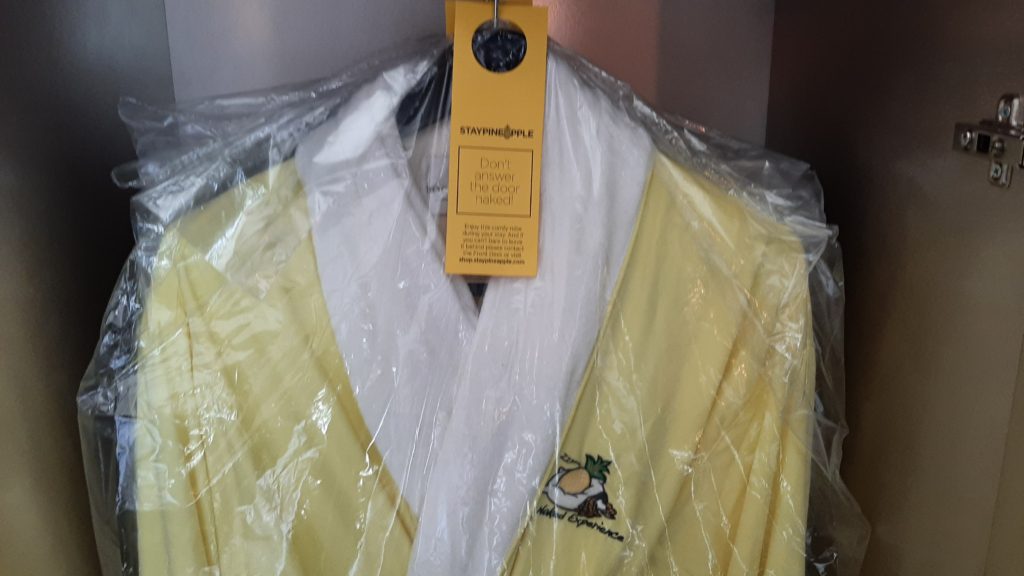 The robes were very comfortable, but not so attractive on.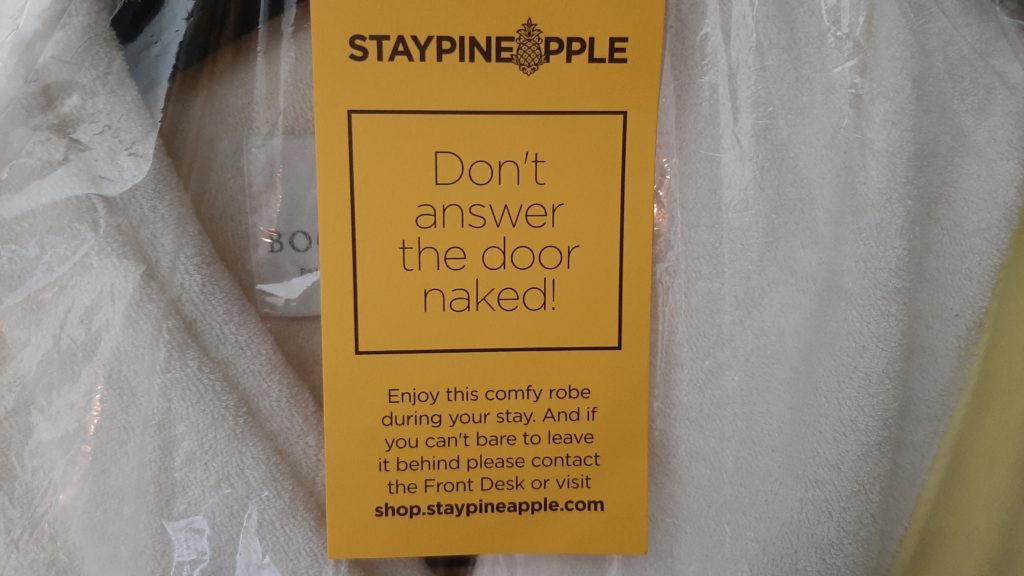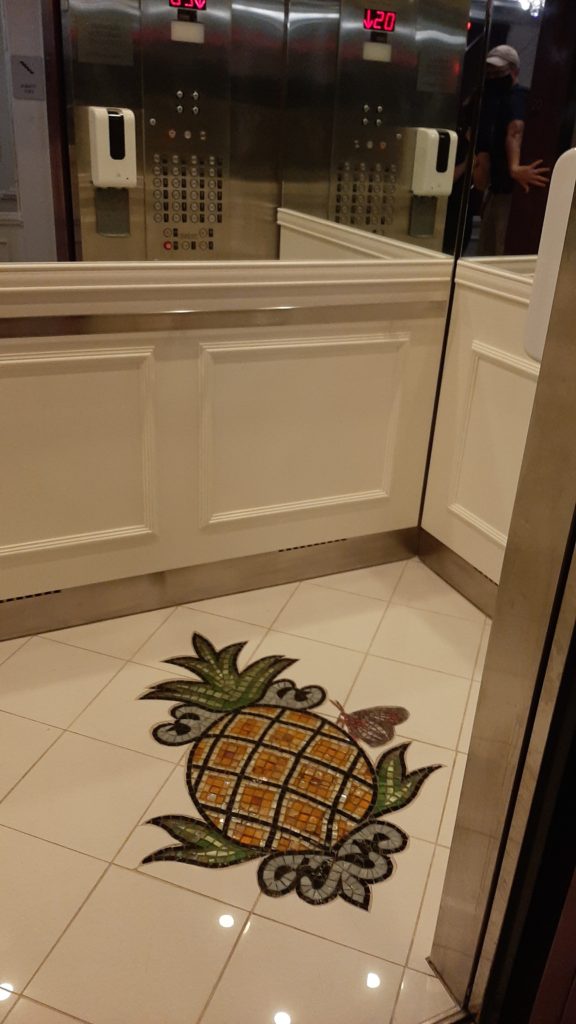 Here's my pet peeve: Resort Fees. This hotel had a $25 resort fee, even though it's not a resort. They say the fee covers the internet, $10 in snacks, the Keurig in your room, unlimited bottled water, streaming, and use of their beach cruisers. My recommendation, just avoid the $25 fee or add it on to the hotel cost, and offer free wi-fi and be done with it! They asked that we use our daily $10 credit the day we checked in, as it's apparently they can't add it on/subtract the $10 on your check-out day. But shhhhh….they did let us get the yogurt the next morning, after my husband's run. The staff was very nice.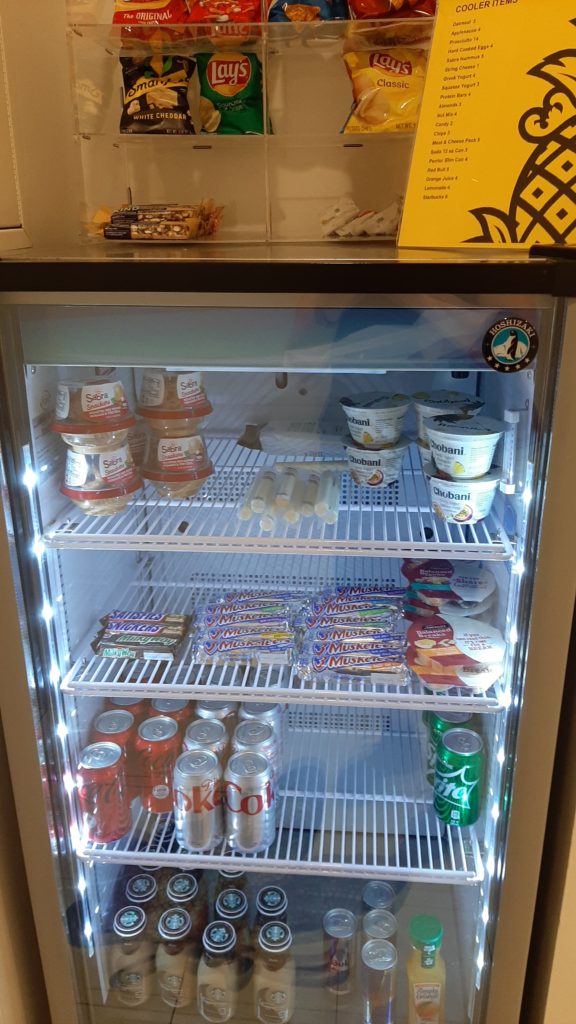 Staypineapple was very Instagrammable. I saw one woman posing on the couch on all fours in the front part of the lobby. We felt very hip and trendy at Staypinapple!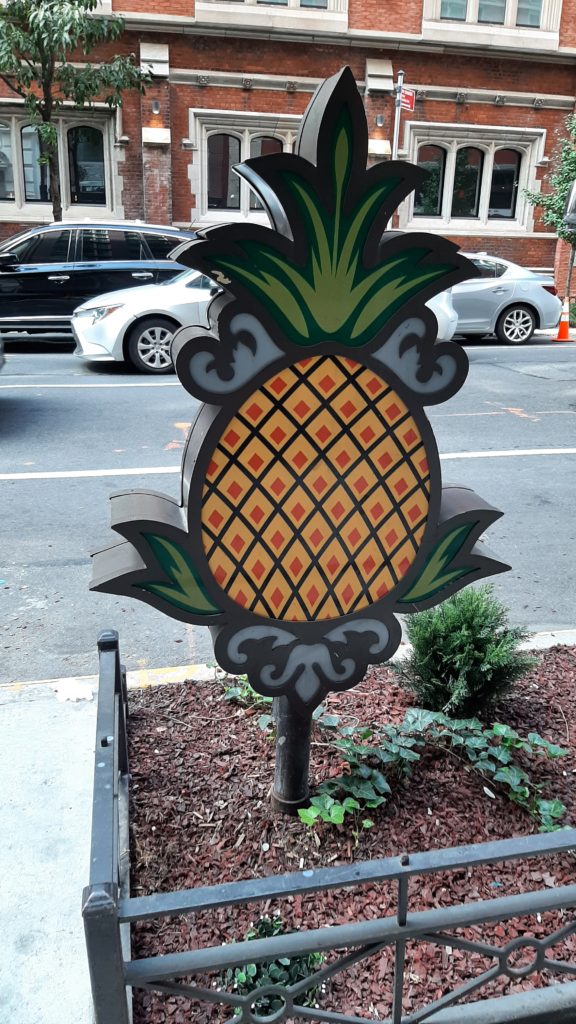 Is Staypinapple NYC good for kids?
The Staypineapple NYC hotel does have adjoining rooms. I think they set it up so there's an outside door you can lock which covers the very tiny entrance to both rooms. So the rooms don't open into each other, per se, but there is a door blocking them off from the public. Does that make sense?
They also have some rooms (the opposite side of where we stayed), with cute balconies. That would be fun for families. But when they say 2 will fit in the room – at least our room – they are correct. There is no room for much else, let alone a crib.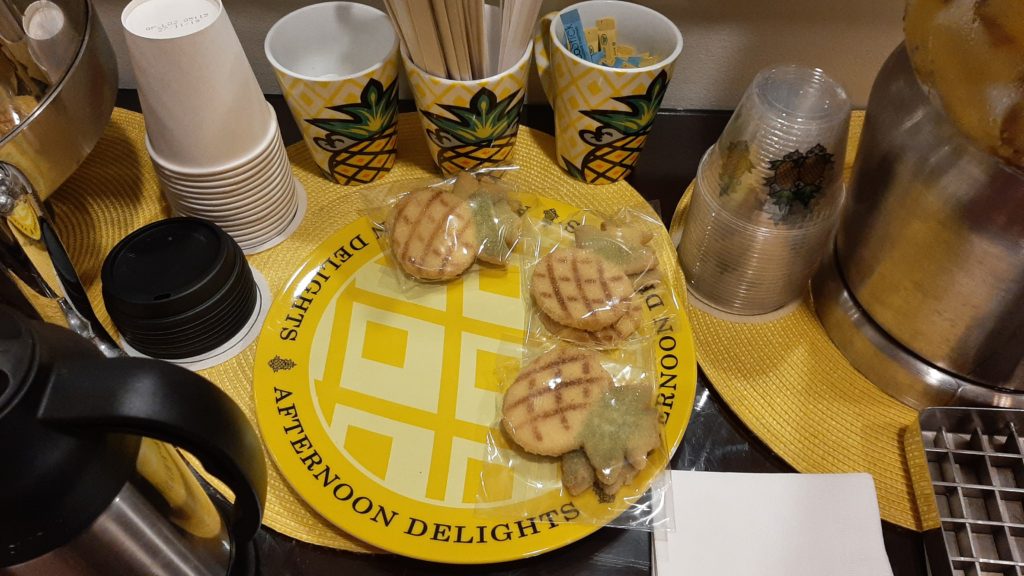 In the afternoon they have these adorable cookies available for free in the lobby. We didn't see any when we checked in on Saturday, but we saw them on Sunday when we picked up our luggage after having them hold it for the day. They have a water container (with floating pineapple chunks) in the lobby too – along with coffee, I think.
We would stay here again and would try Staypineapple in other cities too. Friendly staff, nice amenities, thoughtful touches, and a fun place.
Review Staypineapple hotel NYC – if you go
Where: Staypineapple is at 337 W. 36th Street (between 8th and 9th) in Manhattan. It's a few block walk from Penn Station and Port Authority. It's close to the theater district. The block itself wasn't scary, but it was not high-end.