Broadway is back! See our post about what that looks like. Even though Broadway is back, those affected by the theater are still trying to survive. We went for a drink at Beer Culture after the Lion King and the bartender told us that they're at about 30% of volume. They're hoping that with Broadway coming back, their business will improve as well.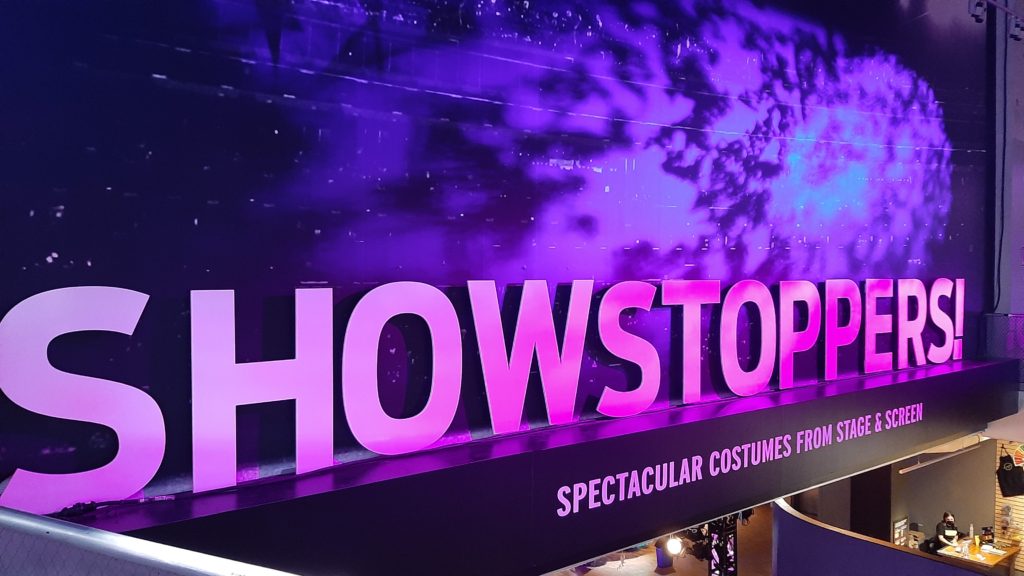 Other industries are hurting as well, including costume designers. The Showstoppers: Spectacular Costumes from Stage and Screen show was created to raise money for those costume makers who were unable to work during the 18 month shutdown. The Costume Industry Coalition formed in May 2020 and started a recovery fund for its members, which includes 55 independent businesses and hundreds of artisans in and around NYC. These are the people who create the costumes for live and recorded shows. The exhibition designer, Thinc Designs, donated their efforts. Designers lost $26.6 million in gross revenue from the pandemic in 2020 (up to $35 million by now in 2021). The show was put together in 3.5 months, where a show like this would normally take two years. Here is our review: Showstoppers NYC.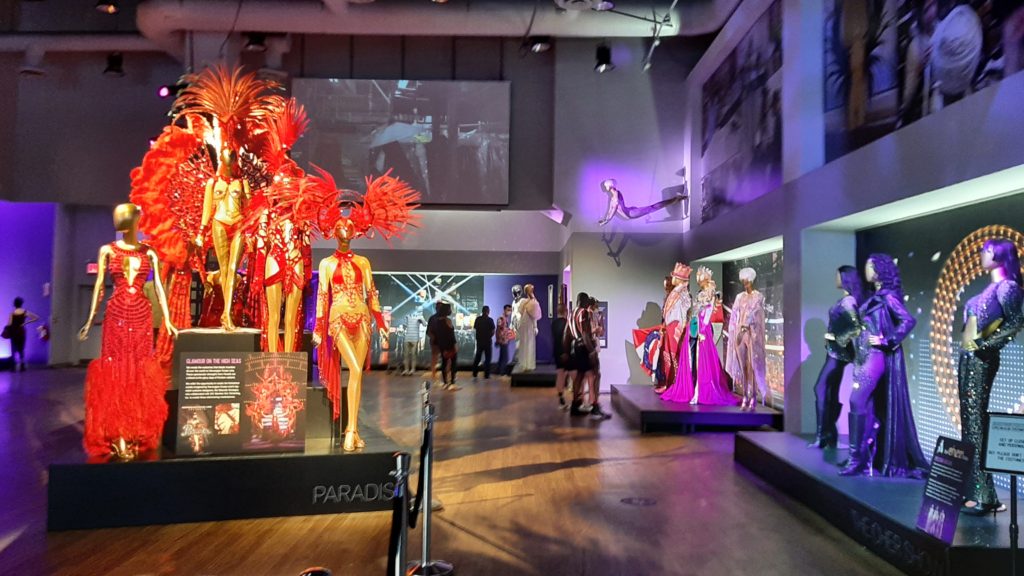 Showstoppers NYC showcases more than 100 garments for 30 shows. There was a lot to look at, plus a bunch of short videos and live artisans working.
Above on the right you can see Cher costumes by Bob Mackie, who designed more than 683 costumes for the Cher Show. Three are on display at Showstoppers, and on average, each costume has more than 3,500 Swarovski crystals. The red showgirl costumes are from a cruise ship show.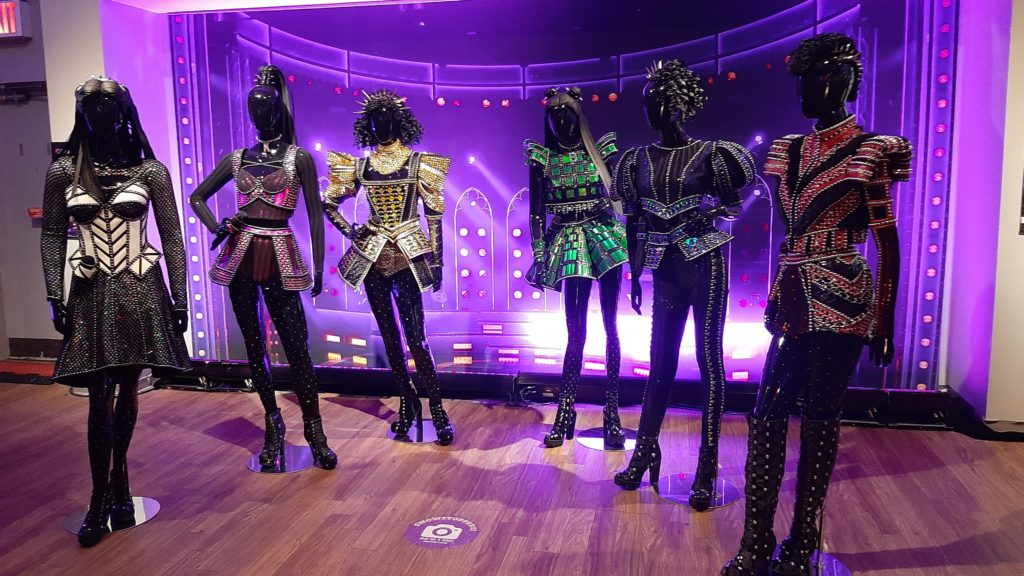 The new hot Broadway show Six (which I could not get tickets to, but I'm dying to see it) had costumes up close. So close you can get your photo with them. The costumes are by John Kristiansen New York Inc., and other are 18,800 studs hand-placed in the costumes, which are designed by Gabriella Slade. You can see their microphone holders on the hips up close.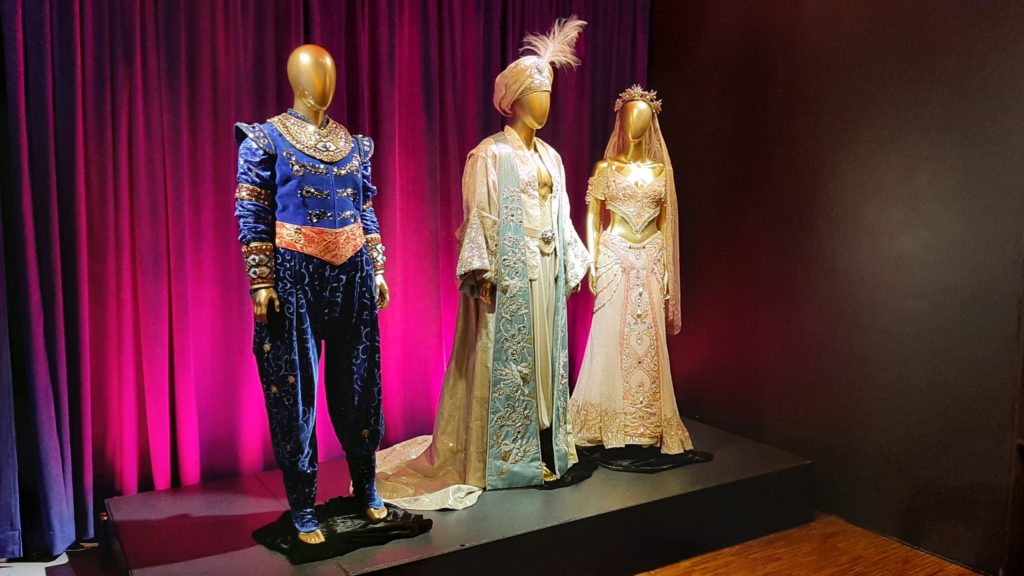 Aladdin has 337 costumes, with unique head-to-to looks. That includes 291 turbans and headdresses designed by Gregg Barnes.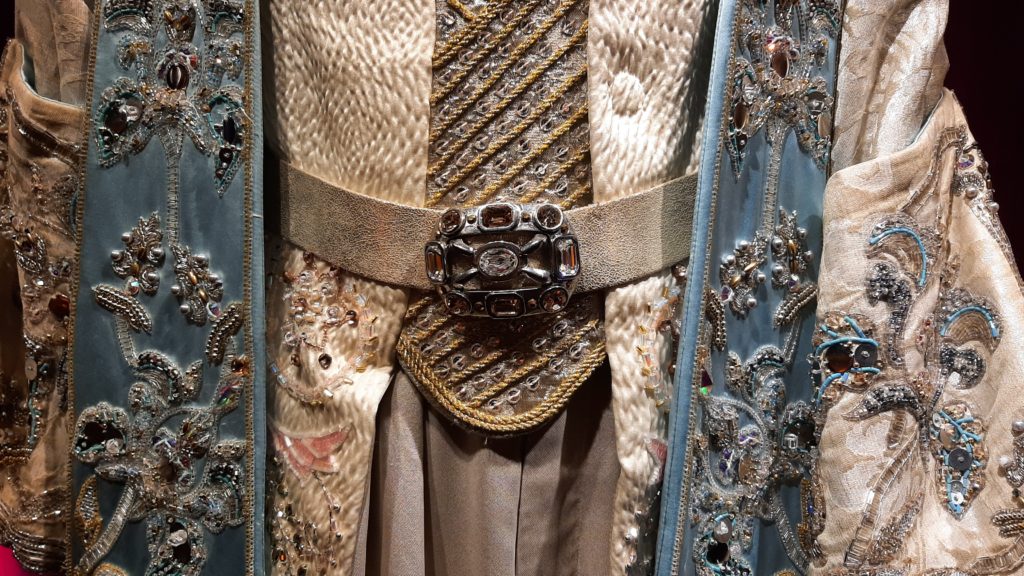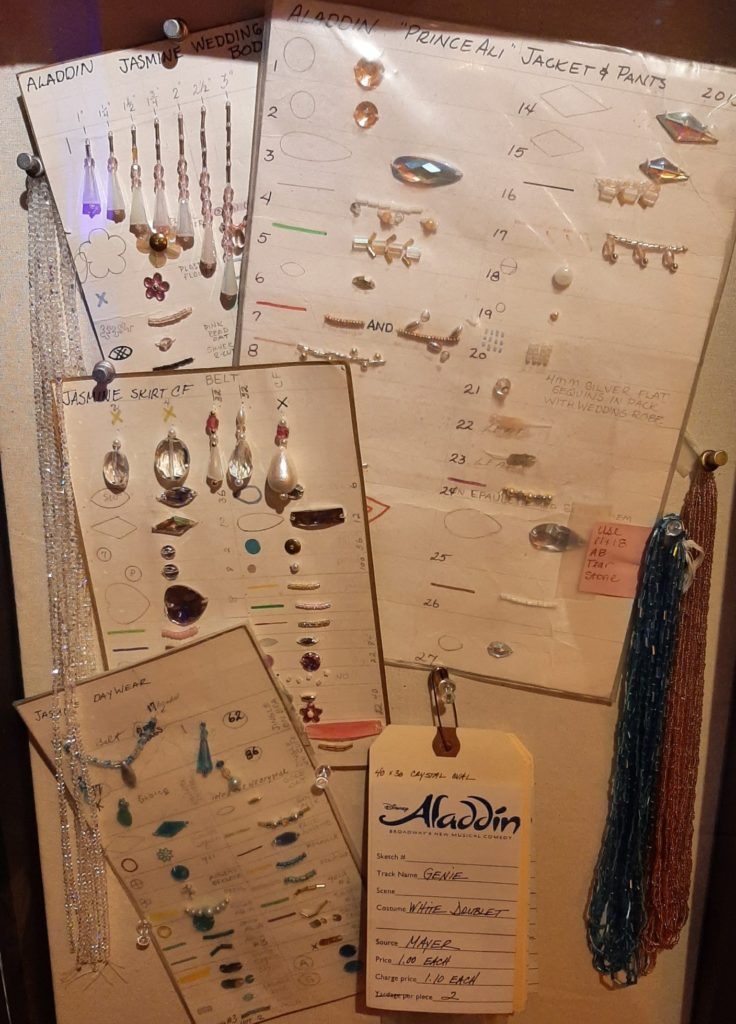 For the Lion King, it was fascinating to see the grass, rope and sticks used in the costumes (Scar's costume has elaborate stick gloves and ribs). They show how the Grasslands' tops are woven with sissel and plant-like fabric to create the dresses worn with the hoop skirts (on the left in the picture below). They have made 553 of these skirts with 68 miles of rope. As for Scar's leather chaps, those took 111 hours to quilt one pair.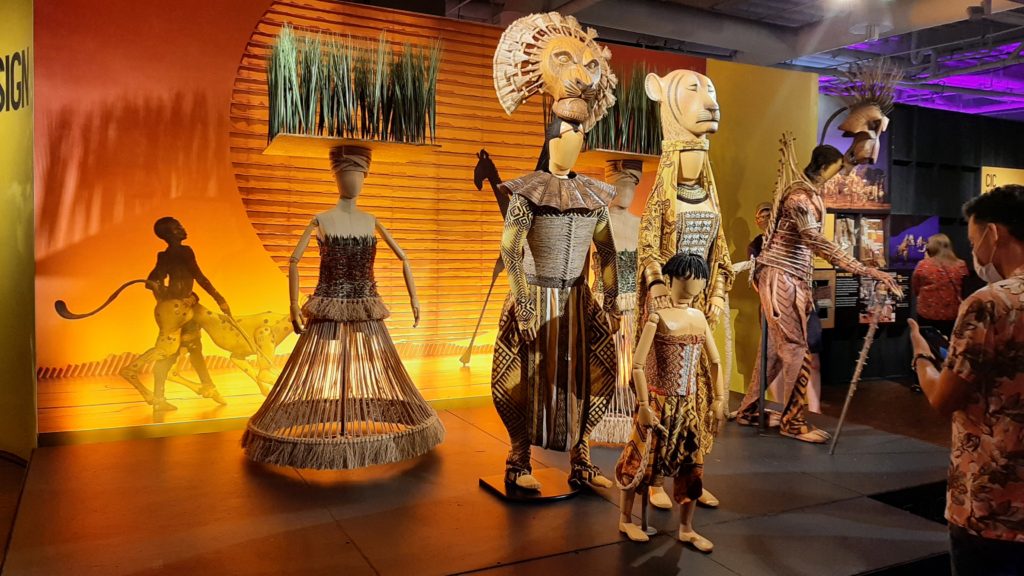 Simba and Nala's corsets, which are beaded, use 2,135 million beads. And Mufasa's cape uses 12 yards of fabric.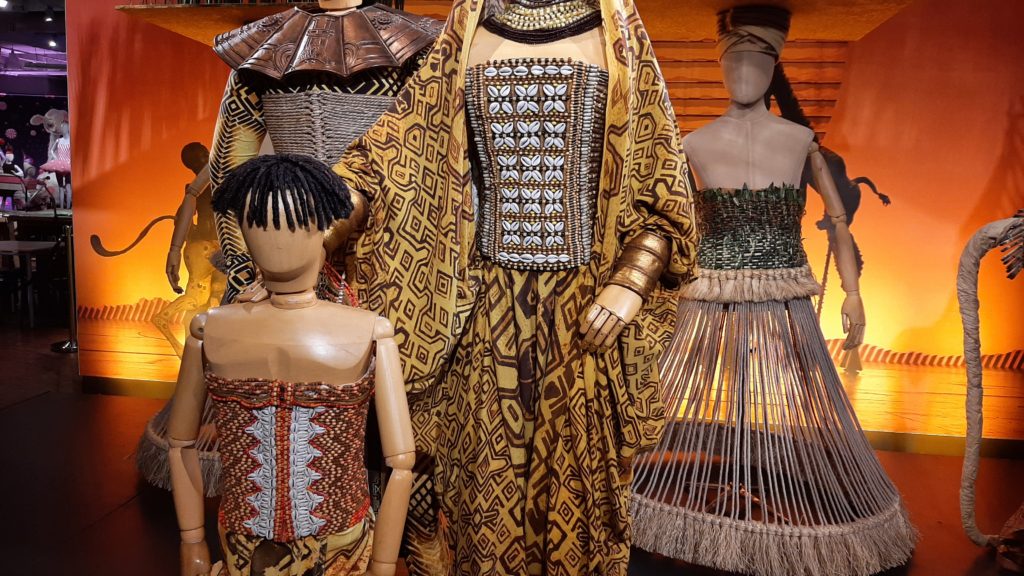 There are several places set up for artisans to work. The woman in the photo below was cutting out fabric for Lion King costumes and another show as well. They had space set up for a glove maker (no one there that day) and a hat maker (milliner) was working live too.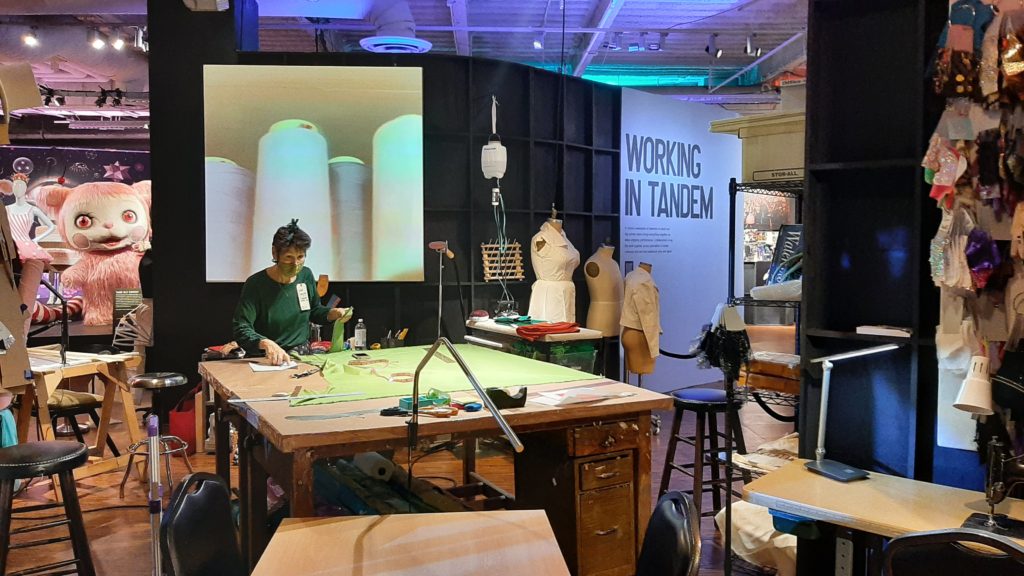 The exhibit shows how the garments are created, showing the start of a Frozen Elsa dress that was plain white, and then they show the final version with all the jeweled embellishments (not pictured here).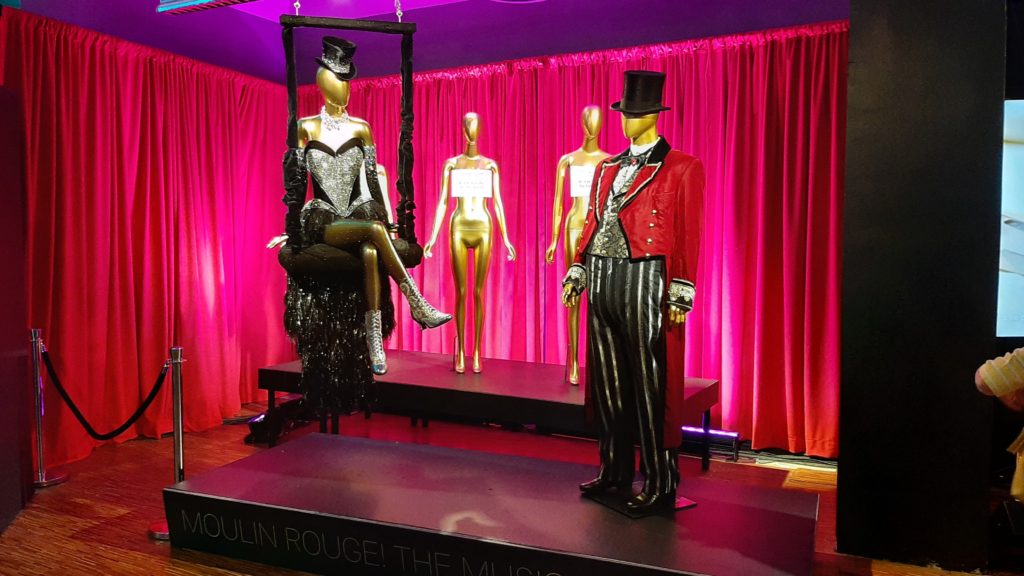 These costumes are from Moulin Rouge. The ones below will be replaced after they're used for the Tony Awards on September 26, 2021.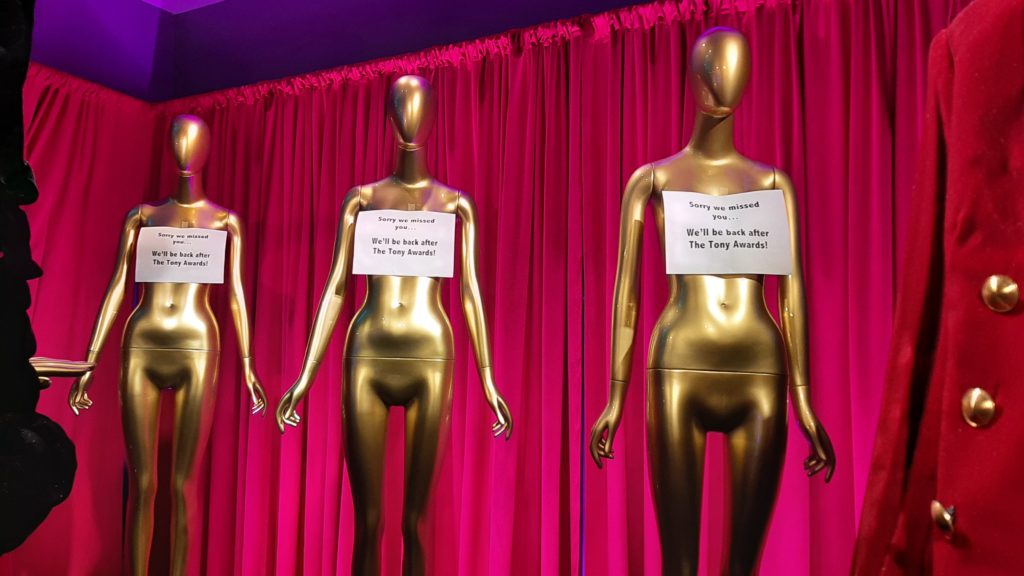 In addition to costumes, many sections featured additional details. One was a book below, which show each costume, where the fabric is sourced from, and other details to help the makers track the details. Many sections have a board up (like the one shown in the Aladdin photo above) for the different fabrics, notions and character information.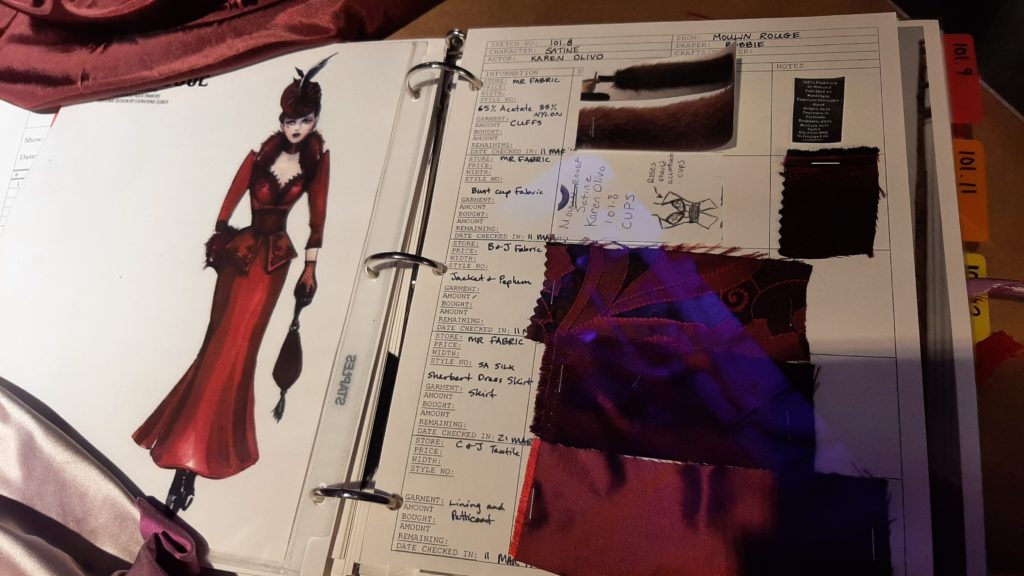 For Wicked, Susan Hilferty designed 269 Wicked looks, which were then made by 165 artisans. Glinda's bubble dress? That took 12 artisans from Tricorne Inc. to make, and used 1,000 hours and 4 pounds of sequins sewn by hand. Elphaba's Wicked Witch dress by Eric Winterling Inc., uses 40 yards of fabric for the ruffled skirt, and 15 artisans spent 245 hours to create it.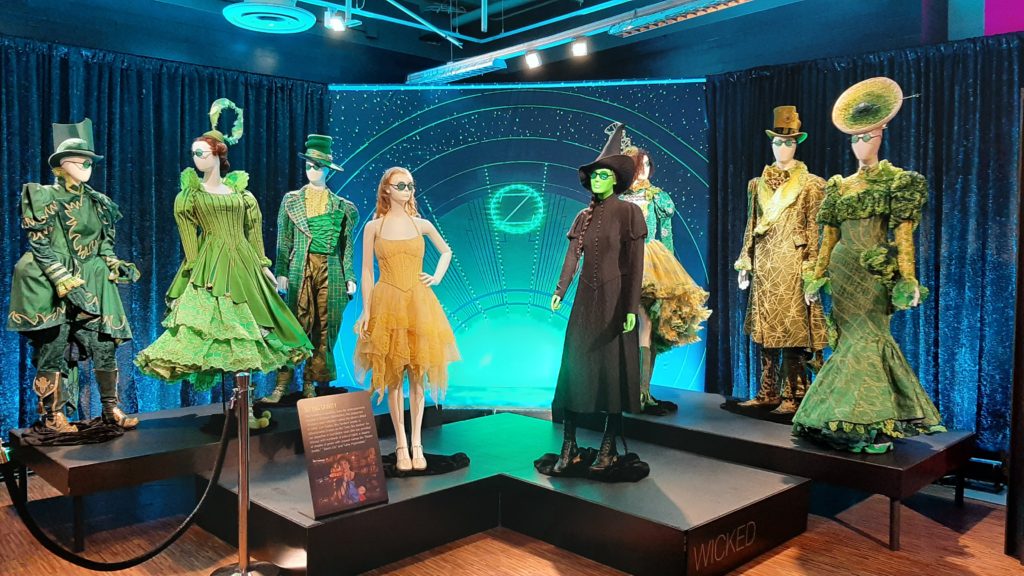 Wicked uses Bra Tenders, an undergarment specialty store in midtown. The store supplies them with hundreds of pairs of tights in dozens of green shades in colors like "Lime Psychadelic." They also apparently provide other "support."
The show has a Storm Trooper costume and others that use lightweight armor from Costume Armour, Inc. They have a video showing the Vacuform process that molds heated sheets of plastic for the costumes.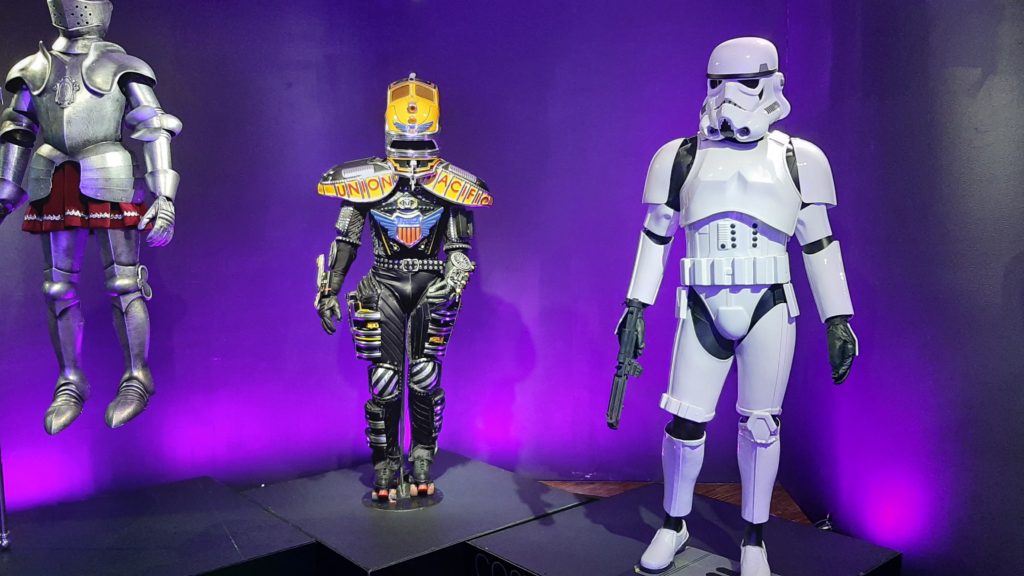 The Come From Away costume seems simple, but the designers made it in a way that the actor could just add a jacket and change characters and looks quickly.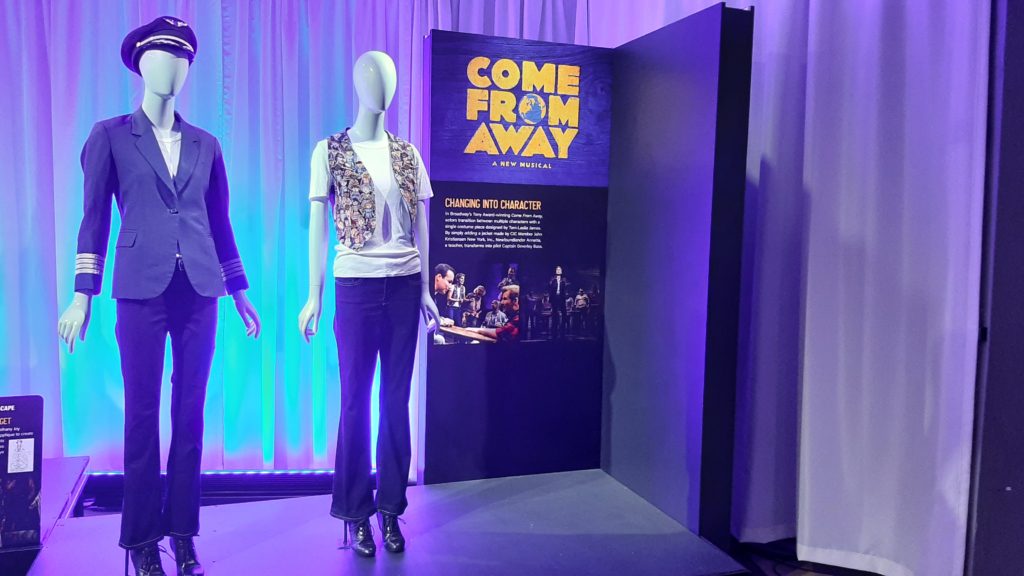 The three Chicago dresses here are all for different Roxys. They custom make a similar style dress that will fit the actor's features well.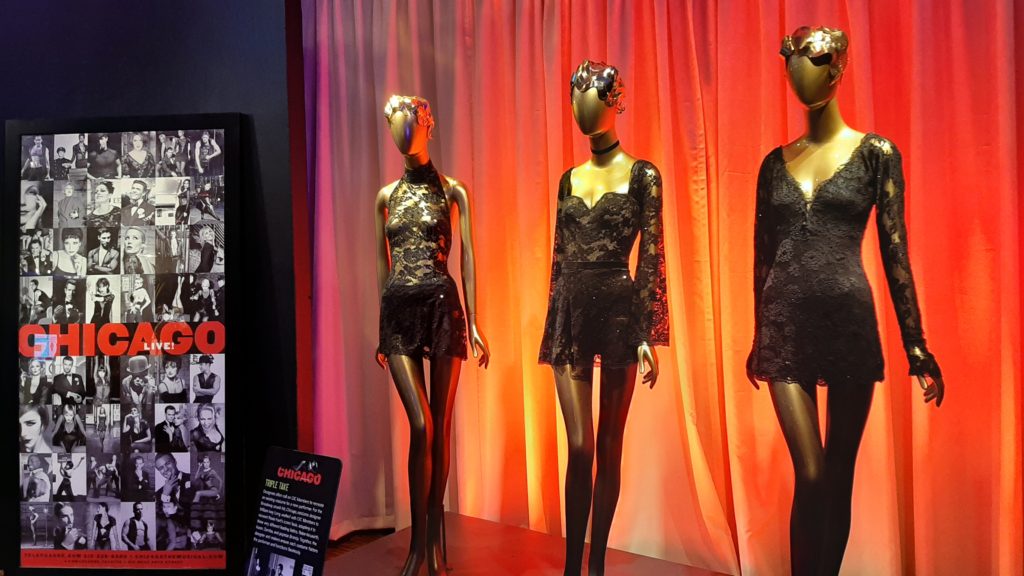 Mrs. Doubtfire is coming back to Broadway, and you can see the undergarments created for the male actor who will play the lead character.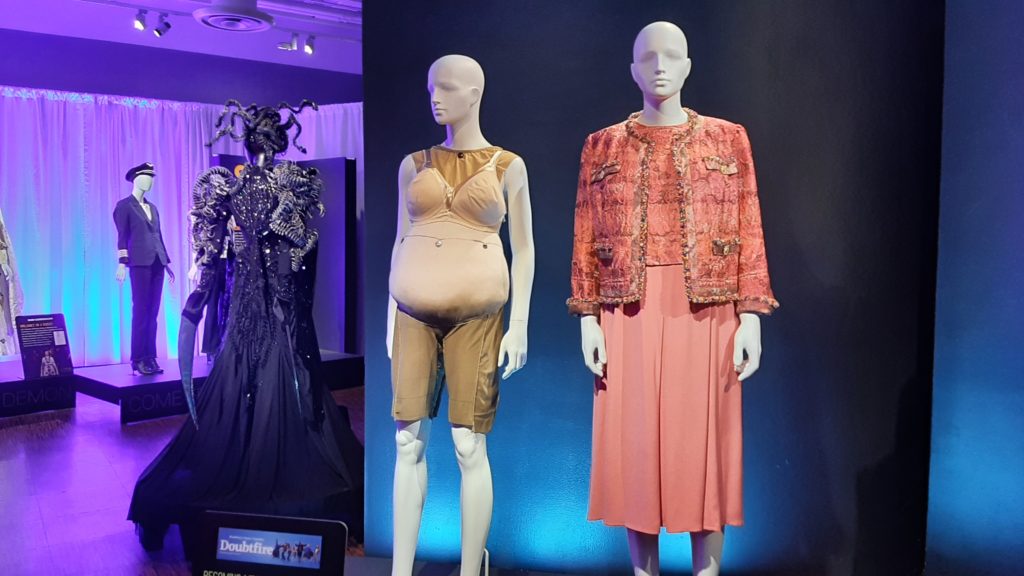 For the Hamilton dresses, we learned that Libby Marshall at Tricorne Inc. made more than 50 Peggy dresses for various Hamilton productions, as a draper and pattern maker. Each dress includes a bustle, two petticoats, three skirts and three bodices. For these 50 dresses, that means more than 400 individual pieces.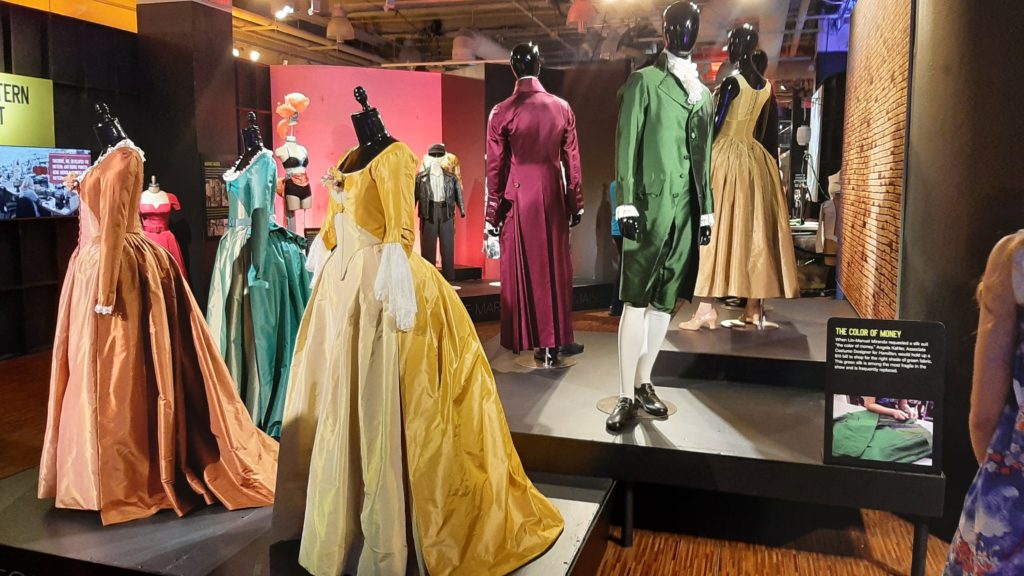 These are Mrs. Maisel costumes! They have a Midge pattern you can download for a fee, and the proceeds are donated to the Relief Fund.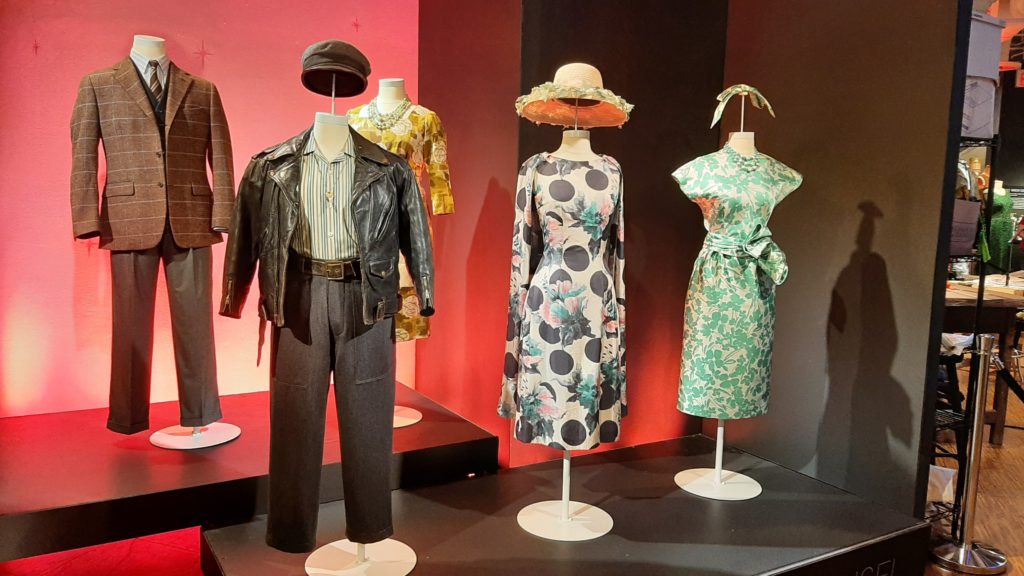 There were several exhibits from Phantom of the Opera including five or so costumes from the Masquerade ball (not pictured). They were stunning to see up close.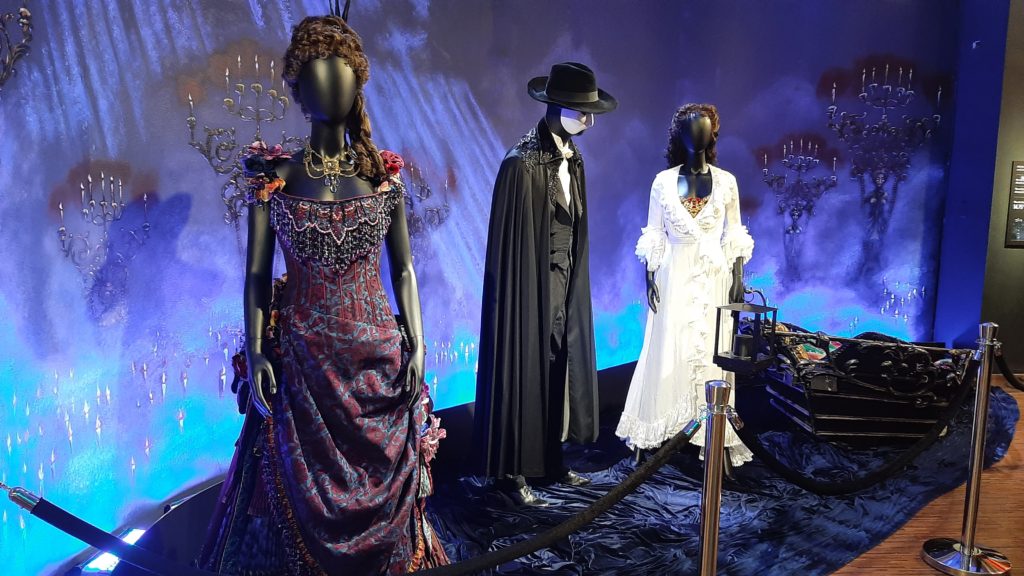 There was a big display for Whipped Cream, a ballet I'd not heard of before. The costumes and puppets were spectacular and there's a video explaining how they're made and how long they take.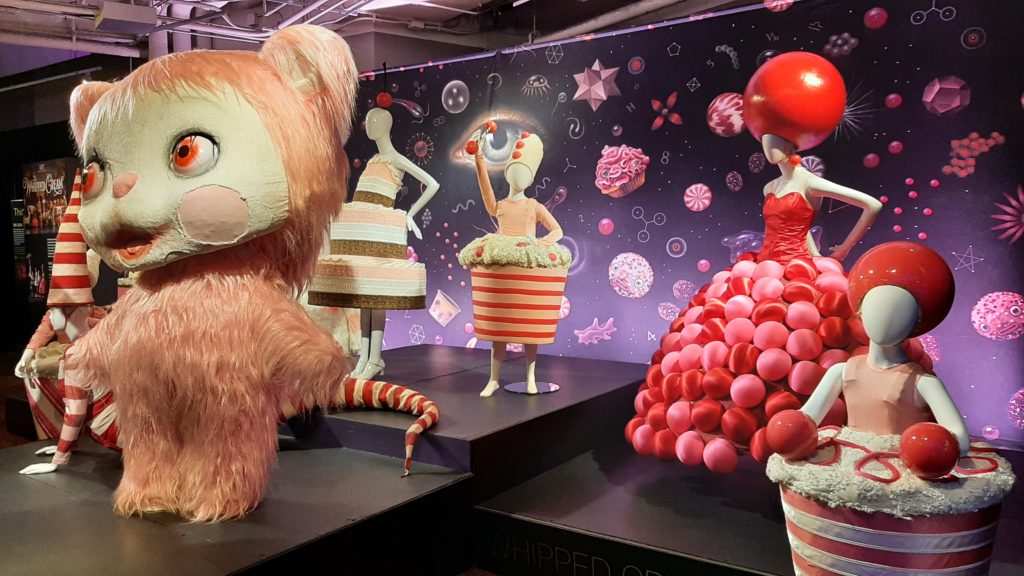 You can look through costumes used by famous actors including Kristen Wiig, Patti Lupone, Kate Winslet, Angelina Jolie, Nathan Lane and Matthew Broderick (the Producers). While you can't take them out of the bag, you can flip through them.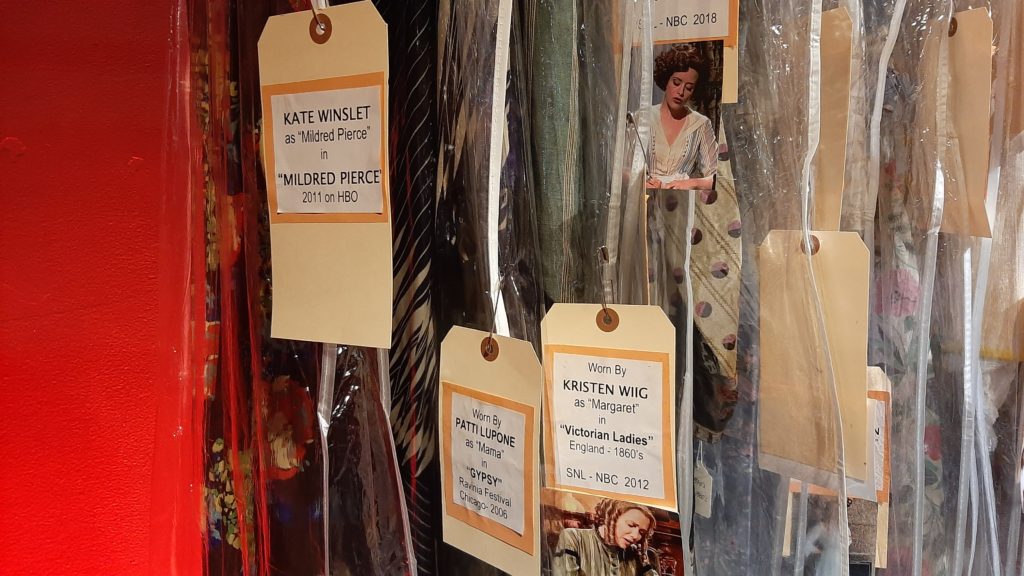 Review: Showstoppers NYC – if you go
When: You can visit Showstoppers until at least December 5, 2021. Tickets are timed.
Showstoppers discount tickets: Use code SHOWSTOPPERSCIC and save 15% on up to 10 tickets in one order.
Where: The official address is 234 West 42nd, which was Ripley's Believe it or Not. Go closer to 8th Avenue on the same side of the street as Ripley's (walk away from Time Square), and you'll see it in a storefront.
How long: How long should you plan to spend at Showstoppers? Plan for 30-60 minutes. I spent close to an hour, watching videos and taking my time. My husband was finished much sooner though.
Who: The age depends on the interest. Children 2 and under are free. They allow strollers inside but there is no stroller parking. Those under age of 16 need a parent or guardian.
Vaccine requirements: Due to an NYC executive order, as indoor entertainment anyone 12 and older needs to show proof of at least one dose of a COVID-19 vaccine and ID.
Disclosure: I was provided with media tickets to review Showstoppers NYC. All opinions and photos are my own.