This post is sponsored by CAMP NYC. All opinions are my own.
Summer has been fantastic to get outside and play. But sometimes it's great to go indoors and play too. We checked out Cosmic CAMP this weekend on 5th Avenue (at 16th Street). It's in town through Halloween, and we recommend if you have kids 3+.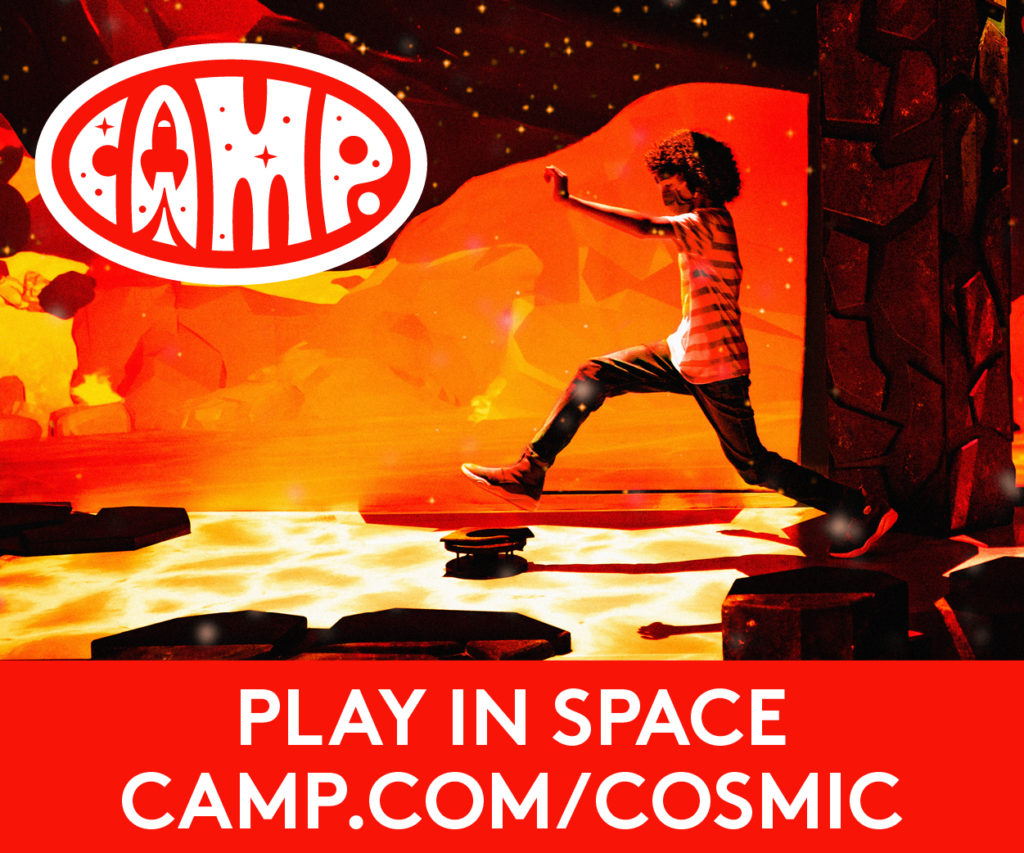 Your mission (if you choose to accept it) is to collect as many points and have as much fun as you can in this space-themed experience. It's created by CAMP, the experts in all things family fun. The Cosmic CAMP experience includes adventures in outer space, with interactive games, physical challenges, and old-fashioned playtime.
The experience starts before you even enter the play space. You'll come up with a crew name to track your points, and the space captain will take you through a secret location, which okay, I pictured here. Your kids will still be surprised!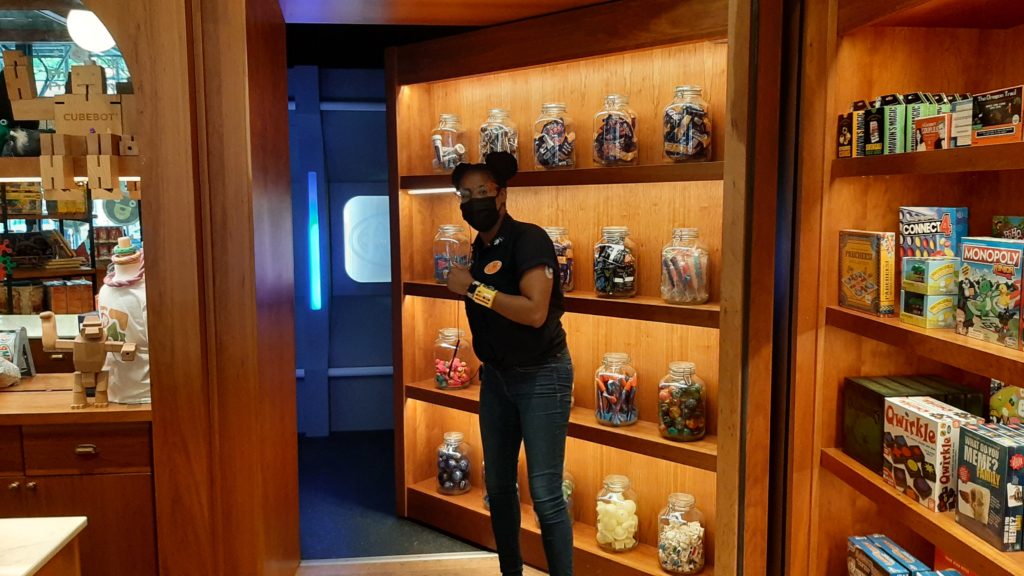 What you'll do at COSMIC CAMP
Inside you'll watch a short video explaining the mission, and then enter the rocket to blast off, and your kids can push the lit buttons to get the process started. From there you enter space. Here's what you'll see and do in this one-of-a-kind adventure.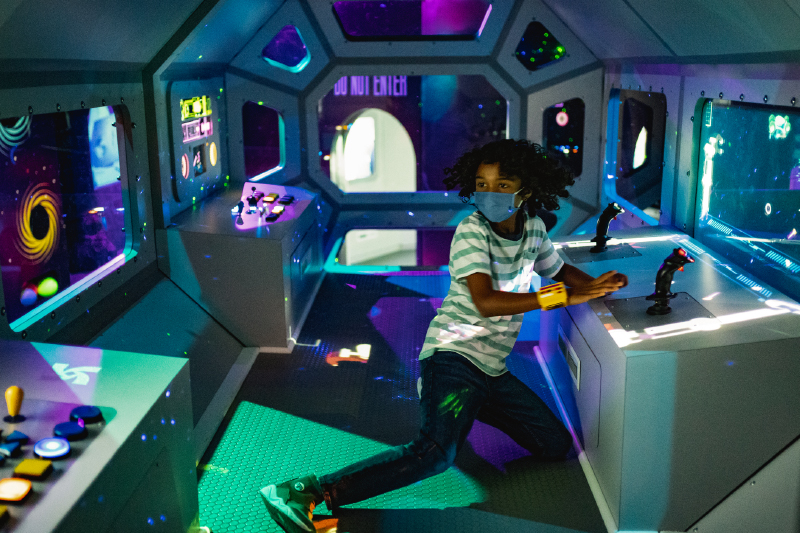 Space station: This kid-size space station has plenty of consoles with flashing lights and buttons to push, letting the kids be in control of their space experience. Adults can go in too, and there are a few mesh ceiling areas so you don't have to crouch over the whole time. To get out, use the staircase or one of several kid-size slides.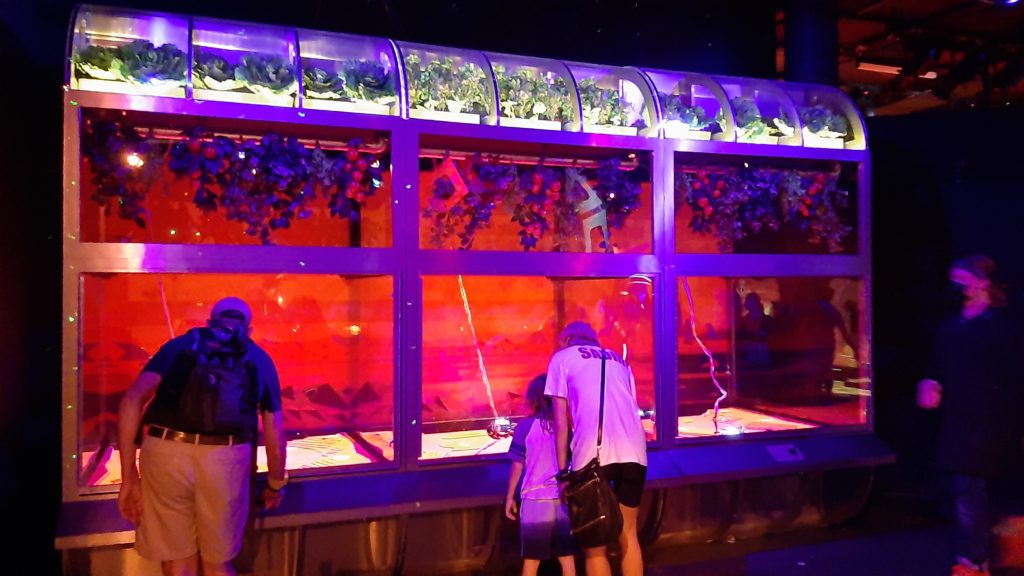 Visit the moon: Drive a moon rover to collect coins (an especially good game for adults!).
Blast asteroids: Think basketball, but throwing the balls into the black hole.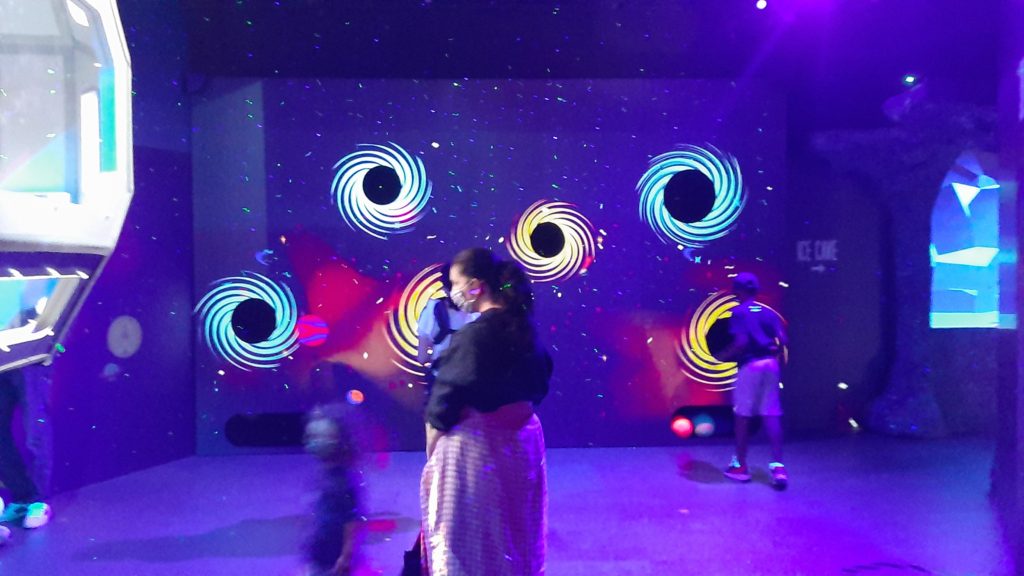 Build space ships: The blocks area is great for creating new space stations.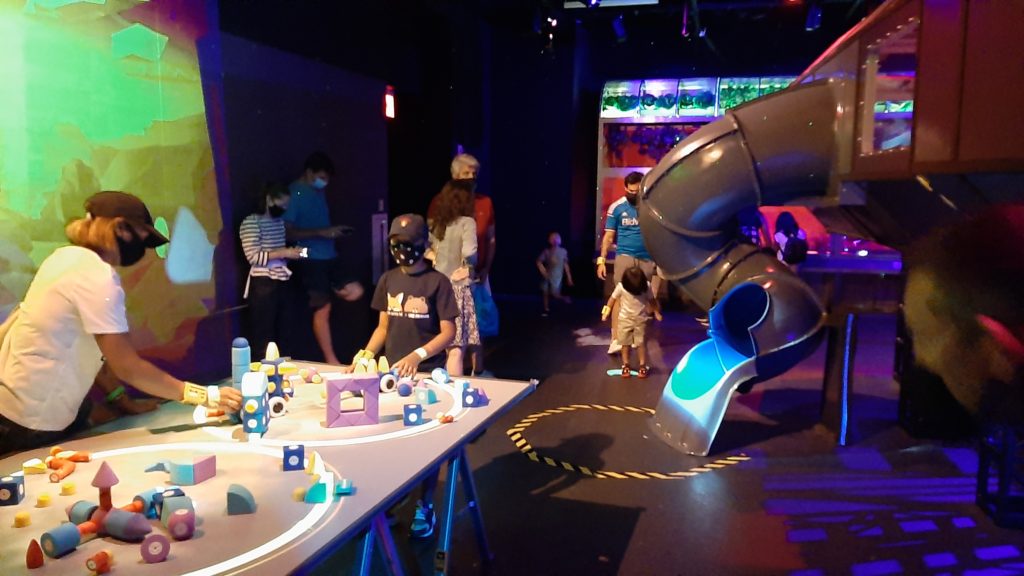 Jump through the lava field: Avoid the lava by stepping on raised or flat lava rocks to collect coins from the lava rocks.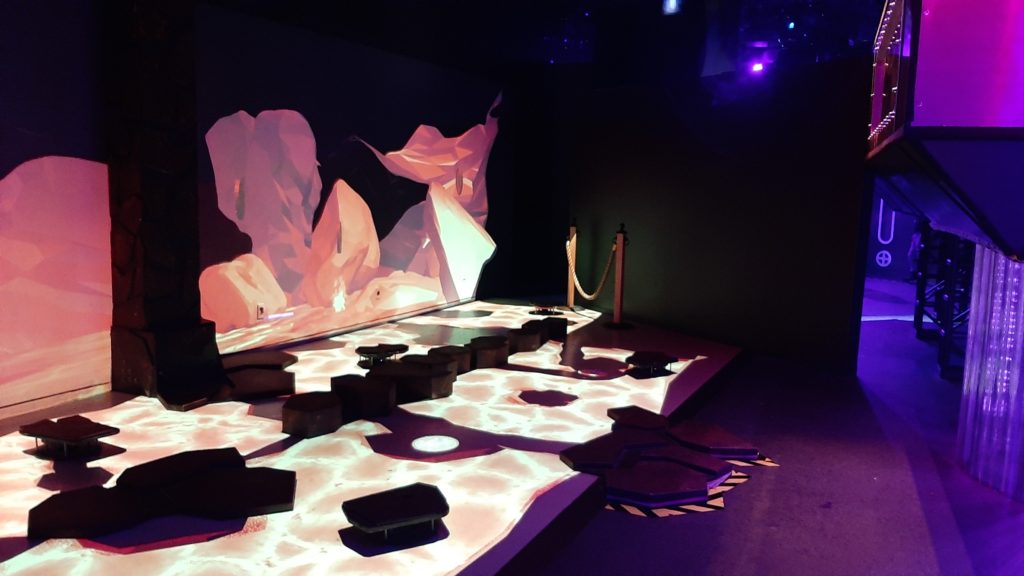 Interactive game show: Cosmic CAMP has its own galactic game show. Watch for the clock above the theater to find out when the next show is. If it's too full, they'll give you a priority boarding sticker for the next one. The show includes space trivia, charades (a la Cranium), and a spin the wheel and act out the silly command. You get stickers (points) for these, so hold on to them!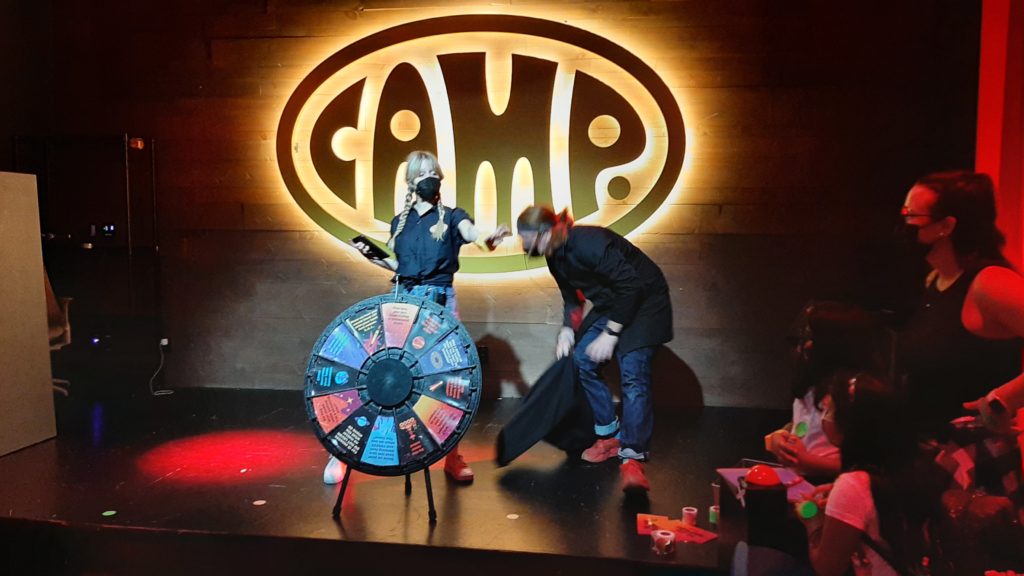 At the end, you'll give your watch-type insert back to the space crew, but you get to keep the outer band. They'll add up your points (you'll want to keep those game show stickers – that's when they count for points) and show where you fall on the leaderboard.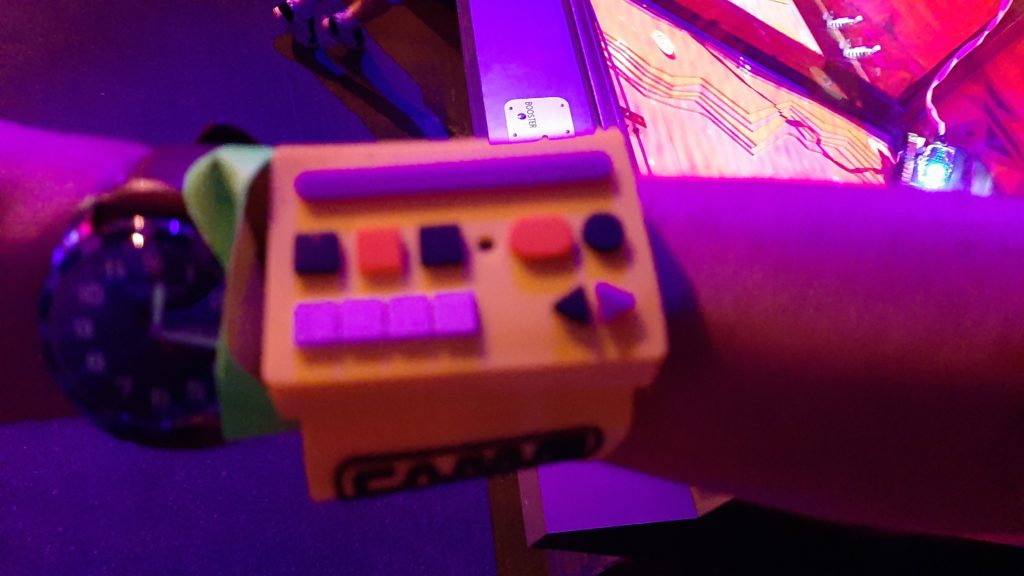 Earn points and come out on top: While some kids will be motivated to earn points and catch coins in the lava field, on the floor, or on the walls, some will just want to run around and play with everything.
The games, theater experience, and immersive environment will make you feel miles from Earth. Know that the experience includes flashing lights and loud sounds, so be aware if your little one (or you) has issues with that.
COVID-19 safety: Those ages 12+ must be vaccinated to enter, and they will check your vaccine card and ID. Masks are required inside for those ages 2+ who are not vaccinated, and staff members all wear masks. Everyone I saw (adults included) wore a mask. Proof of vaccination is not needed to shop in the store and unvaccinated (but masked) individuals can shop there. If you have concerns about COVID rules, check the website for any details or changes.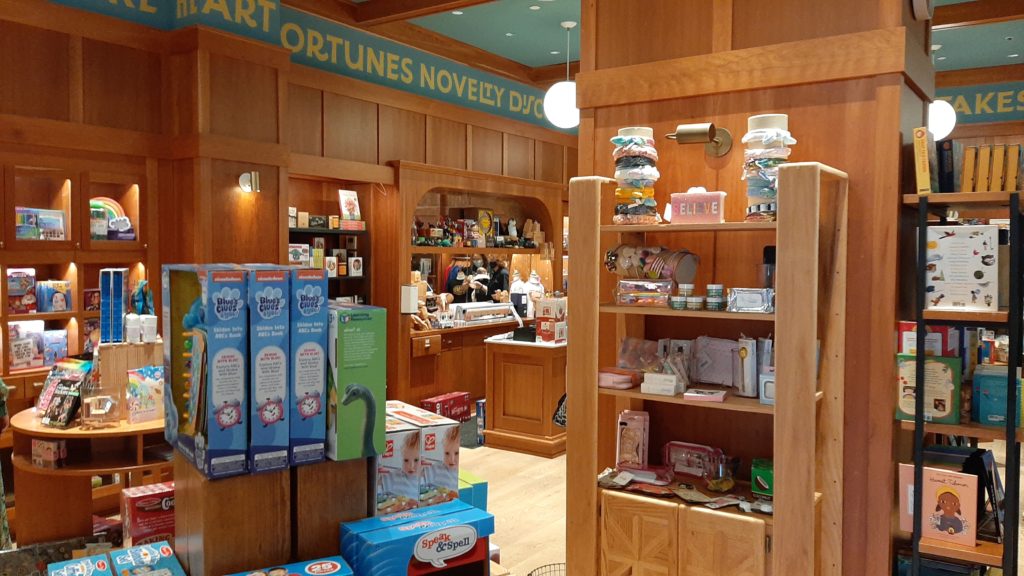 Strollers: This Cosmic CAMP location is not stroller accessible, but you can check your stroller.
How to reserve your tickets: Tickets are timed and your experience lasts an hour. Reserve your COSMIC Camp tickets here.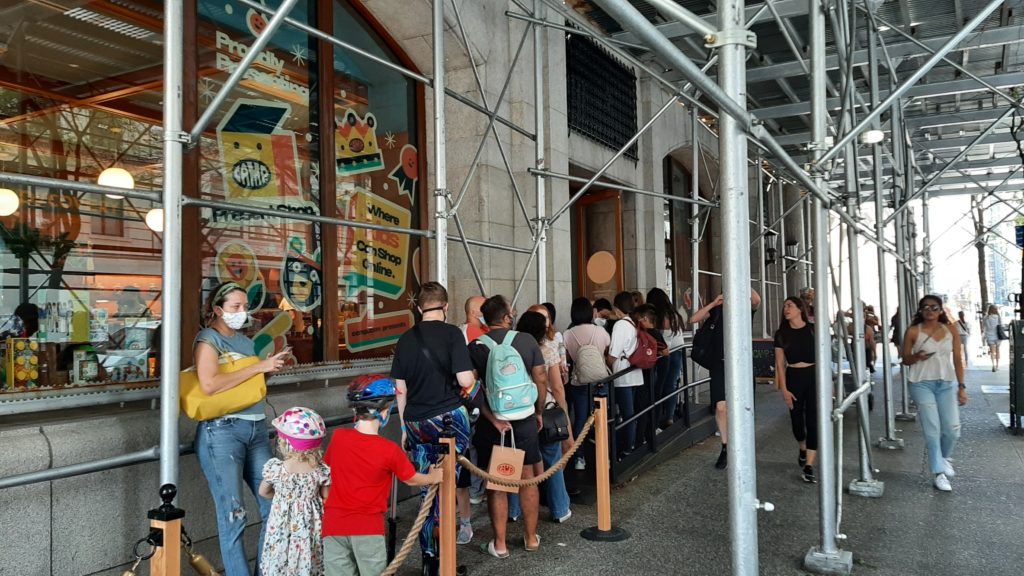 Who: Children 3+, but adults will love it too
Where: CAMP NYC is at 110 5th Avenue in Manhattan
When: Monday through Thursday, 10-7
Friday to Saturday 10-8
Sunday 12-6
The Cosmic CAMP leaves the 5th Avenue location after October 31, 2021