Hurricane Ida came fast and furious to Louisiana, leaving a million with no power in New Orleans and some smaller towns with extensive damage. Here's a quick post to share how you can help financially.
The Greater New Orleans Foundation: According to Nola.com, "The Greater New Orleans Foundation is the community foundation for 13 parishes in southeast Louisiana. Its disaster response fund has responded to every major disaster in the region since Hurricane Katrina in 2005."
Nola Ready has a great list of organizations to support.
Chef Alon Shaya of famed NOLA restaurant Saba is offering a virtual cooking class (which will be recorded and you can watch later) to benefit the restaurant team and World Central Kitchen. The demo is on Sunday 9/5. Pay what you can – the requested donation is $50.
Tulane's Hurricane Relief Fund: We were so impressed with how Tulane handled preparations and evacuation, taking in off-campus kids and coordinating the evacuation a few days after the storm to Houston. They paid for housing and food for evacuated kids as they made plans to go home, and are housing international students and those who can't travel. They are continuing to pay Tulane staff while school is closed. They are providing emergency aid to kids who need help with transportation funds and other funds needed due to the evacuation. "Every dollar given to the Hurricane Relief Fund will be used to support our community — assisting students and faculty and repairing Hurricane Ida's damage to our campuses. A flexible resource, this fund can go to work immediately, helping Tulane — and Tulanians — recover from this devastating storm."
Some people/organizations are selling t-shirts with proceeds helping various constituencies and causes.
Streetcar t-shirt above benefitting the Cajun Navy.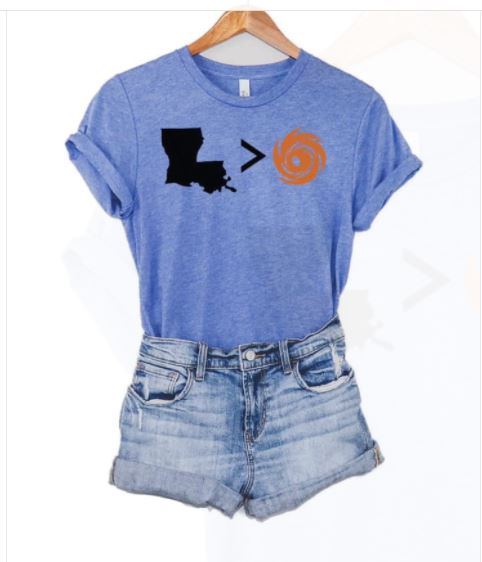 Fleurty Girl t-shirt, for the shop owner to pay her staff for the next month. I've heard you should order two sizes up from what you normally order, for best fit.
Fundraiser for Son of a Saint to provide essential items for the recovery. This is organized by a Tulane student.