Little Island opened this past May and after two tries, we managed to check it out. The 2.4 acre park on the water is a magical spot with gorgeous plantings and a whimsical look. It's a public park and performance space.  What can you do and see when visiting Little Island with kids?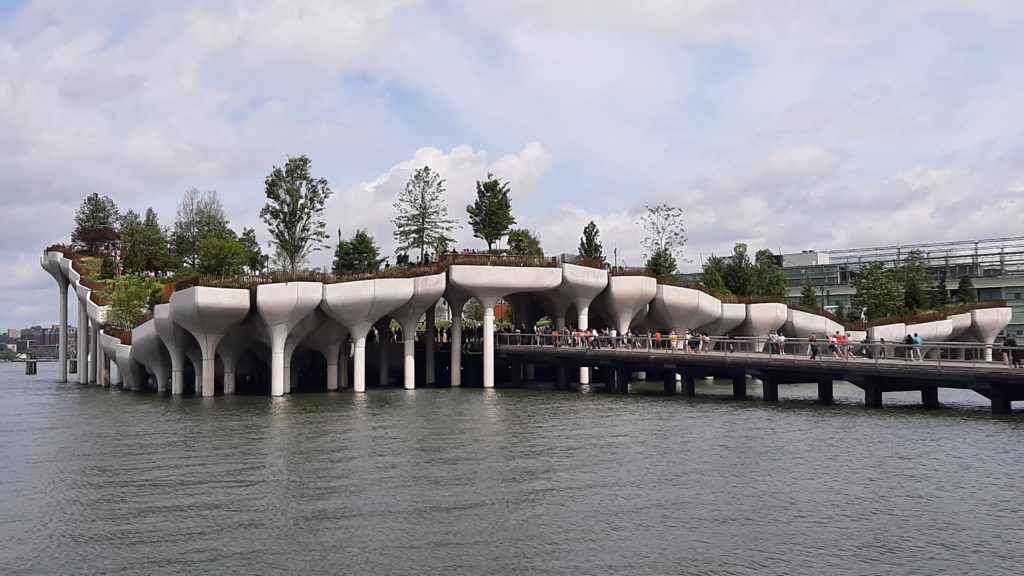 History of Little Island
Little Island is on the remnants of the former Pier 54. That pier is famous for once welcoming back the Titanic survivors, albeit on a different boat. The pier was used for cruise lines early in the 20th century. Before Little Island, Pier 54 was used for arts and entertainment, with concerts and events. The pier was damaged during Hurricane Sandy in 2012, and in 2013, the Diller-von Furstenberg Family Foundation proposed something new – and funded its creation, which is part of the Hudson River Park. You'll see a DVF store a few blocks away in the meatpacking district, and Barry Diller's IAC headquarters are close by as well. Read more about the history of Pier 54 and Little Island here.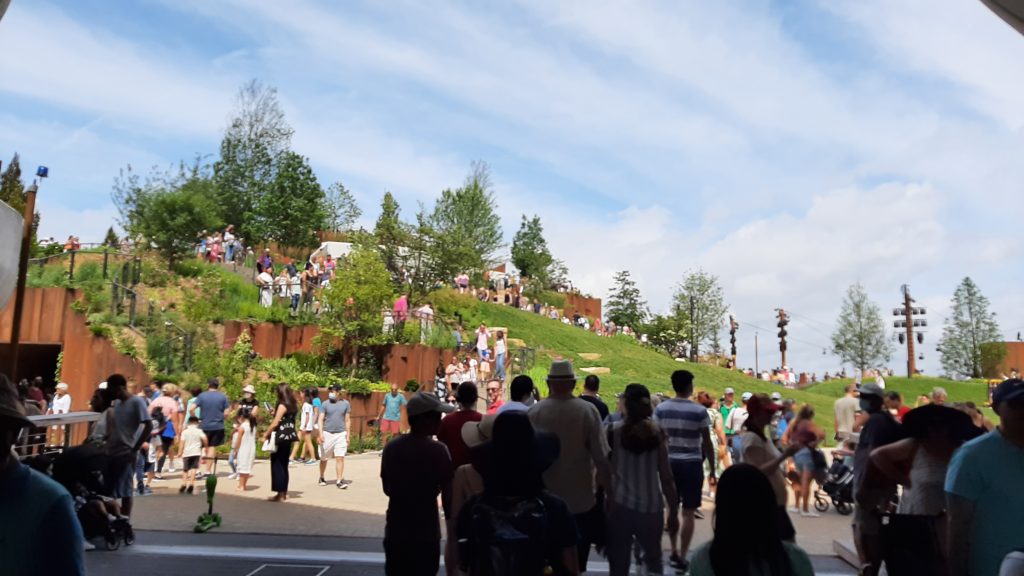 Little Island was designed by Heatherwick Studio in the UK that also did the Vessel in Hudson Yards and the Lantern House on the High Line (the building looks like glass beer barrels). Landscape architecture is by the New York-based Signe Nielsen of MNLA. Here's more on the vision behind Little Island – there are several short videos that are informative and interesting.
And the name, Little Island? Well, Manhattan is a big island. Hence…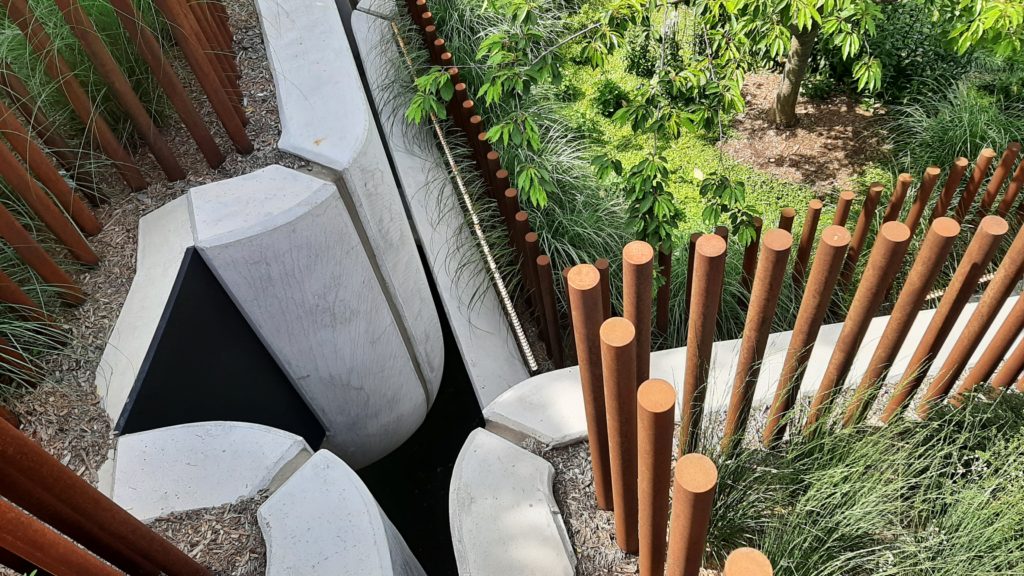 What is Little Island like?
Once you make it onto the island (how to do that is covered later), you'll enter a flowing space with curving pathways, vistas, and lovely flowers, grasses and trees. The entire park is accessible. Yes there are stairs in some places. But there are also ramps. When visiting Little Island with kids, strollers are allowed but the amphitheater does not have stroller parking. No pets are allowed.
Some of the phrases the designers use are on point: "undulating topography," "magical environment," "emerge from the water," "sweeping swaths of textures," "seasonally calibrated color themes, and "angled for performance." Though the island feels amorphous, if you see a picture from the top (last photo in our post), it's actually a square shape. Though the landscape architect describes it as a leaf floating on the water.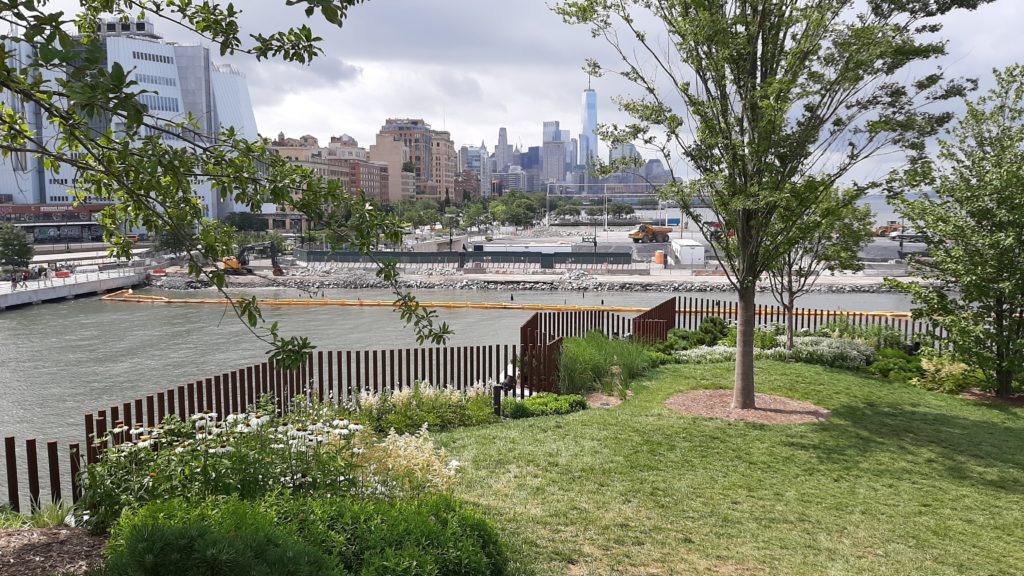 It's a marvel of construction, and I did a deep dive reading about its construction, watching videos and checking out the architect's other creations. The tulips which make up the base of the island are called "pots" by the designers. They were created in parts in Fort Miller, near Saratoga Springs, New York, and then assembled near Albany. They were shipped on a boat to their current location.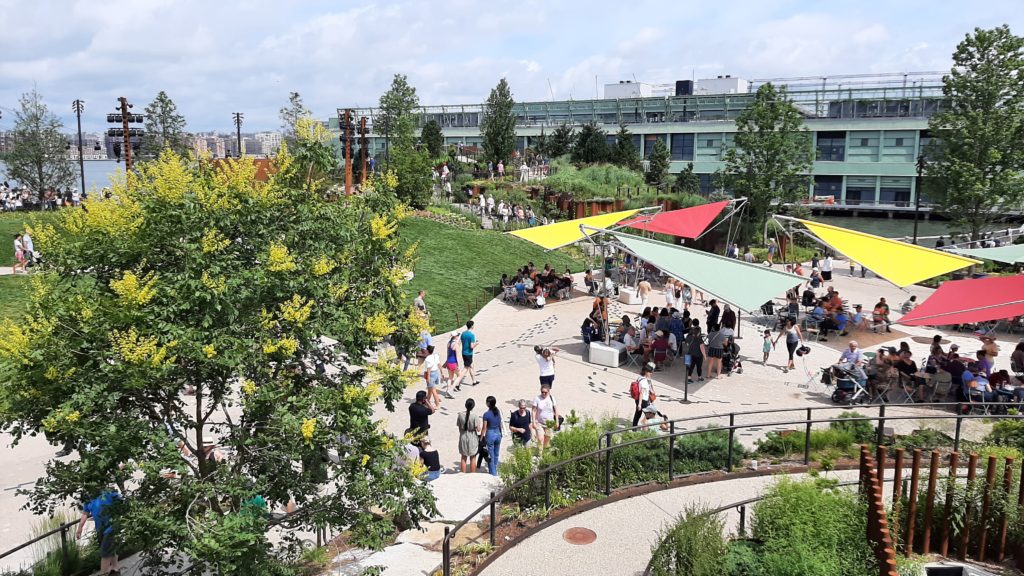 The landscaping is designed for all seasons and the various microclimates on Little Island, due to the shading and elevations. Nielsen found plants that have done well in the Hudson River Park area.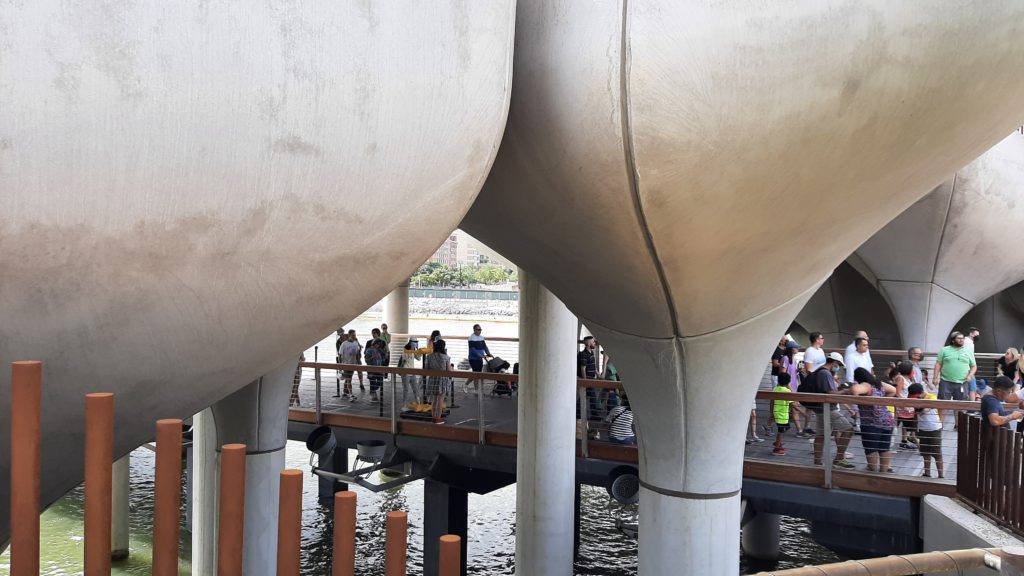 Little Island by the numbers
2016: Construction began
132: concrete pots that make up the park structure. Each pot's shape is unique, with different weight load capacities to hold the soil, lawns, overlooks, and trees.
280: concrete piles emerging from the water, between the leftover wood piles of Pier 54. The original piles were left in place to maintain aquatic life habitats
350: species of flowers
66,000: bulbs planted
270: varieties of grasses
65: varieties of shrubs
114: trees (35 species)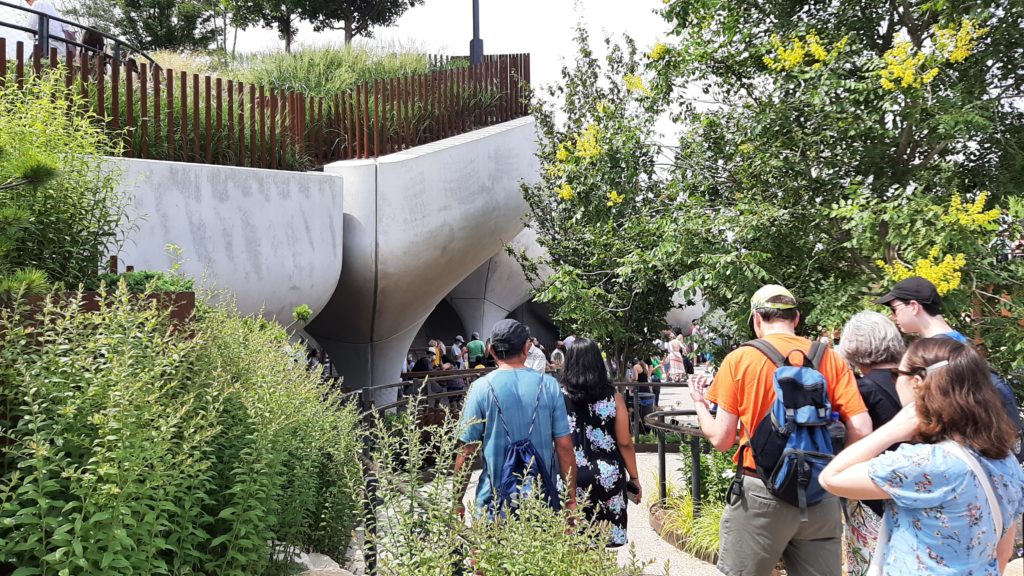 Little Island entertainment
Little Island has three spots for performances: a 687-seat amphitheater, the "Glade" (grassy seating area with a small stage), and the Play Ground (where the dining tables and food carts are). Events are all rain or shine.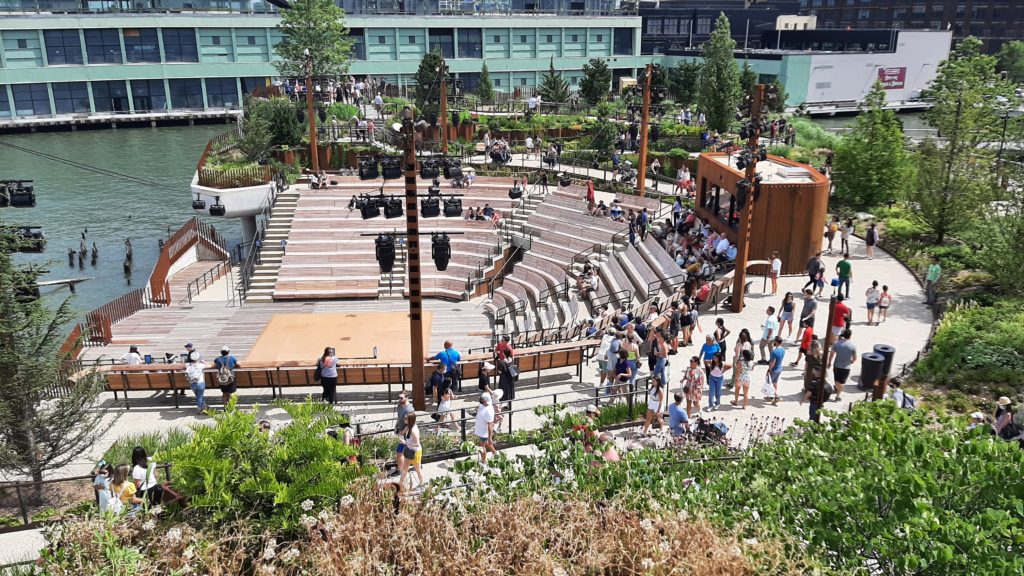 The majority of events will be free, and ticketed events will be mostly free or low-cost. They are planning performances and educational programming six days a week, including music, dance, circus, spoken word, and more. If you have a ticket, you do not need a separate reservation to enter.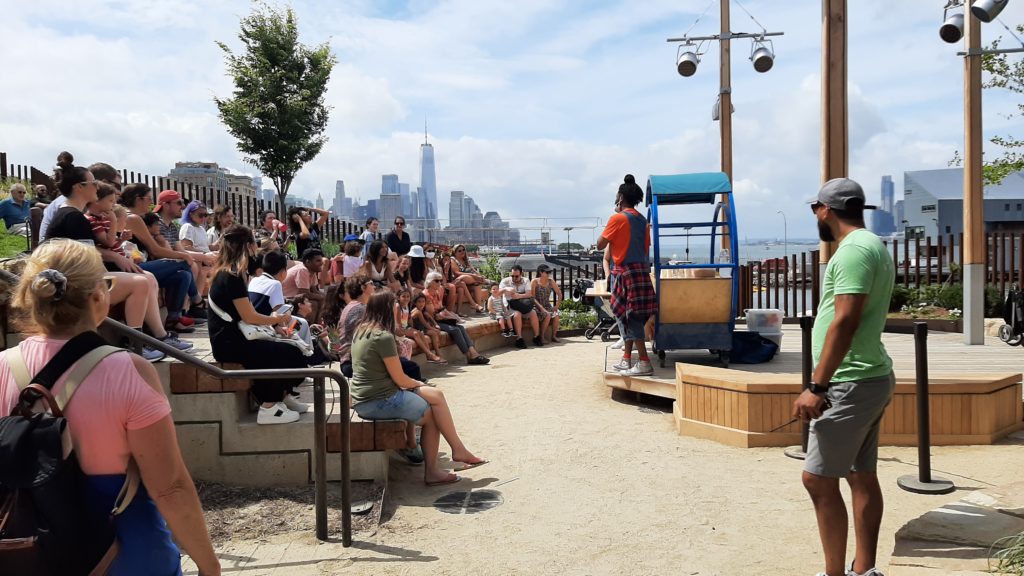 When we were there, the Glade had a children's performance with magic (or something – we didn't watch). There is no playground on site, but there are some fun things to look for, like two spinning illusions on posts. When you walk in, toward the left, there's a musical sculpture on the ground – you can make music with your feet. At the southwest corner, there's a viewing area at an elevation. It was really crowded. Other than planned entertainment, you just walk around or sit and enjoy yourself. Kids certainly can run around, but it's likely to be crowded.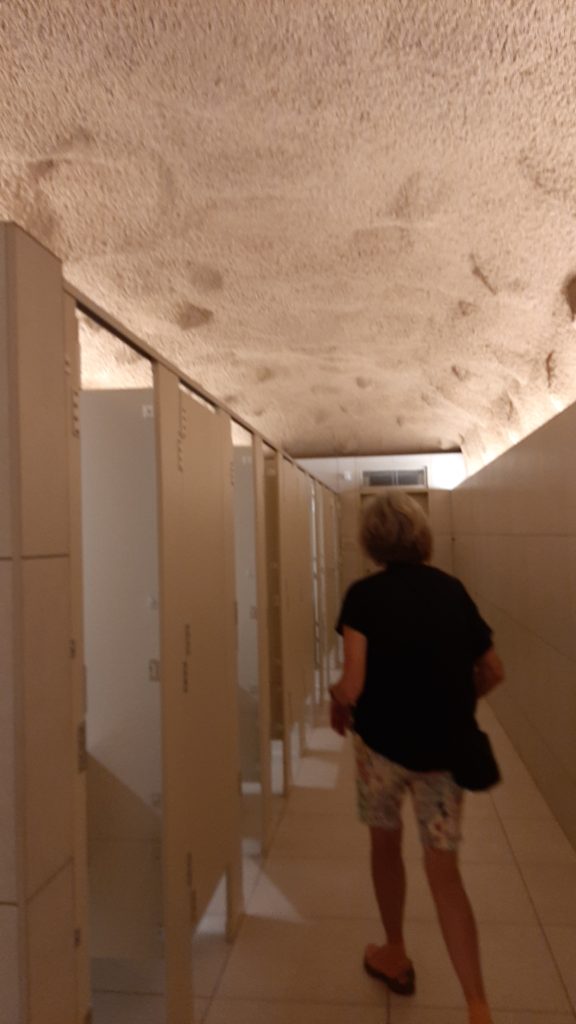 Reservations
There's no entrance fee for Little Island. They do require timed tickets after noon, at least through September 2021. We tried getting in without one, but it didn't work. If someone has an extra ticket, the ticket checkers are fine with you using it, but that may mean waiting around there to see if someone shows up with an extra.
Even before noon, though, you may have to wait. We got there around 10:30 am on a Saturday. We got in with no wait, but soon after, they closed the entrance until some people left, and then they let in more people. By the time we left around 11:30, the line to enter was several blocks long.
Kids 3 and older need a reservation. Time slots are available every half hour.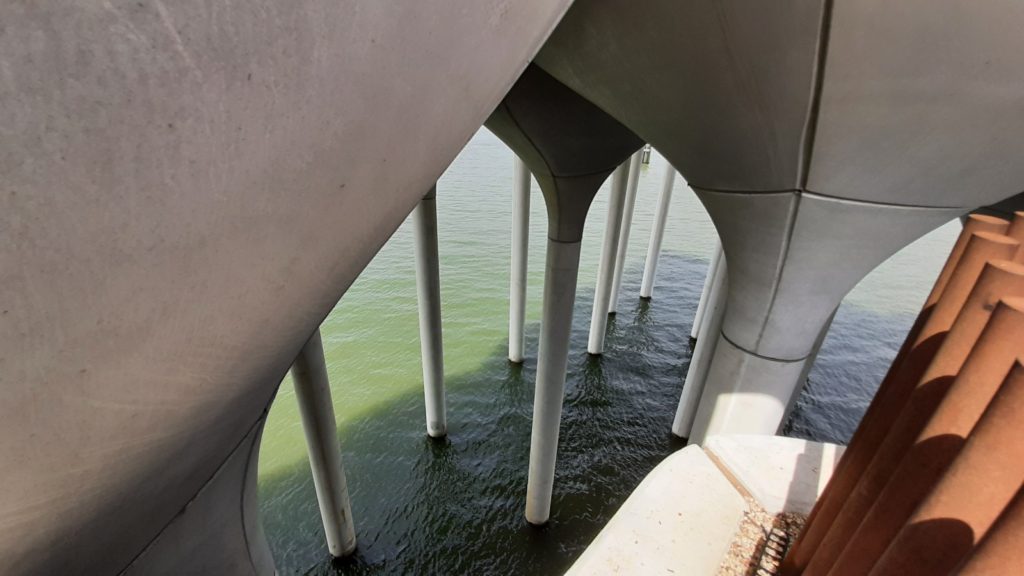 Visiting Little Island
Little Island is at Pier 55 (Hudson River), entrance around 13th Street.
They open daily at 6 am. You need a timed reservation (free) after 12:00 noon. If you go earlier, though, there may be lines. There is no limitation to how much time you can spend there, but once you leave, you can't necessarily get back in without a ticket (after noon) or unless there is capacity.
There are restrooms on site and a water fountain.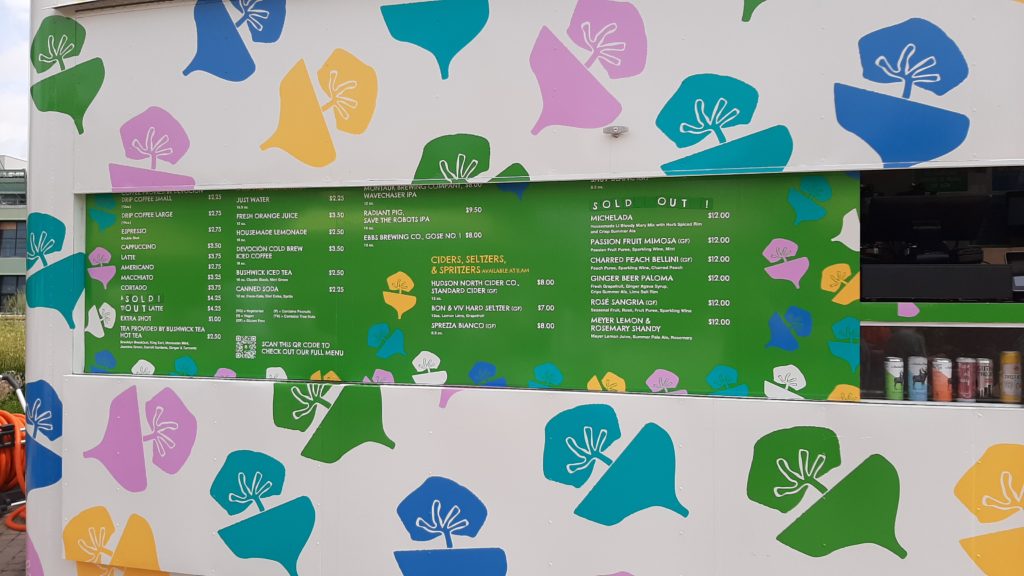 Little Island Food
You are welcome to bring your own food or purchase food on site. They have some tables in the flat area to the right of where you walk in, called the Play Ground. They also have some lawns you can picnic on (though some grassy areas are off-limits). You cannot bring in your own alcohol, but you can buy alcohol there (cocktails, wine, beer – all craft brands).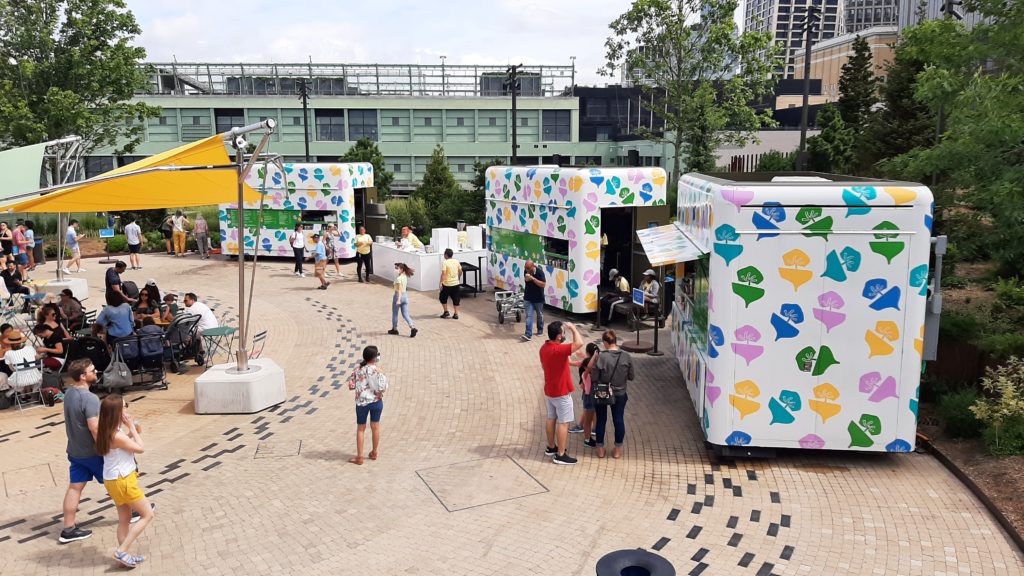 They have gluten-free, vegan and vegetarian options in addition to hot dogs and chicken sandwiches. Some other options included smoked gouda fried mac & cheese, buffalo-style cauliflower, and sweet potato tots.