You may recall we reviewed 10 Below, a new rolled ice cream store in New York City a few years back. The trend continues, evidenced by the recent opening of A La Mode in Cranford. This is Union County's first rolled ice cream store. We stopped by earlier this week and indulged, as well as chatted with the owners, Dan and Kevin, friends from childhood in Kenilworth. They both worked at Galloping Hill Golf Course before this, and Kevin may go culinary school in the future – he's the ice cream base maker.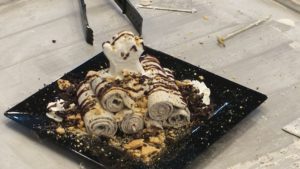 What is rolled ice cream?
This Asian version of serving ice cream apparently came out of Thailand (not sure how recently – when I was there in 2000, I saw none). Anyway, you choose your base and mix-ins, and the ice cream is frozen as you watch, and rolled into tubes. A La Mode has four rolling surfaces, one which is dedicated to nut-free ice cream.
How it works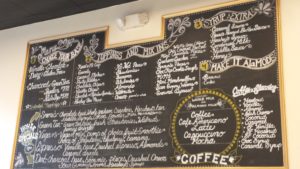 Look at the big menu on the wall. Choose a base (vanilla – most popular, then chocolate, followed by charcoal – more about that later – and then matcha). The base is made on the premises, with no preservatives. They can do gluten free, vegan and nut-free options. Choose some mix-ins and toppings (or a suggested combination) and place your order. You can also bring your own mix-ins!
It takes some time to make the rolls, so if you're in a hurry, this is not the place for you. Part of the fun is watching it get made. They chop up the add-in with the base and then start rolling it out to freeze.
A La Mode Creamery opened in late August, and are seeing a robust business. It's a big space, with tables and room to mill around. While we were there (in the afternoon), lots of families and middle school kids were coming in. The owners are very excited about the business and expansion plans – ask them about it!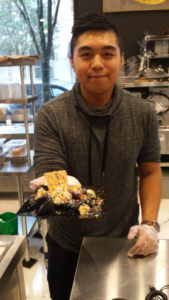 They are opening a service window, and plan to make brunch items like crepes and waffles to bring in more business and feed the morning crowd. They also offer coffee drinks. As they're just a block from the train station (almost across from the Cranford Hotel.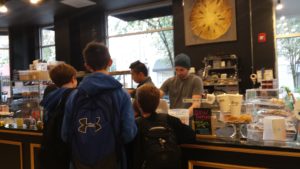 About the charcoal base – Dan said it's a health thing. You can't taste it – it absorbs the taste of whatever it's in (they add in a little vanilla to the base so it tastes like that). It's supposed to be cleansing. It also may leave your teeth looking black, but that comes off with water or a napkin. It's quite popular with the kids, he said. I passed on the charcoal.
Where: 2 South Avenue West, Cranford
Cost: A kid-size (5 roll) version is $5.50, and a regular one is $7.50. They're big. Plus you can get it on a big cookie or brownie (extra fee).
If you go, tell them Debbie from JerseyKids.net sent you!