When I heard about the new ice cream place called 10 Below in Chinatown, where they made the ice cream in front of you in two minutes, I knew we had to go. Soon! I saw these pictures of ice cream rolls with cute toppings and it was a done deal. So I told my kids that we were going into the city to get ice cream, and they thought I was nuts. Sure, we eat ice cream. A fair amount of ice cream. But planning a trip to New York City just to eat ice cream? Well, we added in a few other things on the itinerary too, but planned to get there on the early side (and on a weekday before school started) to avoid the lines.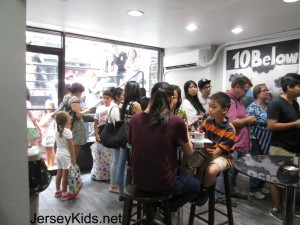 The shop opens at 11, and we made it by 12:30. It took about 30 minutes for us to get our ice cream, after waiting about 20 minutes in line (imagine for the picture above, we're at the door on the left, and the cash register is in front of the guy on the right in the black shirt) and 10 minutes watching them make ice cream.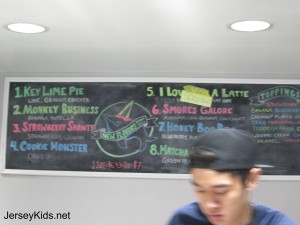 Here's how it works. You choose your selection from the menu – there are 8 choices. Unfortunately the I Love a Latte was sold out (an hour and a half into the day???), but then my son said we should split something. Given that he rarely finishes his ice cream (he stops when he's full/done, which I know is how we should all eat, but we don't), I agreed to split. You pay ($7 including tax – one size only). And then you crowd around the counter where they make it.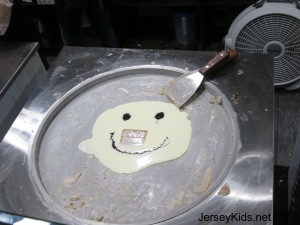 The ice cream makers call out your name when your cup comes up, so you can be at the front of the counter to get a close view (and photos). They dump the mix-ins on the very cold plate (possibly it's -10 degrees?) to freeze it. Then they pour the same ice cream base for all menu items, which apparently is a rather bland cream poured from what looked like a 9 oz. plastic tumbler (not like I've thrown parties and spent way too much time in the cup aisle, or anything). The ice cream above is our S'mores Galore, using a graham cracker and chocolate syrup.
The ice cream maker mashes everything up with the choppers, and mixes it all around as it gets colder and gloppier. Then it's spread out into a square shape, with them dragging the spatulas one direction then perpendicular, until the ice cream is flat and square. And cold. Using what must be a lot of arm muscle, the person then pushes the spatula up row by row, creating five rolls of ice cream, which are put into the cup.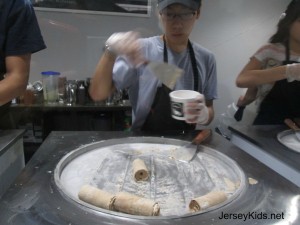 For our S'mores Galore treat, we got a roasted marshmallow, burned on the spot (see below). Another nice thing about the shop is that you can get additional toppings for free. We asked for extra chocolate syrup and Teddy Grahams, but they also offer whipped cream, caramel, coconut and fresh fruit. My daughter got the Monkey Business ice cream, which used banana and Nutella, and she added fresh strawberries on top.
[ad name="Google Adsense"]
The menu changes weekly, though I'm sure they have some staples. You can see the 10 Below menu here. Other flavors included Matcha Made in Heaven (with green tea and blueberries), Cookie Monster (with an Oreo), Strawberry Shawty (strawberries and graham crackers) and Key Lime Pie (fresh lime, graham crackers). It didn't look like that much ice cream, but my son got full quickly and my daughter couldn't finish hers, which is unusual (though we did have a decent size lunch on our way over).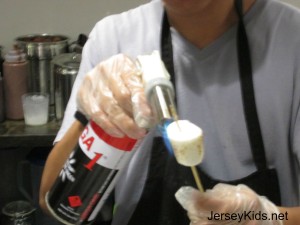 The 10 Below ice cream shop just opened this summer (I think in July), and already it's drawing crowds that wait for hours outside, for a $7 cold treat. I wouldn't wait hours, but we did love what we got and we gladly waited about 30 minutes.
10 Below was opened by three guys in their early 20s, who heard about Thai ice cream rolls and thought to make them here. I've been to Thailand and never had ice cream rolls before, so maybe it's time to return.
Cost: All ice cream is $7, inclusive of tax and any additional toppings. One size for all.
Address: 10 Mott Street in Chinatown (between Mosco and Worth). And half the fun is getting there. You get the full Chinatown experience!
Hours: typically they're open 11 a.m. to 10 p.m., and on weekends until 11:30 p.m., but check before you go to be sure