For cave lovers like me, Pennsylvania is a hotbed of cavern activity, with eight commercially developed caves in the state. I have a lot of driving to do!
We checked out Lincoln Caverns after houseboating at Raystown Lake. Lincoln Caverns were discovered in 1931. The William Penn Highway was being built just above it, and a large steam shovel machine fell through into the caves during the blasting process. It fell into what is now called Devil's Pit. I'm not sure what damage it die to the formations below, but that area is full of wonder after wonder.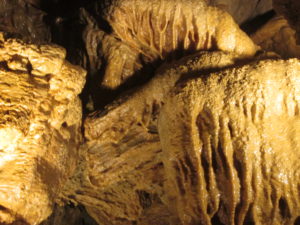 The owner turned it into a show cave, opening in 1932. Originally visitors went into the first room discovered – you can see giant doors there as well as a safe installed in the rock. While standing there, you can hear the traffic outside. The entrance was very close to the road, and the gift shop was across the street. They later opened another entrance and closed this one off.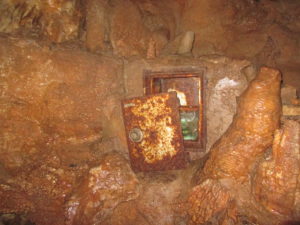 The room is really high, and close to the ceiling you can see beams put in place to prop up the room, which is both comforting and not comforting. The room looks like a scene out of Indiana Jones.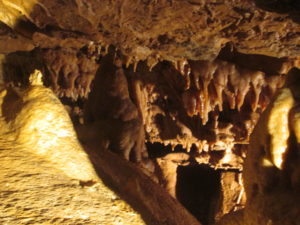 Next to it is a long, tall winding walkway called Wall Street Canyon. If you look at the walls, you'll see what they call the Beaded Palace. The cavern is known for the great quantity of what look like beads on the wall, made from mineral deposits.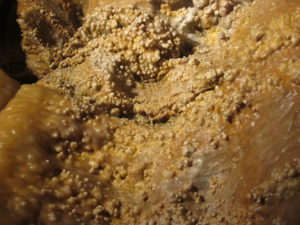 There's also a naturally formed wishing well, where you'll see a lot of coins thrown in. When asked how much water we thought was in there, we answered "not much." It looks like a small bowl. But our guide Gavin said it holds 35 gallons of water! They take the coins out several times a year to donate to research (not sure what kind of research).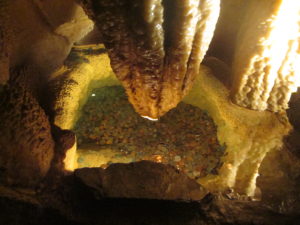 Myron Dunlavey bought the land not long after the cave was turned into a show cave. The original owner had debts to pay off and the cave wasn't earning enough. It's now been in the family for three generations.The owner discovered new rooms by pushing a pole through the soft clay. If the pole didn't hit rock, and he felt air, he would dig a small hole.
The caves have a lot of flowstone, which looks like slick, wet mucus. Some of it is wet, that's called a "wet active" formation, versus a "dry inactive" formation, where water is no longer flowing. No water means there will be no new formations, as the water brings in the minerals that very slowly, over many many centuries, builds up the formations.
Gavin told us that the formations are as old as the dinosaurs, and the rock is twice as old. These formations grow something like an inch every 120 years, if that.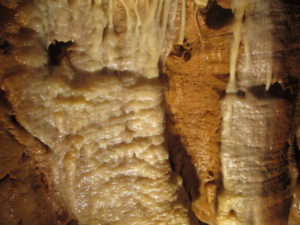 Pennsylvania has a lot of limestone caves, as the state was once under water. Limestone is made mainly from marine fragments like coral, shells and calcium carbonate.
While there are some formations broken by humans, we saw a column (a formation that goes floor to ceiling) that was broken as well. That one was naturally broken, though, from the acidic water that seeps into the cave, the carbonic acid that comes from the rock itself.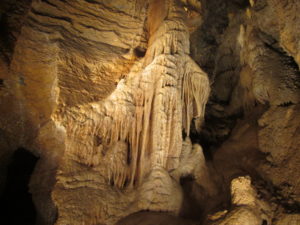 We went into another room that had a very white formation. It's phosphorescent. When the guide turned the light off, we could see it glowing for several seconds. And if you use a black light on it, it glows just like our shoelaces glowed.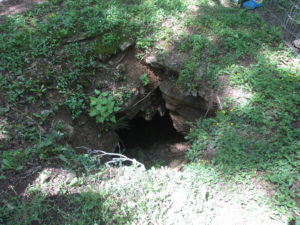 There's an additional cave you tour while there – Whisper Rocks. That one was discovered by one of the Dunlavey kids in 1941, though it wasn't opened until 1961. As a youngster, he found a sinkhole on top of the hill in winter. It wasn't covered in snow like the rest of the area. He knew that heat rises and the caves are warmer than the winter temperatures. Over three summers, he dug into the cave and eventually it was opened up for tourists.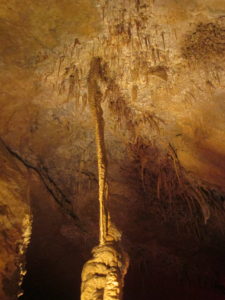 There's more to the cave than we could see – they've done a 75 foot crawl through darkness to get to other rooms (and photograph them) but no one has crawled through since 2007.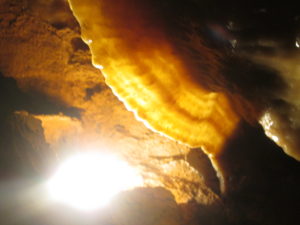 In this cave we saw soda straws on the ceiling (small stalactites with an open center), as well as cave popcorn. That's a white crystal formation that looks like white popcorn. We saw cave bacon, which are thinner strips of wavy formations with an iron oxide streak. We also saw some scalloping on the walls, which is unusual, as it means the cave has filled and emptied of water many times, pitting the walls over time.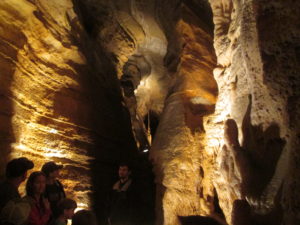 If you go:
Lincoln Caverns is at 7703 William Penn Highway, U.S. Route 22, Huntingdon, PA.
What to wear: It's in the low 50s in the cave year-round. Wear pants and a sweatshirt to stay comfortable. They have jackets you can borrow if needed.
Hours: They open at 9 a.m. daily and the last tour leaves between 4 and 6 p.m. depending on the season.
Tour time: The tour takes about an hour. They leave frequently during busy times and in winter there are set tour times.
Hiking/walking: The tour involves a small amount of hiking up a small hill to each cavern. Inside there are some stairs as well as uneven flooring and tight spaces.
Taking the kids: The caverns are not stroller accessible and there are some tight spaces to walk through and duck under. As there's no touching in the cave, kids will have to be able to follow those instructions. There are handrails, but the flooring isn't always even.
Tickets: The caverns offers some special ticket rates, but rack price is $15.98 for adults and $9.98 for kids 3-12 (under 3 is free). Kids can get a combo ticket ($14.98) which includes panning for gems. They also offer a family ticket combo offer online. They give a AAA discount as well.
Facilities: They have restrooms, a gift shop, snack bar and picnic tables. Parking is free. You can do some hiking around their property as well.