When we told people we went houseboating last weekend, we got a lot of questions. A lot of questions means a lot of interest, hence here's what you need to know if you want to rent a houseboat in Pennsylvania on Raystown Lake!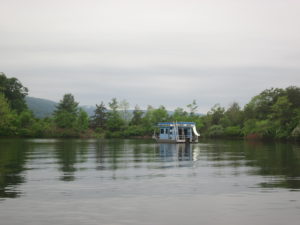 My travel planner (i.e. my husband) planned this rental out probably six months in advance. These things book up quickly, so if you're interested, don't wait.
Raystown Lake is the largest lake entirely contained in Pennsylvania (there's some trivia for you). There are about 30 miles of navigable lake water. The lake is a dammed river, so on the map it looks more like intestines with offshoots, than a traditional lake. It was dammed as a flood control project by the US Army Corp of Engineers. In a houseboat, you can't navigate the entire lake, but there's plenty of places to tool around.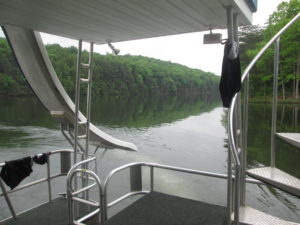 What to do on the lake
The lake is gorgeous, with unlimited areas to pull over without others around. The area was supposed to be developed into a tourism area, but it wasn't. So there are very few houses and only a few camping areas. Mostly you'll just see greenery, water and maybe some other boats depending on where you are. We tried to avoid other boats, but there are some areas that are known for being party or social areas.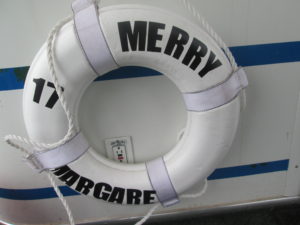 Once you leave the Seven Points Marina, you won't see another dock. You just aim the boat straight into the land (assuming it's not a gradual beach-type area, which would be more shallow) and slow the motor. Then one person gets out and ties up the boat to two trees. It sounds harder than it is.
From your houseboat you can swim, fish, ride jet skis, water ski (if you also have a power boat), kayak/paddle, swim, hunt, hike or mountain bike (on land), or just enjoy the boat.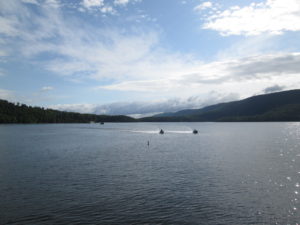 Our boat had a hot tub on top, so we were all set.
How to rent a houseboat
Seven Points Marina has 18 houseboats for rent – some include hot tubs, some are dog-friendly, almost all have slides, and they sleep 4-10 people. They rent them Monday to Friday, and Friday to Monday.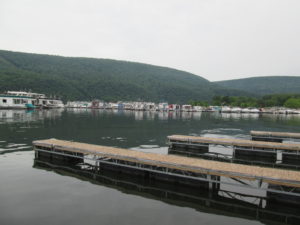 What's on board?
You'll know the bed situation before you go – as you'll choose the boat partly based on the size/quantity of beds. The beds are mattresses on some kind of platform (or the floor in a "cuddy." You bring your own sheets or sleeping bags, or you can rent sheets.
Aside from appliances (coffee maker, fridge, microwave, oven/stove and grill) plus dishes/cooking pots/pans/silverware, you need to bring everything else.
There were plenty of outlets and they provide life jackets as well. We had one full bathroom with toilet, shower and sink, and one separate sink near the lower bedrooms.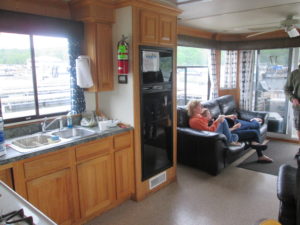 Boating license
You have a couple of options for legally driving the boat. You can get your Pennsylvania boating license online, which takes about 5-6 hours. You then pay a fee and they send you the license. Or you can take a 30 minute quickie course at the shop there. You won't have your license, but they'll let you take out the boat. My kids have Pennsylvania boating licenses (earned at camp) but they're legally not allowed to drive a houseboat until they're 21, much to the chagrin of my son, who was greatly disappointed.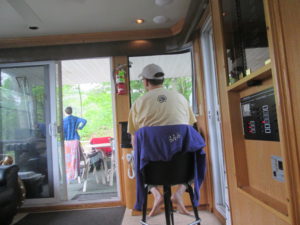 The boat goes up to 10 miles per hour, which is fast enough. It's difficult to steer (so I heard, I didn't drive it). We'd laugh at my husband, as he zigzagged around the lake, but the boat is not quickly responsive, so it's easy to overcorrect.
Power
At the dock, your boat is hooked up to their power line, which provides all your electrical needs. On the lake, there's a separate system for the engine, and then there's a generator. You don't need the generator to drive, but you do need the generator on if you want to cook, heat the hot tub, use lights or power the refrigerator. That said, there were times during the day that we turned it off. And at night too. It was very loud next to the back bedroom, because of the generator and the blower (which blows the carbon monoxide out of the houseboat).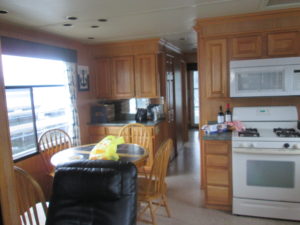 They tell you to power the generator at least 4 hours a day to keep it functioning, which was not a problem for us.
What to bring
If you've rented a house before, they'll often have basic supplies like salt and pepper, oil and condiments. Not on the houseboat. There was nothing. When they say to bring towels, they mean personal towels as well as kitchen towels! Bring a bath mat. They do supply toilet paper and a few garbage bags. Bring shampoo and soap – even hand soap. They had a small bottle of dish soap, but I had my own just in case.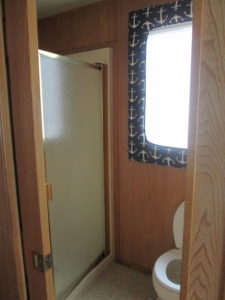 Bring binoculars – we saw bald eagles and other birds, and the binoculars were helpful.
As for clothes, bring a pair of shoes that dries quickly, like Crocs or flip flops. You won't want to walk around the boat barefoot (the flooring is kind of gross, even if it's clean). And if it's cool, your shoes may not dry off quickly. A drying line could be helpful, though we hung things over the outside chairs (it wasn't windy).
They have a large cooler outside on the deck (see photo below), but you can bring your own as well. While we brought our own ice bags, they sell ice at the dock, and the ice is handy to keep in the coolers so you can easily grab drinks and snacks out of the cooler, versus the fridge (which can warm up more quickly when opening/shutting it). I also kept a bag of ice in the freezer to hold the temperature.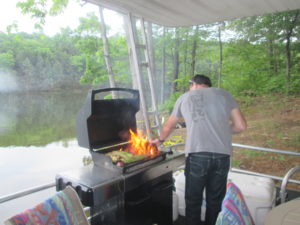 Logistics
We arrived late at night, so we just slept on the boat and got our orientation and keys the next morning. The staff was great about giving us maps and lake information, and walking us through the boat details. The staff drives you out of the marina and onto the main lake, and then a speed boat picks them up. When you return to the marina, you call them on your radio and wait until someone comes to your boat to drive you back in. After watching my husband try to steer the houseboat, I realized how smart this was!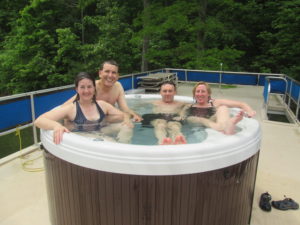 The slide and hot tub
While the lake water was super cold when we were there in late May, of course we had to try out the slide that came on our boat. It goes from the top deck to the bottom deck, with a few feet to fall into the water. You can turn on a water source to make the slide slick. Just make sure you're in an area that's deep enough (you don't go that far in, but you do dunk), and that there aren't other boats around.
After disappointing hot tub experiences in other home rentals recently, I was happy that this hot tub worked well. We got it up quite high and the jets worked. They told us not to use the hot tub while the boat was moving, as the water can slosh out, and you can't refill it while on the lake (they have to fill it with the hose from the dock).
Checking out
The morning the rental ends, you have to be back at the dock area by 9:30, so they can bring you in. They want you completely cleared off the boat by 10 so they can turn it over for the next group. You pay for all your own oil/gas out of the deposit, which for us came to about $180. You also take your own garbage and recycling off the boat, and have to wash your own dishes and put them away before you leave.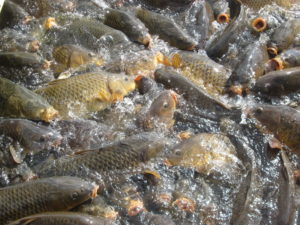 Check out the fish feeding area at the dock. The store sells fish food (I think it's actually dog food) for the enormous catfish that are just waiting for you. We got our $1 worth of entertainment.
Would we do it again?
We had an awesome time on the houseboat and are seriously considering renting again. We had cool weather, so we'd hope that the next time it was warmer, so we could enjoy the lake water a little more, and not have to wear a sweatshirt. But if you're traveling with people you like, the close quarters aren't bad at all.
Even though it rained a lot, we could easily take cover inside or on the covered decks. It was relaxing and scenic and a lot of fun. And on the way home, we visited Lincoln Caverns.