If you've been to the Renaissance Faire, you'll love Medieval Times. I thought it was going to be a little bit hokey, but we had so much fun. My son can't wait to go back.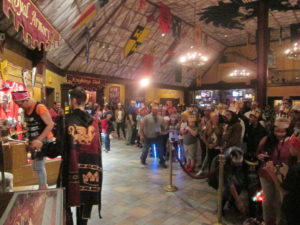 What is Medieval Times?
Medieval Times is a dinner show with tournament. It's not just jousting, though there is jousting. It's a show with horses, a falcon and a princess too. It takes place in a castle.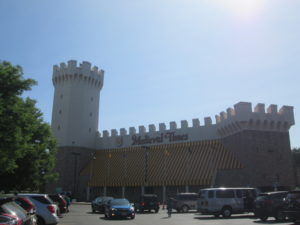 Before the show
The building opens up 75 minutes before the show. You don't need to get there that far in advance, but give yourself some time. Inside, the building is decorated royally, with painted ceilings, suits of armor and there's even a Museum of Torture ($2/entrance). I didn't have time to go in, but my son went in for a few minutes, as we needed to get seated, and said it was really interesting.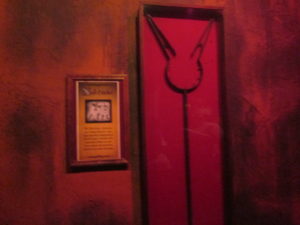 What's there to do before the show?
–Museum of Torture
–Photos with the king. The king was in the throne area, calling out people's names who were celebrating a birthday or special occasion. They could go and pose with the king for a photo, though there's a sign that you're not allowed to take your own photo. You have to buy theirs.
–Photos. They have a separate throne area, where you can get pictures taken by them. Photos are put in a heavy duty cardboard frame (nice frame) and it's $20.
–Bar. They have a stocked bar with alcohol, as well as slushie colorful drinks (non-alcoholic – I asked).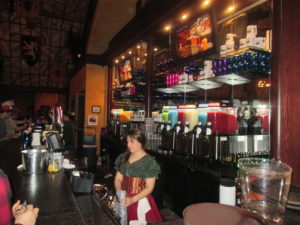 –Shop. There is plenty to buy at Medieval Times, from chess sets to champagne glasses with pewter decorations, to clothing to wooden sword/shield combinations. Lots to choose from!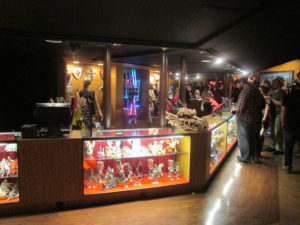 In the arena
If you have a VIP package, you get seated early in reserved spaces. Otherwise it's first-come, first-served. Not sure how that works, as we had a VIP package. I'll say that there are no bad seats in the house. Each row is set up high enough that you have a good view. I think the higher rows can be better than the first row where we sat. Why? We had plastic paneling in our direct view (protection, like at a hockey game). If you sit up higher, you don't have that in your direct sight-line.
When you enter the building initially, they give you a crown. Everyone wears their crown, and its color shows your section and which knight you're rooting for. Your server will introduce herself/himself, and there's also bar service from your seats, so you don't have to get up to get an alcoholic drink.
You'll be in the arena almost two hours, which includes the dinner and show. As you may have heard, it's a utensil-less meal (unless you get the vegetarian option). This is great fun for the kids! At your seat you get a flag to waive with your knight's colors, and your napkin doubles as the menu.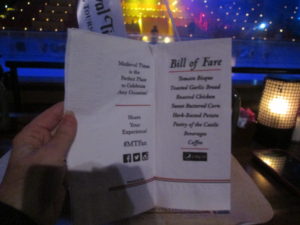 The show
The show was a lot of fun. There was a story, but to be honest, I had a hard time following the details. There's a king and princess, and there are 6 knights and their helpers. There's a bad guy who comes out a few times.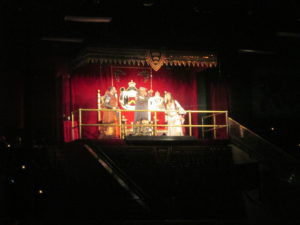 Several segments include horses doing tricks or fancy footwork. The horses are beautiful and the tricks/footwork were enjoyable. Here are a few videos.
They have a falconer come out as well. I've never actually seen this before, but it was great. The falcon is released in the arena, and it flies in patterns based on the falconer's waving flag. It did a lot of figure eights and swooped purposefully around.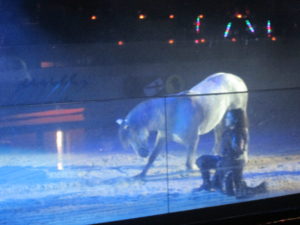 The knights did some tricks on the horse, like spearing rings with their big sticks, and putting arrows into a target. They caught flowers dropped by the princess from high up, and then the crowd went wild as the hot knights kissed the flowers and threw them into the audience.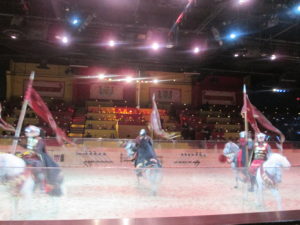 Toward the end was the actual jousting tournament. As for who will win, we read on Reddit that they take turns in a rotation, though I'm sure that depends on whomever is in charge of that particular facility and who is the head knight. The jousting does not look very real, but as we read on Reddit, it still is quite dangerous and they can injure themselves with the weapons, which ARE real. No matter, it was still fun to watch. And these guys get trained on the job.
Okay, so this wasn't really the jousting part, but it made a better video.
The server promotes team spirit and was good about trying to rally the crowds.
The food
The food was quite good! And so filling that they bring take-out containers with your wet-wipes after the main meal. You start off with tomato soup (drink it out of the pewter bowl) with garlic bread. Then you're served a half of a chicken, a piece of buttered corn, and a half of a baked potato.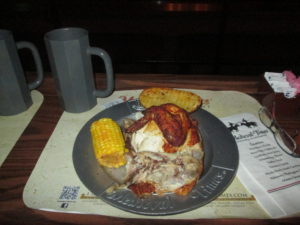 For dessert, there's some kind of pastry (we had lemon pound cake) and coffee. They bring two rounds of nonalcoholic beverages (Pepsi, Diet Pepsi, possibly lemonade…). The meal is served during the show, though they do a good job of not disrupting things. The soup is served before the show starts. When you get your main meal, they make a big announcement and the servers come out at the same time like a parade. Then there's a horse routine that doesn't require a lot of your concentration while you're busy picking apart the chicken. Vegetarians can get a stew of some kind.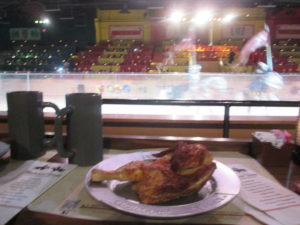 Upselling
There is a lot of upselling at Medieval Times. There are many ways to fork over your money. As mentioned earlier, there's the bar, the shops and photos in the main area. But once in the arena, they'll offer candid photos ($15), light-up toys (quite popular, from what we could see), upgraded flags (hint: if you want an upgraded flag, they'll tell you after you decline the first time that you can trade in your banner and pay less for a flag). There are ticket packages. And don't forget gratuities for the server. That's not upselling, but bring some cash for that.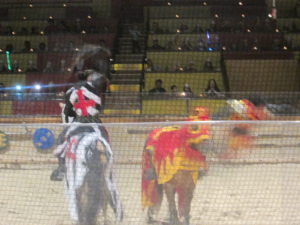 Cost: Standard price is $63 for adults, $37 for kids 12 and under. They sometimes run specials. For dinner and a show, it is not a bad deal at all.
Medieval Times discount tickets: Through the end of May 2017, you can get tickets for $43/adult, $30/kid. Use code MAY17. Memorial Day weekend you can go for $38/adult, $28/kid. Use code MEM17 through May 28, 2017. On all Thursdays through August 31, 2017, use code TBT34.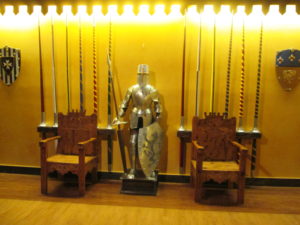 VIP package: In addition to the basic price, you can upgrade to packages. We had the VIP package, which includes first or second row reserved seats in the center section, earlier seating, an entrance photo, souvenir hand towel (great for the gym!), cheering banner and VIP lanyard. You pay $22 more for this package. Given that posed photos are $20 each, the VIP package pays for itself if you plan to get a photo.
–Royalty package: $12, and it gives you the same as VIP, but no photo.
–Celebration package: Same as the VIP package, but you also get birthday cake slices and a personalized announcement during the show. And it's cheaper at $18/person!
Where: Medieval Times has nine North American locations, including one in Canada. In New Jersey it's in Lyndhurst.
Thank you to Medieval Times for hosting us.