Guest post by Dori Kaplan
Both Disneyland and Universal Studios are popular theme parks in California, but what are the differences? This year, we skipped our usual day at 
California Adventure
and substituted it for
Universal Studios
. After two consecutive days of
Disneyland
and Universal, I noticed many striking differences between the parks.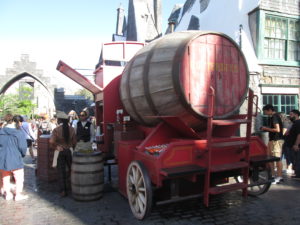 Skipping lines
It is almost impossible to avoid the lines at Universal without purchasing a front of the line ticket. Even then, you only get one per ride, and getting the passes costs almost double the price of the regular ticket. Prices can change depending on the day, but front of line passes can go for an extra $100. On the other hand, Disneyland offers a free and efficient Fastpass system that is available to everyone. Disneyland Fastpasses are timed though, so you have to plan your day based on the Fastpass times. You also cannot use them for every ride, unlike at Universal. However, they are absolutely free and you can get more than one per ride.
Rides
Disney has a multitude of rides varying in type, intensity and style. Universal has simulators. The only rides in the park that are not simulators are Flight of the Hippogriff (a meh roller coaster), Jurassic Park (water ride) and The Mummy (indoor roller coaster). Disney has rides for adults and kids, as well as different types of rides including roller coasters, simulators, interactive games (like Astroblasters and  Toy Story Mania), kiddie rides, scenic rides (where you go through animatronic stories like Jungle Cruise and It's a Small World), water rides and a Ferris wheel (at California Adventure).
Alcohol 
Disneyland does not serve any alcohol on their premises, except in Club 33 (where you have to be a super fancy A list celebrity or pay a lot of money to get in). California Adventure does serve alcohol. They sell margaritas, wine and cocktails at certain restaurants. Universal sells beer, massive cans of beer in fact. You can see guests enjoying them bright and early at 10 am.
Characters
Universal has much shorter lines to meet their characters, but they are also much less iconic than those at Disney. We saw Homer Simpson, the Transformers, buff weird Egyptian people on stilts (the guy scared the heck out of me by sneaking up behind me) and Dora at Universal. Disney has many characters, but they are not always out. You can use your Disney app to track who is out and when.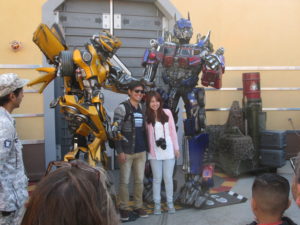 Wait times
Universal has a large board with all the wait times posted. You can also access these times on your app. Disney does not have a board like this, but both parks have wait times posted in front of the rides.

Lockers
Disney does not have any free lockers in the park. They are also all in one place, so you can't bring your things from ride to ride. For some rides at Universal, you are required to use a locker. They provide the lockers for free (for 2 hours), which is very nice, especially given that Six Flags most amusement parks charge for locker rentals. At Disney, it is not necessary to put your things in a locker. You are able to bring everything, including backpacks, on all of the rides.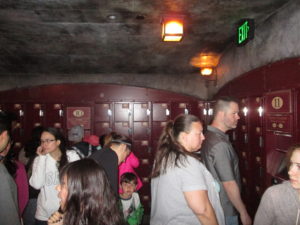 Parades, fireworks and celebrations
At Universal, there aren't as many activities for people who aren't into rides and performances. Disney has a monorail, parades, nighttime firework shows (although it isn't uncommon for them to get cancelled if windy) and has other visual shows like Fantasmic.
Food
The food costs about the same in both parks. Disney has more restaurants and stands than Universal. We didn't eat much at either park (due to the fact that we went on Passover and also because we bring our own food), but I will say the food looked more appetizing at Universal. Universal has more atypical options like butterbeer, fish and chips, giant (Lard Lad) doughnuts and tacos.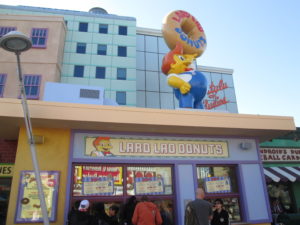 Park hours
Disneyland and Universal both have park hours that depend on the day. Check online before you go. Overall, Universal usually has shorter hours, but it's also shorter day. There's less to do.
What do you like best about each park? If you only had a day, which would you choose?