If you're looking for a kid-friendly Broadway show, School of Rock should be on your list.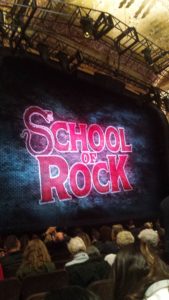 The plot: Failing rock guitar player and overall sloth needs money to pay the rent, so he poses as his teacher roommate when offered a substitute teaching job at an elite school. He can't teach, of course, so he starts a class band to compete in the rock competition and hopefully win enough money so he can pay his rent. The kids get into it and chaos ensues.
The pros: The kids are adorable and talented. Lots of kids (I think 13), so this is a great show for kids! The kids play their own music and of course sing as well. The cast is diverse (different ethnicities, gay couple etc.). The show is lively and the music good. The set is great too.
The cons: You're going to have to suspend your disbelief a lot in this show. First, the main character Dewey moves very quickly to start the rock band in the classroom. Probably the first day or two. Most of the characters are charicatures and stereotypes. Against all odds, the kids are able to sneak out of the classroom to get to the competition and even though they don't win (spoiler alert!) the crowd goes so crazy the judges change their mind. Parents discover new things to love about their kids, everyone (except the losing rock band) is happy.
[ad name="Google Adsense"]
The music: I heard criticism early on that the Andrew Lloyd Weber music wasn't very good and didn't stay with you. A month after seeing the show, there are several songs my family is still singing, including "You're in the Band," "If Only You Would Listen," and "Stick it to the Man." So I'd disagree.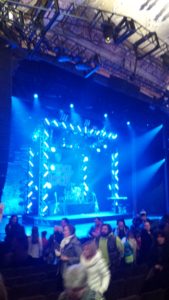 Should adults go without kids? We definitely saw a lot of adults there without kids in tow. It wouldn't be my top choice for a Broadway show if I wasn't bringing my kids, but you don't need minors there to enjoy it.
Age: the show recommends it for kids ages 8+, and no one 4 or under will be allowed in.
Tickets: There are plenty of discount tickets available to this show. The theater also offers some $39 rush tickets for each performance, with a limit of 2 per person at the box office. See more about getting discount tickets on our Broadway for Kids page.
Where: School of Rock is at the Winter Garden Theater in Times Square.