My husband likens Beautiful on Broadway to School of Rock for adults. Beautiful is the Carole King story, if that story includes her having one husband and two kids, instead of four husbands and four kids. There's not enough stage time to feature her 118 pop hits or take her story much beyond that first marriage and her time in New York (and a short stint in the Jersey burbs). But is Beautiful on Broadway appropriate for kids?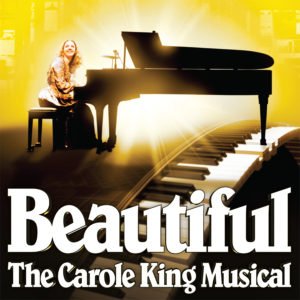 Before seeing the show, Beautiful had not been top on my list of shows to see. I wasn't sure how they would make her life interesting and I was afraid it would just be a glorified concert. I was very pleasantly surprised. The show conveys not only talented young woman's rise to success, but she does so with considerable talent and in spite of the odds, and with a great set, staging and costumes. The show ends as she's moved from behind-the-scenes composer, to singer/songwriter.
The beginning and end circle up nicely, with King (born Carol Joan Klein – a nice Jewish girl from Brooklyn) performing at Carnegie Hall. In between, King sells her first song to a music publisher, meets her husband, they team up to write songs together in the famed Brill Building, and eventually become successful. And of course, there are marital problems, friendly competition with another song-writing couple (Barry Mann and Cynthia Weil), and a move through the decades (symbolized by the fabulous changing costumes and hairstyles).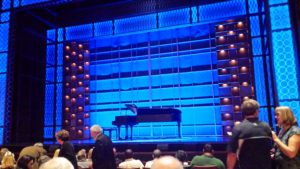 I knew Carole King wrote a lot of songs. I didn't realize how many hits I recognized were actually hers, including You've Got a Friend, So Far Away, and I Feel the Earth Move, which were hers alone. As for songs in the show, most were composed by her, with lyrics by husband Gerry Goffin, like Take Good Care of My Baby, Will You Love Me Tomorrow, Up on the Roof, You Make Me Feel Like a Natural Woman and the Loco-Motion (which actually WAS sung by her babysitter). You can see a list of songs and collaborators for each at Carole King's website.
The staging really added to the show. The set carried through a geometric theme like you'll see in the opening scene. The Brill Building is portrayed as an industrial set with period furniture, and a nice set-up for performances of songs they've written. Performers like the Drifters, the Shirelles, Little Eva and the Righteous Brothers take the stage as well.
As for the competition, song-writing pair Weil and Mann are a good addition, as talented songwriters and the BFF sidekicks. Weil gets to wear the best clothing in the show and comes off as glamorous and extremely quick and smart. Mann is the hypochondriac, lovable womanizer. They make an odd pair, but it works – and some of their wonderful songs are included as well, including You've Lost That Lovin' Feeling, We Gotta Get Out of This Place and On Broadway.
There are plenty of New York and New Jersey references, to keep locals entertained, but you don't need to be a local to appreciate the show. A few fun facts – King went on a date with Neil Sedaka in high school, and she made enough of an impression that he wrote the song Oh Carol (a funny performance in the show). She also recorded demos in high school with Paul Simon (not in the show).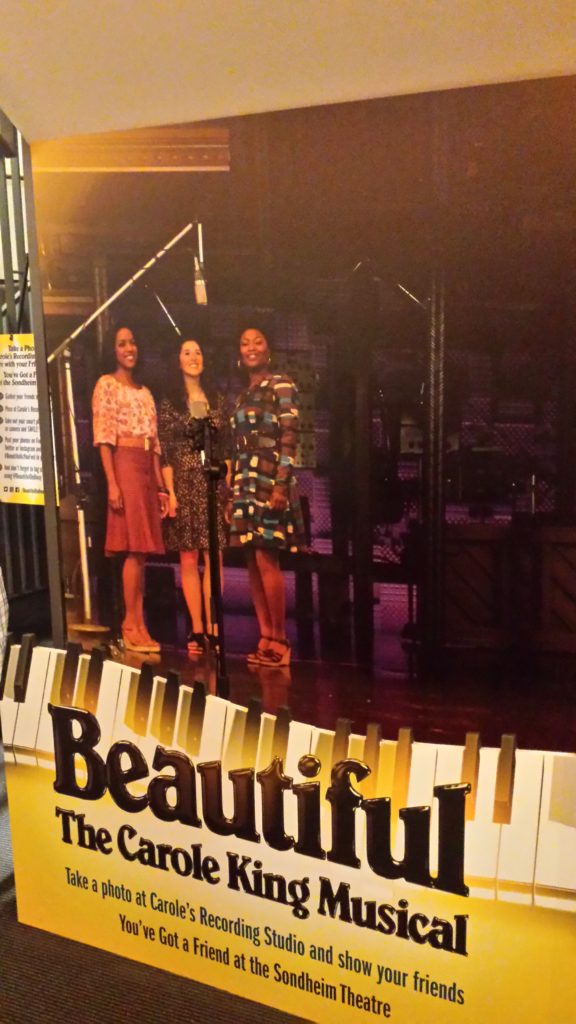 Is Beautiful on Broadway appropriate for kids?
I'm always on the lookout for shows to recommend to friends, or to take the whole family when my parents are in town. Do you know how hard it is to find a show my parents will like and that both my kids will also like? It's super hard, especially since my parents have no interest in seeing Disney shows. Even finding a show that parents will both like is challenging. I think Beautiful is one of those shows that can span the generations.
There was no cursing or nudity in the show (there was some kissing). There were some adult themes, including (spoiler alert) Carole King getting pregnant around age 17 out of wedlock (she was in college at the time). There was infidelity. And there was talk of drug use a few times. My kids probably would recognize some of the songs, as many are classics and they may have heard them in the car. They're not the songs they would naturally listen to (and granted, they're not ones I'm usually putting on), but they're obviously fabulous songs, and they were sung to good effect, whether bringing out emotion or in an entertaining way.
While I did not take my kids to see the show, I think they would have enjoyed it. It likely would not have been one of their favorite shows of all time (ala Phantom of the Opera or Hamilton) but I think it would have captured their interest. It also had some good themes for kids – especially girls. Here was a woman who succeeded in a field outside the norms for women at that time. She did so at a young age and she had guts and ambition. When she left her husband after multiple infidelities, she took charge of her life while still caring for her kids – all good themes.
Beautiful has been having a good run on Broadway, as it opened in January, 2014. Not surprisingly for a weekday evening, the show was full of mostly older folks – we saw no kids in spite of the 7 pm curtain call. I'm curious how many kids would be in the audience on a weekend or matinee.
If you go:
Theater: Stephen Sondheim Theatre – 124 W. 43rd Street (between Broadway/6th).
Show length: The show is 2.5 hours with intermission.
Restrooms: Huzzah! The ladies' room has a large number of stalls.
Discount Beautiful tickets: see our Broadway discount page
Disclosure: I received press tickets to see Beautiful for review purposes. All opinions are my own.