We visited Corning NY on a beautiful fall day. While it rained in the morning, these were the sunny skies we got later. Most people visit Corning to see the Corning Museum of Glass (our review here) and even to make their own glass.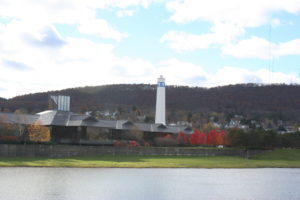 If you have time to visit the Gaffer's District downtown (gaffer being a term used for a glassblower), check it out. You can walk from the Corning Museum of Glass – it takes probably 15 minutes at a good pace. There is parking downtown, though.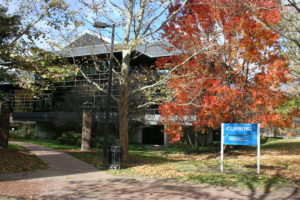 Corning is a company town, and you'll see signs of Corning Glass' influence all around, including on some buildings. Plus there are other glass studios as well. The town is known for having good restaurants.[ad name="Google Adsense-1″]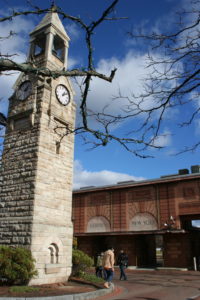 We went into the Vitrix hot glass studio to see its products. They had a variety of lovely glass pieces (check out the heechees on the website), in addition to other items like jewelry that wasn't glass. As you can see from the the photo below, there's an active studio in the back of the store. They sell their glass elsewhere also.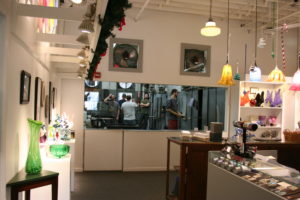 The building itself is interesting, and representative of many downtown – a historic, small town feeling.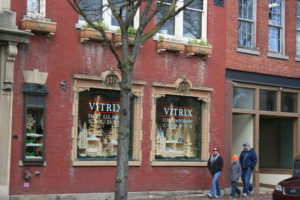 We stopped into the Rockwell Museum, even though we weren't sure the kids were up for a second museum in one day. The museum was celebrating its 40th anniversary and had free admission, so there was no excuse. It's housed in a beautiful building, the old City Hall from 1893.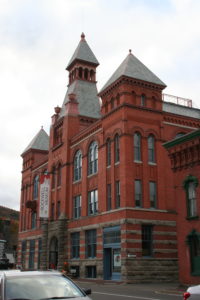 I thought the Rockwell Museum would contain artwork from Norman Rockwell, but I was completely wrong. Turns out that it was partly founded by Bob and Hertha Rockwell who gifted their own collection to the museum. They're Corning locals who owned a department store. They collected Carder Steuben glass (part of Corning), American art, antique firearms and antique toys.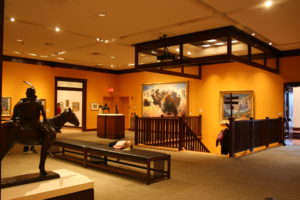 The museum focuses on Western art, which for this Arizona-born gal, was a strange thing to see in New York. The museum is affiliated with the Smithsonian.
The kids will probably like looking at some of the art, with cowboys, Native Americans and horses. But they have a room for kids to create their own art, and a lovely "I Spy" booklet with things for kids to find as well.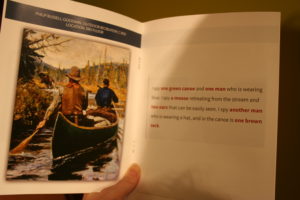 While we were there, they were showing highlights from their permanent collection, and had a National Park Service exhibit as well, with works representing various parks around the country.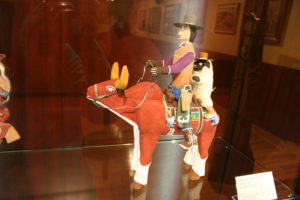 We liked some of the sculptures in the Southwest Lodge gallery, including the one above where a sheep was riding a bull.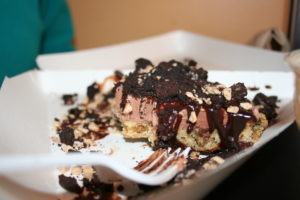 Most of our vacation days include a trip for ice cream. In Corning, we stopped at Dippity Do Dahs, which was around the corner from the Rockwell Museum. They make their own ice cream, and my son got the ice cream pizza. That included ice cream over a cookie wedge, topped with hot fudge and several toppings. I had three bites and it was way too much sugar for me. It was a very reasonable $4, and easily could have fed our entire family. I'm glad I didn't order anything myself!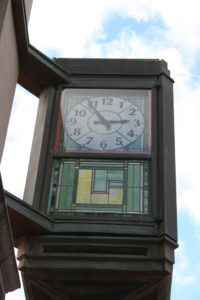 All photos are copyrighted to Deborah Abrams Kaplan. They may not be used or reprinted without written permission.