We stayed at the Staybridge Suites on our visit to the Corning in Corning Museum of Glass.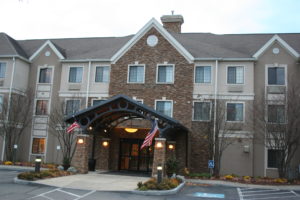 Overall, it we were very pleased. We wanted a suite in close proximity to the
Corning Museum of Glass
, that had free wi-fi and free breakfast. This fit the bill. Plus, it had free parking. We left our car there when we went to the museum, as the museum parking wasn't that much closer than the hotel. It's a 5 minute walk.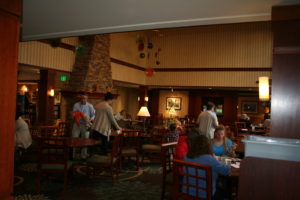 About the hotel
Staybridge Suites is an extended stay hotel, so it has a mini kitchen in each suite, and offers a "reception" of appetizers Monday through Wednesday. We were there on a Thursday night, so we didn't see what that was about.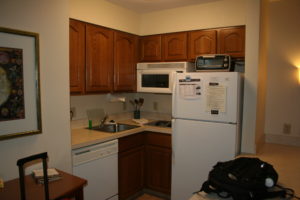 The lobby area is lovely, with a lodge feel. The dining area has glass decorations hanging from the ceiling, which are appropriate given its location.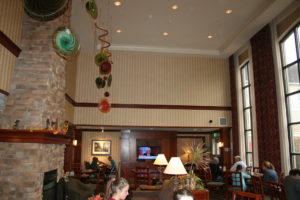 They are a pet-friendly hotel, though you'll pay $75 for Fido to stay 1-6 nights, or $150 for 7 nights or more. Pets can't be more than 80 pounds.
In terms of being family friendly, they had movies and games you could borrow. They have an indoor pool and hot tub. We didn't swim, but it looked nice and they have towels in the swimming area.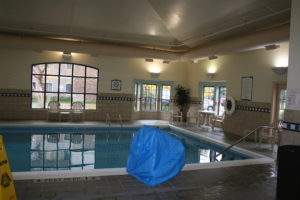 As for the room, it looked to be a newish hotel in terms of decor. There was plenty of room in both the bedroom and living area (which had a pull-out couch). They provided coffee and supplies, as well as a complementary microwave popcorn bag. Though we didn't need it, they have laundry facilities, including a laundry basket in the closet.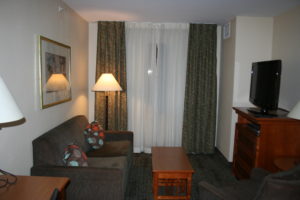 The downsides:
The main downside was my daughter said the pull-out couch/bed was uncomfortable. Our bed was good, however.
Also, it includes a free breakfast (a plus). Like most hotel free breakfasts, we weren't terribly impressed with it. My son enjoyed the waffle maker and whipped cream. They had scrambled egg patties (I wouldn't touch those) and some sausage products, in addition to a selection of cereals, super hard boiled eggs, fruit yogurt (not my fave), fruit salad, green bananas (I mean REALLY green) and some apples, plus bakery items. It was a decently wide selection, but the quality was meh. That said, it was free and the staff was friendly. So no complaints.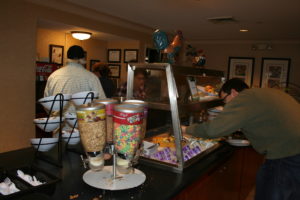 Disclosure: we paid our own way at the hotel.