When you talk about Iceland, you can talk about the scenery, the waterfalls, the fjords, the wonderful hot springs. It's all there and we enjoyed them in spades. Iceland is an amazing place to visit. But I wanted to share some of the quirkier things we saw in Iceland. Mostly, they're things we observed as we drove around the country. Here's what I've got for you.
The thing to buy in Iceland is hand-knit wool sweaters. Only they cost at least $175 US, often more. And they're itchy and not necessarily flattering. Turns out the only people we saw wearing them were the tour guides. In addition to wearing a tour guide medallion, I think it's a required part of their uniform. And yes, in August it's cold enough to wear a wool sweater.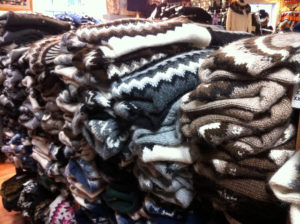 2.  There are more sheep in Iceland than there are humans (about 100,000 more). That makes me wonder why wool sweaters are so expensive. One innkeeper at a farm where we stayed told us they don't even save the wool from their sheep when they're killed. They still have unused wool in their barn from the previous year.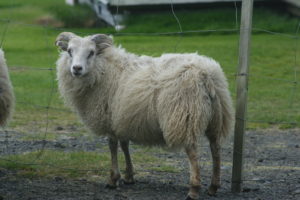 3. Speaking of humans, there are only 350,000 Icelanders, about 250,000 of them live in Reykjavik. And this year, there are expected to be 1.7 million tourists. The numbers are increasing sharply every year. This is not a place you want to wing it when finding a place to stay at night (unless you're camping). What we know of as hotels in the U.S. are few and far between – there are lots of guesthouses and small inns, most with only a few rooms. Farmers make money inviting in guests (we stayed at three farms, booked through Icelandic Farm Holidays). Icelanders are being priced out of the housing market, thanks to conversions of rooms to guest lodging.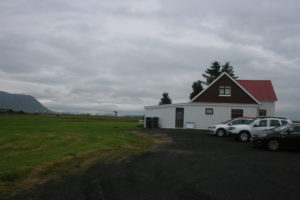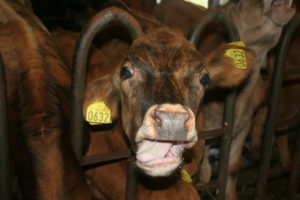 4.  Speaking of sheep, you'll see them (and horses) wandering around the country, high up on hills, and down by streams, no farms in sight. Turns out many farmers let their animals roam free all summer. In fall, the farmers round them up and bring them indoors. The sheep have some kind of tag, and the horses are microchipped.  People don't steal other people's animals. An average family farm is pretty small (maybe 30 dairy cows, 20 sheep, some horses). While you'll see pork on the menu, you won't see any pigs. They're grown in large quantities at larger farms we did not see.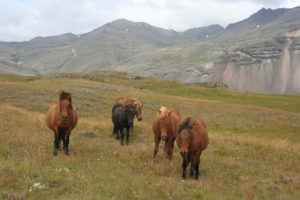 5.  If you take the Ring Road – you'll think you're the only Americans in Iceland once you're out of Reykjavik and away from the southern part of the island. You'll meet mostly Europeans. Once you're closer to Reykjavik, you'll start hearing American English everywhere.
[ad name="Native ad"]
6.  Why use three words when you can use just one?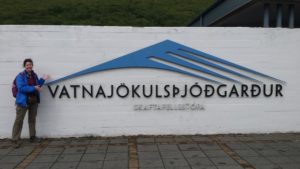 7.  Germans speak English really well. The French don't. Of course this is a gross generalization, but that was my experience when meeting many German and French people in Iceland. Of course I speak neither language.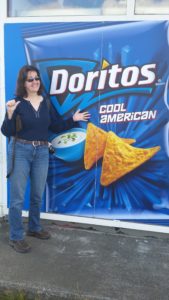 8.  It's awesome that almost everyone in Iceland (tourists included) speak English. Tours are conducted in English, even if no one there is a native speaker.
9.  There were a lot of crazy bikers in Iceland. We felt badly for them when they were biking in the rain or in heavy winds. They carried all their gear on the bikes. We saw lots of hitchhikers too. While we'd never pick them up in the U.S., we picked up a few couples there – you guessed it – Germans and French people.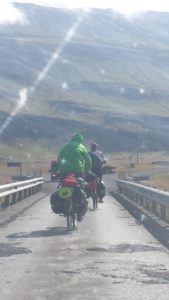 10.  Alcohol is really expensive in Iceland. In restaurants, cocktails were about $20 and beers were around $10. We were really happy we got a few bottles of booze at JFK's Duty Free shop.
11.  We heard how honest everyone was in Iceland, how you could leave your car unlocked (and open with money showing) and it wouldn't get stolen. While we didn't try that, we did accidentally leave our bag of duty-free liquor outside the guesthouse the first day, for about 30 minutes. When we realized our liquor wasn't in the room, Mark went out to the area we were sitting earlier, in front of the inn. It was sitting there, undisturbed, just where we left it.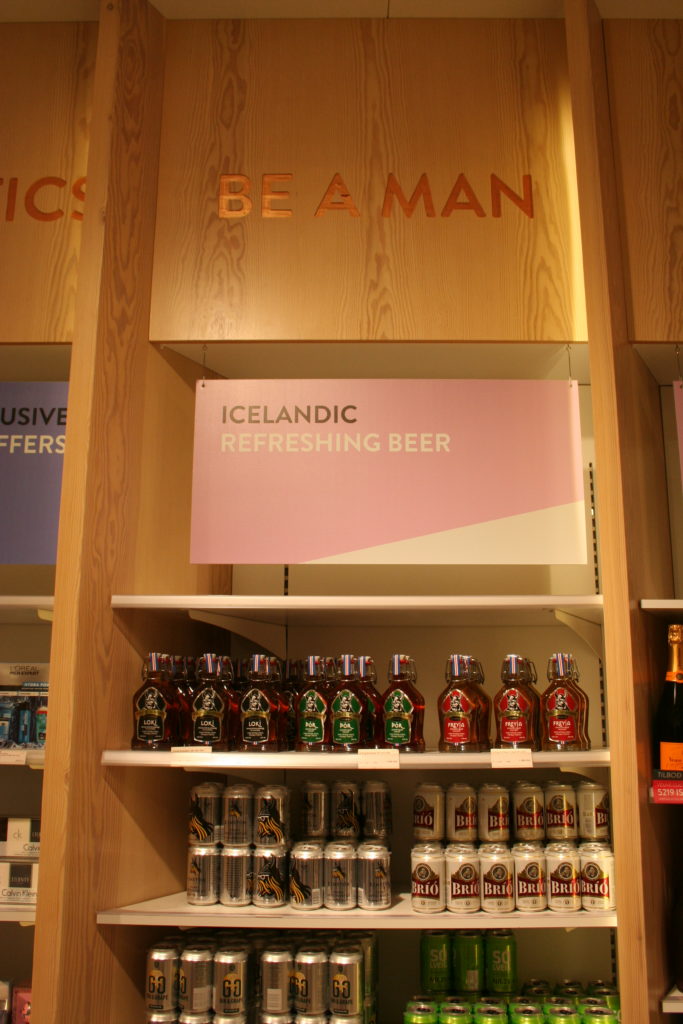 12.  If you want to buy breakfast the night before, just get some Skyr (Icelandic yogurt) and leave it in your car overnight. Most likely the temperature in the car/outdoors will be similar to a refrigerator overnight. Some brands (like the one below) a sell single serving size with a cute flip-open plastic spoon in the lid.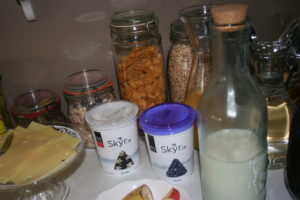 13. The local gas station is more than just a gas station/convenience store. At many of them, you can get a sit-down lunch, espresso drinks and freshly grilled burgers. In fact, we picked up our rented mi-fi device at the N1 station on the way to Reykjavik. We ordered it in advance from Trawire, and selected the specific gas station for delivery. When I went in, they had it in a drawer behind the counter. One gas station near the airport had the nicest Dunkin Donuts seating I'd ever seen. We actually stopped at the N1 gas station a few times for breakfast. They had good pastries.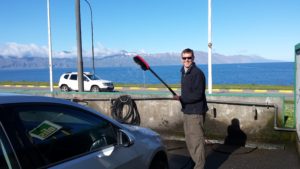 14.  Speaking of Dunkin Donuts, they recently opened up in Iceland and it was quite controversial. While we didn't eat there, we did peek at the donuts, and had a laugh over the idea of Icelandic bagels.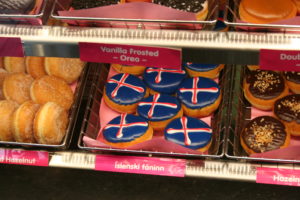 15. Souvenirs are super expensive, if you want to buy anything that looks authentic (or touristy). Instead, we opted to give our kids a container of paprika-flavored Pringles (paprika is big in Iceland, and my son loves Pringles) and some candy bars from the airport that cost less than $1 each. You can also get those candy bars at the N1 station. Just saying.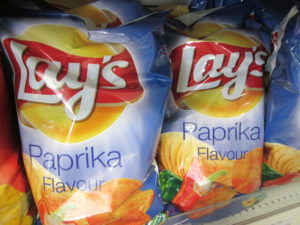 16.  You know what else is expensive? Soup! A standard size bowl of soup usually costs about $17-20. Their two specialties are "meat soup" (with lamb, carrots, onions and a clearish broth). And langostine soup. This giant bowl of langostine soup below (without many fish chunks) was a steal at $20, and included a refill, bread, butter, coffee and tea. It was at Bryggjan (no, I can't pronounce it) in Grindavik (this one, I can pronounce). It had about 20,000 calories in it and was the best thing I've ever tasted. My husband ate two bowls, plus an open-faced herring and sliced egg sandwich, plus bread. It's amazing he's not fat.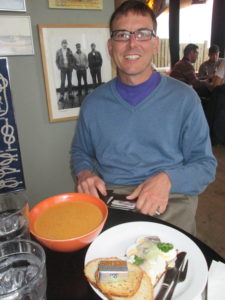 17. They sell lox spread in what looks like toothpaste tubes. I should have bought some. Very salty, but very tasty.
18.  The Blue Lagoon is touristy, but we loved it anyway. The big window below has its own window wiper. On a rainy day like ours, it was quite busy. If you want to buy their products, do it at their airport where it's duty free and cheaper (not cheap, but cheaper). Their gift shop sells Icelandic wool sweaters. The lifeguards here dress in full-out winter gear, even in summer. I've never seen a lifeguard in a snow suit until we got here.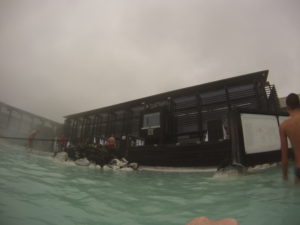 19. The campervan companies have a great time making their vans look like fun.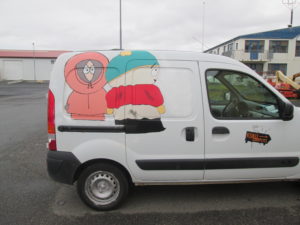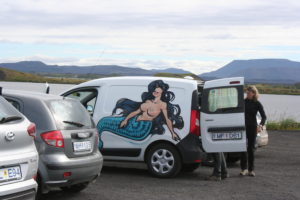 20. Almost everyone accepts credit card in Iceland, even for $3 coffees. During our 10 days in Iceland, we only went to the ATM once (at the beginning), and that was because we knew we needed cash for one cottage rental and one kayak tour. And we didn't spend the rest of the cash until the last two days, when we needed to spend it down.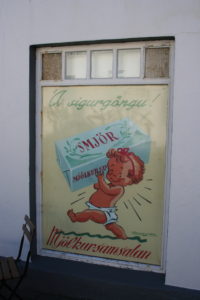 21. There are a ton of retro ads in Iceland, like the one above. This is for butter.
22. Bring shampoo! Only one hotel we stayed at provided shampoo. Mostly we stayed in guesthouses and farmhouses with shared bathrooms. We ended up at the N1 station buying shampoo and soap.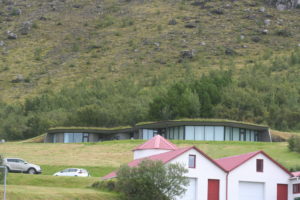 24.  We saw a surprising number of homes and farm houses that looked like they belong in Dwell magazine.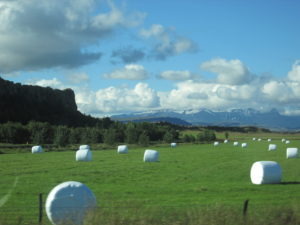 25. Iceland farmers wrap their hay in plastic. There's a debate about the best color to use: white, black or light green (my preference: white). They also have some pink, with 1 Euro for each wrap (or container of plastic – not sure) going for breast cancer research. Eventually the bales are moved into big stacks, but until then they look like art installations.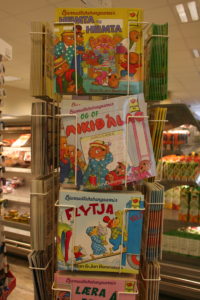 26. The Berenstain Bears books have been translated into Icelandic. And if you look closely, Berenstain Bears is one word in Icelandic.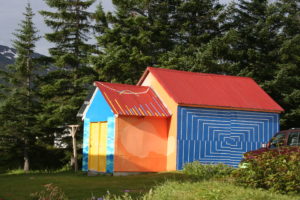 27. Iceland is very into art. We saw knitting on telephone poles, rocks covered in crochet (hotel room decoration), painted garages (above), lots of sculpture and many murals. It was lovely.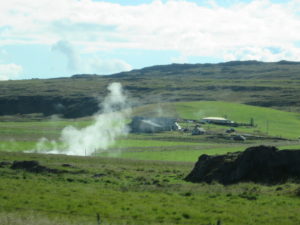 28. There's nothing like driving through the countryside and seeing geothermal steam coming out of the ground, in the middle of someone's farm. Geothermal and hydropower account for 99.9% of the electricity in Iceland. And it's one of the few low-cost things in Iceland. Several power plants have tours (we went on one in Krafla).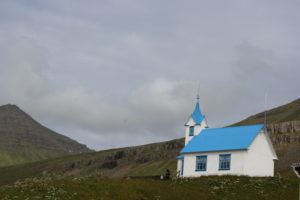 29. There are churches EVERYWHERE in the countryside. The Evangelical Lutheran Church of Iceland owns 350+ churches with an additional 50 of other denominations (none of which are in the countryside). The reason? The Ring Road (the main road around the island) was finished in 1974, so it was hard for people to reach churches in other areas before that. So each rural district had its own.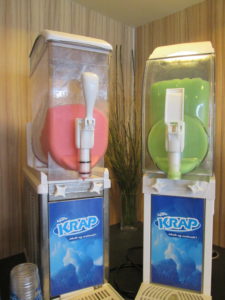 30. While we didn't go to museums, there are Icelandic museums on the phallus (including preserved specimens of every mammal in Iceland including man), Bobby Fischer (who became world chess champion in 1972 against Soviet Boris Spassky in Reykjavik, and later settled in Iceland and died here) and the Icelandic Museum of Rock 'n Roll (featuring Icelandic home-grown artists). There's also a Lewbowski Bar, modeled after the bowling alley in the Big Lebowski. They serve white Russians. We didn't go there either.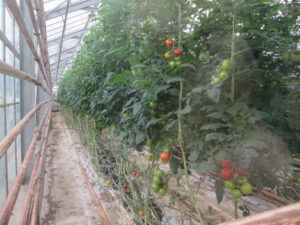 31. Iceland families don't share last names. Each person's last name is their father's first name, followed by "son" or "dottir" depending on whether they're male or female (like last names "Havarsson" or "Porvaldsdottir"). Also, the first name must either be on the official Iceland list of first names, or the parents must request government permission for a different name. About 50% of requested names are granted. This may all change soon, and Icelanders may have more naming freedom.
32. Police officers in Iceland don't carry guns.