After years of hearing about and seeing pictures of the Renaissance Faire, we finally went. It was a 600 degree day. It was super hot (bring a hat, sunblock and water). It was a lot of fun for everyone.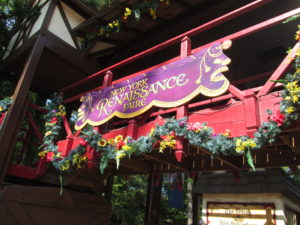 If you haven't been, here's what to expect.
The Faire is set up like a village, with actual buildings that are adorable, fields, stages, woods, a lake and more. It's on 65 acres of land (we got lost a number of times), and has 20 stages and 100 craftspeople. Plus 250 costumed actors – plus costumed guests. You won't be bored!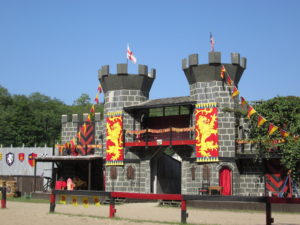 Everyone (almost everyone) dresses up. Costumes, make-up, hair, you name it. The costumes were fantastic. We wore regular clothes. It's okay, no one threw things at us.
[ad name="Google Adsense"]
It's great people watching. Such an interesting crowd.
Lots of entertainment. You can see everything, but take a look at the schedule when you get in, so you can pick out what you want to see. Some of our favorites were
Expect crowds (no shock there)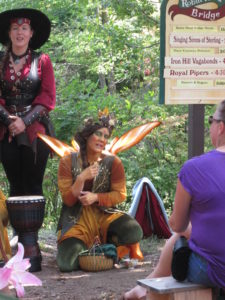 People were friendly and there were lots of kids. I went with a group of teens, who all had fun – several of them go yearly.
Entertainment
There's lots of free (and fun) entertainment. We started out watching a father/son team in a comedy routine that ended up with knife throwing (that's an audience member getting knives thrown at her).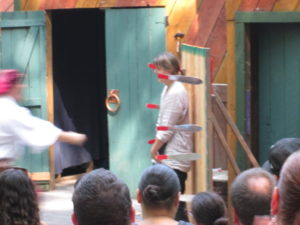 We watched a female Shakespeare troupe that was funny, as well as our favorite, Ded Bob. This was a super funny act that you should not bring the little ones too. We weren't even supposed to bring our 12 year old, but we did – and it was the highlight of his day. Inappropriate humor – imaging a tween loving that!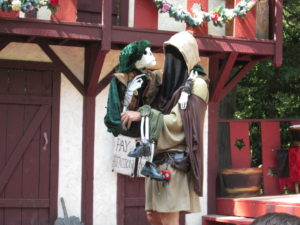 There's also jousting, human chess (that one went on forever and was a bit boring, but we liked the set-up). Also listened to some singers and other side entertainers.
There's a glass blowing demo as well as glass for sale. Maybe they have a different guy this year – not sure. The one last year bored us to tears and it was hot hanging out by the oven, imagine that.
Just walking around is fun. There's a fairy trail with some little fairy villages on the hillside.
There were plenty of activities focused on the kids, plus parades.
Plenty of paid activities as well: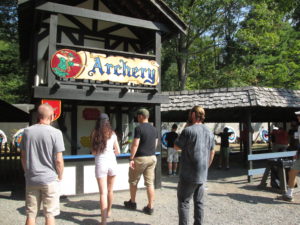 My son had fun shooting some arrows at the archery booth. You can get your fortune told by one of several psychics.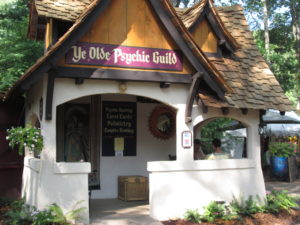 Get your aggression out throwing tomatoes. I saw very few people hit the target, but it was still good to watch.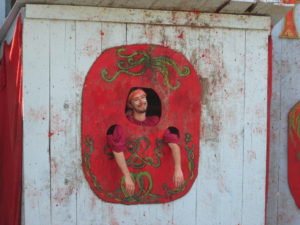 Get out on the water – rent a boat!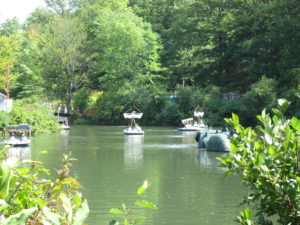 As it's set up like a village, there are lots of cute shops to explore. You can even rent a costume!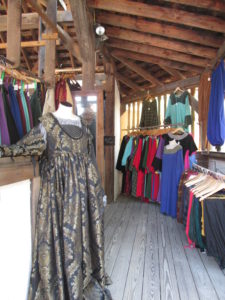 Your kids will be interested in the small games and rides area. I almost forgot about that, because my kids are now too old!
Good to know: 
-strollers are allowed. Much of the grounds are wheelchair accessible. They have regular bathrooms (not porta-potties)
-they have a variety of food for purchase (no outside food, but I don't recall them checking our bags too carefully), including vegan, vegetarian, gluten-free and food kids like. The Renaissance Faire website has a list of vendors and offerings.
-you can buy alcoholic drinks there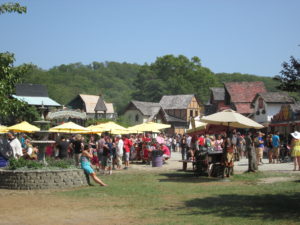 When: August 6-October 2, 2016 (Saturdays, Sundays and Labor Day) from 10 a.m. to 7 p.m. Different weekends have different themes, so if that's of interest, check it out before planning your date.
Where: Tuxedo Park, NY
Tickets to the New York Renaissance Faire:
Tickets are $25/adult, $12/child ages 5-12, $20/seniors 62+, $20/military with ID, free ages 4 and under
Discount tickets to the New York Renaissance Faire:
There are several places to get New York Renaissance Faire discounted tickets or codes.
–Goldstar offers tickets for $21.
-Get $20 tickets at Walgreens ($10 for kids)
-Join the Renaissance Faire mailing list and get a coupon mailed to you (undisclosed discount – I didn't sign up)
-Advanced tickets are good for any day.
-Look for coupons in Clipper Magazine and some newspaper ads.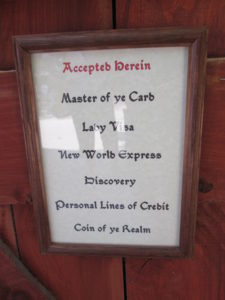 Parking: There are 2 options – preferred parking across from the gate for $10, or free parking further away. There's a bathroom by the paid lot, by the way.