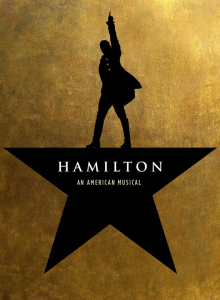 Given all the kudos and (deserved) attention Hamilton on Broadway has received in the past six months alone (never mind the build-up to the Broadway opening), the big question is how to get tickets to Hamilton. I'm so glad I got mine already – I saw the show in September. My husband was horrified that I paid $120/seat for tickets in the second to last row of the balcony for a show he'd not yet heard of. I know, you're shaking your head about how cheap $120 a ticket seems, even though the face value of the tickets was something like $46. No complaints. I'd love to see it again.
So to answer the question of how to get tickets to Hamilton for all my readers, here's the scoop:
The official Hamilton website. Not a good option. I just clicked and it said "Currently, tickets to Hamilton on Broadway are extremely limited. Please enter your email address below for updates, and be the first to know when new tickets are available." I flipped through their calendar and they don't have any tickets available through January, 2017, and that's the final month that's posted right now. Ticketmaster, their official seller, also has no retail tickets.
So moving on.
Ticket resellers: We bought our tickets through Stubhub. I'm not endorsing them, there are other ticket resellers as well, but that's where we got ours and all turned out well. Ticketmaster has reseller tickets ranging from $323 to $1,790. I should show this to my husband, because our $120 seats are now going for at least $323 on Ticketmaster.
Can you get Hamilton tickets at the TKTS booth? No! TKTS sells last minute tickets at discount prices. With the only tickets available right now as resale tickets, why would they be selling unsold discounted tickets? They wouldn't.
Hamilton lottery: If you live locally or are in town already, try for the Hamilton lottery. They sell 21 tickets daily front row tickets for $10. See details on the Hamilton lottery page.
[ad name="Google Adsense-1″]
Cheap or discounted Hamilton tickets: If a website says they have cheap or discounted Hamilton tickets, they're lying. When writing this post, I checked out one site that said this, and their ticket price for the Mezzanine section was $352. That was no cheaper than Ticketmaster's reseller tickets, and their other tickets were just as high, up to $1,760 for a ticket. The retail value of the mezzanine ticket is probably $100. So don't believe them.
Hamilton on tour: Unless you win the lottery (either the Hamilton one or the Powerball), this is your best option for seeing Hamilton. Hamilton goes on tour starting in Chicago in September 2016, and to California in 2017. The California Hamilton tour shows are in San Francisco (starting March 2017) and Los Angeles (August 11-December 30). Probably best to go there.
Listen to the Hamilton soundtrack: My other piece of advice – get the music. The two-CD Hamilton soundtrack set is amazing, and given that most of the show is sung, you practically get to hear the whole thing.
See something else: Okay so Hamilton may not be an option for now. Check out our reviews of other Broadway shows, both family-friendly Broadway shows and ones for just adults.