For some relatively local (to us) Pennsylvania skiing, we headed to Camelback Ski resort with kids this year. It's funny to see the outdoor water park slides covered in snow, as this resort is also a summer destination.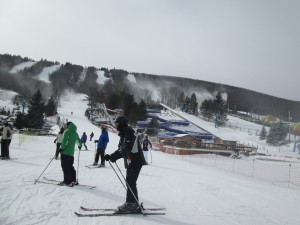 Given all the crazy weather this season, we were happy to see a solid base. Plus, they make snow, and we got to experience that ourselves, with snow machines at the base and on some of the slopes. I never realized how loud they are. It's like going past a jet engine. After one run where about 6 of them were blowing in a row, we had to go in and take a break, as our faces were so cold from the blowing snow.
As for mountain stats:
-You can ski 800 vertical feet
-There are 34 trails and 16 lifts. When we were there on the Friday before President's Day weekend, not all the lifts were running.
-9% of runs are "expert," 26% are "most difficult," 26% are "more difficult" and 39% are "easier."
On weekends, I think they have better controls of the lines. When we were there midweek (the Friday before a holiday weekend), the Sunbowl I lift line was chaos, as 5 lanes merged into one and no one in line knew when to go. It created some tension among the skers.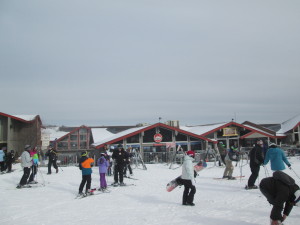 This is a nice mountain and good for beginner to intermediate skiers. I no longer do black diamonds, so I can't comment on those, but there aren't too many black diamond runs. The resort would be a good place to learn, as they have four magic carpet lifts and several areas where beginners (very new beginners) can practice without descending the mountain. All the lifts have a beginner run down. The mountain seemed well maintained and aside from that lift line, we saw ranger patrol and ski patrol around. The staff was friendly.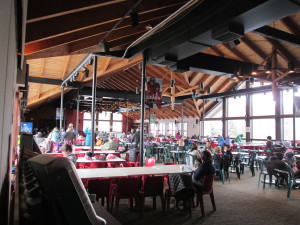 Ski rentals: Ski rentals are $39/day at the mountain. We passed several rental shops within 10 minutes of the mountain, which were much cheaper. We've rented from two of them (once this year, once last year). The closest one to the mountain rents for $19.99 a day plus helmet cost (I forgot the name, sorry!), and The Loft is $25 a day with an extra charge for helmets. They're open until 10 p.m, good if you want to do night skiing or have dinner up there. The Loft has a nice shop with ski apparel, and some used equipment on consignment.
[ad name="Google Adsense"]
Lessons: We did not take lessons at Camelback, but we did see the lesson area by the base.
Terrain park: Camelback has one lift serving a dedicated terrain area. We're not terrain skiers so we didn't venture up there.
Food: There a bunch of food options, though the only lodge we went into was the main base lodge, which had regular ski food options like burgers and sandwiches, plus a pizza area (you can get a whole pizza for $30+). We brought our own food. If you're there without kids, check out the more adult food options with alcohol.
Lockers: Camelback has lockers available for all day use. They are $10-15 with in/out privileges. You don't need a key, just use the central key pad. That was helpful because my husband and I split up to ski with our kids separately, but we left the lunch in the locker. And we could leave the car keys there in case one of us needed to get in.
Tickets: So here is my pet peeve. I bought tickets online thinking that I was getting a discount. I had to bring my paper ticket to the window to cash it in for a regular ticket. Not only was it the same price at the window (meaning that I spent time, ink and paper getting online tickets for no reason), but I had to wait in line like everybody else to get the ticket. Initially the "ticket only" line was closed at 9:30 a.m., so I had to wait in the longer "ticket and rentals and lesson" line. But then the ticket-only line opened, so I went around the other side of the building to wait in that shorter line.
Tickets range in price depending on age, whether you're skiing weekday versus weekend/holiday, full day versus twilight (3:00 on)
Camelback discount tickets:
-Kids 5 and under ski free with an adult ticket
-Military gets a discount on tickets.
-Skiers 70+ ski free with ID
-Beginners can get an Explorer card which includes 3 group lessons, 3 all-day rentals and 3 lower-mountain beginner lift tickets. It's $169 online, $179 on site.
-Stay at the Camelback Lodge Monday-Thursday and ski or tube free, with 4 one-day lift tickets.
–Liftopia may offer discounted Camelback tickets. They were "sold out" when I checked, but I'm not sure if that means they aren't offered at all, or they're actually sold out.
-Check with your town's recreation center, as many offer discounted lift tickets. Ours does, but not for Camelback.
-Ski Pennsylvania offers ticket deals, but none for Camelback.
-Camelback participates in the 4-5th grade Pennsylvania snow pass program, where you apply for a small fee, and get a free ski pass for the winter, which you can use along with a paid adult ticket.
Where: 301 Resort Drive, Tannersville PA
Other things to do at Camelback:
If you're not skiers or you want to spend a few days, there are other things to do at Camelback. We saw a bunch of nonskiers hanging out in the main base area lodge, but having been to a lot of ski resorts, this is not a lodge I'd want to spend a whole day in. It was fine, but there's no fireplace and it was not cozy. There are big windows in the front and back with nice views. There are probably other (more adult) areas to hang out, and probably the Camelback Lodge has a nice lobby area if you're staying there.
Camelback tubing: While we did not go tubing, we drove past it on the way home. Camelback has 42 lanes (not all of which are necessarily open at the same time) and two lifts. Tickets are $25-35. Weekdays, the ticket is for all day. On holidays/weekends it's for 3 hours.
Water park: Camelback completed its indoor water park, Aquatopia, last year – we haven't been yet. It's exclusively for those staying at the Camelback Resort. It has 7 pools and 13 slides, and looks like a lot of fun. Plus there's a swim-up bar. We hope to check it out soon.