I got an early look at the Lord & Taylor windows last week, and wanted to share them with you! It's easy to spot the store, with the greenery and lights.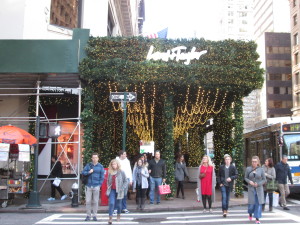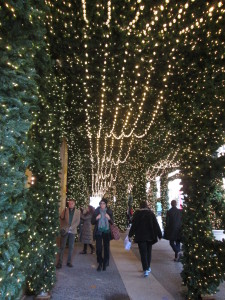 It felt like a winter scene under there.
Two of the large windows had different patisserie scenes, with cakes and treats on a conveyor belt.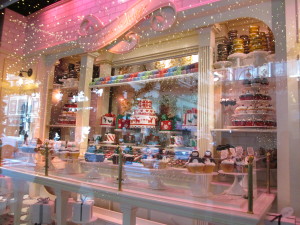 I loved the gingerbread mansion, held up on a platter by gingerbread men. The plate moves! The background changes, but I got a photo with the gingerbread men behind there.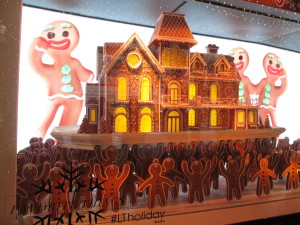 [ad name="Google Adsense"]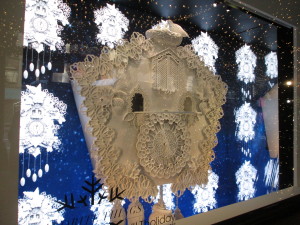 I was very taken with this cuckoo clock, which also had a changing electronic screen behind it. The clock opened frequently to show the own on top, the rabbits chasing each other in the middle, and then mice coming out the side (scroll down for that).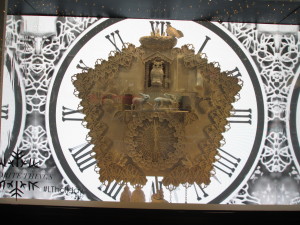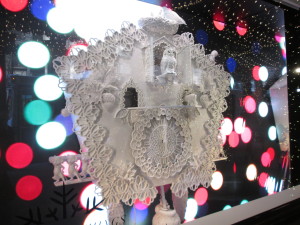 The next big window had an Advent calendar of sorts. Each window was numbered, and they'd open and display a picture behind it, like birds or Christmas items (like a Santa sleigh). It was harder to photograph.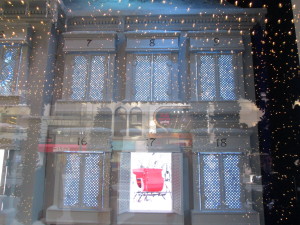 The smaller windows contained jewelry and candy and cute things like penguins. If you look closely at the cupcake wrapper on top, you'll see some jewels hanging down, colors matching the peppermints.
The geese below are holding a bracelet and ring.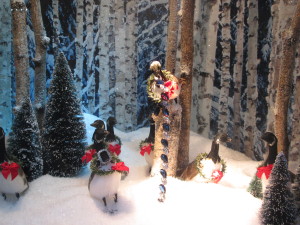 I think these are real gingerbread cookies made into trees, sporting some gems draped on them.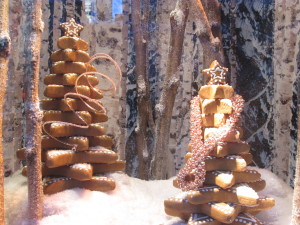 They were really pretty windows, though I think I like last year's Lord & Taylor windows better.