Every year we talk about going to see the Rockettes Radio City Christmas Spectacular, and then we don't get plan ahead and the tickets are too expensive. Or the reasonably priced tickets are at 9 a.m. or 10 p.m. – or on a weekday while the kids are in school. (Info on discount Rockettes tickets at the bottom). This year my husband's company got a block of tickets and we scored with reasonably priced tickets to a weekend show, so we finally got to see the iconic Rockettes.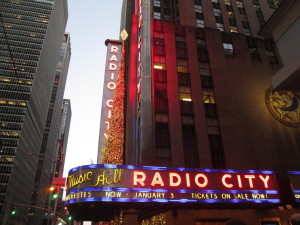 This review contains spoilers. It's also the review of someone who did not research the show before seeing it and did not grow up in this area. Think of me as someone dropped into Manhattan from far away, for the Christmas show. It's not part of our family history and the only thing I really know about them is that the dancers have a height requirement and they do precision dancing. That's about it.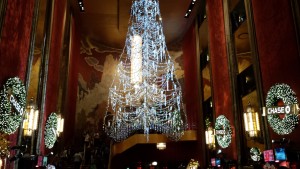 Do arrive at the show early. Doors open an hour before the curtain time. Like with Broadway shows, you have to wait in line outside (though it turns out there were three lines, you just couldn't tell, so we all got in one). They check your bags for water (and make you throw it out) and then let you inside the glorious Radio City lobby.  Take some time to look around, since it's festive and breathtaking.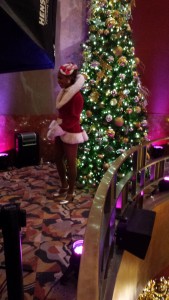 You can get your picture with a Rockette before or after the show, but be warned that they may not let you take a picture with your camera. They are selling photos, not doing you a service. I tried to get my own picture several times and the guards were vicious about stopping me. But I still snuck the photo above.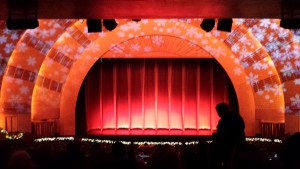 We got tickets in the mezzanine, which were good seats. We were almost dead center. They have some pretty lighting before the show and then they'll announce the "Rockettes fan cam" which takes pictures of the entire audience. You can then find your show, zoom in and find yourself online – and tag yourself. I didn't really see the point of that, but I did like seeing picture of the audience from the stage and the theater from a different perspective. And on the website you can also see some of the stage markings.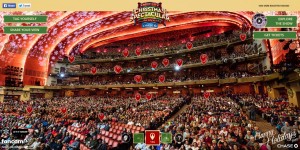 The show has several different vignettes – there's not one plot line running through it. I won't go into all the scenes, but there is a 3-D movie toward the beginning, with Santa driving around Manhattan with his reindeer. Fortunately, in spite of his zooming around in the air, I didn't get motion sick. Kind of a miracle. We thought the movie was a little hokey, but I'm sure the younger kids liked it.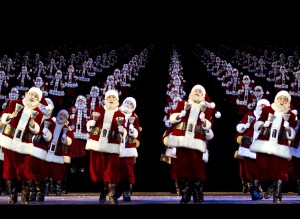 Not surprisingly, the best parts of the show were when the Rockettes were dancing.  The costumes were well done and the dancing was not only flawless (from what I could tell), but innovative with the choreography of 36 women doing the same thing at the same time. They even have microphones on their tap shoes, so you can hear the tap dancing numbers more more clearly.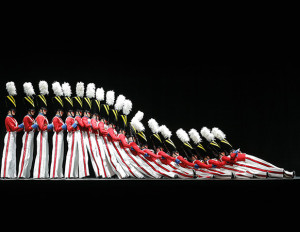 The wooden toy soldiers theme is one of their better known and recurring acts, which I read was original to 1932 or so – including the choreography. The costumes here also made a huge difference in the production. The pants were wide-legged, and the slightest movement of the hats made a huge impact. In this act, they turned in a circle, while lined up, which doesn't sound that hard, but consider that every person has to move a different pace and step since the ones at the ends are walking further. The falling down scene above took longer than I expected, but it really looked like they were melting and disappearing. It was impressive.
[ad name="Google Adsense"]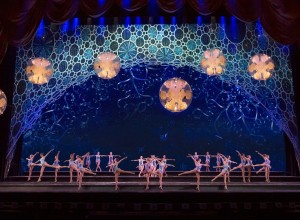 The scene above is from a previous year, but they did some snowflake dance as well. These snowflake beach ball things came down out and started hovering around the audience. We couldn't figure out if they were remote controlled or drone-activated, but they weren't helium. When that portion was over, they disappeared into the orchestra pit.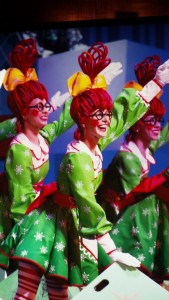 Most of the production revolve around Christmas, which is not surprising given the show title. So if you don't celebrate Christmas (we don't), you will still have a great time as long as you know that going in. Their use of technology and some innovative staging was quite fun – including the ice skaters skating on a real ice surface on stage (it's amazing what they could do in a small space). They did a creative routine using shadows. And they had a few child performers, including a girl playing Clara from the Nutrcracker – on toe shoes – who looked very, very young.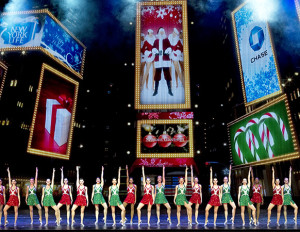 Toward the end of the show they have a living nativity scene. I wasn't prepared for this. They showed Jesus, Mary and Joseph with some sheep, which I thought were animatronic. Because what stage show in Manhattan has live sheep? And the sheep just stood there moving their heads. Then we watched a slew of wise men (and women) march across stage as they made a pilgrimage to see Jesus. Beautiful costumes, a pleasure to watch.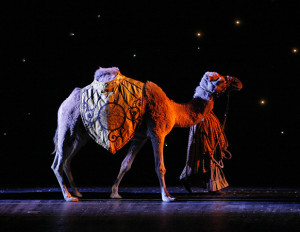 And then there was a camel. Okay, we whispered, surprised. THAT was a real camel. And then there was another. So we realized the sheep were real too. Then we saw a donkey. The curtains came down and then went back up. There was the living nativity scene. THREE camels. People started getting their cell phones out to take pictures. Unlike every other Broadway show I've been to, no usher came by to tell people to stop taking pictures. I'm so used to keeping my camera down once the show starts that I kept it down for this. It was pretty spectacular. The animals get walked around the area and live on site during the nine weeks of the show! Turns out this is part of the original show as well, and continued to this day.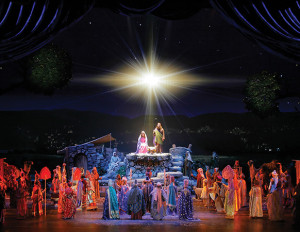 After the show was over, we joined the throngs of people exiting. It was super crowded (and a bit stressful). You can stay after for photos with a Rockette and Santa, and of course make some purchases. The shopping displays were very sparkly, so good luck making an exit without your kids getting side-tracked!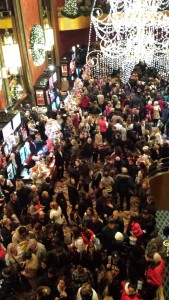 IF YOU GO
Restrooms: If you will need the restroom at the Rockettes show, get there early. The women's room line is very long and moves very slowly. There's a bathroom in the mezzannine (take the un-fancy staircase near where you enter). Or go downstairs to the basement area – there's a lounge there too. I tried going 10 minutes before the show and had no luck. After the show was even worse (we ended up at Gregory's Coffee on 46th Street, just off 6th. Happy to buy a drink and then ask for the bathroom code).
Water: They search your purses before you enter the building, and make you throw out your water bottle. So if you want to bring your water bottle in, don't put it in your purse. I wish I had my daughter put it in her jacket pocket. Next time!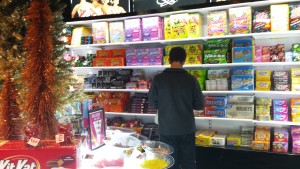 Food: They sell lots of food and candy at the show. Downstairs they have a giant candy store (photo above). I didn't look too hard at the food/drinks, as we ate before we went in, though they did let my husband bring a bag with leftover Magnolia cake inside, with the promise that he wouldn't eat it.
Photos: You can get your picture with a Rockette at the top of the grand staircase. Be warned, they might yell at you and cover your camera if you try taking your own picture. The idea is that they SELL you the picture. They're printed up after the show, waiting for your purchase nearby. They also have Santa photos in the basement.
Age: There's no minimum age. Kids 2+ need a ticket for the show (younger kids can sit on laps). My personal opinion: please, please don't bring your toddlers or babies to the show. I will tell you that several times toddlers in our section started crying when something scared them, and it was really annoying to listen to as we were trying to watch the show.  There were some fireworks and other startling things, that weren't really scary, but they did make some kids cry. Plus the lap-child behind us wanted to stand,which meant his hand and arm were often in our backs and hair. Not fun!
Boys: My 12 year old boy loved the show, and not because he's into looking at girls yet. Even though he's not interested in dancing, he fully enjoyed the production. He thought some parts were hokey (as did the adults), like the acts about two brothers, one of whom doesn't believe in Santa (then again, he was the kid who told the other kindergarteners that there was no Santa). But he was fully engaged in the show.
When: Through January 3, 2016; several shows daily; the show runs 90 minutes, though expect that it will take some time to leave the theater as well. It's crowded!
Tickets: $43-382 (approximately). Ticket prices depend on the seat/section, the day of the week, the time of the show and how close it is to Christmas. They have a lot of different types of tickets, including group tickets, VIP/experience tickets, etc. There are a lot of factors. You can price out tickets on their website.
Discount Rockettes tickets: There are several ways to get discounted Rockettes tickets.
Goldstar is offering tickets for $35-115.
Groupon currently has tickets starting at $59.