We're part way through the Passports with Purpose fundraiser. Have you checked out the great prizes you can win? Have you seen what good you can do for only $10?
Passports with Purpose is an all-volunteer fundraiser founded and run by travel bloggers, and supported by some great companies like TBEX. Each year, we find sponsors to offer prizes – you get one raffle-type entry to the prize of your choice for each $10 donation you make. This year we're supporting Worldreader, and with the money raised, we'll be donating e-readers to five libraries in Kenya. The donations will help at least 6,500 kids and adults have access to 50,000 books – both fiction and nonfiction, in Swahili and English.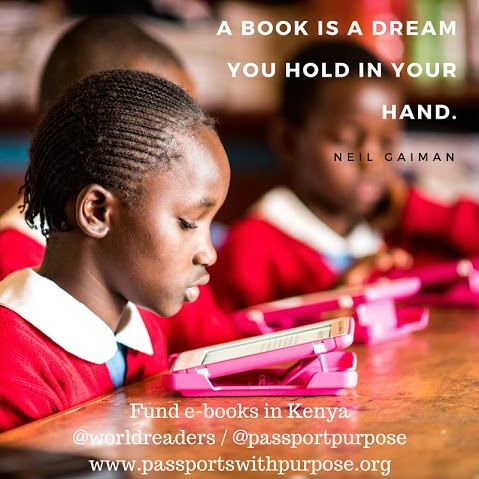 At Jersey Kids, our wonderful sponsor is Thousand Trails, who is offering up a one week stay at one of 180 tent or RV campsite resorts across the country. You choose the property. These camping resorts also have pools, entertainments and family fun. And they're pet friendly. It's a $750 value! Thousand Trails is offering a prize for our sister site, Frisco Kids, which is a yurt in Yosemite Lakes Campground, just outside the national park. The yurt sleeps five, and you'll have your own shower and kitchenette.
Some other great prizes you can bid on. Here are my favorites:
Flytographraphy photo shoot. When you're traveling out of the area, sometimes it's nice to have a professional take some family photos. I know a honeymooning couple who used them when in Rome on their honeymoon. Traveling with extended family? Who has the energy to find a local photographer? This prize gives you a 30 minute photo session with Flytographer in one of 150 cities. It's a $250 value and it's hosted by my friend Elena at Live Do Grow. Check it out.
GoPro Hero 4 – I won a GoPro a few fundraisers ago, and love using it. You can take it skiing, into the water park (into the water), surfing, basically anything active. It has a waterproof case and is lightweight. This $500 prize is hosted by my friends at the Vacation Gals.
Also, win a hotel stay at:
The Hotel del Coronado in San Diego – worth $1,000 and hosted by our friends at Ciao Bambino.
The Four Seasons Resort in Scottsdale – worth $1,258 and hosted by The Travel Diet.
The Hard Rock Hotel in San Diego – worth $600 and hosted by Break into Travel Writing.
The Library Hotel in NYC – worth $1,200 and hosted by Gypsy Nester. (I've stayed here and am going to enter to win this one)
There are 10 other hotels on the list – around the U.S. and abroad.
How to enter
Donating and entering your prize raffle can be a little confusing. I just did it so let me tell you how the process works. Go to the Donate page. They give an explanation there. You should know what prizes you want to enter first, so you know how many entries you have (one entry per $10 donation). Then make a donation via paypal (there's a link on that page). Then go back to the donate page and use the link for filling out the prize choice form. Put the number of entries you want into each prize box. For example, if you really want the yurt prize, maybe you put three of your entries ($30 donation) into that box, with another few entries for the campsite box, and another for the Tours by Locals. After you put in your entry choices, you'll fill out your personal information so they can let you know you won (if you won). They'll match up your entry with the paypal donation.
Thank you to the Passports with Purpose sponsor. We love our prize sponsor Thousand Trails.