When I go to a foreign country, I make plans to visit a grocery store. I love seeing all the different products, since it tells you a lot about their culture (like what they eat). So on my recent trip to the Korean Island Spa in Edison, I checked out HMart, which is in the same strip shopping center. It's a huge Asian grocery store. I'll share some of my findings.
In addition to the grocery section, they have a mini-mall indoors, with a vendors selling Gangnam style socks (above), as well as make-up, household items, kids' fun accessories and a dessert shop.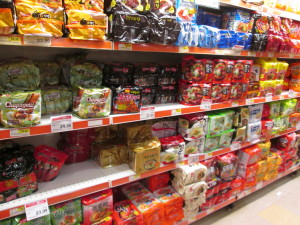 This is only part of the ramen aisle, above.
Lychee popping candy!
More noodles, this one with "egg block." Mmmm….egg block.
After going through the meat section, I decided to have a vegetarian dinner. Above you'll find frozen beef small intestines.[ad name="Google Adsense"]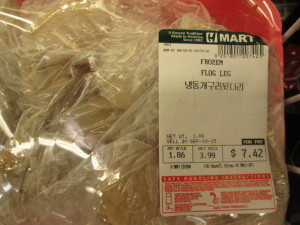 Here you can buy frozen "flog" leg.
And frozen rabbit. It didn't look anything like the cute bunnies in our yard. No skin and fur, and wrapped like a log in plastic wrap.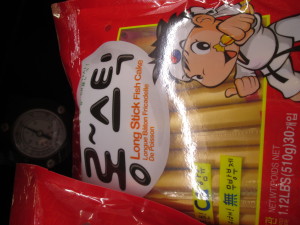 Sorry this one above is sideways, I had difficulty rotating it (don't ask). If you don't want to turn your head sideways, this is "long stick fish cake" even though it looked like cheese sticks.
Okay, so these are cheese sticks, but mixed with fish cake.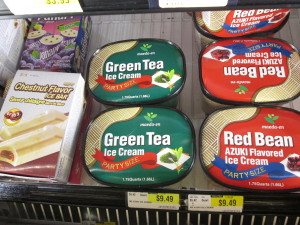 You can buy all kinds of ice cream novelties in different flavors than you'll find at ShopRite. Here were green tea ice cream and red bean (Azuki) ice cream.
I didn't find the little seaweed packets I was looking for, in spite of the long seaweed aisle, but I did find seaweed containers the kids can bring to school. I loved the packaging, which had famous paintings like Sunday in the Park with George (Seurat), a Van Gogh interior room and a Matisse as wrapping.
This is the Kosher section of the Asian market, above. You'll find three types of matzah. That's more than I expected. Though I did buy some Kosher/parve wonton wrappers I'll use for home-made ravioli and eggrolls.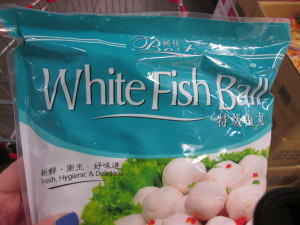 I actually like some fish balls, but seeing "white fish balls" on the label, and ones that are "fresh, hygienic and delicious" made me smile.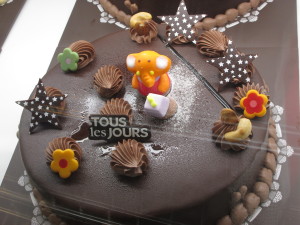 So these are a little out of order, sorry about that. The cake above comes from the Tous les Jours bakery in the little mall you see below (inside the store). They had a lot of breads and nice looking cakes, as well as bubble tea.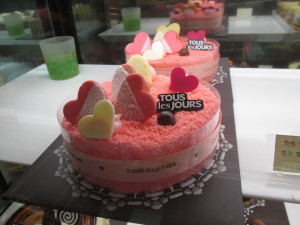 Here's one more cake picture. This one did not look good to me, though maybe it's all the hearts and pinkness.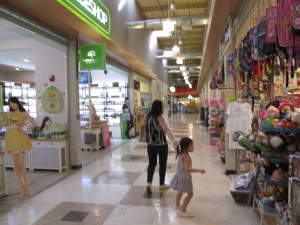 A view of the minimall where you can get Gangnam style socks. And cake.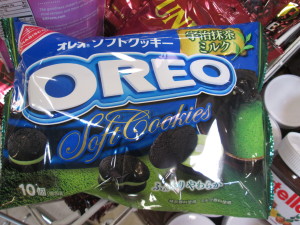 Love the matcha tea (I think) soft Oreos. I didn't buy them. And next to the chocolate sauce I saw kiwi sauce. If I was a kiwi flavor fan, I might have purchased some, but I'm not.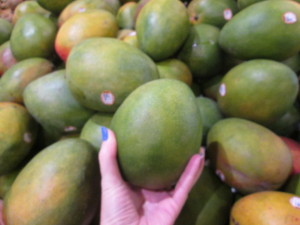 The mango picture looks like nothing much, but these mangoes were actually really big. The picture doesn't do it justice. They also had dragon fruit, lychee, jack fruit (cut open, you buy a section) and whole durian (fortunately those weren't cut open – the SMELL!). Also I took no pictures of the big fish section. The entire store smelled of fish, which wasn't very pleasant. So we didn't have fish for dinner either. Unlike our neighborhood Asian produce store, HMart produce wasn't lower price than you'll find elsewhere. But you will find a bigger variety.
I will go back there next time I'm in the area. I had a lot of fun poking around there.
By the way, these photos are all copyrighted – Deborah Abrams Kaplan. No taking or using these photos without my written permission.