I will admit that the main draw to me getting If/Then on Broadway tickets was to see/hear Idina Menzel perform. And the concept of the show interested me too – a look at one woman's life depending on which choices she made. Like in the movie Sliding Doors.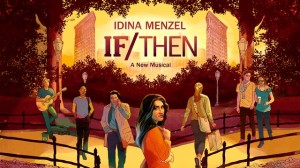 The gist is that 38 year old Elizabeth moves back to New York City from Phoenix (my hometown – they had a few jokes at the city's expense). She's out of a relationship and looking for work. The show goes back and forth between two different scenarios: she takes a job as an urban planner or she takes a job as a professor. She hooks up with a stranger/soldier she meets in the park and gets married and has kids. Or she hooks up with her former best friend, has an abortion, loses him and lives a spinster life for a few years.
There's a lot more to the If/Then story than that, but to be honest, I couldn't keep it straight. And even after rereading the synopsis of what happens to Liz versus Beth, I still can't. It helps if you watch when Elizabeth has glasses on versus when she doesn't, because that helps you figure out who she is in the scene, since she can change "characters" as quickly as she turns around.
Menzel's singing was of course, spectacular. She is such a pleasure to watch. And some of the other characters were just fabulous too, especially LaChanze as the vibrant, funny and moving gay friend Kate.
I loved the set, which used lighting, vibrant colors and mirrors in a really unique way.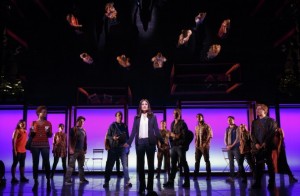 As for the downside, I don't think the Elizabeth character was fleshed out enough. She seemed kind of one dimensional and not very likeable. I don't attribute this to Menzel's acting ability. I just think the role of Elizabeth was flat and somewhat uninteresting. Which is a pity, since the show is about her. The only time I really felt for her was when something happened to her husband, and I did not expect the tears to flow. But they did – for me and all the women around me. It didn't help that her husband was a soldier and several in our group are married to military spouses.
And I didn't really like the character of her best friend Lucas (Anthony Rapp) who seemed whiny and annoying, and I could not for the life of me figure out how they were friends and one time lovers.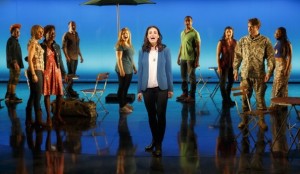 Seating
I didn't realize when we got our orchestra section tickets (I believe row O) that the seats would have a slightly obstructed view because of the balcony above us, and for those behind us even more so. The set has a second story, and it's difficult to see what happens on that level in the back seats. People behind me were crouching down and complaining (for good reason) that they couldn't see. This for $100 seats that weren't marked as obstructed. I wish we had paid LESS for the balcony seats which were not obstructed!
Is If/Then Appropriate for Kids? 
I would be hesitant to bring my children (even my early teen) to If/Then, because I think it has too many adult themes. Affairs, one night stands, abortion, and then the language. One of the best songs (and the only I actually remember) is called What the Fuck? It's hilarious, but not one I want my kids walking around singing, which you know they would do!
In all, I enjoyed the show, but did not love it. I loved Menzel's singing and the opportunity to hear her live. I loved the lighting and staging. I loved a few of the characters. But the show was somewhat forgettable. It was nominated for two Tony awards: Idina Menzel for best leading actress in a musical, and best original score for theater, and didn't win any.