My husband saw a Fuera Bruta show a few years back and has been telling me I'd love it. It's a hard show to explain. It's like a combination of performance art and Cirque du Soleil type acrobatics in the air (though not as technically difficult) but in a club atmosphere. The show goes on above you, to the side of you, behind you…you get the point.
When you enter the theater, the red lights are glowing like in a club, and you just stand there. You do not sit at all during the show, and the staff will move you around depending on what scene is coming up. They'll use hand motions to move you. Just hang on to those in your party and back up or move to the side – whatever they tell you. It's not the best place to go if you're truly claustrophobic.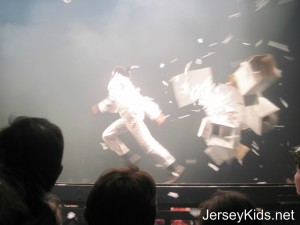 In case you're wondering (I was), Fuerza Bruta Wayra means "brute force wind" and the show was founded in Argentina. The name does help explain why many of the show elements did include wind! The show has live music (mostly drumming) and singing, but no words other than the words of the main song, which basically sounds like a backdrop. There's no storyline either. It's like a series of vignettes. Of course you can interpret themes like man's struggle against the movement of time, or various emotions, or entrapment or whatever you want. I'm not sure what's behind it, but you can just stand there and enjoy it without reading too much into it. 
The show starts out with the guy in white walking on a treadmill (he's connected with a cable, so no worries that he'll go flying off). It goes on for awhile, with others joining him on the treadmill and falling off (onto a soft mat), like they're walking a city street. Then tables and chairs make their way on and off the treadmill while the dude in white tries in vain to keep them in place. And then the scene you see above with him running through walls of white boxes. If nothing else, it's a great effect!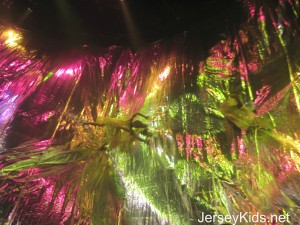 At some point, the staff pointed to us to turn around. While we were busy watching the treadmill, a giant mylar curtain was rolled around the theater walls. Two women (connected to cables) chased each other from one wall to the other, while lights changed and the music changed, depending on what the women were doing.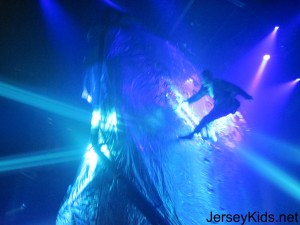 Also using a mylar type screen, a giant ring rolled into the center of the audience, with a person cabled to each side. The two people  jumped, climbed and swung from their side (they also had handles to help them climb), as the music changed and the ring rotated.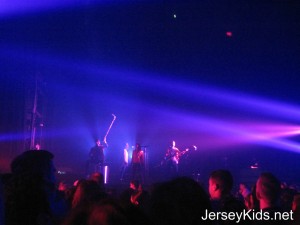 ————————————————
[ad name="Google Adsense"]
————————————————
Above you can see the musicians at one point in the transition to a new scene. Perhaps that's when the were filling the pool that was above us. That was the most incredible thing. The pool was almost the size of the room, with a firm (but not hard) plastic bottom. Up to four women at a time swam, slid and jumped on this pool, as it was very slowly lowered to arm's reach (at least for the taller audience members).
And when they were done, the pool was drained and maneuvered to stand behind the musicians, not that we saw this happening. If you go, look for the pool behind them.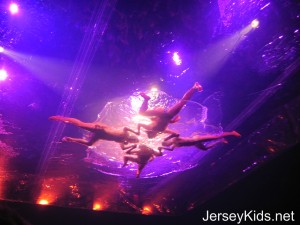 In another scene (below), they rolled out a unit of scaffoldiong with paper, which was torn off and confetti thrown everywhere. They then started dancing and it reminded me of Lord of the Dance, only a little more wild.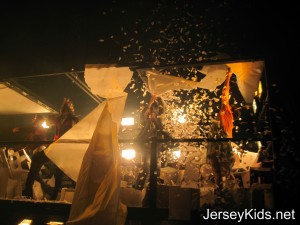 They came off the frame and through the audience with paper covered frames which they periodically knocked over the heads of some of the audience members, spraying them with confetti.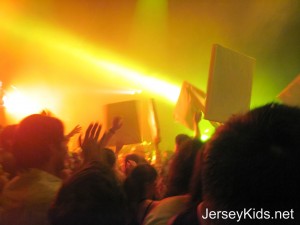 In the last scene, audience members helped roll out this plastic sheeting from one side of the room to the other, over the heads. I actually couldn't touch it because I was around a lot of tall men who were moving it higher than I could reach. Once it was across, they attached it to the opposite wall and blew some air underneath. The plastic was high for awhile, and then went up and down depending on the actors who were cabled in from the ceiling, walking and jumping on it. At one point, as you can see in the picture below, they opened a hole and reached out, actually coming down into the audience.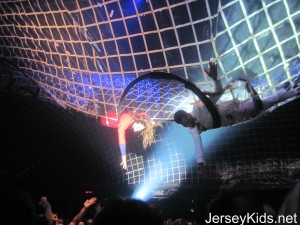 Then they brought a piece of plastic to attach to the hole, and with a little wind, voila – they had a tunnel which the white suit guy went into, up and down, like he was in space. You can see a video of it here.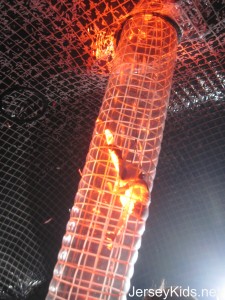 If you've seen past Fuerza Bruta shows, you'll still enjoy this one, which just opened on July 8th. There are a few similar elements, but some are different (according to my husband). After we rolled the plastic back to the wall, and the staff secured it, we listened to the band a bit more, with the actors joining them on stage. And it started to rain in the middle of the room. I was glad not to be standing there, but those in the middle seemed quite happy.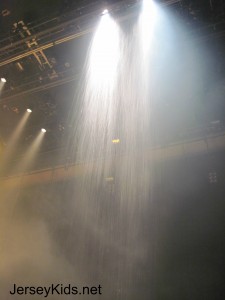 A few pieces of advice:
If you don't want to get rained on at the end of the show, make sure you're not in the middle. The ticket taker said to stay to the outside to stay dry. Of course you won't be thinking about that as the show goes on, and you won't know when the end of the show is coming. So when you enter the theater, just don't go in the middle.
You'll need to check your bags or coats – but this is a good thing. You don't want to be carrying them around during the show. It's very crowded and you're standing up.
When you leave the theater, exit through the door at the right side of the stage when facing the stage. We exited through the left, and ended up going up and down several tight, crowded flights of stairs which we could have avoided by just walking straight outside from the right door.
My neck was sore part way through the show, from looking up. And I'm 5'7″, so by no means short. You can't do much about that, but it's a warning.
Is Fuerza Bruta child-friendly?
Yes, Fuerza Bruta is child-friendly and recommended for kids ages 10+. We were at an early show (7 p.m.) and there were a ton of kids there. The only caveat is that the women's underwear sometimes shows during scenes, like in the initial scene (not previously mentioned) when some of the actors fly over the audience on cables, and in the swimming pool. That said, you can't see anything other than plain panties (you don't see any bras). And while the swimming scene can be sensual, it is not sexual and you can't see through their clothing.
Since there's no English (I'm guessing the few words in the songs are real words, but it was hard to understand and they weren't English), you don't have to worry about foul language.
If your kids don't like loud noises or a lot of stimulation, don't take them to this show.
Make sure your kids will feel comfortable standing for the 80 minutes or so they'll be in there. Even if your kids are short, they'll be able to see just find, since so much of the action takes place on the walls or in the air. Plus you can move around a slight bit to help them get a better view if needed.
Shows: Shows are Tuesdays, Wednesdays and Thursdays at 8, Fridays and Saturdays at 7 and 10, and Sundays at 7. The show lasts about 80 minutes (I think a little less). If you go on the weekend, go to the earlier show. There are no intermissions.
Tickets: Box office tickets are $99 online or by calling 212-239-6200. I've seen deals on the discount websites like BroadwayBox.com for $62, or Theatermania, and at the TKTS booth (not sure of prices there). They also have 30 rush tickets per show for $30, two hours before.
Location: The Daryl Roth Theater is on 15th Street, directly across the street from Union Square Park's east side.