–This is part of our series on Philadelphia with kids. See all the posts in the series at the bottom.–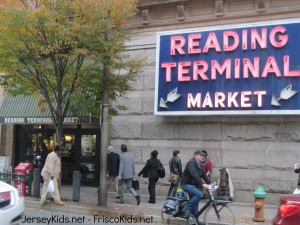 Out of everything we saw and did in Philadelphia, this was the family favorite. We went twice, and would have gone more if time permitted.
The Reading Terminal Market has been in Philadelphia in one form since the 1850s, but in its current form since 1892. The string of shops (known as a Jersey market, since that's where vendors came from) went indoors, with 78,000 feet and 800 vendor slots. Let me repeat that. 800 vendors slots. Like then, it's still full of food and produce vendors, and a smattering of other stores selling kitchen wares and other goods.  Now there are 80 vendors. Read more about the market's history here – it's interesting.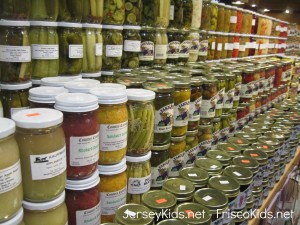 My advice is to go hungry. There's so many tantalizing things to eat. And buy. And eat. You can see a full list of merchants here.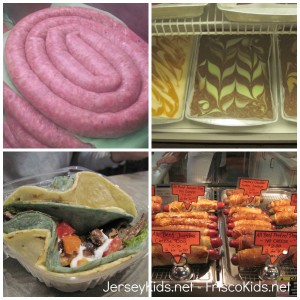 You can buy sausage, fudge, tacos and pretzel dogs at the Reading Terminal Market.We wandered up and down each aisle deciding what we were going to order individually. I believe we all went to separate booths both days to find our treats.
In the middle, there are seats and tables. Keep an eye open because you may have to scramble to find seating together. They have seats in the back too – also crowded. And if you order from one of the restaurants there, you can often sit at their counter. But you have to get their food.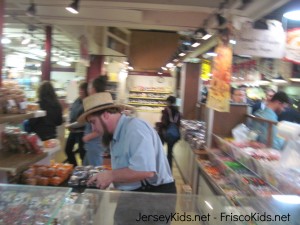 One thing we all agreed on was doughnuts. We watched them making the doughnuts at Beiler's, which was fascinating. They rolled out the dough and then cut them using a simple metal contraption. We watched them boil the doughnuts and fill them with a special machine, drizzling on icing at the end. They were delicious. Beiler's also sold pickles. Go figure.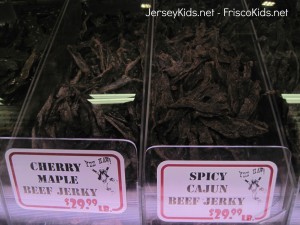 Yum – my meal was a grilled cheese sandwich – gourmet – from MeltKraft. They had many varieties and it was a funky place. They also had specialty sodas from Boylan. Turns out there's another one in Brooklyn – Park Slope.
They have a few produce and flower vendors as well. I loved looking at the veggies – especially this one on top. I'll say what it is at the bottom of the post.*