This is the first post in a long series on Philadelphia with kids. We went over the New Jersey teachers' convention break and it's taken  this long to get the posts together because there was so much to write about.
As a starter, I went to college in Philadelphia (go Quakers) and in our four day trip, in no way did I feel like I was retreading old steps. There is So. Much. To. See. Not kidding. I'll give you our itinerary and tell you what we skipped.
To organize the trip, here were my ground rules. Everyone got at least one meal or attraction they'd want to go to during the trip. We got at least one planned treat a day, no more than two museums a day, free hotel happy hour, and a hotel with a suite, so we'd have extra space. The Embassy Suites served the latter purpose quite well.
I'll go into more detail on specific venues in coming posts. This one is more of an overview.
Our itinerary:
Day One: arrive mid-morning, park and check into hotel. Walk to Reading Terminal Market for lunch. Walk to/visit National Constitution Center. Walk back to the hotel for happy hour. Two of us stayed in the room (still full from lunch/happy hour), two grabbed a bite at the nearby pub.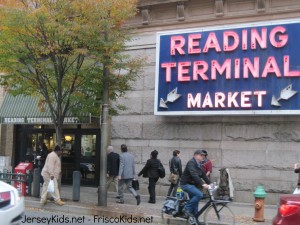 Day Two:  We walked to the Barnes Museum where we had timed tickets. From there, we got a taxi to the Reading Terminal Market for lunch. En route to the Philadelphia Mint (walking again), we passed Mikveh Israel, Philadelphia's oldest formal synagogue, and the longest running one in the U.S. We got an impromptu tour, and then went through the Philadelphia Mint close by. After that we looked into the Christchurch Graveyard, where Ben Franklin is buried (it's close to the corner, and you can look in without entering the grounds), and then walked down Elfreth's Alley, aka "our nation's oldest residential street." We continued around the art gallery area on Second and Third streets, between Race and Market, stopping for treats at the adorable Tartes Fine Cakes and Pastries. We walked back to the hotel for a quick happy hour, and then off to dinner at Max Brenners, stopping on the way at the Comcast Center to see its HD video wall. We went by again after dinner.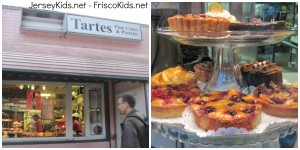 Day Three: We walked to the Rodin Museum, where we spent a few minutes en route to the Eastern State Penitentiary. After a lengthy visit, we hailed a taxi to the Mutter Museum, grabbing a bite to eat in the neighborhood before going in. After, we walked to the Franklin Institute. My husband and son stayed longer, and my daughter and I cut out early to walk to Rittenhouse Square, and then window shopping at the fabulous 13th Street stores. Then on to the Magic Gardens in South Philly. We went into a few funky stores in the antiques area and then caught the Philadelphia Trolley for its last leg to Independence Hall. We had some time to kill before dinner, so we saw a historic movie at Independence Visitor's Center, before walking to City Tavern to dinner. We cabbed it home.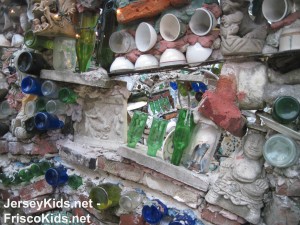 Day Four: Drove to Independence Visitor Center and parked (there's a lot below), to pick up our Independence Hall tour tickets 45 minutes in advance (we reserved online previously). Husband and son stayed there to watch educational movies. My daughter and I went to see the Liberty Bell from the outside, and to the Ben Franklin Museum for a short visit (I wish we had more time). We all took the Independence Hall tour and grabbed street meat from a cart. Then off to the National Jewish American History Museum. After that, we got treats at the Franklin Fountain and browsed Shane Confectionary. Then we drove home.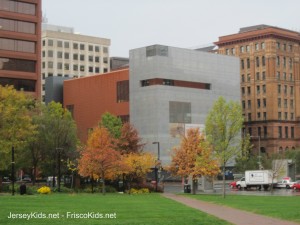 What we missed: Wow. We missed A LOT. Even though we packed every moment we could with activities. Here's what we'd see in future visits. The Philadelphia Museum of Art, home of the Rocky stairs and many pieces of fine art. It's a huge museum right on the water. I went many times in college, but my kids don't love art museums. So that will wait. I took them to Penn's campus once, and I'd like to take them again, some day. Contemporary art lovers will enjoy the Institute of Contemporary Art and classics fans will love the University of Pennsylvania Museum or Archeology and Anthropology. A lot of Egyptian art/sculptures and great architecture. Tons of fun neighborhoods. The Mummers Museum. We' d like to tour City Hall. We've been to the Philadelphia Zoo, and my kids are past the age of the Please Touch Museum. We're going to the Camden Aquarium very soon. My husband wants to go to Frankford Hall, a biergarten. Lots of great restaurants to try. And more window shopping. In better weather there are more outdoor things to do too.
In spite of all the planning, you never know what will be a highlight. For my son, his top three highlights were: 1. playing  bocce ball at the Eastern State Penitentiary 2. the giant microbe (flesh eating virus) we bought him at the Mutter Museum as his trip souvenir 3. eating dinner with my college friend's sons at City Tavern.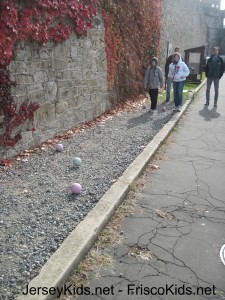 The four things my daughter liked best about our trip to Philadelphia: 1. the "crime scene do not cross" tape scarf we bought as her souvenir at the Mutter Museum 2. the Franklin Fountain 3. the Reading Terminal Market.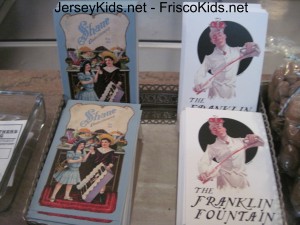 If you want to use a CityPASS in Philadelphia, it's good for nine consecutive days, starting once you use the first ticket.
App: the National Park Service just released an app for Independence National Historical Park, which includes the Liberty Bell, Independence Hall, Franklin Court, the Old City and other parts of Philly. They included guided audio tours, points of interest and other features. They'll soon be adding a kids' portion with the park service's first electronic Junior Ranger activity.
Upcoming posts in the series: coming soon
Disclosure: We received attraction tickets from Philadelphia's tourism bureau. I encourage you to check out VisitPhilly.com when planning your trip. The site has a wealth of information. In fact I think it's one of the best city sites for visitors in the U.S.