–This is part of our series on Philadelphia with kids. See all the posts in the series at the bottom.–
We had to rush through the Ben Franklin Museum, which is unfortunate because we really liked it. It was also one of the more interactive and kid-friendly places we went.
It's owned by the park service, so you'll see rangers inside. The museum was recently renovated and it shows. Here's the front of the museum. Outside is a "ghost house" using the footprint of Franklin's original house and print shop.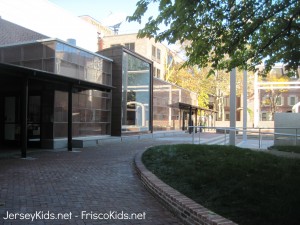 They have a scavenger hunt inside, and for completing it, they give you some trading cards with patriots on it.
Ben was one of 17 kids in his family. At age 12, he apprenticed to his old brother James, who was a printer.  James was a bit demanding, so he ran away from him, but stayed in touch with the family.
The museum has videos explaining his life in a cute, and cartoonish way. You can see one of the videos below. They have some of his artifacts as well, like dishes, found by archeologists.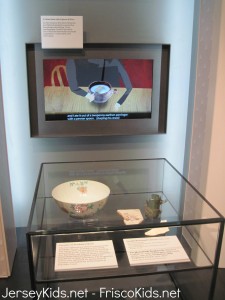 Here you can see the bible that he bought for his daughter Sarah, because he admired the printer who printed it. You can see his inscription in the book.
Throughout the exhibit we learned about his life. He was not married to wife Deborah legally, but it was a common law marriage. He had a son from a previous relationship, William, but Deborah raised him.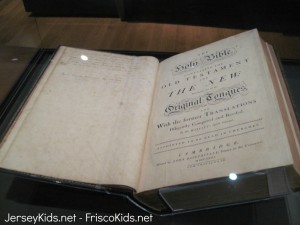 ————————————————
[ad name="Google Adsense"]
————————————————
These are original chairs and a chess set from his house.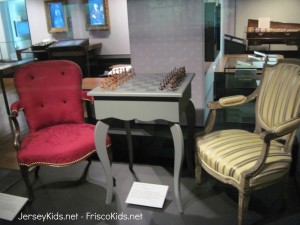 They had other artifacts like the glass armonica he made. It's a musical instrument using and glass bowls, connected with a stick in the middle. You touched it to play it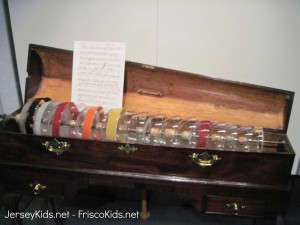 Ben had a lot of contradictions. He espoused health and wellness, but had gout – from too eating too much meat and red wine.  He convinced his coworkers when living in England, not to drink beer for breakfast. He only drank water there. He ate hot gruel for breakfast instead, which was not only cheaper, but made him feel better. They ended up making the switch too.
There's a lot about his printer apprenticeship (he ran away from his brother's shop where he was learning, because his brother was overbearing). Ben stayed in touch with his family, though, and learning the trade did well for him. You're able to see what it's like to ink the balls and rub them on typeset. They were very heavy. They have a printing plate you can also try to lift.
As you know, Franklin was a renaissance man, with many talents. While he was a printer in Philadelphia, he printing and published the Pennsylvania Gazette and Poor Richard's Almanac. He retired at 22. Yes, 22. He became deputy postmaster in 1753 and increased the range and efficiency of the postal system. He financed print shops around New England and the Caribbean. He invented bifocals. He founded the first fire brigade (an early fire department). He helped found the nation's oldest mutual fire insurance company. He organized a group on prison reform (see my post about the Eastern State Penitentiary). If there's any doubt about how one person could change the world, just look at Ben Franklin.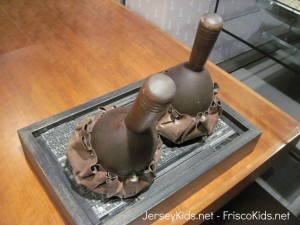 They showed some of the games that Franklin liked to play. The one below is obviously a replica, since they didn't have digital games then, but it was a sample of the type of math game he liked.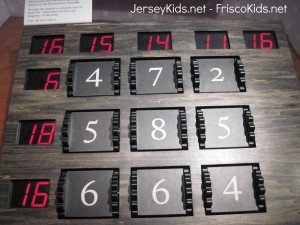 There's a whole section on his electrical experiments (you know about the kite and key, right?). He learned about rubbing glass tubes with wool or fur and creating electrical charges. I wish we had more time to go through all the exhibits, but I recommend that you do! We'll go again.
Franklin crossed the Atlantic eight times in his life, partly as a statesman. Below you can see the carriage that hand-carried him to the constitutional convention for 100+ days, carried by slaves. They have one you can get in as well.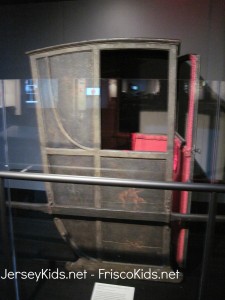 We had a really hard time finding the museum. You have to go down an alley way because it's in the middle of a block between two streets. We probably spent 30-45 minutes there but easily could have doubled that.
Where: 317 Chestnut Street. The address is ON Chestnut, but it's actually between Chestnut and Walnut, between 3rd and 4th streets
Tickets:  a very reasonable $5/adults, $2/kid ages 16 and under
Disclosure: We received media tickets from Philadelphia's tourism bureau. All opinions are my own.