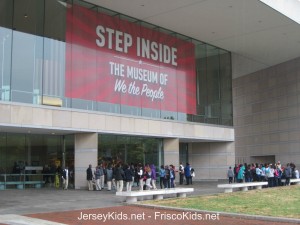 –This is part of our series on Philadelphia with kids. See all the posts in the series at the bottom.–
One of the newer additions to Independence Mall is the National Constitution Center. Heard of it? I hadn't until recently, when a friend told me her daughter loved it. We headed there on our first day. The center is a nonprofit museum dedicated to all things U.S. Constitution (duh!).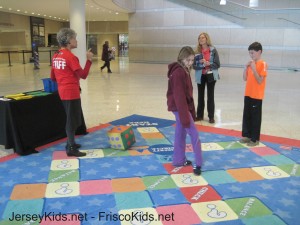 We got our tickets and had to wait for the next showing of Freedom Rising, the start of any visit there. While we waited, my husband visited the temporary exhibition on Pulitzer Prize winning photos (no longer there – and not good for kids anyway – too graphic). My son played a trivia game on the carpet above with one of the staff members and another visiting child. He thought that was fun, and he learned something too.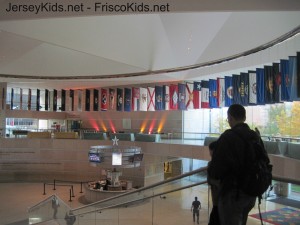 The photo above is taken from upstairs overlooking the hall with all the flags. Here's some trivia for the kids. Ask them how they are arranged.
Unfortunately you can't take pictures in the exhibit area, nor during the Freedom Rising presentation. The next few pictures below are courtesy of the National Constitution Center. You enter at your assigned time into the theater for Freedom Rising. One of the staff members presents a monologue with a multimedia presentation going on around her. We thought it was interesting, and she explained a lot about how the Constitution was formed, and the politics and historical activities happening at the time.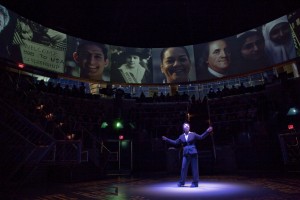 At the time, there were 13 states, which had their own currency. Nine states had their own navies! The Philadelphia Convention was called to establish a national government, and had 55 delegates. This was in the late 1700s, and 20% of the population were slaves. At least 20 of the delegates owned slaves at one point. With the Constitution, slavery was left under state control, because the delegates couldn't come to a decision and abolitionists realized it was better to pass the Constitution and work on this later, rather than let that hold up the good it would do.
The Constitution divided the power between the state and the national government, and then further divided the power between Congress, the president and judicial branches, so no one group had total control. No one had ever done this before. The final authority rested with the people. I think that's something that most of us in the U.S. take for granted, so it was good to get a historic perspective on this and to hear how this was original for the time (and even still is original for many countries today).
What I love about visiting several of the historic places within a few days is that the history is repeated over and over, from different angles, and you can make more connections to let it sink in. The kids would remember hearing something from one museum or attraction, and it would tie in with what they heard at another.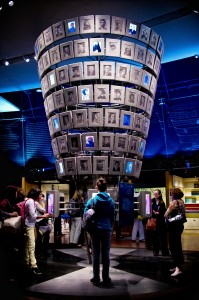 We were ushered out of the theater into the main exhibition hall upstairs. We started off at this photo display which has photos of various Americans of different races, genders and ages (and throughout the ages). You can read/hear stories about many of them on video monitors below. My son really liked this.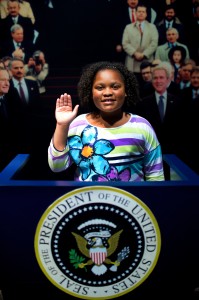 Along the circular wall are displays in chronological order of different historic events affecting the Constitution. There are a few alcoves you can go into to hear recreations of conversations from different time periods. It was interesting for me, but my kids were bored in this part.
On the inside were more interactive features the kids liked. One had voting booths. You go into the booth and can choose from two different candidates (from different time periods) based on your beliefs about various issues. In another section (picture above), you can take the presidential oath of office. Unfortunately you can't take your own picture there, though it does take a picture that apparently you can buy in the gift shop. I didn't see where you do that.
You can see wear a Supreme Court robe.  Once you have on your robe, you can sit down and read about various cases that went before the Supreme Court and figure out how you would decided, and see how the judges decide. The kids liked this a lot.
At this point we were about done with the exhibits and my son was bored to death. We headed into Signers' Hall, where you are allowed to take pictures, with the full size statues of the men who signed the Constitution. My kids found it creepy, and I didn't find it all that interesting, though it is fun to see how tall they are (or aren't) by standing next to them. Turns out George Washington was a very tall dude, as you'll see him next to my 6'3″ husband below.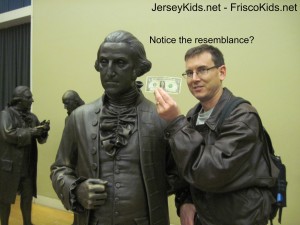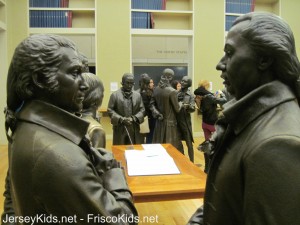 You can read more about the National Constitution Center here on Wikipedia. I actually think the information here is more straightforward than the museum website, which I found a bit clumsy to navigate and didn't include all the information I wanted, in terms of background.
Good for kids? I do think it's good for kids, though you'll have to keep in mind how long they may last. As usually happens, I could have spent longer in there, while my kids were done much earlier. I think if you stick to the more interactive exhibits (which there are many), you'll be good. Plan for 30-60 minutes in the exhibit area, plus the time for Freedom Rising and any wait time.
Tickets: Tickets are $14.50/adult, $13/kid from 13-18, $8/kids from 4-12, free for 3 and under, and active military. Open daily from 9:30-5 or 9:30-6
CityPASS: If you'll be seeing a lot of things in Philadelphia, I recommend you look into CityPASS, which provides a discounted package price for five attractions/museums. They include the Franklin Institute, Big Bus Company and Trolley Works, Adventure Aquarium, Philadelphia Zoo or National Constitution Center (this post), and the Eastern State Penitentiary or the Please Touch Museum.
Amenities: They have a restaurant and gift shop. You can park below Independence Mall.
Disclosure: We received media tickets from Philadelphia's tourism bureau. All opinions are my own.