Having visited the Grounds for Sculpture recently, I was keen to get outside and see some more when my parents visited me. My mother is involved in the art world, and when I told her Storm King wasn't too far away, she was eager to go. And we're so glad we did. Storm King is one of the premier sculpture gardens in the world. Set on 500+ acres, the 100 or so large scale sculptures have plenty of space for themselves.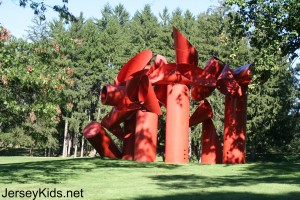 Wear good walking shoes, because you're going to do a lot of walking. And it's hilly. Storm King recommends spending 4-6 hours on a visit, if you have the time, and that you won't see everything. Our goal was to see everything. We thought we did, but later saw pictures on the guides of  sculptures we somehow missed during the day. We were there about four hours, and our legs were tired by the end! (see the end notes for other ways to see Storm King, like  on the tram or on bikes).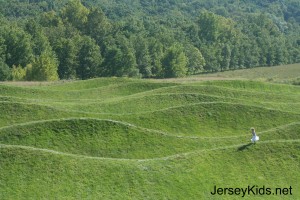 If you've ever studied art history or art in general, you'll recognize some of the artist names here: Alexander Calder, Maya Lin, David Smith, Nam June Paik, Mark Di Suervo, Richard Serra, Roy Lichtenstein, Sol Lewitt, Barbara Hepworth, Louise Nevelson, Henry Moore, Claes Oldenburg and more. They have works from all the heavyweight sculptors, focusing on monumental sculptures from the 1960s on.
Maya Lin's Storm King Wavefield was one of my favorites (above – read more about Storm King Wavefield and Maya Lin's work in this NYT story). You don't normally think of grass and land as sculpture, but she created these undulating waves which are beautiful to look at from just about any angle – above (it was a little hike to get up there), from in between, and from atop. We spent a lot of time there, watching people go by – I loved the little girl running across in the picture, though a reader said that's no longer allowed.
The gardens are broken up into four areas: the Meadows, the North Woods, Museum Hill and South Fields. While the map was hugely helpful, we still got lost and sometimes the trails were were on, were not where we thought we were. It would have been nice if the trails were marked in some way. The sculptures did all have markers in the ground, though sometimes they were hard to see.
Note that you are not allowed to touch most of the sculptures. While no one is there policing you, they do say that while the sculptures look sturdy, some are not as sturdy as you think, and oils from your hand could hasten damage. We actually saw one person walk over a large sculpture (it looked like a bridge), probably starting on the plaque that said not to walk on or touch the sculpture.
————————————————
[ad name="Google Adsense"]
————————————————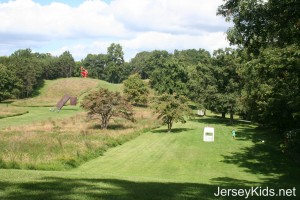 We loved how the manicured grass and the native grasses formed their own type of sculpture. Can you imagine mowing this lawn?  It's immense, and then you have to be careful not to clip the sculptures! Over the years, Storm King has converted more of the land to its native grasses. I'm sure this has helped the animals and insects. Indeed we saw tons of dragonflies flitting around, as well as butterflies, and heard the sounds of crickets (or something) loudly buzzing from some of the grassy areas.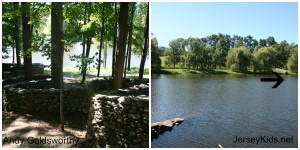 Okay, another of my favorite pieces. Andy Goldsworthy has two installations at Storm King. The first we saw (5 Men, 17 Days, 15 Boulders, 1 Wall) (2010) I didn't really like. It was a wall not dissimilar to the one above on the left – a wall that was not straight, and went around boulders (photo here). I didn't see the point. But Storm King Wall (pictured above) was fabulous for its playfulness and its length (2,278 feet long according to this blog) was immense. It started out straight at the top of the hill, and as it wound down the hill, it meandered around trees in a looping way. As it got toward the pond, the wall went into the water (see picture on right) and started up again (or did it really end?) on the other side. The wall continued up that hill, overlooking Maya Lin's Storm King Wavefield. My pictures don't do it justice (the lighting wasn't good – I'll use that excuse). Check out the pictures here – much better.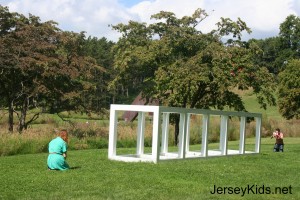 I really liked Lewitt's Five Modular Units (above). It's very minimalist, but it was fun to see from different angles.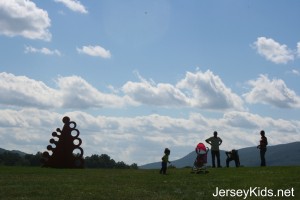 Calder had several red sculptures grouped near each other at the top of Museum Hill, near the museum structure. They did not look like traditional Calder pieces, but they were a lot of fun in their interaction with nature close up to the sculpture. You can't see the color in my photo above.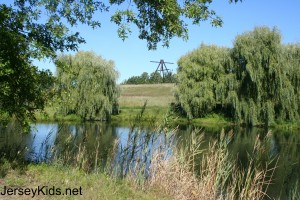 Mark Di Suervo had a number of sculptures at Storm King like the one in the background – large and commanding. This one is used quite frequently in their promotional shots for good reason. You can see it from many parts of the grounds.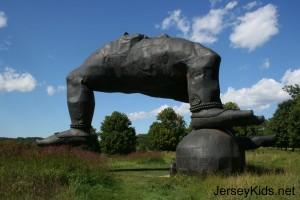 This Three Legged Buddha was quite a thing to walk up to. The leg on the right in front is resting on the Buddha's head. You can walk all around this piece, which is a marvel to see from underneath – figuring out how it was made. I wasn't familiar with this artist, so I looked him up. You can see more of his work here.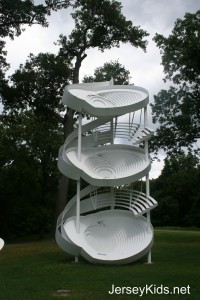 Aycock's piece above was interesting, looking like three amphitheaters stacked on top of each other. Behind, you could see two wasp nests attached to the sculpture, obviously not part of the art, but showing how much the art is part of the environment!
I could go on and on posting interesting sculptures, but I won't. Suffice it to say I look forward to going back.
Storm King with Kids: I did not bring the kids to Storm King on this visit, mainly because they had other things going on, and we wanted to spend a good chunk of time there. Kids there seemed to be enjoying themselves – lots of grassy area to run and play (but don't touch the sculptures!). If I were to bring my kids, we'd have to have cut the day shorter because they would not have lasted four hours and they would not have walked as much as we did. But maybe using the tram and figuring out a plan ahead of time, of what we wanted to see (instead of "everything") we could do some of it. I think the art pieces offer a lot of educational opportunities for the kids, especially if you take the tour.
Ways to see Storm King:
Walking:
Tram: They offer trams with 10 stops. They're for people with limited mobility, so if it's crowded, let those people go first. Trams are on a 20-30 minute schedule.
Bike: Storm King rents bikes, and you cannot bring your own (which is a bummer). Bikes are not allowed on all trails, and there are hills. At times, you'll want to get off your bikes to walk in to see some of the sculptures. I'm sure you can just leave the bike there to do so. Rentals are $8-10/hour with two hour minimum, or $32-40 for the day. They'll give you a bicycle map. Kids' bikes and kids' seats aren't available.
Tour: You can see a list of their free tours here. They have a daily highlights tour. We listened in on part of the children and family tour, with tour guide Wally McGuire, who was excellent, engaging the kids as well as the adults. They also have children's/family workshops.
Acoustiguide: I'd consider getting an acoustiguide on my next trip – $5 to rent.
Bee tour: They offer weekly honey tours – where you can learn about bees, honeymaking and how the bees depend on the sun for communication, as part of a sculpture (I'm not sure I understand how this works, so let me know if you do). Learn more here.
Yoga: They sometimes offer a free morning yoga class.
Getting there: Storm King outlines transportation options (including public transport) here. For GPS, use this address: 1 Museum Road, New Windsor Road, NY
Fees: $12/adult, $10/senior, $8/student (including college kids with ID), free/under age 5.
Open: through December 1, 2013. It will open again in early April, 2014. For days/hours, click here (closed Monday/Tuesday).
Dining: If you bring a picnic lunch, they have two designated picnic spots with tables and bathrooms. You aren't allowed to eat elsewhere. They have an outdoor cafe by the north parking lot. Here's the menu. If it's crowded, they may direct you to a specific parking area (we were sent to the north lot).
Pets: though it would be a great place to walk the dog, pets aren't allowed.