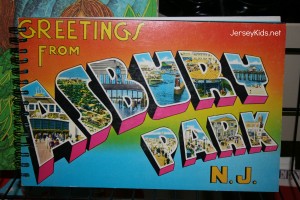 I really like the Asbury Park boardwalk. There are no arcades, no rides, and the stores are a bit nicer. It's not big, and it's understated. Plus it has the Silverball Museum, where you can play pinball for hours (you pay an hourly rate, so it's not quite the same as an arcade).
Here are some things you should know if you go to the Asbury Park boardwalk/beach:
FOOD:
The stand food looks good, including a crepe stand, sausage stand, the Mayfair Boardwalk Grill, Ralph's Italian Ice, and ice cream (pictured below). As for restaurants, there are many to choose from. A friend recommends Langosta Lounge. We've enjoyed eating at Siculiana's Italian Bread and Pizza twice (it's next to the Silverball Museum). Wonderbar is famous, and you can bring your pets to the outdoor area during Yappy Hours (kids 8-14 are admitted to the Yappy Hour food area).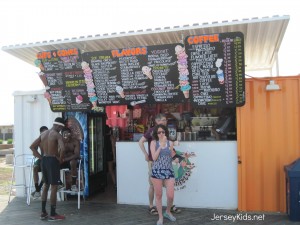 WHAT TO DO:
The Beach: Bring a volleyball if you like to play. They have nets set up on the beach. You need a beach tag, which costs $5/adult on weekdays, $6/adult on weekends and holidays for people 12 an over. Free for kids under 12, active military personnel and their family, and disabled veterans. Chair and umbrella rental available. Public restrooms as well.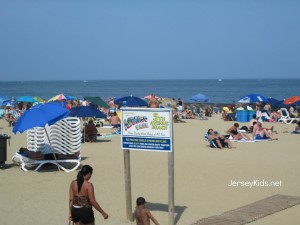 Silverball Museum: My favorite place. This pinball museum and arcade has 200 pinball machines, plus skeeball. Pay an hourly fee, and play unlimited games during your time there. 1000 Ocean Avenue. Generally it's $10/hour ($15/2 hours, $20/day pass) but they do have specials, and if you play the $2 hammer game outside, you can win a $2/off coupon or a free hour pass.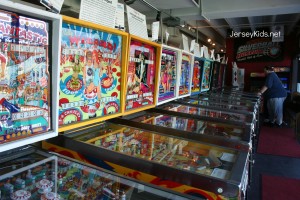 —————————————-
[ad name="Google Adsense"]
—————————————-
Asbury Splash Park/Asbury 18: There's a boardwalk splash water park for the little ones, and a mini golf course. Daytime cost is $9/kid, $5/adult or $20/family. Evening rates are $6/kid, $3/adult. They offer a combo pack the mini golf course, for $14/kid, $12/adult and $45/family. Ocean Avenue & 2nd.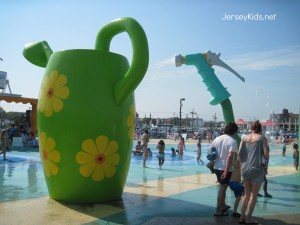 Hot Sand: This glass blowing studio used to be on the boardwalk. It moved to downtown Asbury Park. One of these days we'll make our own glass item, but you do have to return to pick it up the Friday after you make it (or pay extra for shipping). You can blow your own ornament, glass bubble, drinking glass, pumpkin, apple or other unique creations if you're 9 or older. Prices vary. They have great stuff on display as well, so you can just buy what you want. 550 Cookman Avenue.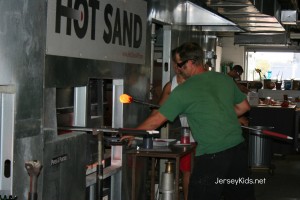 Sand Sculpture: Make a sand cast shell mosaic at Laplaca Pottery Works. Pieces start at $9, going up to $30. Wait an hour, then take home. 1100 Boardwalk, Suite C.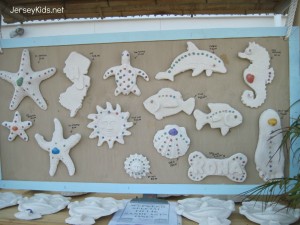 Playground: There's a beach playground near the restrooms on the boardwalk.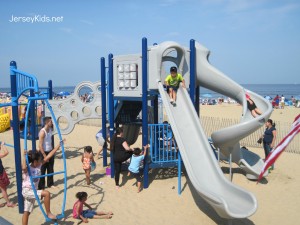 BIKE: Rent a bike or surrey, near the pottery store around 1100 Boardwalk.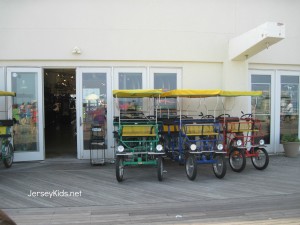 PARKING
Asbury Park parking is free every Wednesday. Otherwise, city metered parking is plentiful adjacent to the boardwalk, for $1/hour. You can use bills or credit card to purchase. There are also private lots right there.