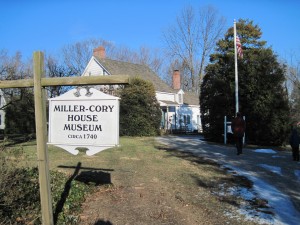 If you're looking for some New Jersey history, and a chance to see what things were like in the 1700-1800s, head over to the Miller-Cory House in Westfield, NJ. (And read on to see what to do in downtown Westfield when you're done).
The house was built in 1740 – on 100 acres of land. You wouldn't believe it now, since it's in the middle of a residential neighborhood where most lots probably don't exceed .3 acres on average. Inside you'll find the house with typical period furniture, and kids can see what a kitchen with no electric dishwasher looks like! Pots and pans hang from the walls, the floor is uneven and the walls wood-paneled.
The house is open on Sundays in fall through spring, or for prearranged group programs on weekdays. It's staffed by volunteers – including a lot of elementary school teachers. They dress up and lead kids in crafts, read stories and talk with kids about the theme of the week. There's also open-hearth cooking demonstrations in the building next door.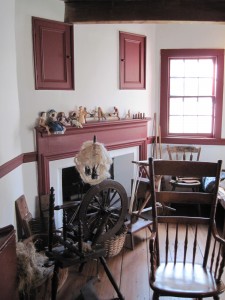 If it's your first visit, try to go for one of the special 2010 programs, listed below.
Upcoming events:
September 26 – Antiques Appraisal
October 3 – History of Brewing in Early America
October 16-17 – Union County's Four Centuries in a Weekend Program
October 24 – Halloween Hocus Pocus
November 7 – Native American Medicine Pouches
November 14 – Crazy for Cranberries
November 21 – Thanksgiving Dinner & Table Customs
December 5 – Gingerbread Sunday
December 11 – Christmas at Mt. Vernon with Martha Washington
Reservations are required for some of the events – check the schedule for times and reservation info. Also some events are geared more for kids – you can probably guess which ones (Antiques! Beer!) but just in case you can't figure it out, it's on the schedule.
I'm not usually a gift shop fan, but the Miller-Cory House has a great gift shop with lots of historical information and items that are affordable.
Where: 614 Mountain Avenue, Westfield
Cost: $2.50 for adults, $1 for students, free for kids 4 and under
Hours: The museum is open Sundays (fall to spring) from 2-4 p.m. Check the schedule for timing of special programs, since some have a different timing.
More info: Miller-Cory House – (908) 232-1776
Plan to spend an hour or so at the Miller-Cory House. It's not very big. After (or even before)  head to downtown Westfield. It's less than a mile away. Broad is the main street, but there are a few streets shooting out in other directions with great shops and restaurants. And just before you get to downtown from the Miller-Cory House, driving or walking on Mountain Ave, you'll see a graveyard from the 1700s. You usually can't go in (it's locked) but it's easy to look through and see some really old gravestones.
A few family favorites in downtown Westfield:
Kid-friendly downtown Westfield restaurants:
Ferraro's (14 Elm Street) – Pizza and other Italian food. Outdoor dining when it's nice!
Five Guys (21 E. Broad) – yes, it's a chain. But it's good!
Vicki's Diner (110 E. Broad) – looks like a real diner with metal-covered walls and a funky diner exterior. Good food too.
Kid-friendly desserts:
The Chocolate Bar (112 Quimby Street) – my personal fave – highly-rated gelato and hand-dipped chocolate desserts (like chocolate brownie on a stick).
Brummers (125 E. Broad) – locally owned candy store. The walls and cases are lined with treats ranging from chocolate truffles to sugar-free delights.
Bovella's Pastry Shoppe (101 E. Broad) – our favorite Italian pastry shop (that also serves gelato). Kosher too! Try the cookies in the far left case, or get one of the cakes.
Stores:
The Farmhouse Store (221 E. Broad) – great for unique gifts and housewares. Not so great for young kids who might break things (no strollers allowed).
Trader Joe's (155 Elm Street) – this is the one in New Jersey that sells wine and beer!
Find Jersey Kids on Facebook!