When I told my husband we were going ziplining, he said "In WINTER? Don't they offer it in summer?" I started having second thoughts, thinking about the cold wind in our faces and the waiting time in the snow. But it was a little late to cancel. At the worst, I figured we'd have something to laugh about in our holiday letter -how stupid were we to zipline in the winter?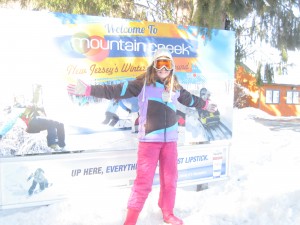 Turns out we had nothing to worry about. The skies were blue, and even with temperatures in the 30s, it could not have been a nicer (winter) day to be "flying."
We arrived at the Zoom Zipline office at Mountain Creek's Cobblestone Village (across the street from the Red Tail Lodge) at our starting time. Inside they had waivers to sign and the harnesses and helmets laid out. They helped us put them on and adjust them, going over a few rules.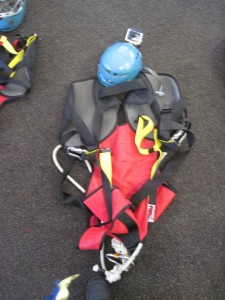 We headed over the pedestrian bridge to the right of the Cab Ride (the lift at the lodge base). The first zip line was a practice one, low to the ground and only 200 feet long. We learned about the correct flying position (seated in our harness, legs straight out, hands wherever you want them) and the landing position (knees pulled in to the chest, hands on the bar above) and we all had a turn. There were 13 of us, so it took awhile.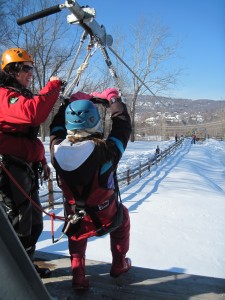 Now we were ready for the big ziplines – three more. The line to get on the gondola was huge. Of course we avoided the whole line and just walked on. I'd never been on a gondola like this – it holds 6-7 people and is like Great Adventure's Skybucket ride (only you stand).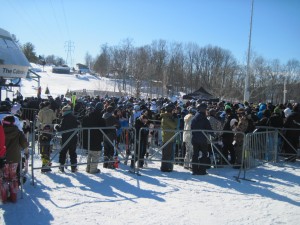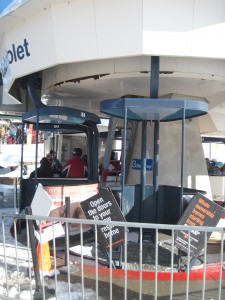 On our way up, we passed the coaster ride that's supposed to be open year round (it wasn't open at this time), and some of the summer water park rides.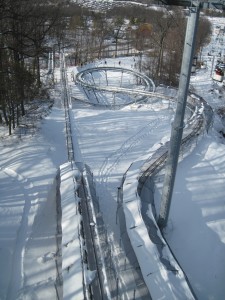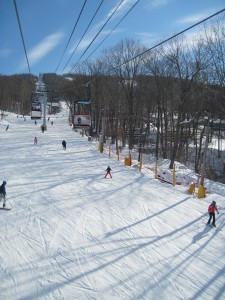 It was weird to get off at the top of the lift with no skis! Everyone in the group started frothing at the mouth at the sight of the Waffle hut, which smelled really good and was next to the hut where we got our trolleys, the devices that attach to the zipline and to the harnesses to carry you across.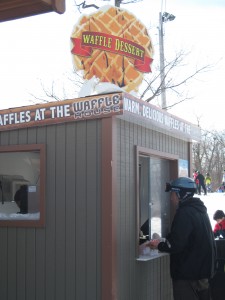 The first zipline was a short walk away, in a different direction than the skiers go. Family members who were not on the tour (it sold out) came to watch for this part, and then took the gondola back down (no doubt stopping on the way for a waffle). This was the longest zipline, at 1,500 feet, and we went over a lake.
Was it scary? No. I thought it would be. Even the kids were calm. I went on the Park City zipline one summer, which was one of the scariest things I'd done in my life  (second to the Park City ski jumping camp)
That zipline takes you 45 miles per hour down the slope. This one was not so fast. Watch our Mountain Creek ziplining video here (it won't embed properly)
This is the general location for the next two ziplines as well. Looking at the video, I can see the road we took back when we were done, and the bridge we crossed at the end (back left). After this line (and a snowball fight among the family) we moved to the next line, a short walk away, where we flew across the lake going the other direction. That line was 800 feet. And from there, it was one more zip back across the lake.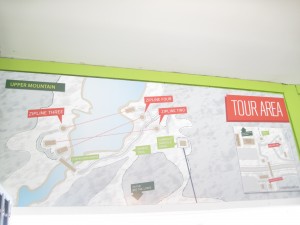 A few times, the flyers had to be pulled in close to the end, because they didn't have the momentum to make it all the way.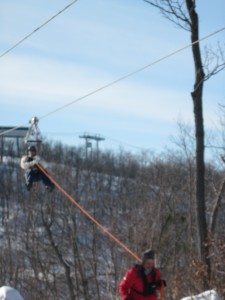 The views were pretty, and we imagine that this would be spectacular to do during fall, when the leaves are changing. And even in summer, with the lake full and the trees green. I was surprised how pleasant it was outside (granted, we had a gorgeous day).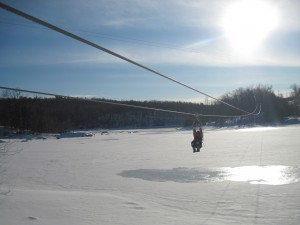 After the last zipline, we crossed a rickety suspension bridge which was just as much fun for the kids as the zipline. They had an old Mercedes Unimog truck waiting to take us through the snow back to the gondola, and the guide shared information about the resort with us. The water from the resort's five lakes (we passed at least two) are pumped for snow creation in winter, and help power the water rides in summer. They alternate between lakes so none of them get too low.
————————————————
[ad name="Google Adsense"]
————————————————
Smartly they had hot chocolate for us back at the office, when we dropped our gear. That gave us a chance to warm up (the snowball fight did some damage) – and also to watch all the photos from the tour photographer on the TV screen. Kaching! I wasn't planning to buy photos, since I had my own camera, but their photos were much better – and they had action shots I couldn't get with my point-and-shoot. The price was a reasonable $20 for a CD with all photos.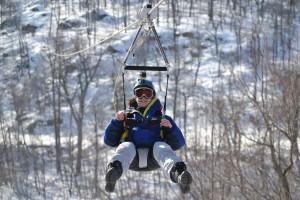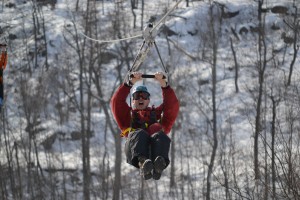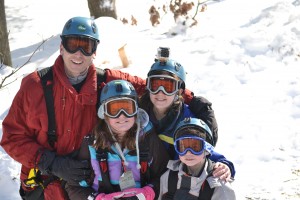 Mountain Creek began offering ziplining last July, so this is their first winter. It's not a cheap excursion, but it was a lot of fun and the kids were excited. Our tour consisted of us (family of four), a family of five, and two couples.
Some answers to questions we had before we went:
WHO CAN ZIPLINE?
You have to be 48 inches tall, and between 60 and 270 pounds.
WHAT TO WEAR
Wear ski clothes and snow boots because you'll be in the snow. You can wear glasses or goggles, and even a hat under your helmet. You can bring your camera or anything else you want, as long as it zips into a pocket while you're flying. Nothing in the hands allowed!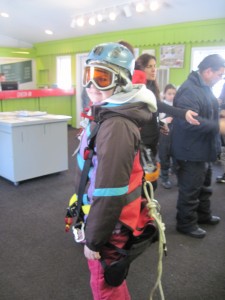 HOW ACTIVE IS IT
More so than I thought it would be. You start off in the Zoom Zipline office, then walk through the snow to the various ziplines. The platforms had varying numbers of stairs to climb up or down.  You also have to carry your trolley (a little bulky and sharp) from line to line – not a big deal, but a little harder on the kids.
HOW LONG DOES IT TAKE
They told us it would be 1.5 to 2 hours, but because of the large group, it took us 2 hours and 40 minutes door-to-door.
GOPRO
The little camera on top of my helmet is a state-of-the-art action GoPro Hero3 camera, which you can rent at their store (actually they rent the GoPro Hero2). I brought my own, which I won during the Passports with Purpose fundraiser (thanks for the awesome prize Europeupclose.com) and this was the trial run.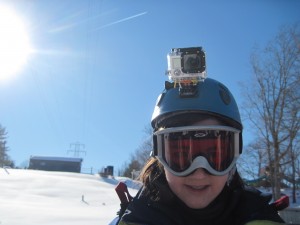 For GoPro owners, the mount on the Zoom Zipline helmet fits GoPro 2 and 3, but the mount that comes WITH your own camera isn't the best angle. You may want one with a flexible arm, or try this one.
You cannot adjust the one that comes with the camera to look straight ahead with the mount that they use there. That said, the videos turned out just fine, probably because the lens is 170 degree wide angle. The staff there is happy to turn on the camera for you while you're hooked up on the line, just before they let you go, so you don't have to fumble with your gloves or wonder if you did it correctly. Several of the guides have cameras on their helmets and they're used to them.
You can rent a GoPro there for $25, and they give you the SD card to take home with your video on it.
HOW OFTEN ARE TOURS
In winter, they run 2 tours a day on weekends only, and many more in summer.
RESERVATIONS
Recommended. We made our reservations mid-week. By that time, there was only one couple already booked. By our arrival, the tour was full – there were 13 – and others who wanted to go but there wasn't room. Make reservations here.
PRICES
Regular prices are $80/adult, $60 for kids 13 and under and seniors. A family of four (2 adults, 2 kids) is $250. It's pretty steep. They have a ziplining and tubing combo ticket (that's what we did) for $85/adult, $65/kid and senior. The tubing does not have to be done that day, though that's when we did ours. I'll post a separate tubing review. Zoom Zipline has some winter specials, where you'll save 50% ziplining before March 10, and save 33% by going between March 16 and June 30. Until March 10, adults can do a tubing/ziplining combo for $55. It's a much better deal!
MOUNTAIN CREEK INFO
Mountain Creek is in Vernon, NJ, and has a lot to do on site, including skiing, tubing, ziplining, coaster rides, another ski lift/flying ride, and spa. They offer night skiing until 10 p.m., and all runs are lit. That's winter. In summer, they have a water park. Look for open parking lots on the main road – tubing has its own lot. Free shuttles will take you from place to place.
Disclosure: We were guests of Mountain Creek for purposes of review. All opinions are my own.