For Memorial Day weekend, we decided to do a two-day trip to the Wilmington, Delaware area. There's lots to do in Wilmington Delaware with kids, but also if you go for an adult weekend.
The area perhaps should be called duPont, as so much of the history in this area involves the duPont family. That includes the two big destinations for our weekend, Nemours Estate and Longwood Gardens, both of which we visited for several hours each. And we didn't even get to most of the duPont historical landmarks.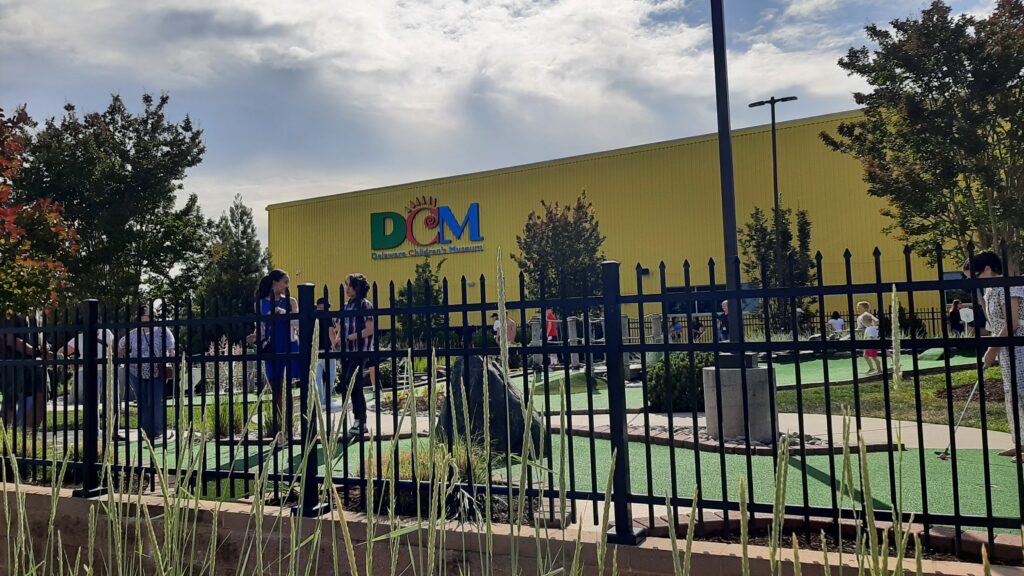 Wilmington is the headquarters for the duPont chemical company, called duPont de Nemours, Inc. (before they bought Dow Chemicals). You'll recognize that Nemours part from the estate. And as you may know, Delaware itself is the incorporation home to more than half of all U.S. publicly-traded companies as well as more than 65% of Fortune 500 companies. There is no corporate income tax for companies registered there that don't do business there. But this is all beside the point.
We did not make it into the Hotel duPont, on Market Street, which opened in 1913. It was the initial headquarters of duPont, with it extended to make it a hotel as well. Next trip we're heading inside, to see the elegant rooms.
Anyway, even if you're only in Wilmington Delaware with kids for a short time, you'll find plenty to do.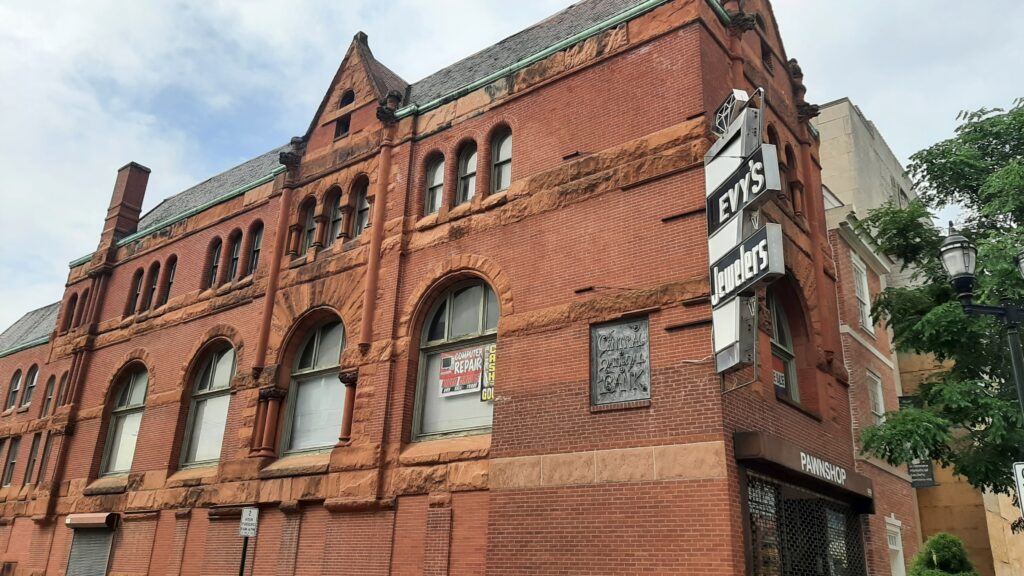 The Quoin
We stayed at the Quoin Hotel, a relatively new Market Street hotel in a historic bank building. This hotel is probably better for a couples trip than for a visit to Wilmington Delaware with kids, but in the hotel's 24 rooms and executive suites, you'll find some rooms with two queen beds.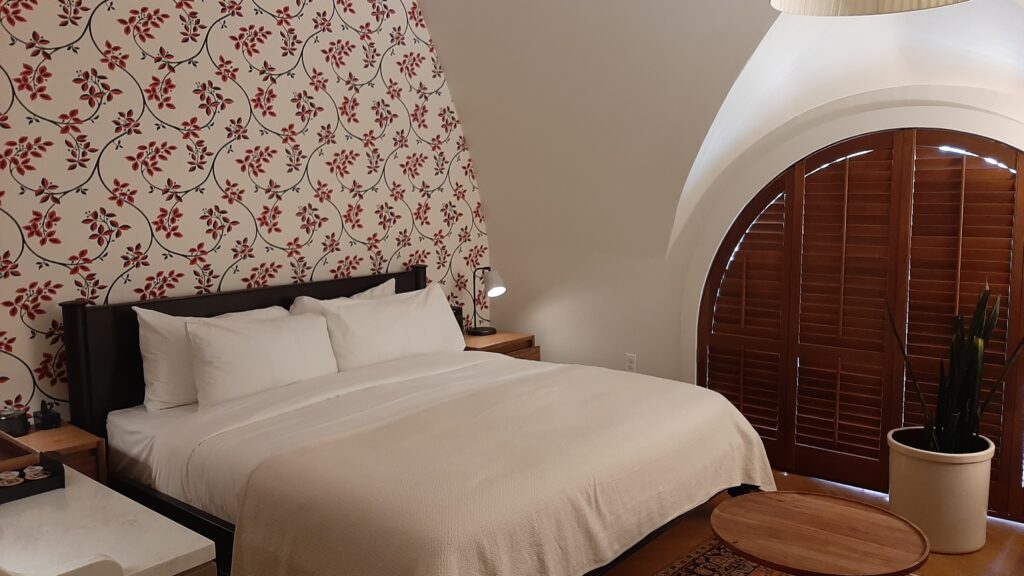 The room comes with a Lavazza espresso machine, in-room safe, lovely Aesop toiletries and robes. I stayed in bed late the next morning, and my husband brought up cinnamon rolls and whole fruit from the lobby. They also had coffee and tea, all complimentary.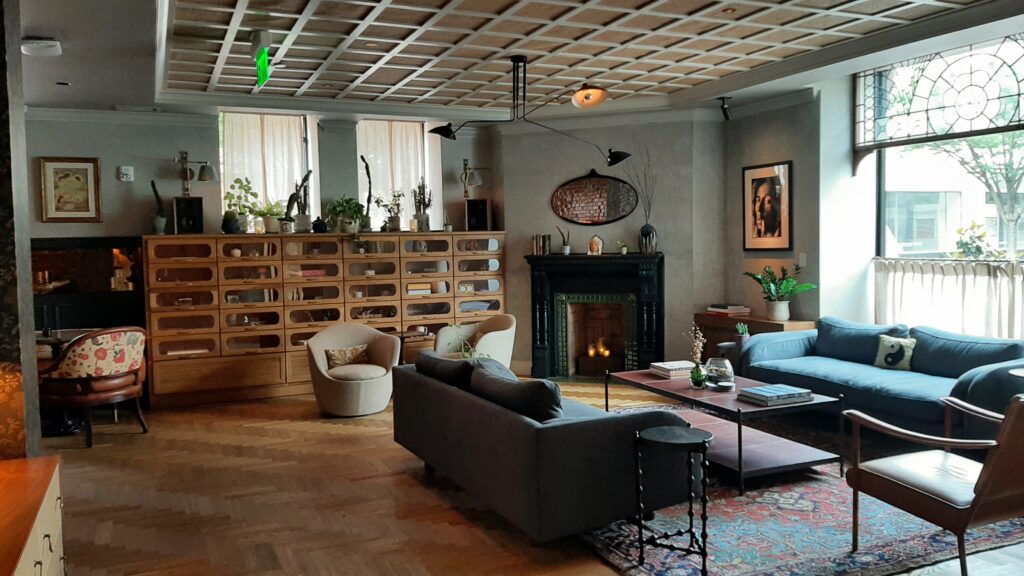 We took advantage of the rooftop bar (it has some bar food in addition to cocktails and mocktails) – twice. In the name of research, of course! Once in the late afternoon where we had to scrounge around for seats, and once about a half hour before closing – when we almost had it to ourselves.
The speakeasy restaurant and bar, Simmer Down, is not open on Sunday, so we did not get to see it, but pictures look fantastic. We had dinner at the Quoin Restaurant and it was fantastic. Specialty cocktails here were different than at the rooftop bar. We decided to skip the entrees and split two crostini and four small plates. I recommend the roasted rainbow carrots with figs and crème fraiche. It was our favorite dish. The service was excellent as well.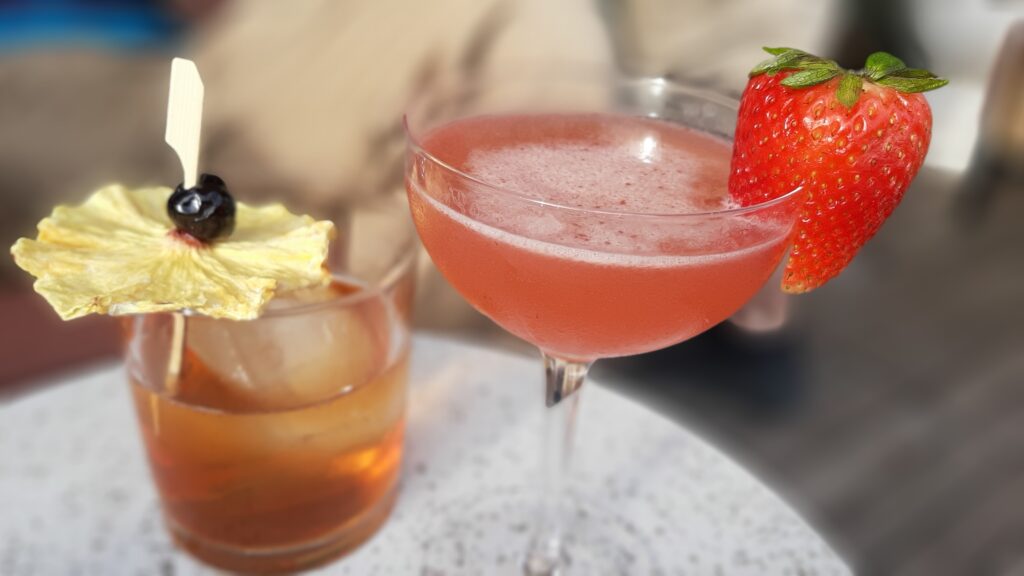 Downtown Wilmington
The Quoin is in the historic downtown area, right across from the Delaware History Museum and Mitchell Center for African American Heritage (both are in the building on the right – you can just see the wall). It was closed when we got there. It's in a former Woolworth department store and next to the Old Town Hall (pictured below), from about 1800. The town hall once hosted dinners or receptions for Marquis de Lafayette and President Andrew Jackson.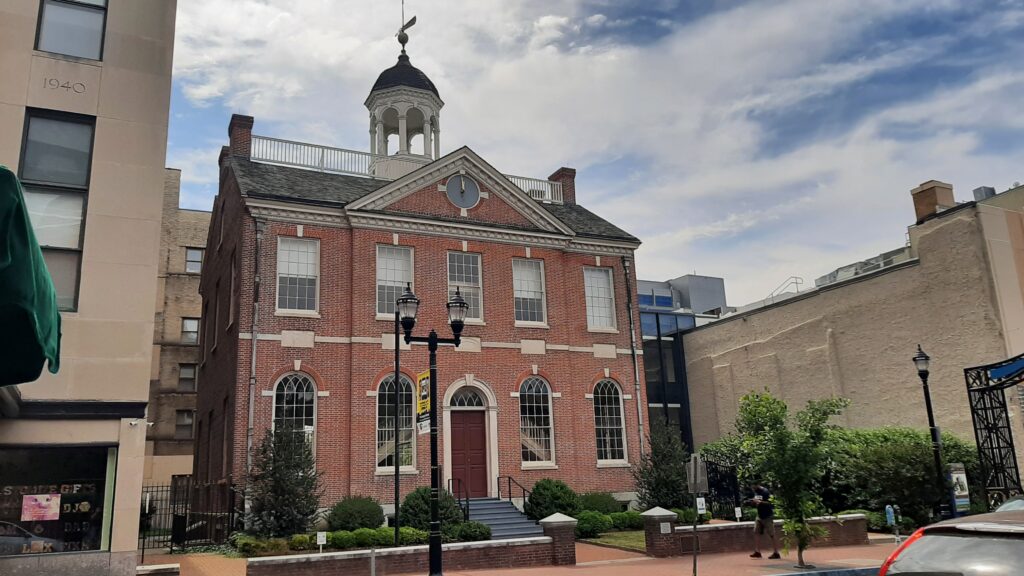 Wilmington Riverwalk
We had time to walk around and headed for the Wilmington Riverwalk area. This redeveloped area feels fresh and new, with a lot of restaurants and activity along the Christina River. There's a 1.3 mile walking path along the river. There are additional trails you can take, and bike rentals too.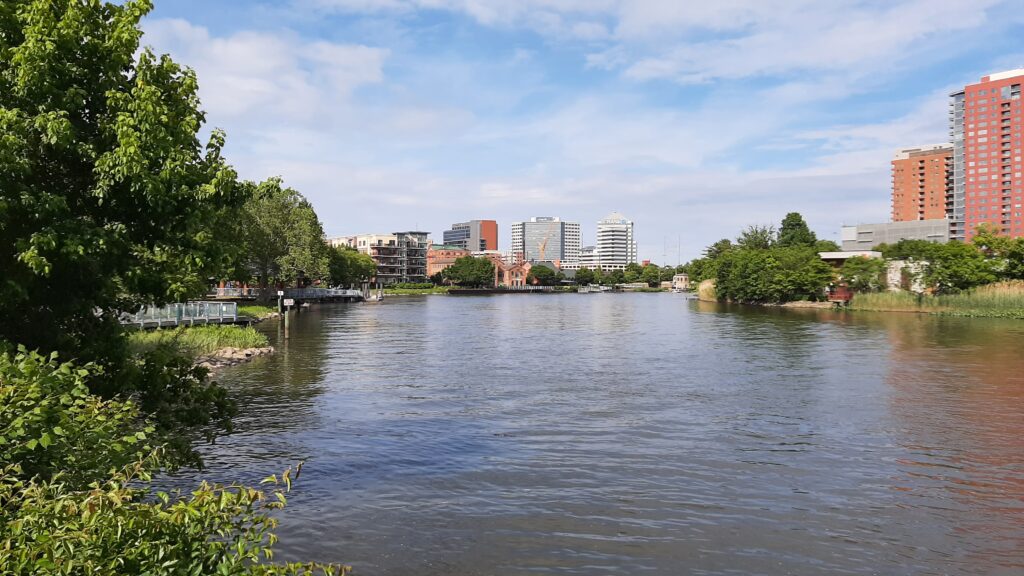 We passed by the Delaware Children's Museum (pictured toward the top of this post), just behind the mini golf course. Lots of fun stuff for the younger set to play with (and on) and learn from at the DCM. It includes 10 exhibits and even a 30-foot climbing structure inside. The Riverwalk Mini Golf course was busy, and they were serving up ice cream outside as well.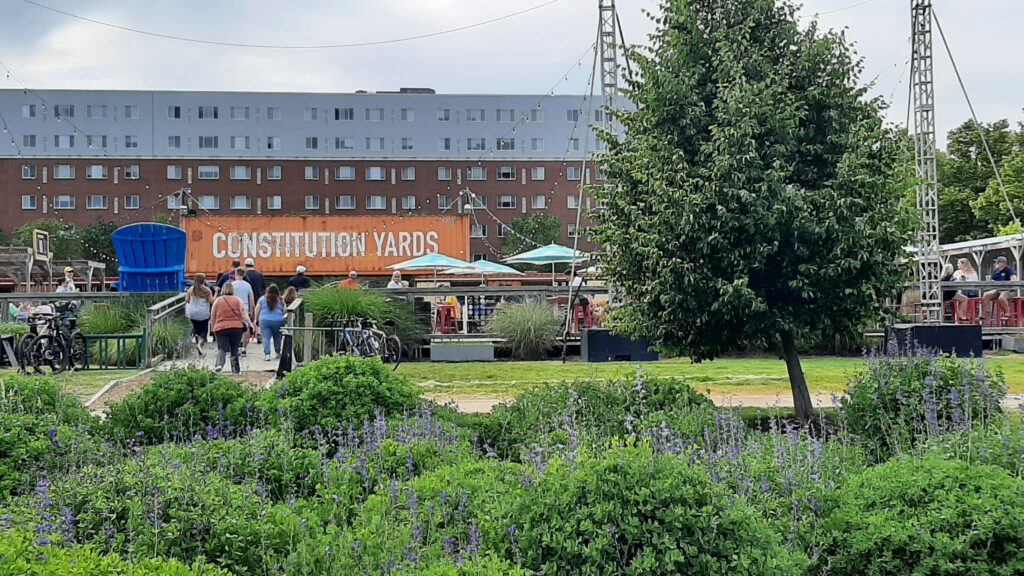 We went to Constitution Yards, an outdoor beer garden good for the whole family. They have two giant sand pits, along with giant Jenga, Connect Four and several corn hole games. You can enjoy your drinks (and food) at picnic tables or inside the metal containers on the borders of the space. Order your food from your seats if you want – they'll let you know when it's ready. There's a huge grassy area on the side away from the river, where people were playing volleyball. It is a dog-friendly place too. And they have axe-throwing (though we didn't see that – maybe it's below in the containers).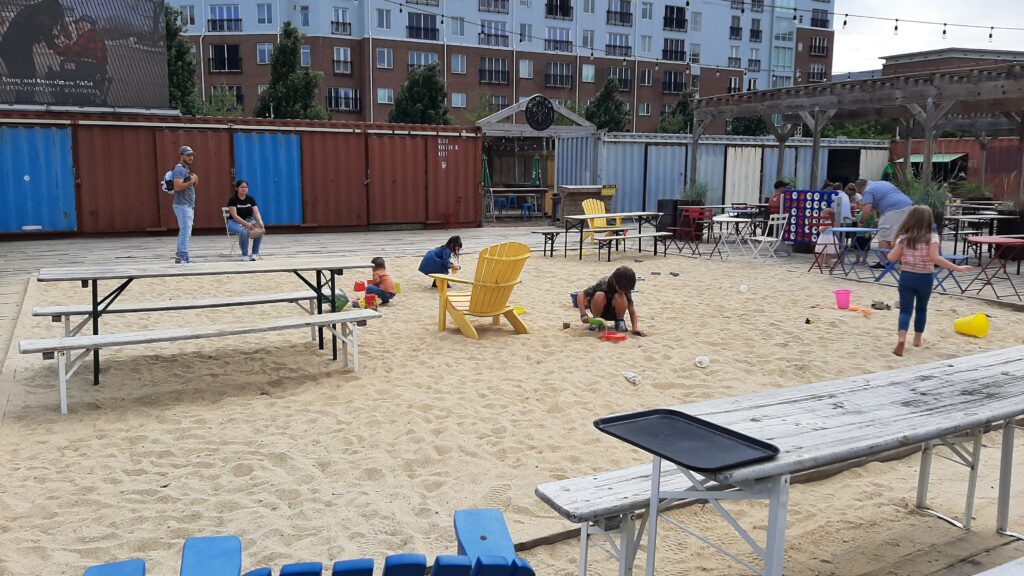 In the Riverwalk area you'll also find the baseball field for the Wilmington Blue Rocks. There was another brewery along the water, Iron Hill Brewery and Restaurant which was also family-friendly. They had giant games on the grassy area as well. A different vibe.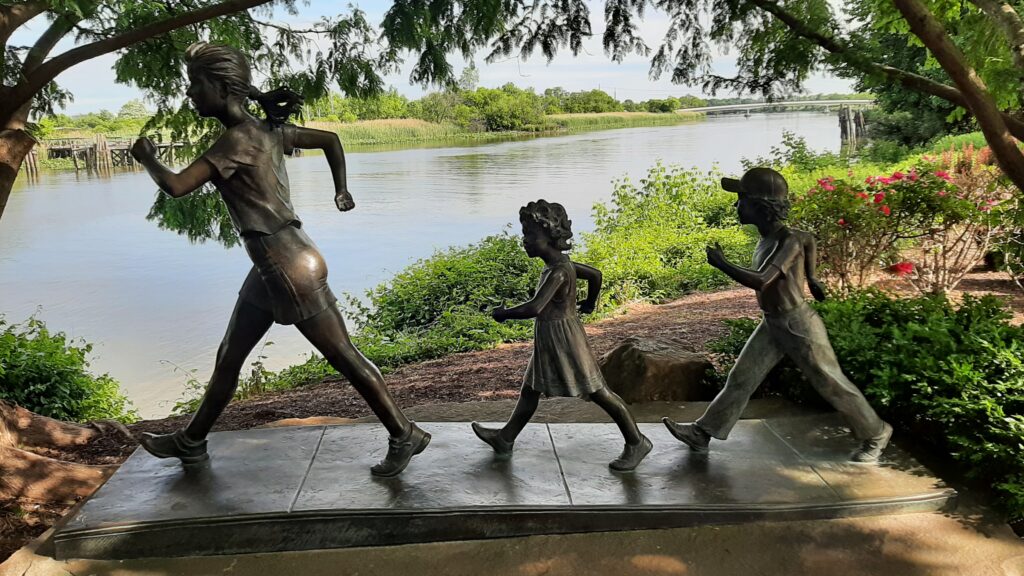 If you want a boat cruise on the Christina, you can opt for the Brandywine or the Pau Hana, a tiki boat. Both have bars. They offer one hour rides and you can do a public cruise or rent it out for an occasion.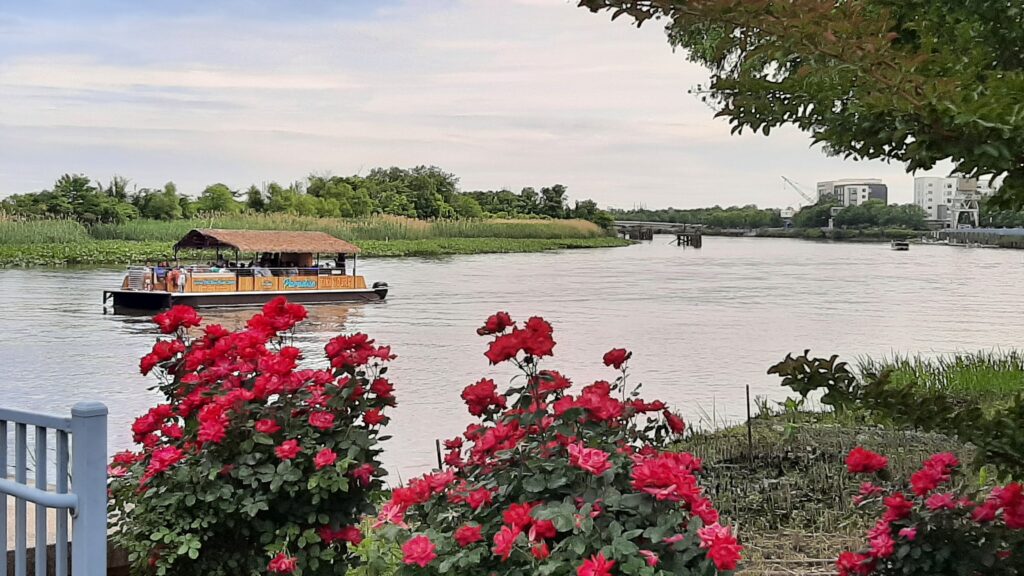 What else to see in Wilmington Delaware with kids
Hagley Museum and Library: See a functioning 19th century gunpowder mill and learn more about the duPont family's legacy. Elutherian duPont came to the U.S. with his family in the late 1700s, and began making and selling gunpowder. Learn how it's done here! You'll also get to see the Elutherian Mills residence, home of the first duPont family home in the U.S. It was finished in 1803 and five generations of duPonts lived here. Hagley also has beautiful gardens to visit. Fun fact: Hagley holds about 5,000 patent models and presents some in exhibitions. Models used to be required when applying for a patent. Hagley is an indoor-outdoor museum on 235 acres. Hagley is a Smithsonian affiliate.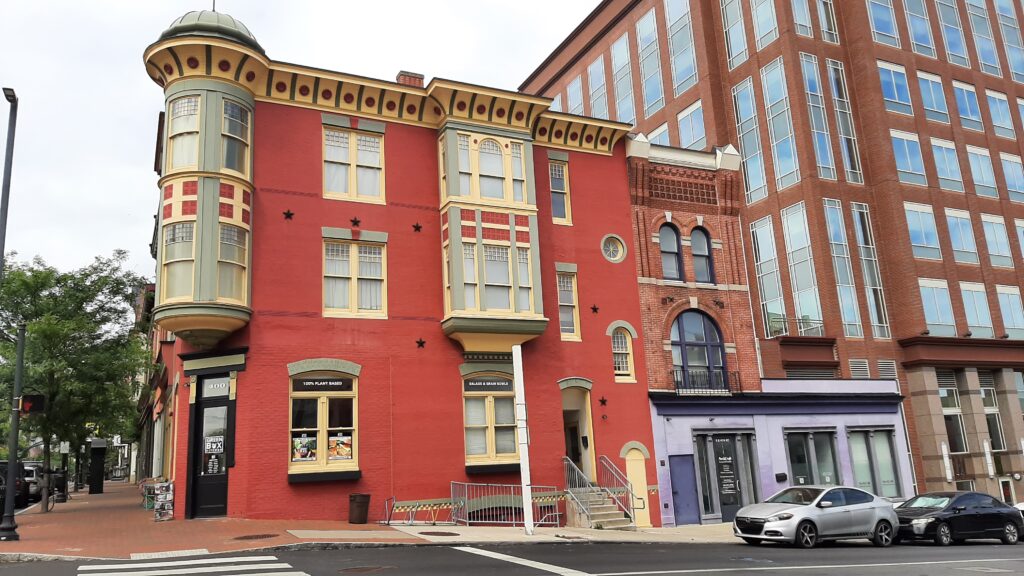 Wilmington and Western Railroad: This heritage railroad is available for rides over 10 miles of tracks. You'll pass by homes and through parkland and through the Red Clay Valley. They offer rides on steam-powered, diesel-powered and Doodlebug trains. Really. They offer different themed trips, including a beer train, superhero train, wine and cheese train, and "school's out special" train. And others.
Brandywine Zoo: Part of Brandywine Park, this zoo is a 10-minute drive from downtown.
Delaware Museum of Nature and Science: Learn about Delaware's ecosystems as well as ecosystems in other areas. They have dinosaurs from the mid-Atlantic region, and programs for the kids to learn from.
Other duPont estates: The area is full of duPont homes! You can visit Bellevue State Park, a former duPont estate (you can tour the home, go fishing, ride horses, or just enjoy the outdoors). Check out Winterthur, with its large Americana collection. This estate was owned by Henry duPont, Elutherian's son, and later his grandson. It includes a museum, garden and library. They have a children's garden and children's activities as well. And we'll have a separate post on Nemours Estate and Longwood Gardens.