Nemours Estate is one of the many mansions and gardens you can visit in the Wilmington, Delaware area. You'll quickly learn that this is the land of the duPont family – there is no escaping them in this region.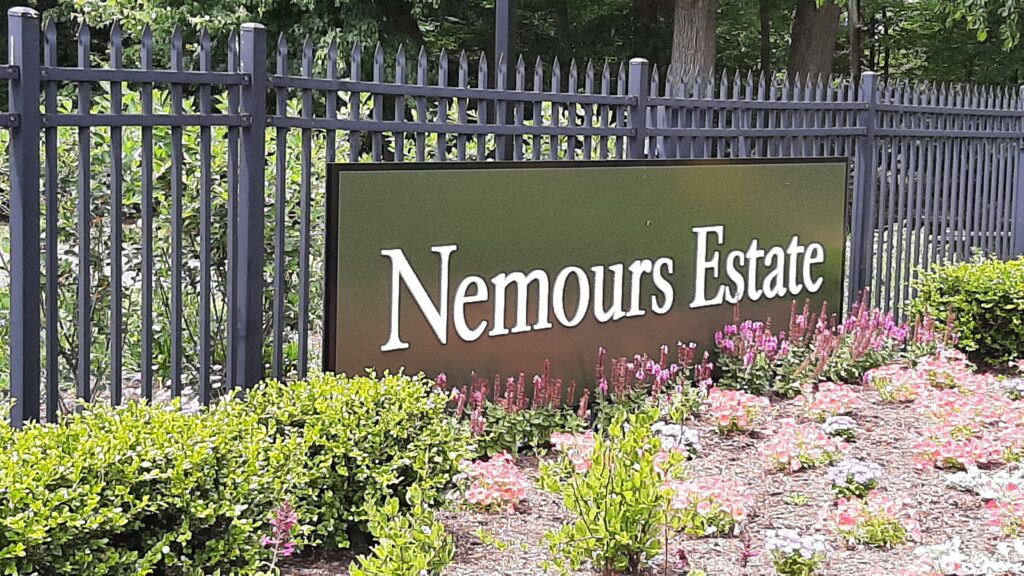 Nemours Estate was the home of Alfred duPont and two of his three wives (but at separate times!). He built it for his second wife in just 18 months, which seems miraculous when you see how advanced it is. It is on the same property as the Nemour's Children's Hospital, so the entrance is a bit odd and the hospital is there just beyond the parking lot and gates. It was something both Alfred and his third wife Jessie wanted, and it was built after his death.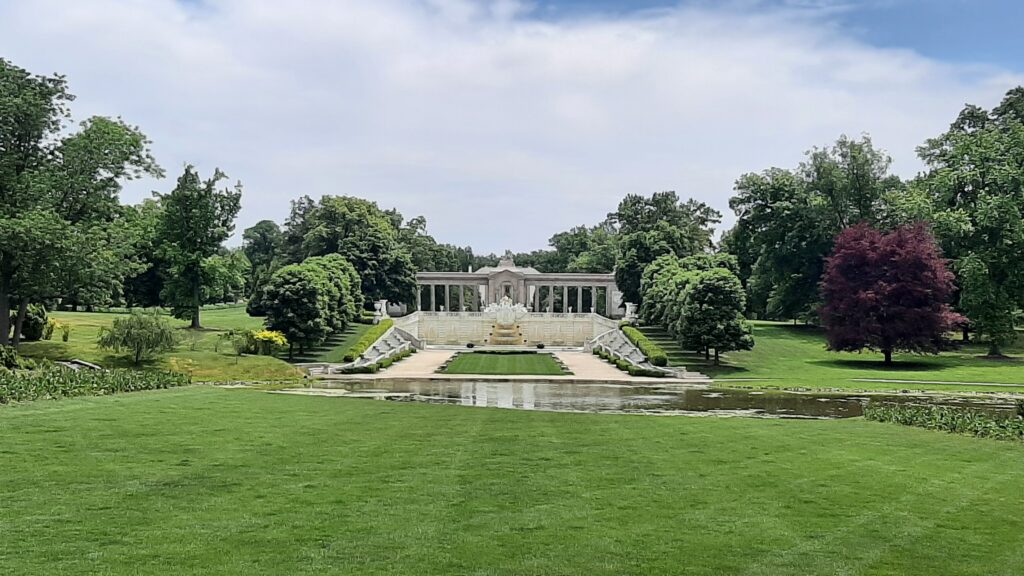 We started with the gardens instead of the mansion, as it was a gorgeous day and we were not ready to go inside after a car drive. The estate includes 200 acres of French-inspired formal gardens, plus woodlands. The home was built in 1910 on 3,000 acres. It was named after Nemours, where the duPonts lived in France. The home was built for Alfred's second wife, Alicia.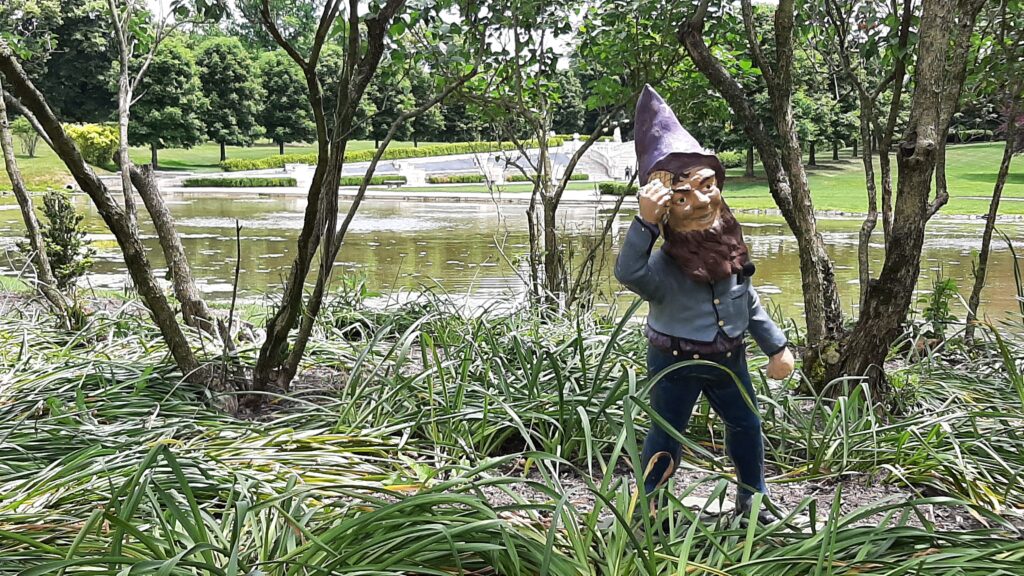 When you get your map, you'll better understand how the different garden sections are laid out. There are also fountains throughout, and a pump house (old and new) you'll see on the map. The duPonts were very into fountains and mechanically inclined. It was quite impressive.
Look for the hidden ceramic figures in the garden. We found a deer, a dwarf and a witch. Not sure if there were others we missed.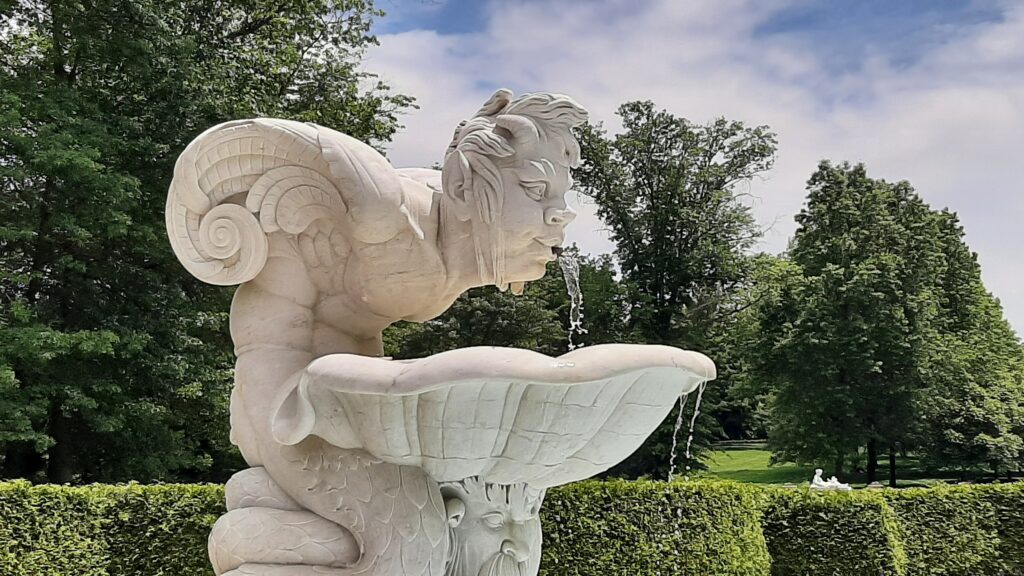 They invite you to bring a picnic. Nemours does not have food on site. You can bring a blanket and enjoy a picnic on the grass, or use some of the benches. Given the walk from the parking lot, I recommend not bringing too much with you (unless you can transport it in your stroller). You do not want to carry a lot around the site! And you will see some refrigerators with water bottles. You're welcome to take them – they're included.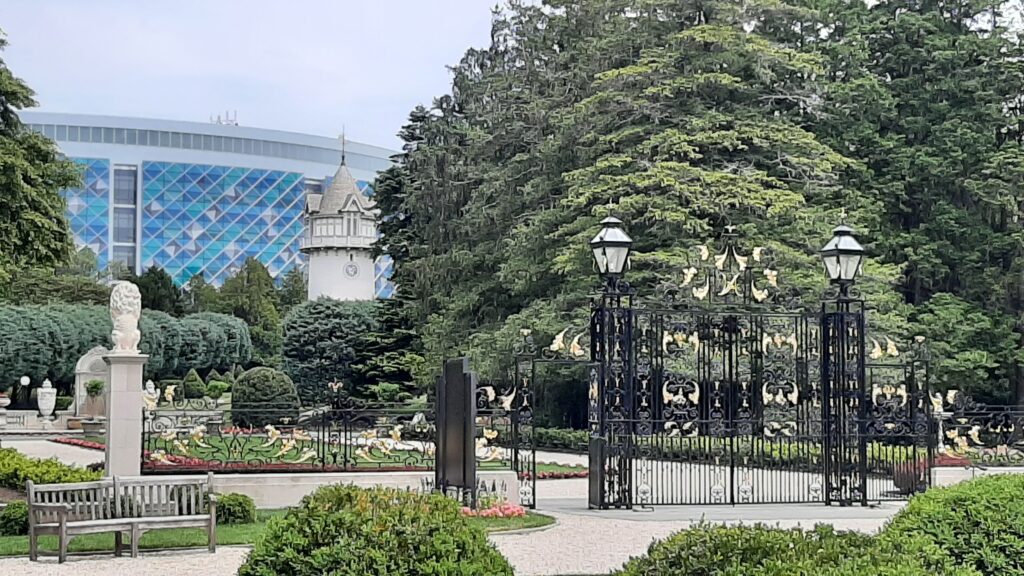 Nemours offers tram rides around the property – about 2 miles total. It's about a 30 minute narrated tour. The tram seats around 18, so get in line early if you want to go and count how many people are ahead of you. We were there on a busy weekend, and tried getting in line about 25 minutes before, but there were too many people ahead of us, so we skipped it. The tram leaves from the oval area near the water tower in the picture above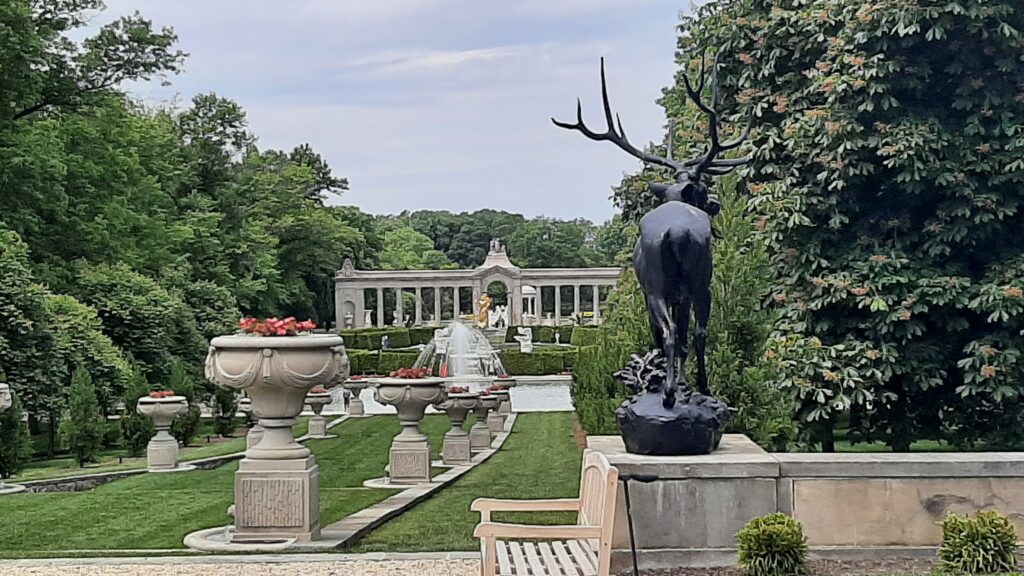 The mansion includes 77 rooms you can tour (out of 105 total), on 3 floors. Many of the rooms had interpreters, and they offered interesting information, not all of which was available on the signs. We learned that Alfred duPont had 3 wives. The first he divorced. The second died. And the third, Jessie, he had corresponded with from when she was age 13 or so, to when they married at 38 (he was 21 years older than her). She had not been married previously. They married a year after his second wife died. Jessie stayed in the house until she died.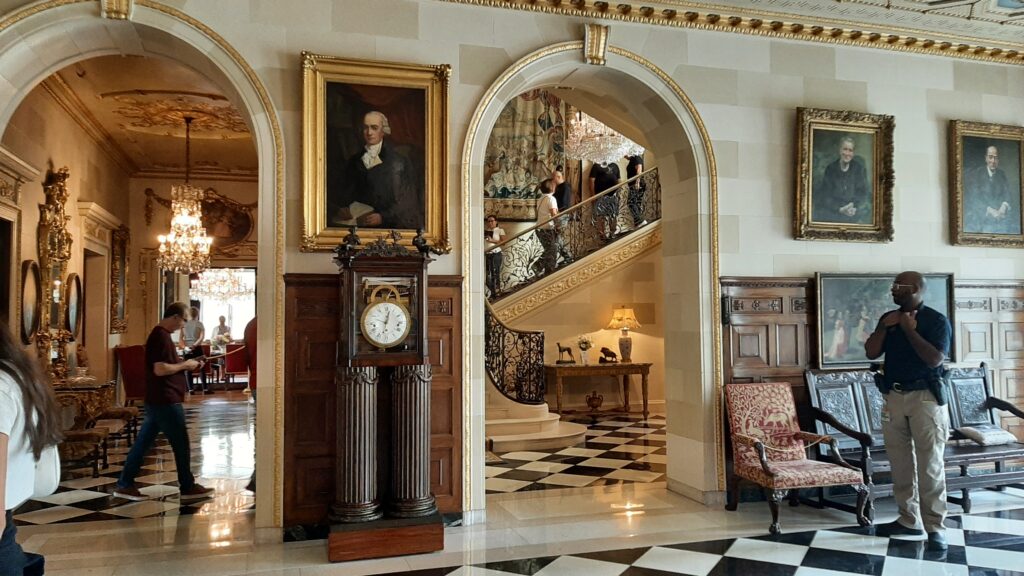 Alfred duPont built the house in 18 months. As such, much of the decoration in the house on the walls/ceilings was plaster, not carved. No matter – it's still gorgeous. Dpn't forget to look up while you're there – so much happening along the molding and the ceilings, and with lighting fixtures. The clock in the photo above is a musical clock – walk around the side of it to see how it works. It's glass on all sides.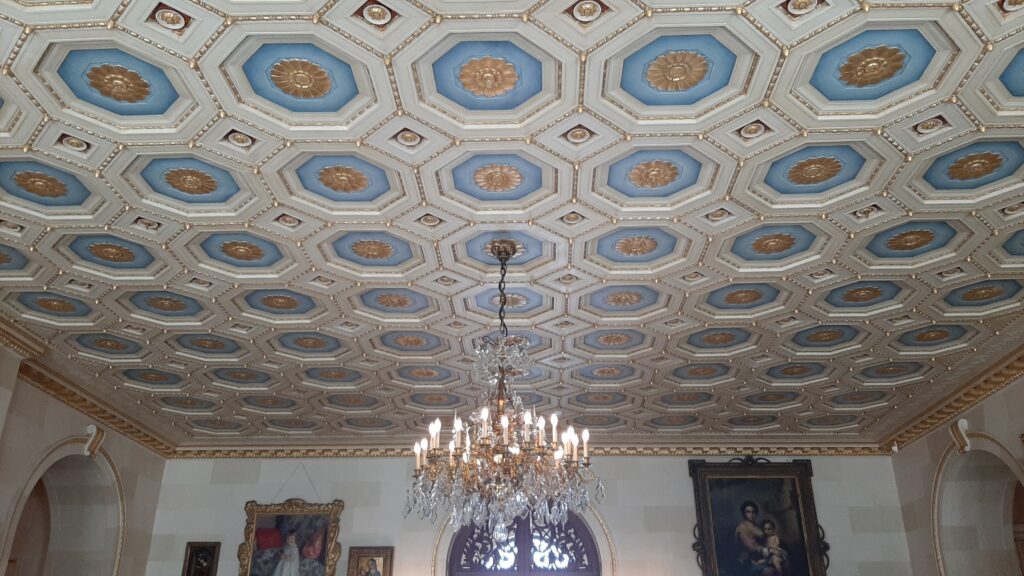 So much was intentional about this house and Alfred duPont was instrumental in choosing doorknobs and other details.
While the house is not most children's ideal way to spend a day, there are plenty of interesting things to look for, so make it a game of I Spy. They help you with this, providing some laminated sheets throughout the house with details to look for.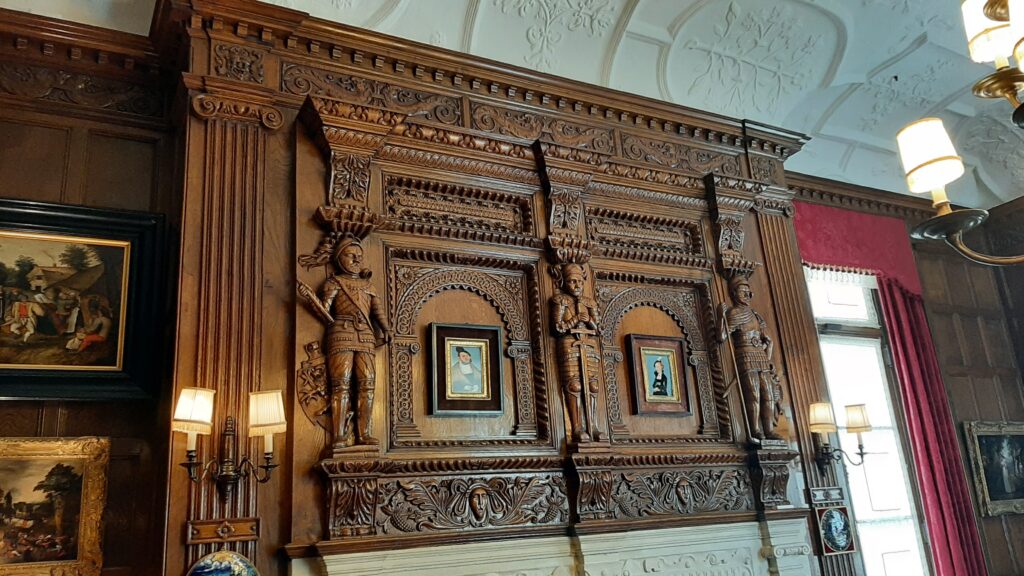 This was a family that had formal meals and entertaining meant coming for meals dressed up to the nines. Their dining room table (not pictured) could seat 24 when fully extended. They had 20 different patterns of china. Each room has a different floor design. Even if the floor is parquet, it will be a different design.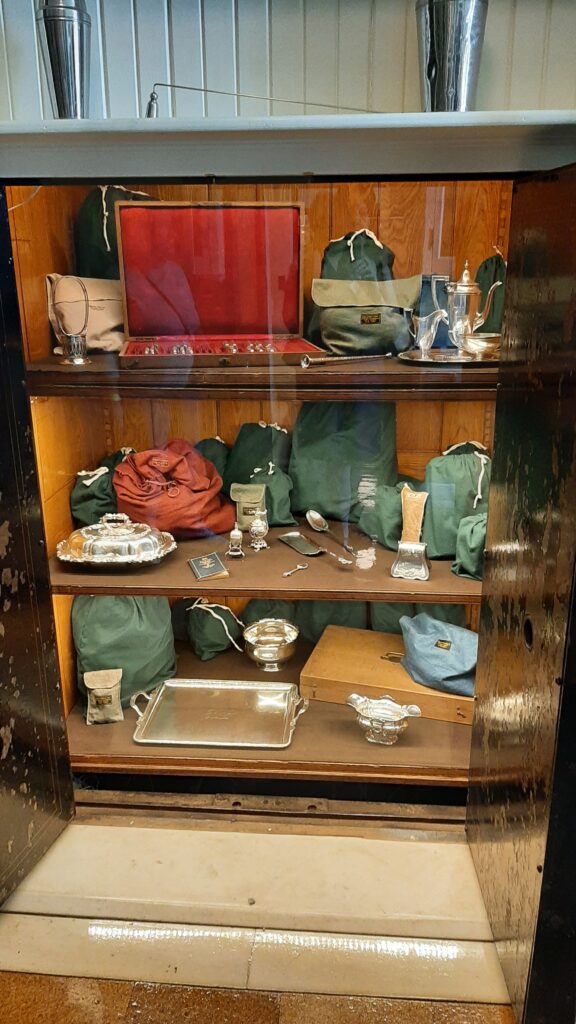 The butler's pantry stored these 20 sets of china, some of which you can see (along with crystal and silver). They not only had a silver safe (the heavy doors pictured above), but a contraption that allowed them to more easily access the silver by turning it into an elevator. There is an additional shelf above and below the ones seen above, so staff members could get what they needed.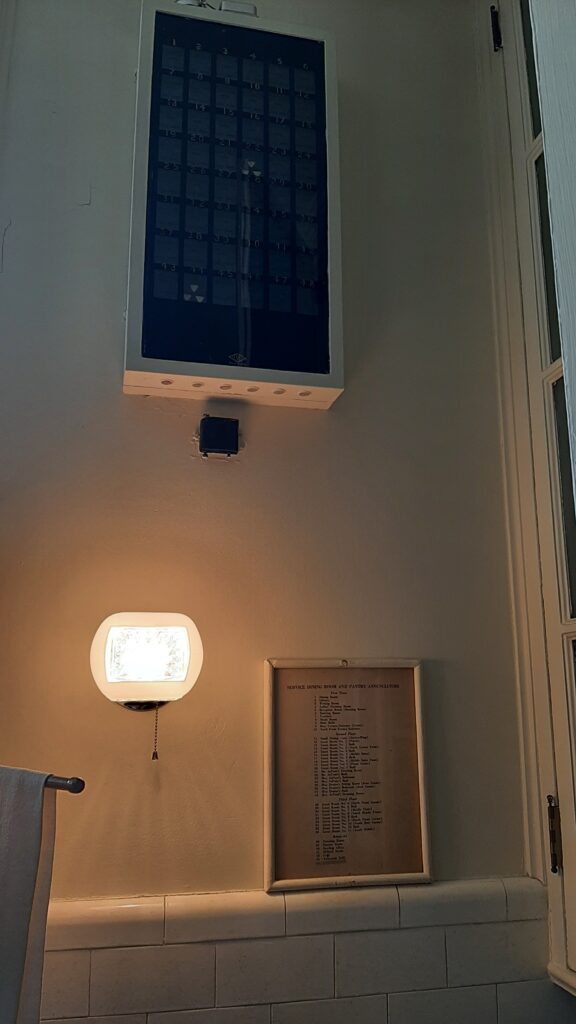 The mansion rooms have call buttons so the duPonts could summon staff when needed. The bells all rang in the butler's pantry, and there's a list of what number corresponds with what code, as well as the light-up panel on the top.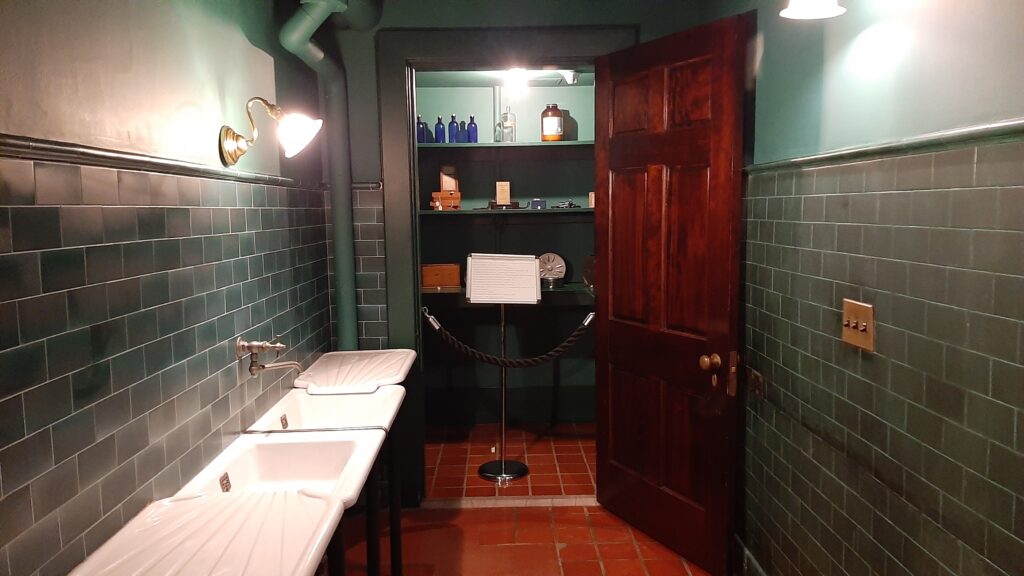 Just like the Carnegies, Vanderbilts, and Rockefellers, the duPonts sported their own private bowling alley in the basement, along with a shuffleboard (not on the floor). There is a ten-pin and duckpin bowling lane. Duckpin uses smaller balls with no finger holes, and the pins are lighter and shorter. The room also could be used as a "private picture gallery" with slides initially, and later commercial and home movies. The basement also holds a room with a pool and billiards table, which is stocked with their guns. The billiards room could be used for drinking, at a time when it was illegal to make alcohol (but it was legal to drink it).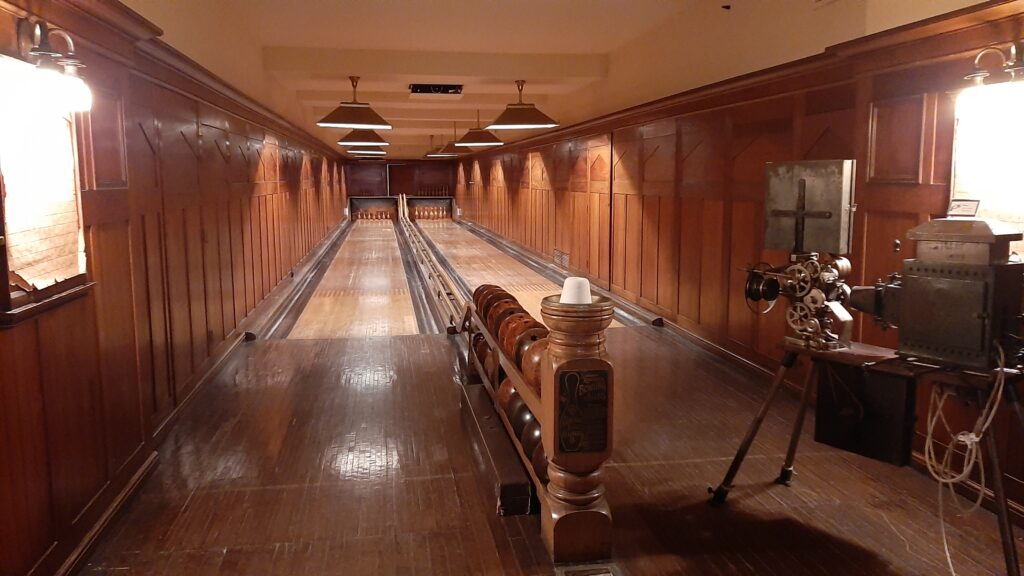 Below you'll see a mechanical horse, used by those who cannot/should not ride outdoors. The interpreter shared that Calvin Coolidge liked horseback riding but was not allowed to do so outdoors, due to his Secret Service staff. John Harvey Kellogg (yes, of the cereal fame) gave Coolidge a mechanical horse. We also learned that these mechanical horses were available on the Titanic for first-class passengers.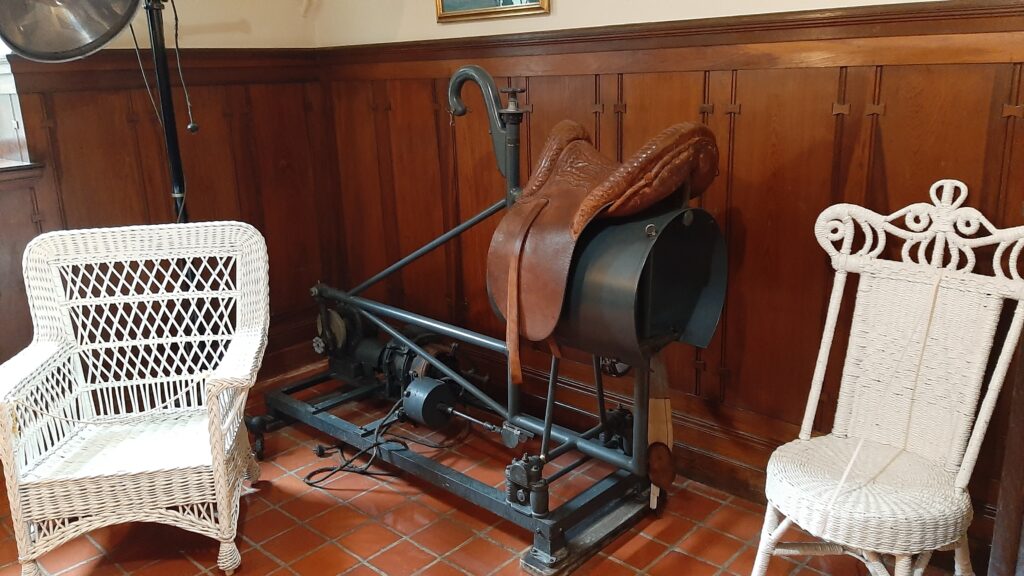 One interpreter opened the wall panels in the basement to show us the rock foundation wall. She said the whole house was like this – the walls were a façade. She also showed us some of the water hoses that duPont had installed so his house would never burn down. The property has pump houses for the fountains, but also for this indoor plumbing.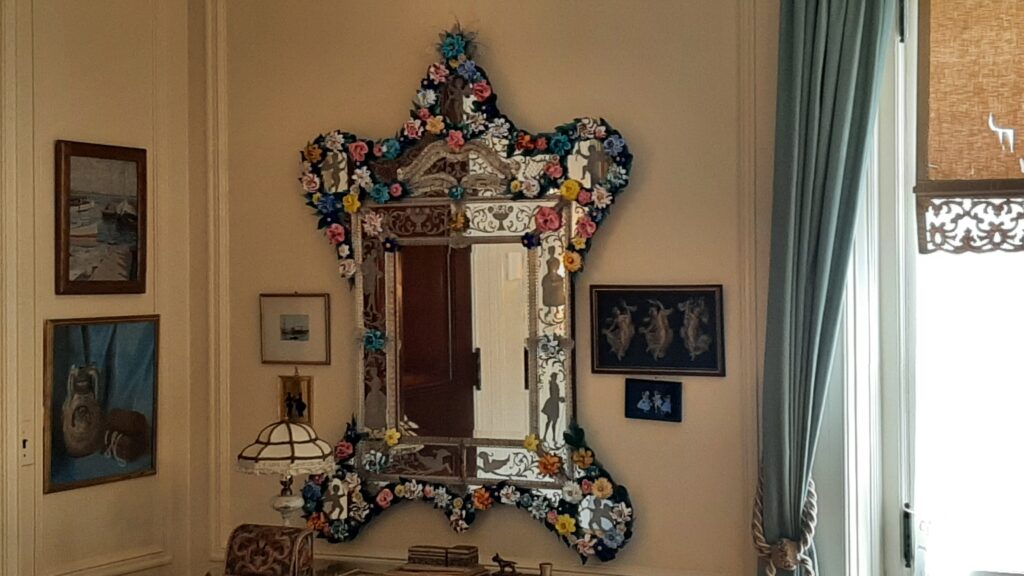 This room above was used by one of the duPont daughters. It has a Murano glass chandelier and two sconces, as well as this mirror (pictured). Fun fact shared by the estate: In 1291, the government in Venice banned glass-blowing furnaces from Central Venice, for fear of the wooden structures catching fire. They were moved to Murano, an island. The isolation of the glassblowers helped them keep their secrets, as they could be put to death for sharing how it was done.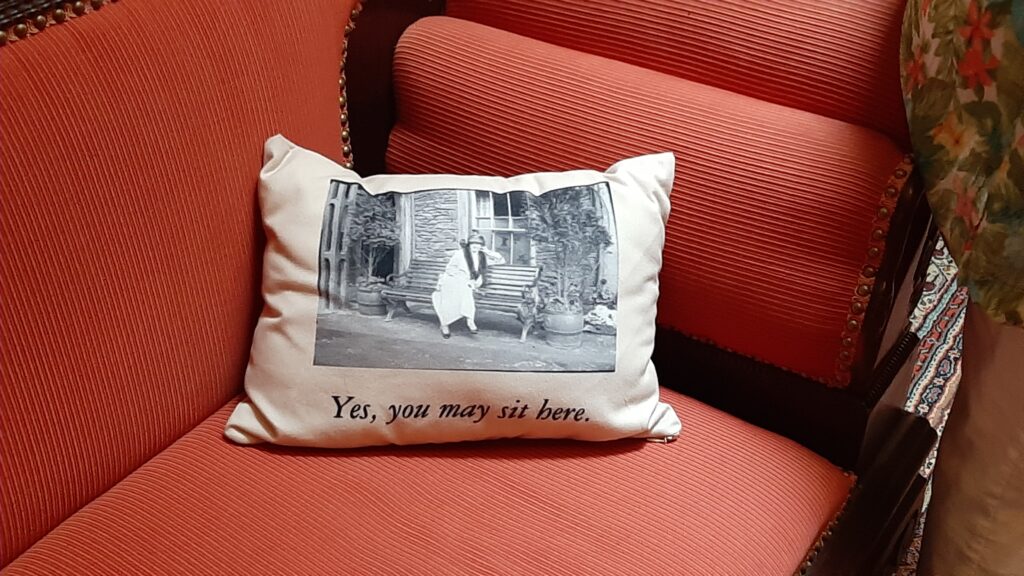 Jessie duPont's brother, Ed Ball, had his own guestroom. He was responsible for managing a lot of the duPont's money, and he helped Alfred rebuild his fortune after his cousins bought the company from under him (one of these cousins owned the Longwood Gardens property). Ball helped him invest in some Florida businesses, and he did quite well, with the Nemours Foundation once owning 8% of the land in Florida. There is also a Nemours Children's Hospital there.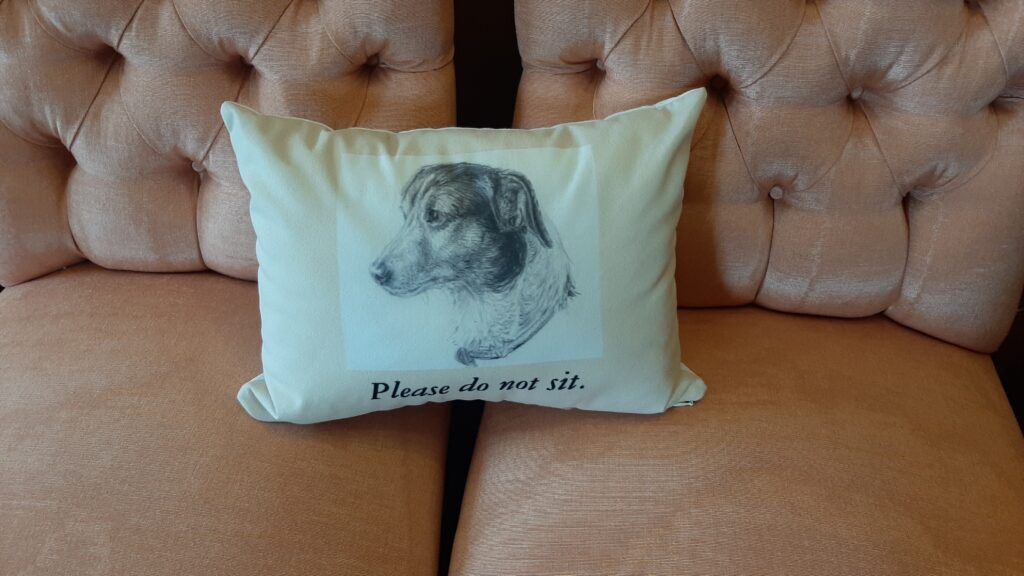 The estate had the latest in bathrooms. That included a sitz bath (hip bath) that used cold water. It was thought that taking a sitz bath a few times a day could cure various problems. The Nemours Estate had a private bathroom in every bedroom, which was a luxury. They said that in 1920, only 1% of U.S. homes had electricity and indoor plumbing. Mrs. duPont's large bathroom had special jet sprays that felt like needles, which was thought to be invigorating and healthful.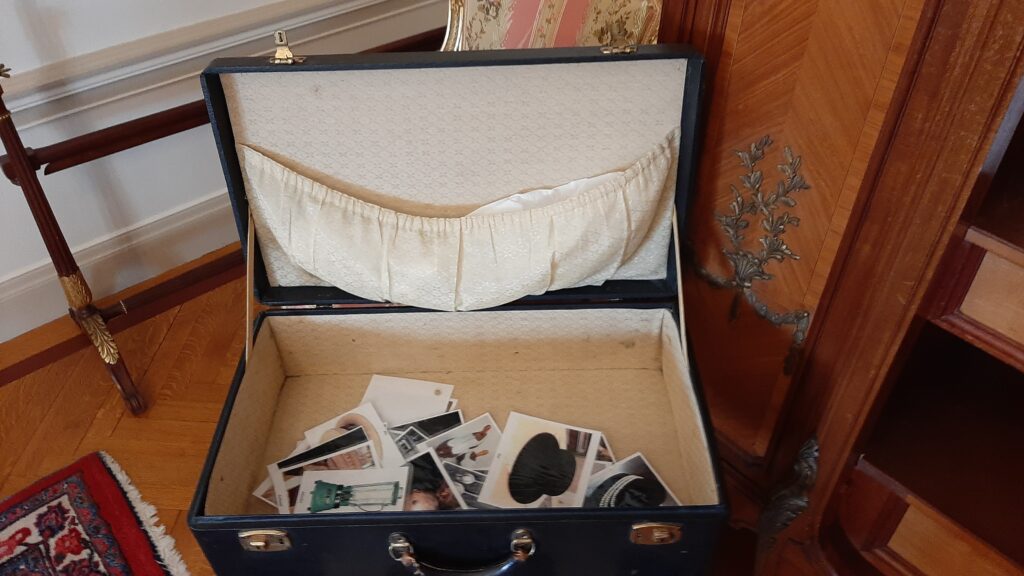 Mr. duPont's bathroom had some strange-looking contraptions used to try to cure his hearing loss. His congenital and progressive hearing loss led to his first wife's frustration with him, as he could not socialize as much as she wanted. It was thought to be one reason leading to their divorce. The devices in his bathroom included a wall-mounted pressure gauge to regulate warm water and air, to try to treat the hearing loss. He also had a "conversation tube" which could amplify sounds so the person could hear better. It looked like a hose with a horn shape on the end.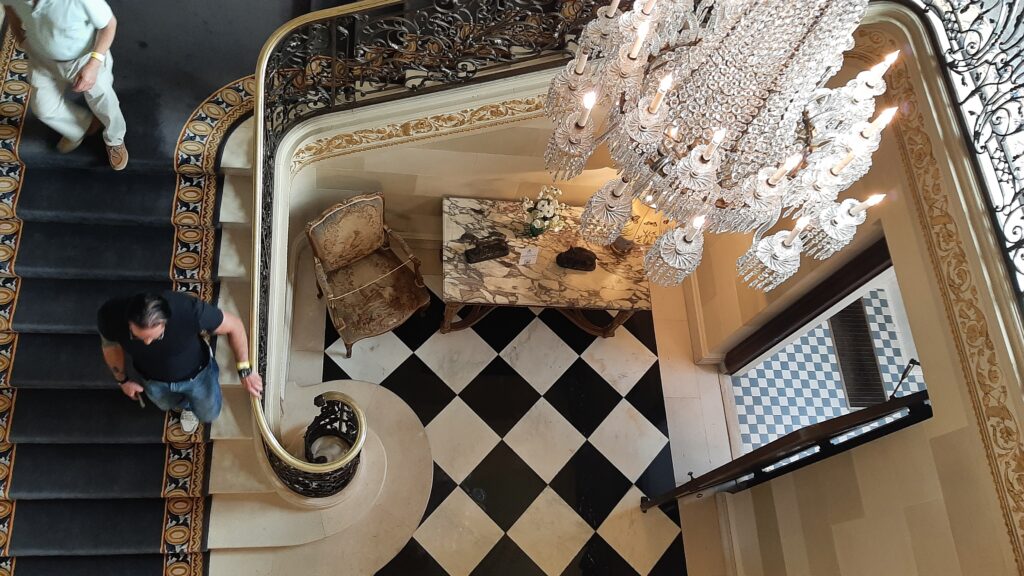 After Jessie (third wife) died, the house was brought back to its original state (e.g. no modernization like dishwashers) and opened to the public, per Alfred duPont's wishes. It was opened to the public and is part of a foundation now, not controlled by the family.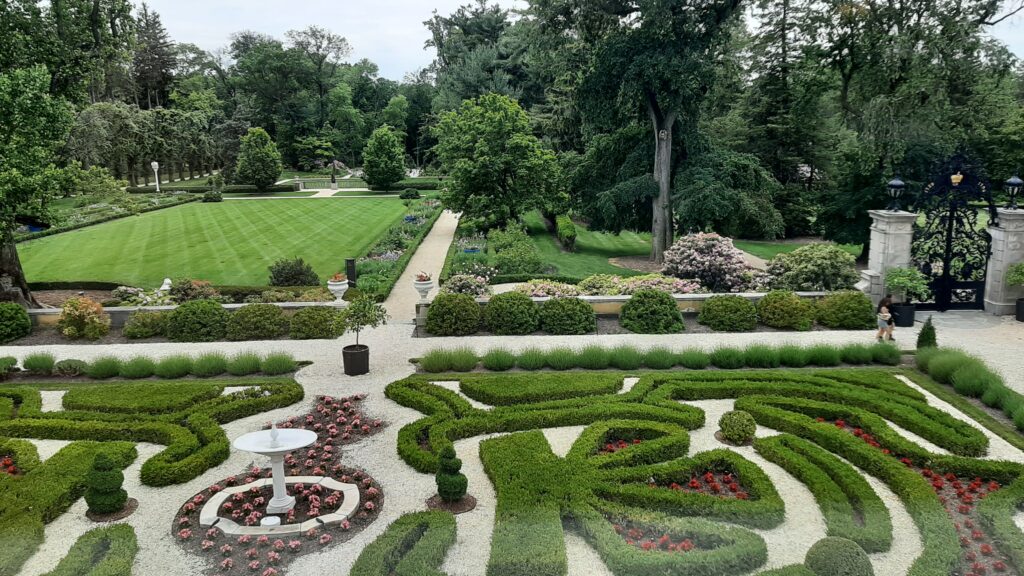 There are a lot of gardens to wander around. We had already gone through the gardens facing the house, and the ones above are next to the house. There's a frog pond (we saw no frogs, but saw lily pads and a frog fountain).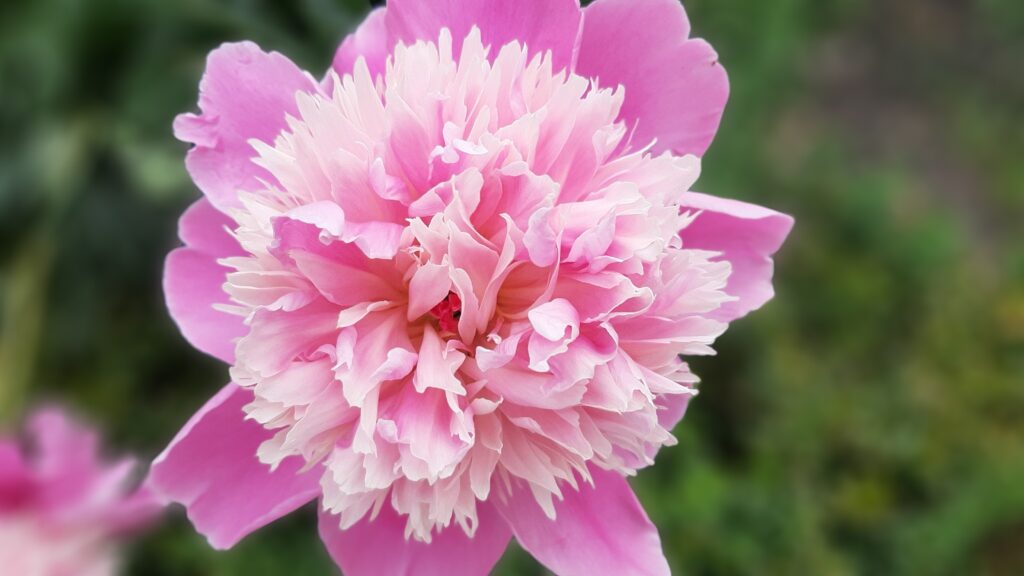 Don't miss the Chauffeur's Garage, which is a 10-minute walk from the estate (if that). It was built in 1913 and is thought to be Delaware's oldest garage. Inside you'll see 4 cars, including a 1951 Rolls Royce, a 1960 Rolls Royce Phantom V, a 1924 Cadillac and a 1921 Cadillac Renault. The Phantom is the same model owned by Queen Elizabeth and Elton John. It has a charcoal foot warmer inside as well as air conditioning. The 1921 Cadillac has an umbrella stand, flower vases and a microphone/ear horn to communicate with the chauffeur.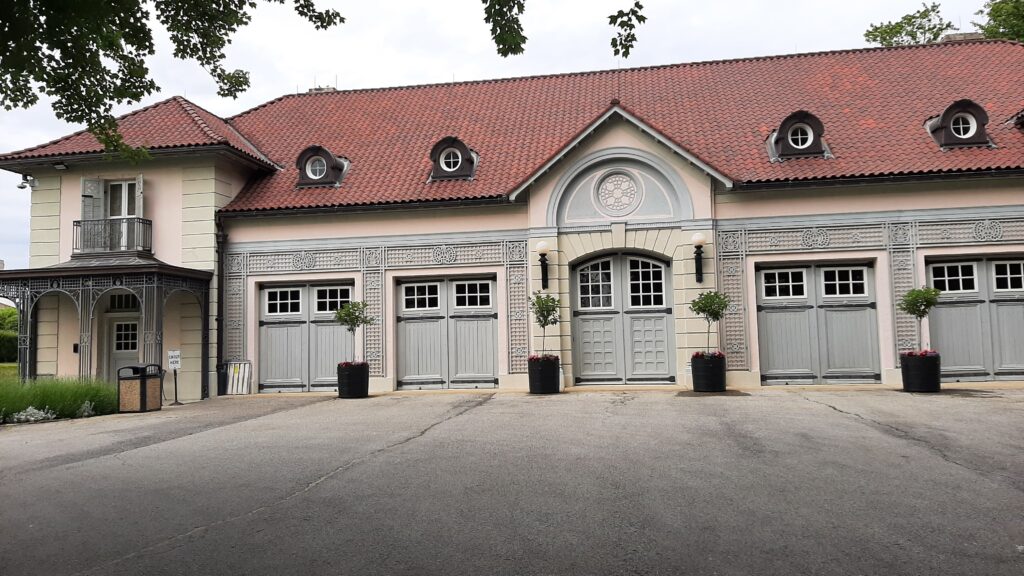 Mr. duPont owned the first car in Delaware, a 1897 Benz and was also the first licensed driver in Delaware. The cars are now stored as museum pieces, though 10 years ago they would each be taken out for a drive around the property.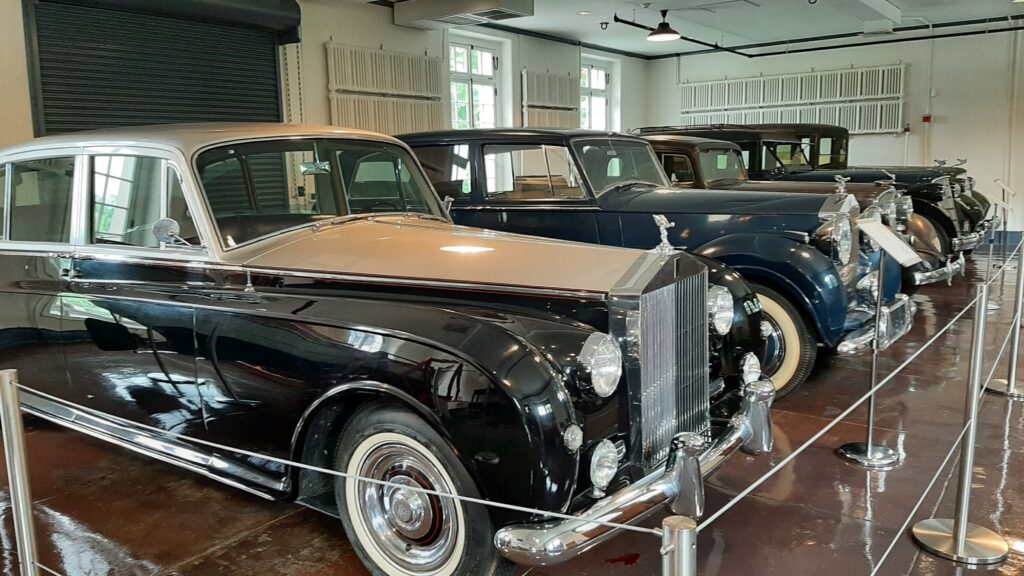 What to do at the Nemours Estate with kids
Bring a picnic lunch. They invite you to enjoy the grounds with a blanket picnic. There are also benches throughout the property. They have water bottles for free in the reception area and the chauffeur's house, but bring your own as well.
Pick up some worksheets at the entrance. They have coloring sheets and some other activities young kids can do.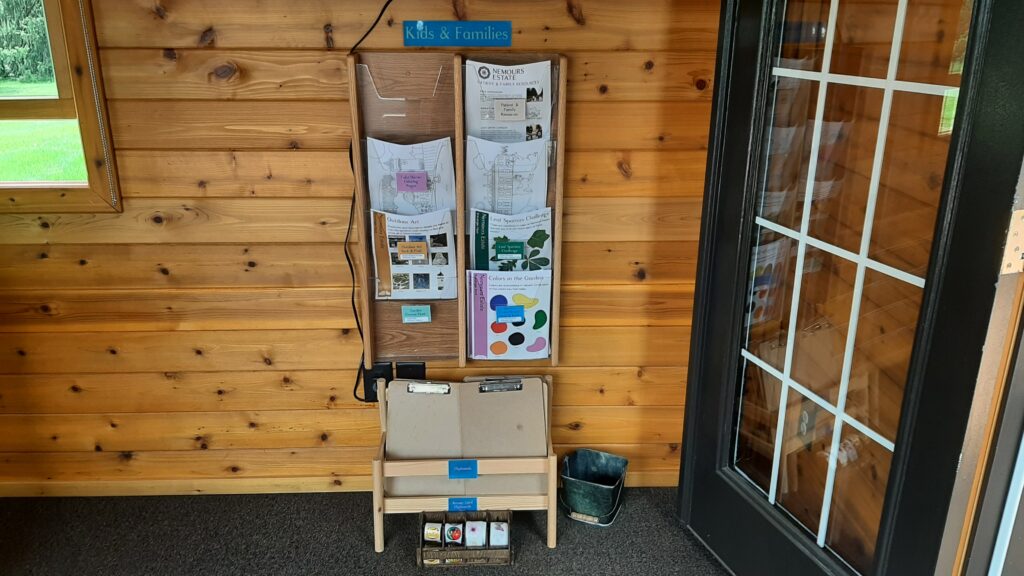 Inside the estate: look for the laminated signs pointing out details the kids can find. Many of the rooms have other things you can help them look for. In the entrance, there is a musical clock. In the kitchen area, they can find the iceboxes. In the butler's pantry, there's a call center on the wall, which lights up when someone presses a button in one of the 77 rooms.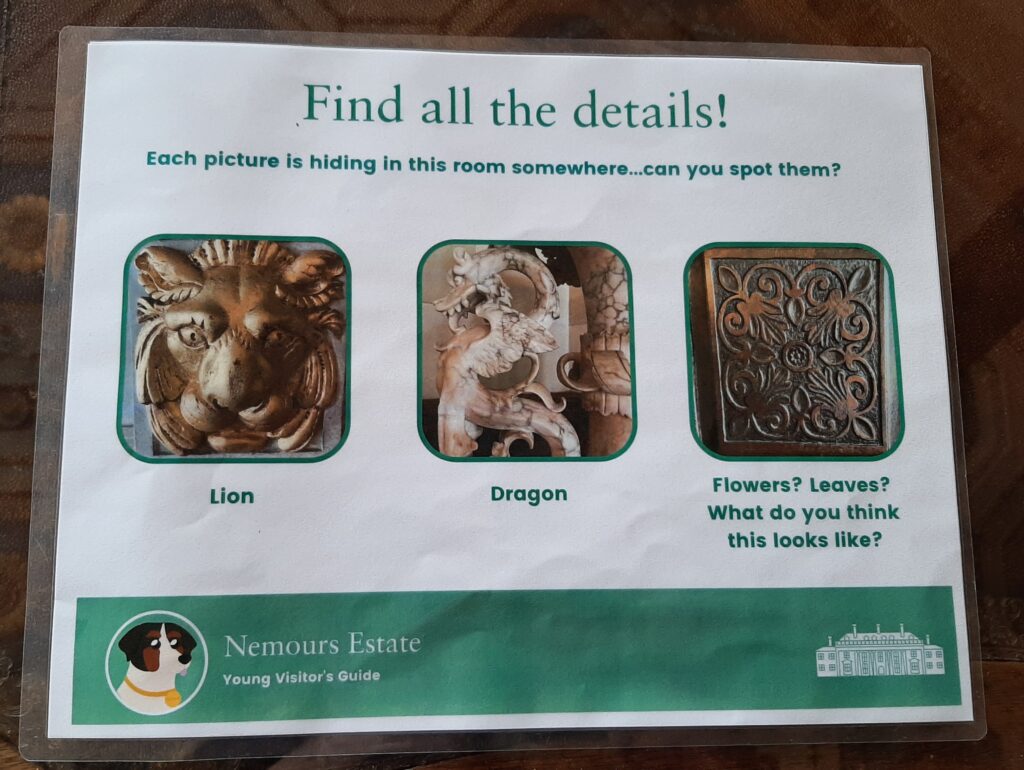 Lockers: They have free lockers just inside the mansion, where you can put your bags, food and drinks (no food/drinks are allowed inside). There is also a nice bathroom there and changing tables available inside.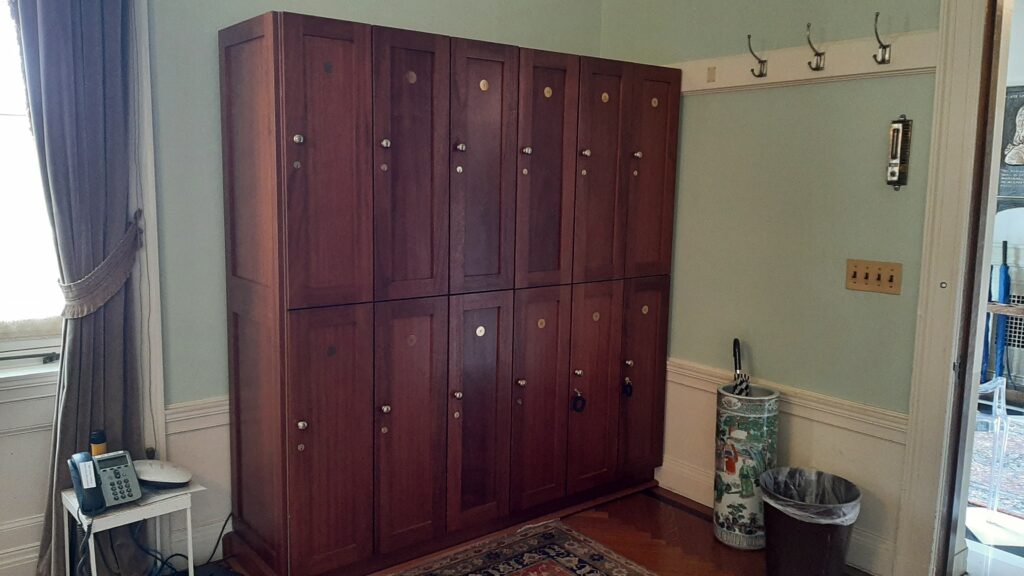 Strollers: They are permitted in the gardens, but not the mansion. Note that some areas of the garden have rock paths and that may be more difficult with a stroller or wheelchair.
Tours: Check before you go/when you get there about tours. They do offer some.
Tram ride: They have regular tram rides around the property – about 2 miles. It's about a 30 minute narrated tour. The tram seats around 18, so get in line early if you want to go and count how many people are ahead of you. We were there on a busy weekend, and tried getting in line about 25 minutes before, but there were too many people ahead of us, so we skipped it.
Hours: Check the hours before you go. Currently through December 30, they are open Tuesday through Sunday, 10 am to 5 pm. The last admission is 4:00 pm. Don't go that late! There is so much to see and it takes time to get from the parking lot to the mansion, let alone enjoy the gardens.
Events: The website lists various events on the properties, including live music in the gardens with food, beer/wine and half-priced admission.
Admission: Admission for adults is $20/person, and $10 for kids ages 6-16. It is free age 5 and under. A family of 4 with 2 adults/4 kids is $40.
How long to spend at the Nemours Estate with kids: Your time there will vary based on how much of the gardens you want to see, how long you spend in the mansion, if you take the tram ride, etc. We spent more than 3 hours there, which is about average.
While in the area, you may want to also check out Longwood Gardens and stay overnight in Wilmington, Delaware. We have ideas on what to do there in the previous link!
Nemours Estate is at 1600 Rockland Road in Wilmington. You'll find the entrance on the campus of Nemours Children's Health.
Disclosure: Nemours Estate offered us press tickets for our visit. All comments and ideas shared are Jersey Kids.