You know you're going to a museum about Broadway when you have to buy your ticket through Telecharge, and you pay a $4 service charge plus tax for the privilege! That said, I've wanted to go since I heard this was opening. I brought a friend who grew up in the area and is a huge Broadway fan, with stories going back decades. Should you visit the Museum of Broadway with kids? Read on.
The Museum of Broadway opened in November 2022, and it is on 45th Street, just off Times Square. It's across the street from RISE, another newcomer to the tourist scene.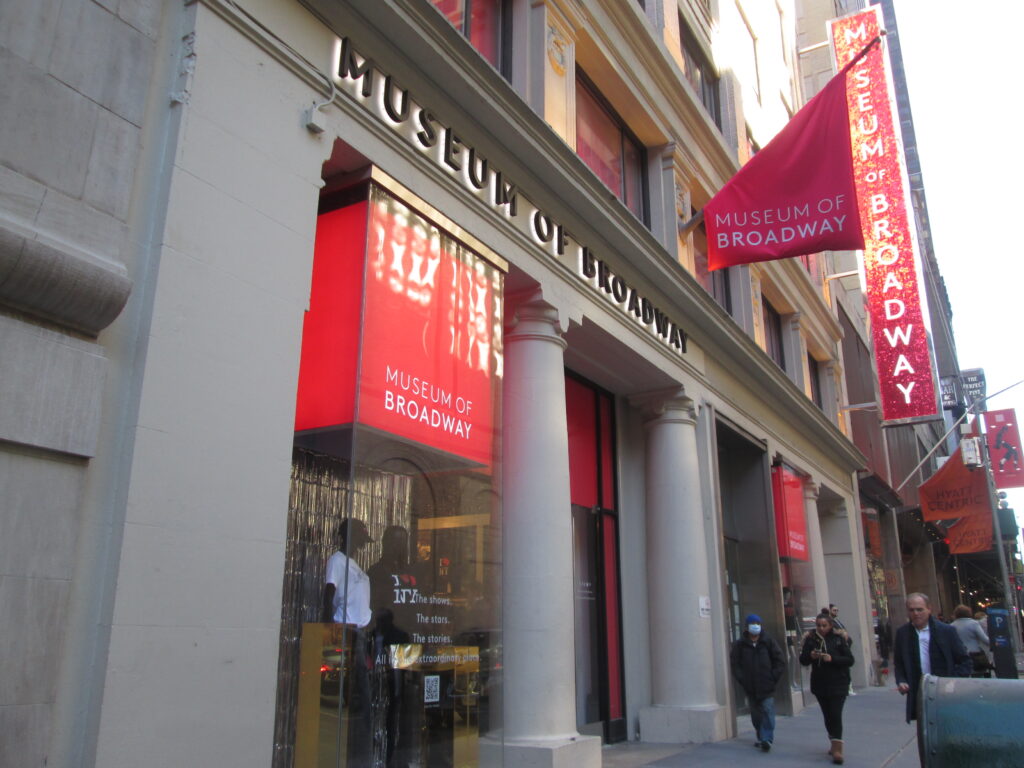 When you get to the Museum of Broadway
After entering and showing your ticket, if you're able to climb stairs, you'll start off going up three flights to the third floor, and then you work your way down. Of course they have an elevator as well, but I can't speak to that since we took the stairs. They did a great job making use of the stairwells, with bits of "did you know" information about how rehearsals and backstage works. We took so long reading the panels that the people upstairs worried a bit about where we were, as the staff calls ahead to say how many are coming up.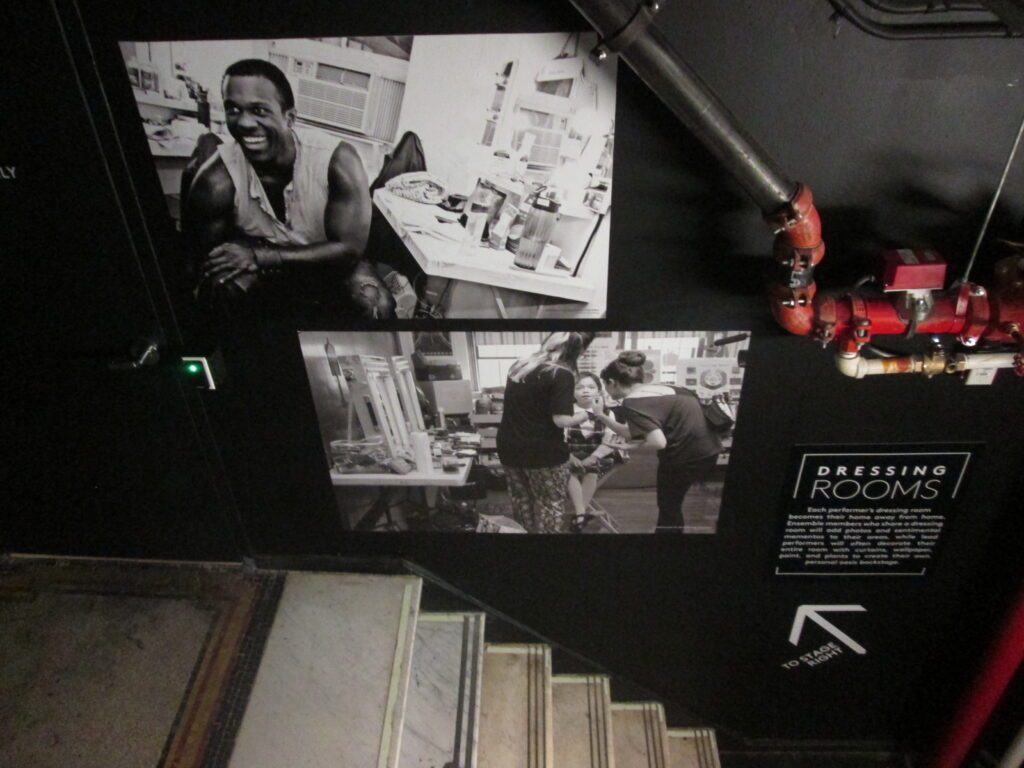 Here's what we learned in the stairwell of the Museum of Broadway
Each dressing room has an audio monitor for cast members to listen for cues.
A "call board" has information about the upcoming performance, and the cast members initial by their name when they arrive to show they're there.
Cast members may stretch before or during a show in the backstage stairwells or even the alleys behind the theater (and in the case of Cats, sometimes on the roof), where there is more room than in the dressing rooms or backstage.
Most Broadway cast members do their own make-up, based on a chart the designer provides. Only for special cases (Elphaba in Wicked, some lead characters in the Lion King, the Phantom of the Opera lead) does a makeup artist get involved for each show.
The wings may hold quick change booths for actors who don't have time to get back to their dressing room in between scenes.
Ever wonder how the wigs fit so well over the actors' hair? They "pin curl" their hair under a wig cap. A typical Broadway wig can cost up to $2,500 and is custom fitted.
When a cast member leaves a show, they often sign the bottom of their dressing room countertop with their name, show and date of the final performance.
We made it to the top floor, where an employee explains about audio you can access from your phone (of course I left my phone in my locker, more on that later). They offer the audio in about 10 languages.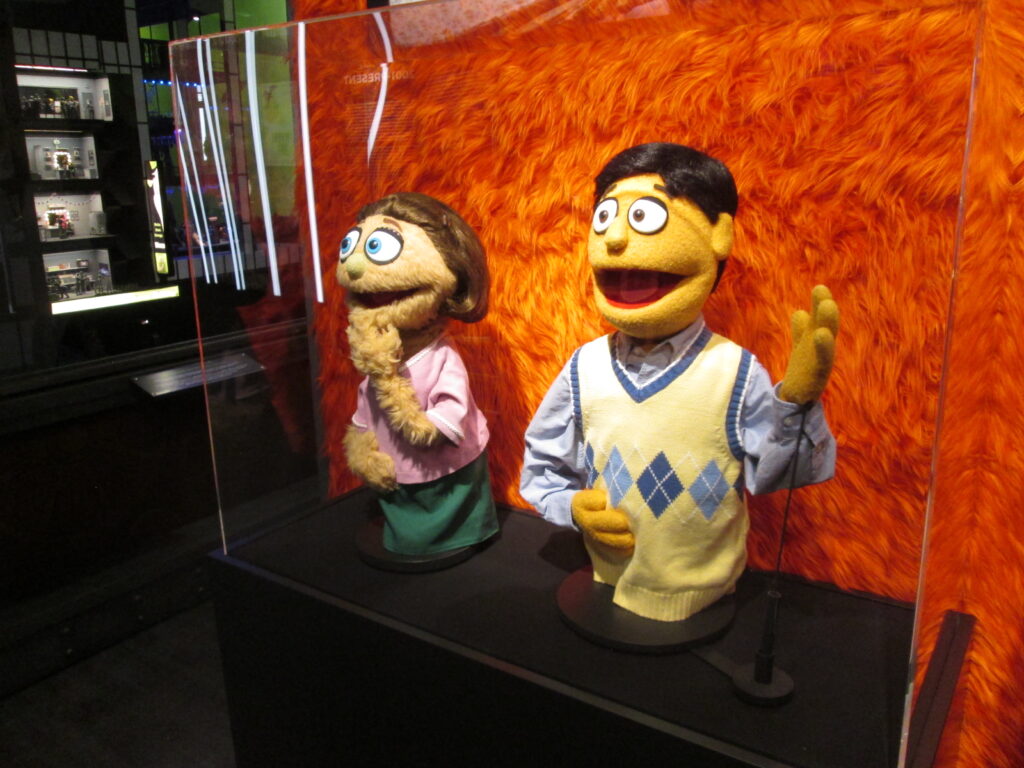 The Playbill room and video
You'll start off in the Playbill room, which features information about each show currently on Broadway. There are a lot of blanks right now, presumably to fill in as the spring hits. The Playbill as you know it now started in 1957, with a common template for all shows and some common content. Frank Vincent Strauss began providing this service in 1884, creating the New York Theater Program Corporation which made unique magazines for the Broadway productions. By 1918 made them for all productions and in 1957 they were standardized.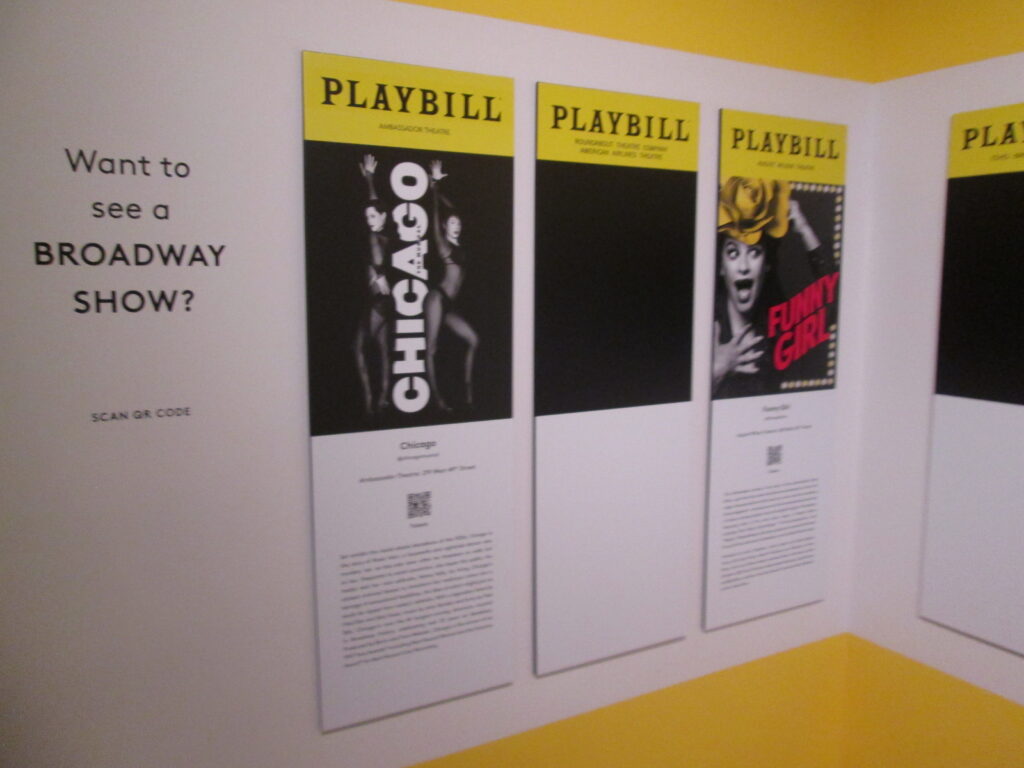 Some fun facts from the Museum of Broadway:
14.77 million people attended a Broadway show in the 2018-2019 season
35% of Broadway audiences are local to NYC.
Broadway contributes $14.7 billion to the NYC economy on top of ticket sales, and supports 96,900 jobs.
There's a wait list for shows to get into Broadway theaters
Broadway is called the "Great White Way" because of the lamps used in the olden days to light the way
The Hammersteins built some of the first Broadway theaters
At this point you'll go into a small theater for a 4 minute video about Broadway history. I wish this was longer. There was a lot of interesting information, like how the theaters used to be in southern Manhattan (which makes sense since that's where people were living). Several of the bigger names in Broadway helped usher the theaters to midtown, due to cheaper land. They also talked about the controversial Marriott Marquis hotel getting built in 1982, which wiped out five Broadway theaters for its construction. I didn't live here then and didn't know that. They called it the Great Theater Massacre.
My friend also wanted the movie to go on longer, "The movie was a great idea and had some really interesting content, but they ran through it way too fast. I'm sure it was because they wanted to get people in and out to keep things moving, but there was a lot of interesting history there that just flew across the screen. I kept wishing that I could hit "pause" for a couple of seconds to look at some of the things they presented. It was all kind of a blur."
The Museum of Broadway timeline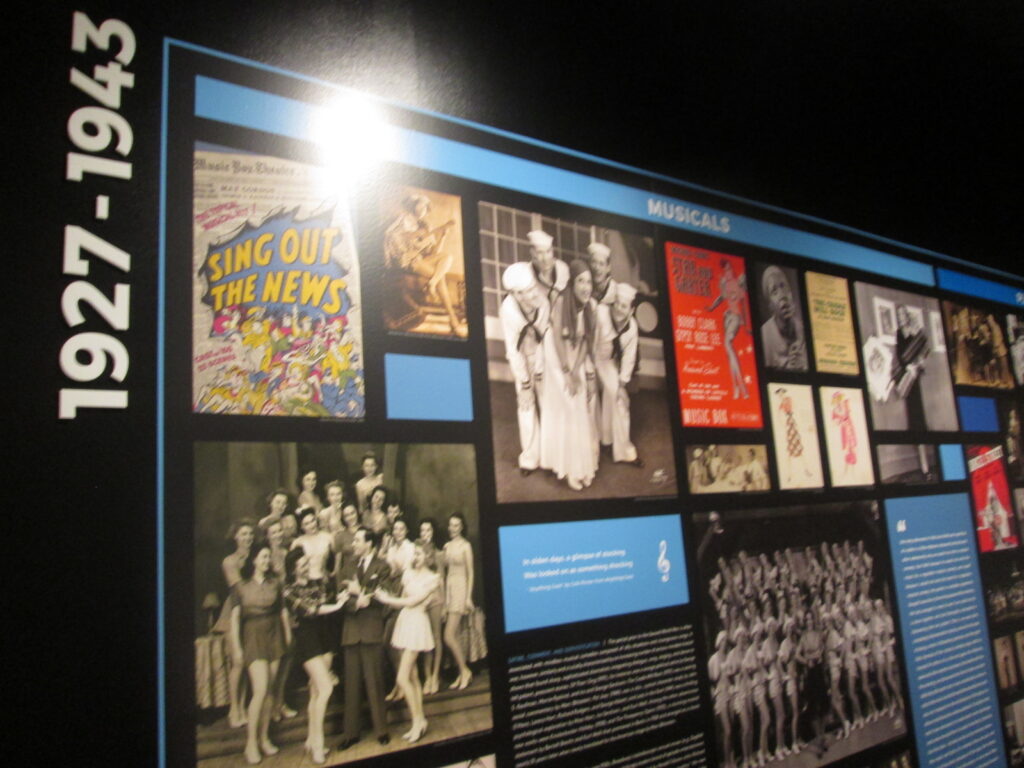 After the movie ended, the staff tried to move us quickly to the next room, which was unfortunate because there's interesting information along the theater walls there, highlighting the different Broadway theaters and theater companies (some companies operate multiple theaters, like Shubert and Jujamcyn).
The timeline travels throughout most of the museum, from the 1800s and early theater to present day, over several floors. The timeline was overwhelming. Sections oftext are interspersed with old photos, Playbills, quotes and historical moments. My friend was impressed with the scope and content of the timeline, moving through history and explaining how entertainment evolved and changed with the times, building on what came before.
While Broadway is now considered a specific 41 theaters each with more than 500 seats, it wasn't always this way. We learn how shows initially were in other forms, like Vaudeville, Tin Pan Alley and reviews, meaning 3 hours of skits, songs, dances etc. but with no theme or storyline. The modern musical came about after adding a plot and keeping one story running through the whole show. That seems obvious now, but it wasn't always this way.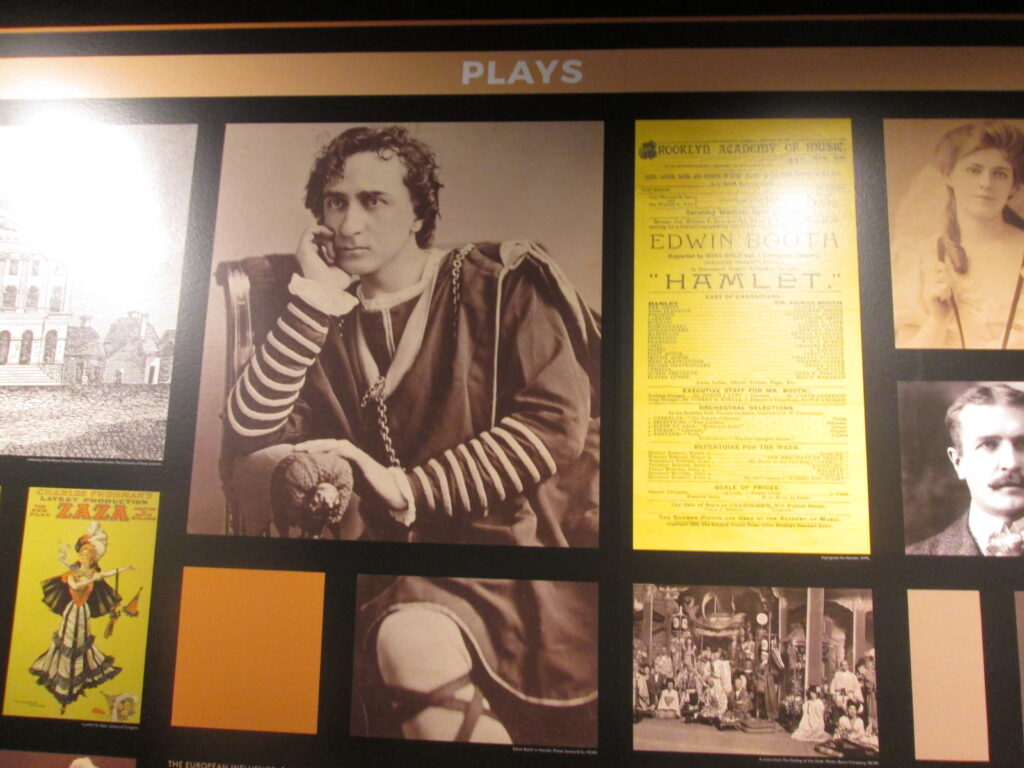 That said, we both struggled with how they displayed all of the detailed and interesting information and photos. That included dense paragraphs of text that were not easy to read, crowded with photos with small captions, and arranged in an overwhelming way. "I felt like I needed a lot more time to really take them in," my friend said. She said these sections would have been easier to absorb had they been broken up and spread out more. The timeline highlights more than 600 individuals and productions.
We also learn about Black performers in Broadway history, and it was a bit watered down. "It was a little too rosy, not really acknowledging the challenges Black performers faced or the racism they faced, but I liked that it was a substantive part of the exhibit," my friend shared.
The sets at the Broadway Museum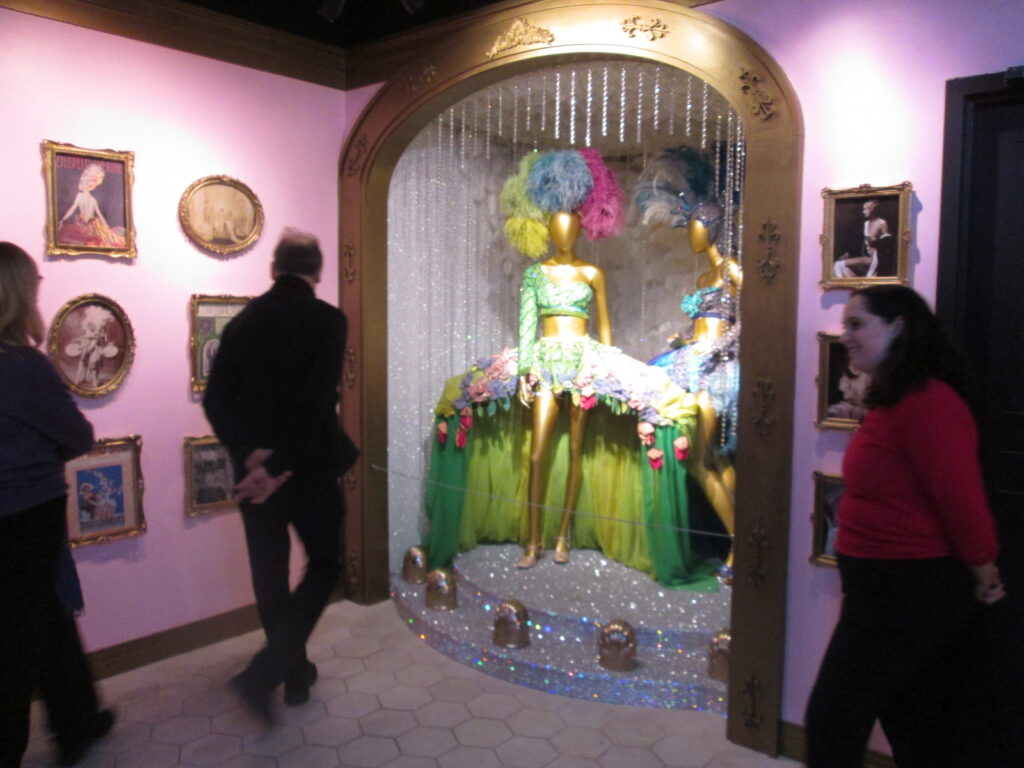 I'm not quite sure what to call the rooms that feature costumes and artifacts from various shows, but soon after the timeline begins you'll enter the Zigfeld Follies room. They unearthed several costumes from one of the shows in the New Amsterdam theater (I think), where Aladdin is performed.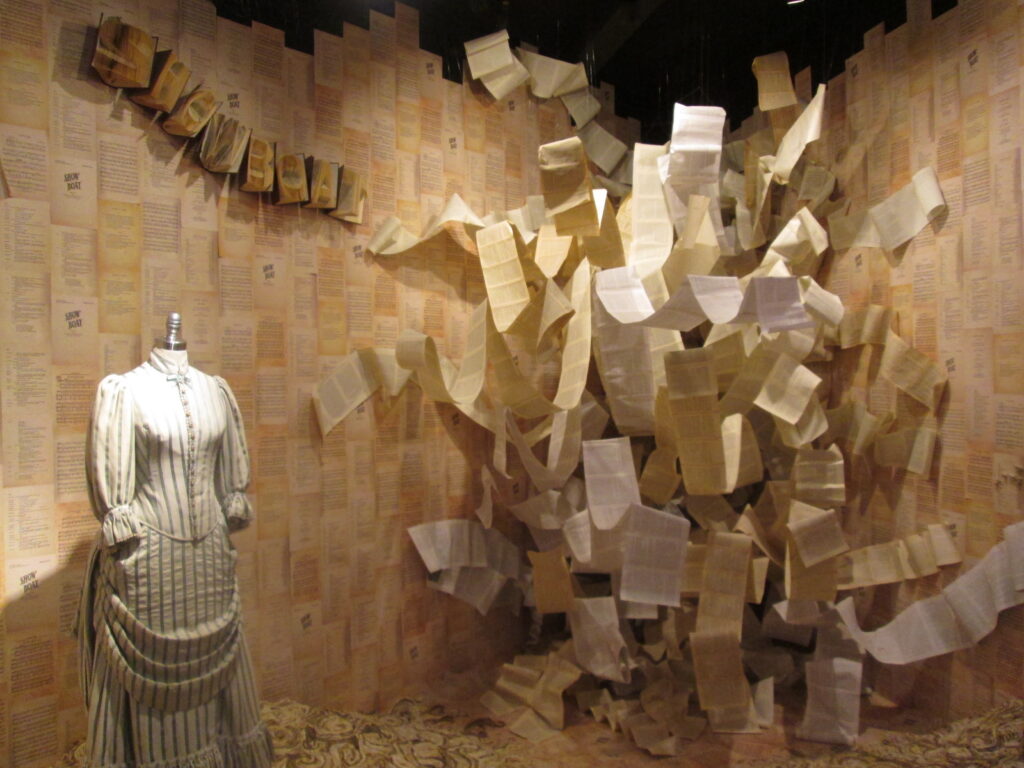 The next exhibit was about Showboat in 1927, and featured an artist's interpretation with the walls and a sculpture made of the script pages. It was interesting but also kind of odd. Showboat was the entrée into musical storytelling on Broadway, showing a musical could cover issues like racism, alcoholism, gambling and marital issues while attracting audiences.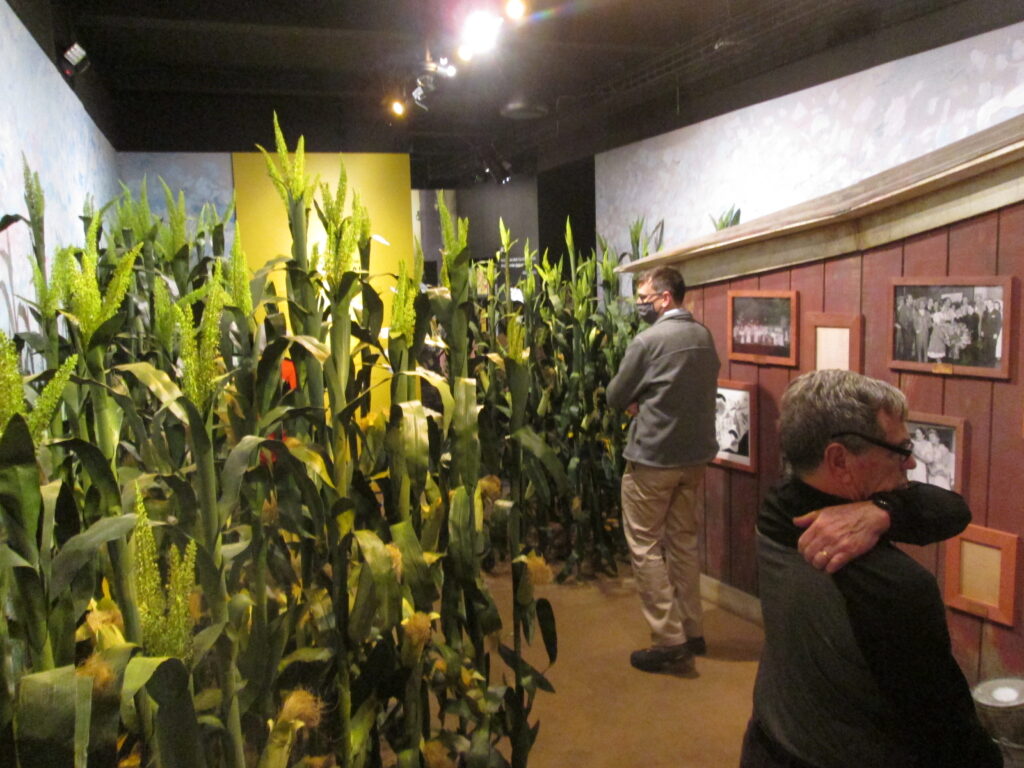 The museum tried to incorporate a lot of artistic takes in the presentation, some of which was just odd. Like the corn fields in the Oklahoma area. That was some wasted space that could have been used to spread out the timeline. The highlight for me in there was a framed copy of Oscar Hammerstein's lyrics where he looked for rhymes to surrey.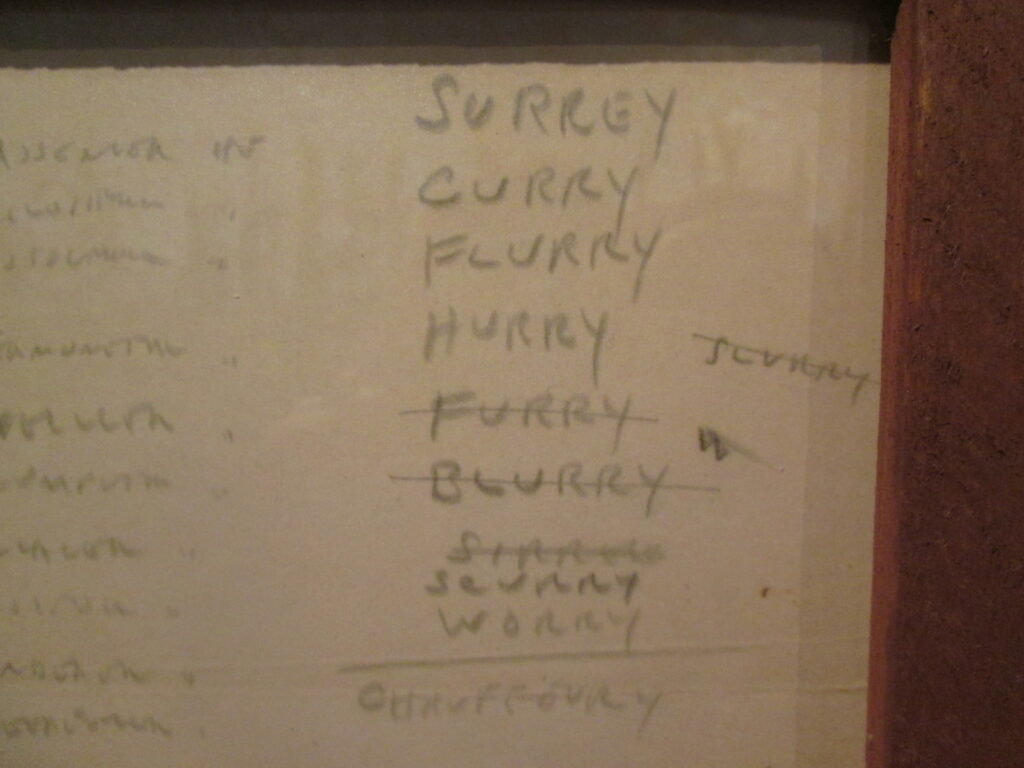 The West Side Story room featured a recreated set from the drugstore. Again, kind of fun but a waste of space. They had a big video monitor that had silhouettes of dancing, rather than video of the actual show. What I did like in that room was seeing an early outline for Act II, framed, and a letter from Stephen Sondheim to Leonard Bernstein – both originals (from the Library of Congress).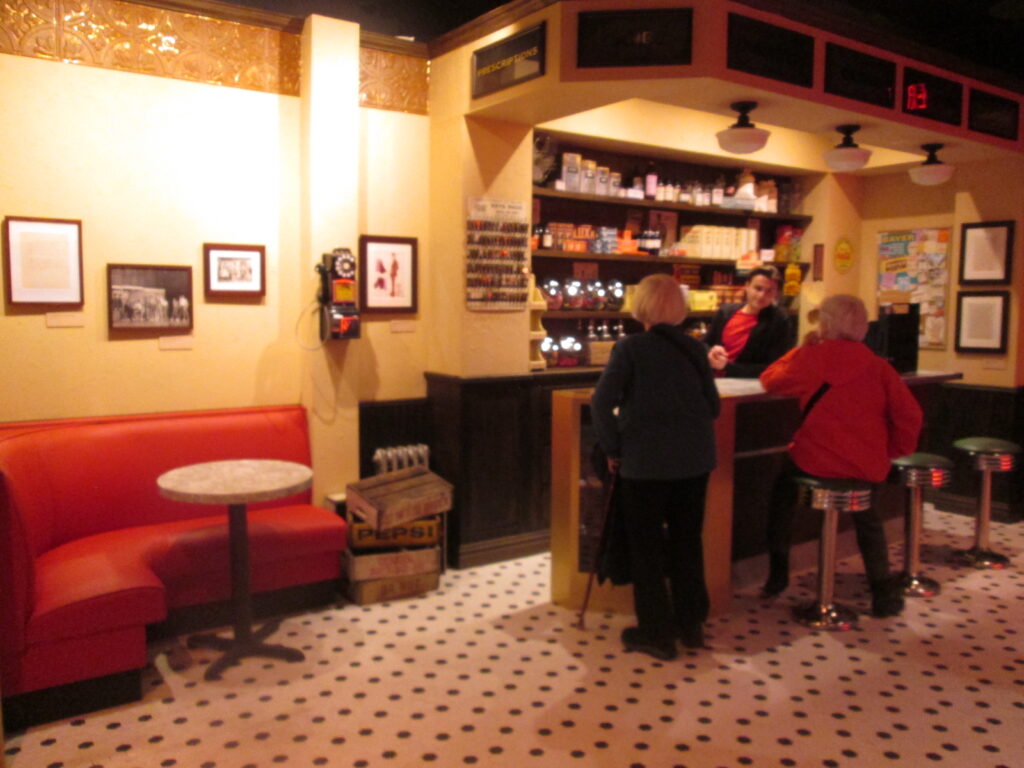 The set from Company was also a missed opportunity to really share a lot about the show. "Aside from being a waste of space, it was just a photo opp that didn't make sense if you didn't know the history of the show."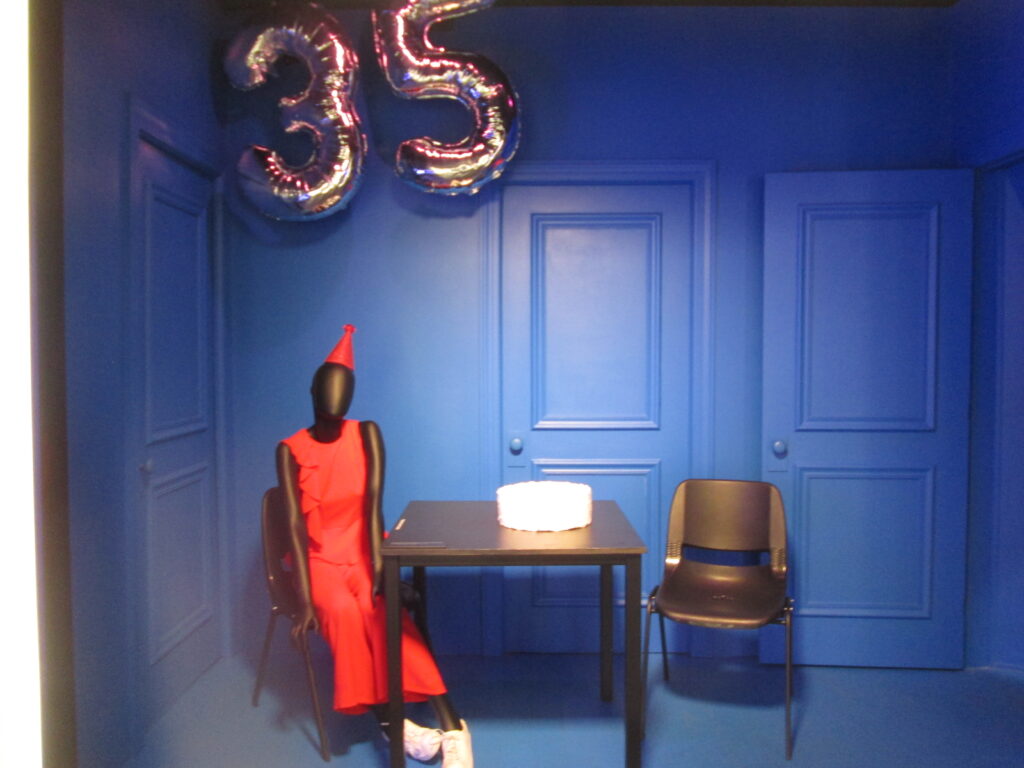 They had other art that was Broadway-adjacent, like a crystal sculpture with a crystal for each of Phantom of the Opera's performances (something like 14,000) – and they'll keep adding til the show closes. They have an odd mirror room that we could not figure out why it was there – something to do with A Chorus Line – maybe you can do your own kickline. And a big jukebox sculpture for the jukebox musical area. Fun looking, but again, not the best use of space.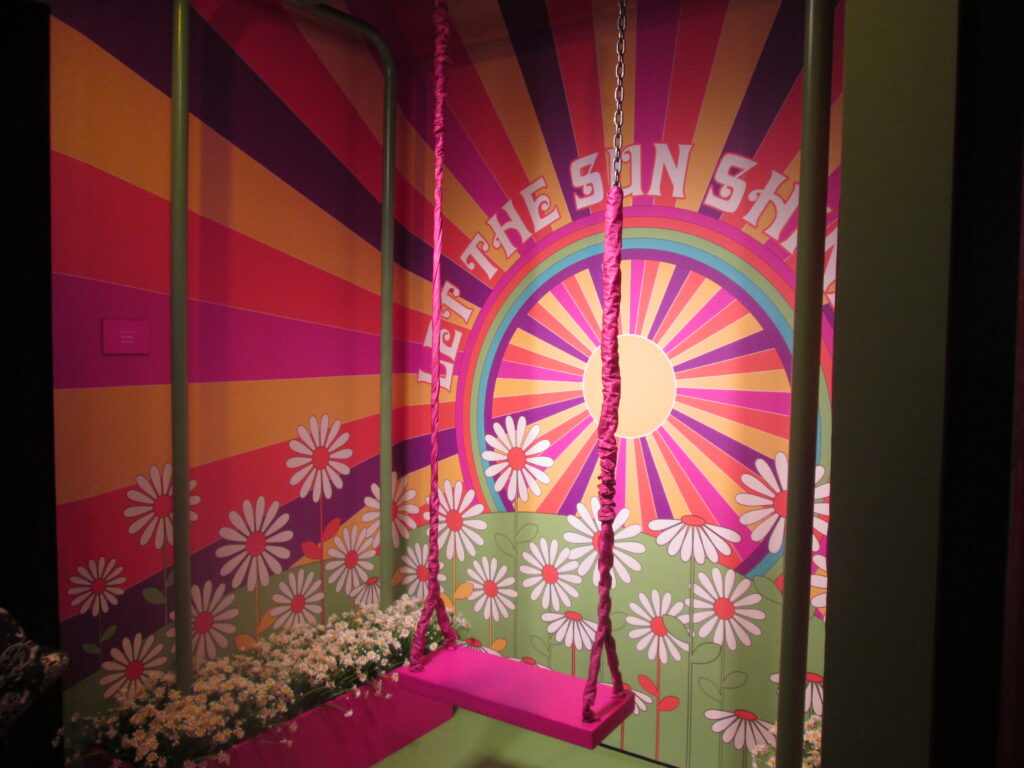 I appreciated that they had a room honoring and remembering those on Broadway who died from AIDS. AIDS hit this community hard, and the Broadway Cares charity started as a result and is still active. It featured some big wings you could take a picture with, and talked about the epic play Angels in America.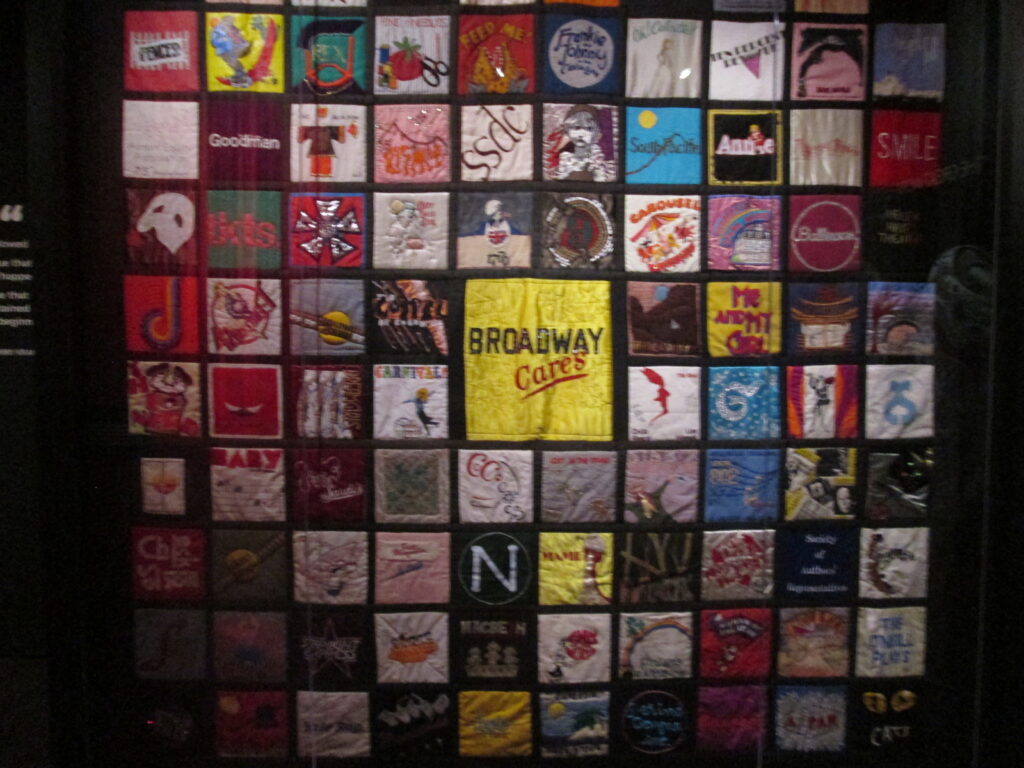 Wicked and the behind-the-scenes sections
Probably my favorite part of the Broadway Museum was the Wicked stage display. It was a four-sided glass case with a replica of the theater. You can see where the 125 cast and crew members and the 75 front-of-the-house people work, and you can see the offstage parts of the theater. You can see a bit about where the props are stored and how they are moved onto the stage. You can also see the lighting rigs. It is a 360-degree cross-section of the Gershwin Theater. The photo below is just a small portion of it, viewed from the back of the stage.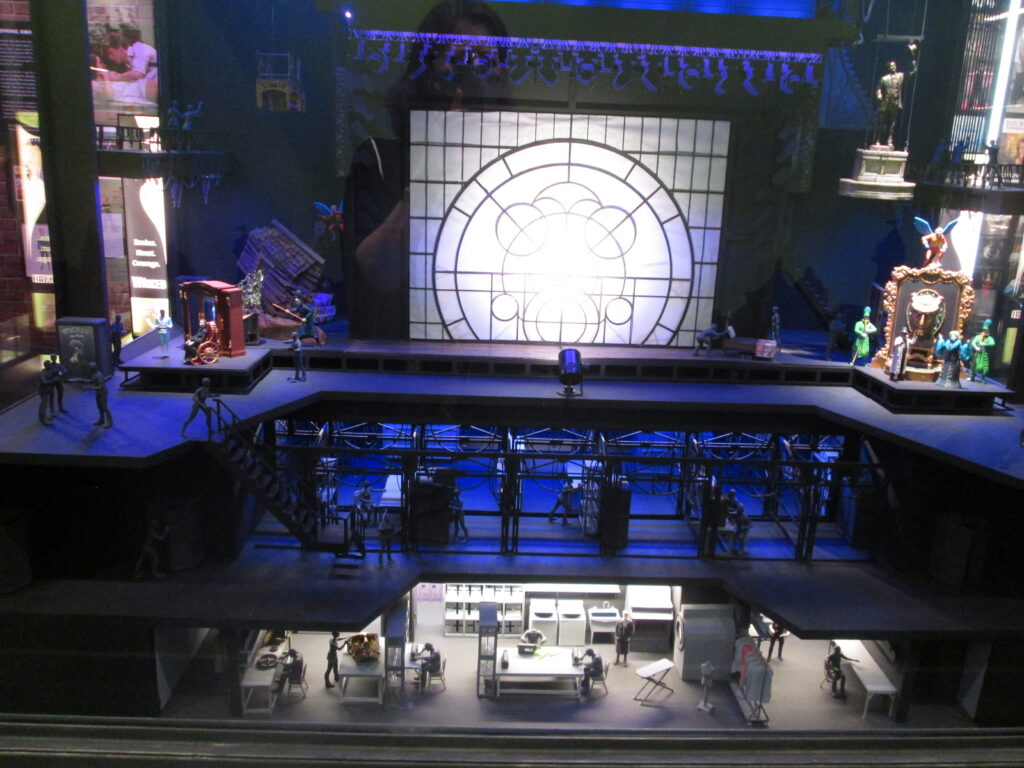 The bottom floor of the museum, which showed the stage creation, costumes and makeup, were also interesting. It's great to learn more about how the show is put on, learning about the roles of stage managers, prop masters, producers, the general manager, stage designers, laundry workers, stitchers, dressers, etc. There's also a big changing digital backdrop with stage views, where you can take pictures like you're on stage looking out over the audience.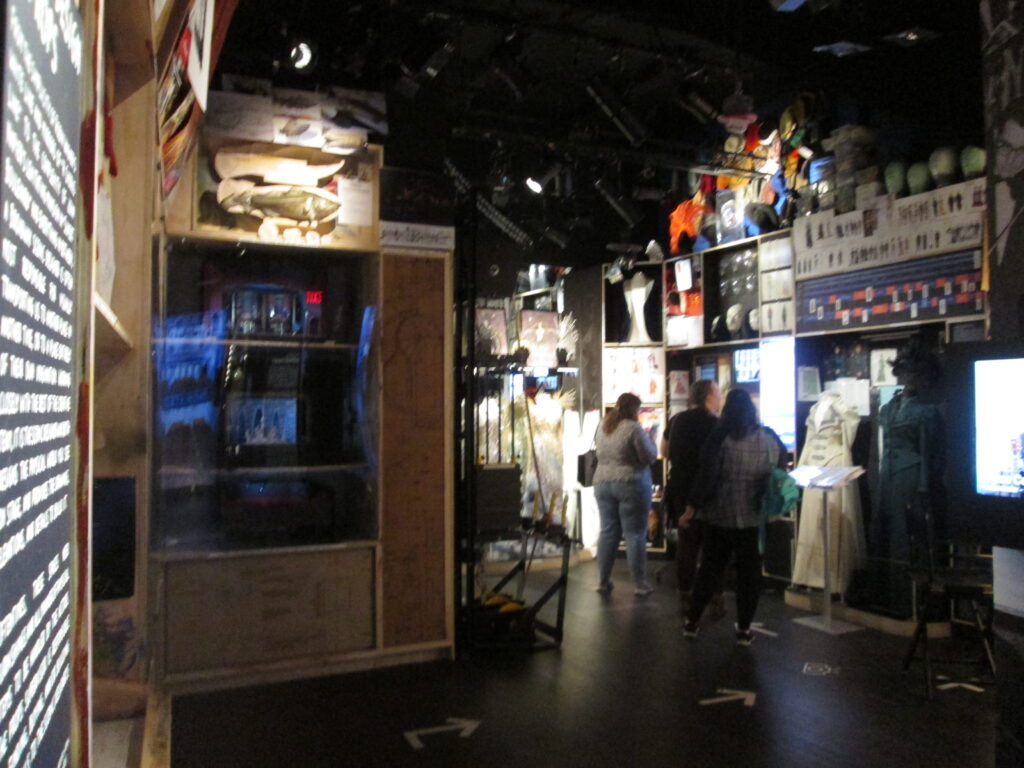 Lastly, on the way out there was a special exhibit on Al Hirschfeld drawings, and that was great to see. They had coloring sheets you could take with you too. He drew more theater posters than anyone else, more than 60 shows. Hirschfeld drawings are scattered throughout the museum as well.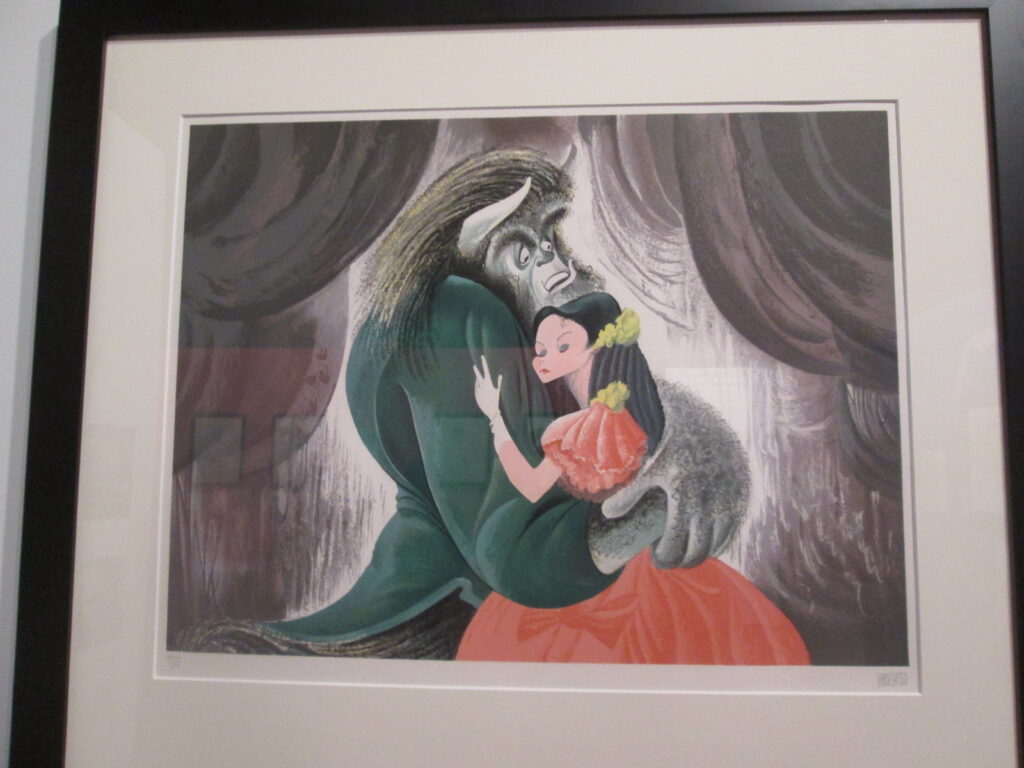 Costumes at the Museum of Broadway
The museum has various costumes, like Hello Dolly's dress, two costumes from Cabaret, several costumes from Hair, the Wiz (a TV live production costume), two from A Chorus Line, Annie's dress, a Mamma Mia costume, Hamilton, one from Cats, several from Phantom of the Opera, and others.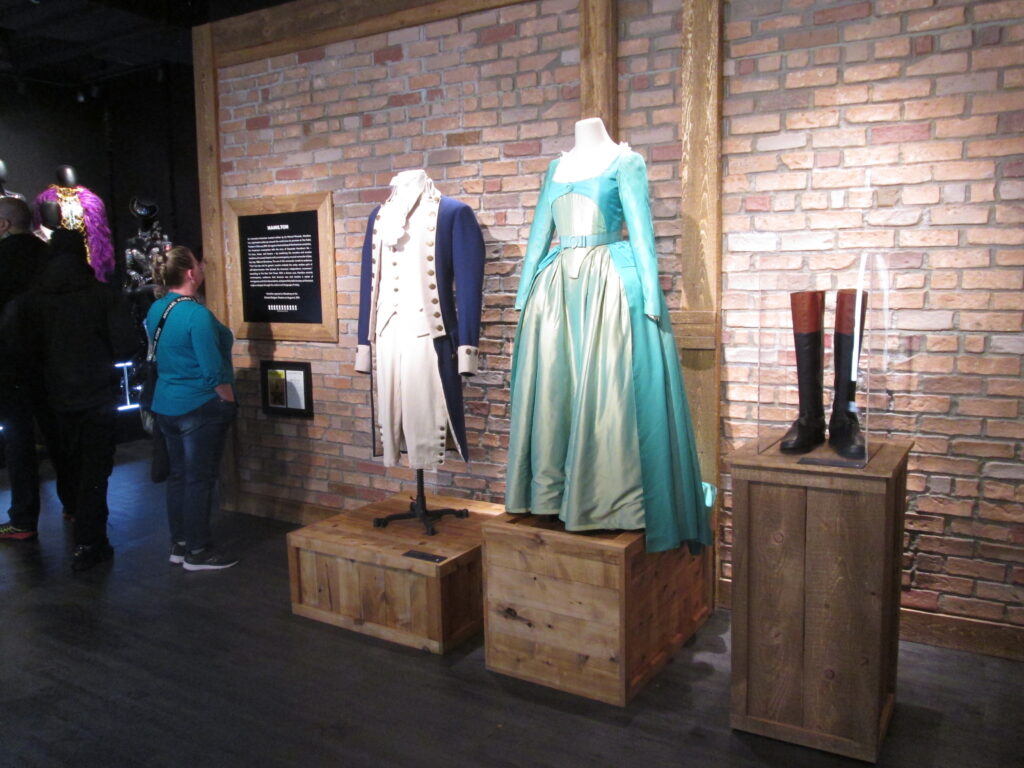 Props at the Museum of Broadway
We enjoyed seeing the props and other famous things from Broadway, including:
A Tony award (did you know it is named after a woman? Antoinette "Tony" Perry)
Jane Krakowski's roller skates from Starlight Express
A brooch worn by Glenn Close in Sunset Boulevard
A wig worn by Patty Lupone
Puppets from Avenue Q
A monkey music box from Phantom of the Opera
Puppets and masks from the Lion King
Kinky Boots boots (and a pair of boots Lin-Manuel Miranda woe in Hamilton)
A lamp from Aladdin
Overall thoughts about the Museum of Broadway
I thought the museum would be better for die-hard Broadway lovers. My friend, who fits in that category said "It's probably better for those with more of a passing knowledge of Broadway than diehard fans. I wanted more info than they provided. They gave the basics of the shows and I didn't think I learned much that was new."
There are friendly staff members everywhere, sharing some Broadway tidbits and offering to show you the next room in the museum or helping those who need it to the elevators.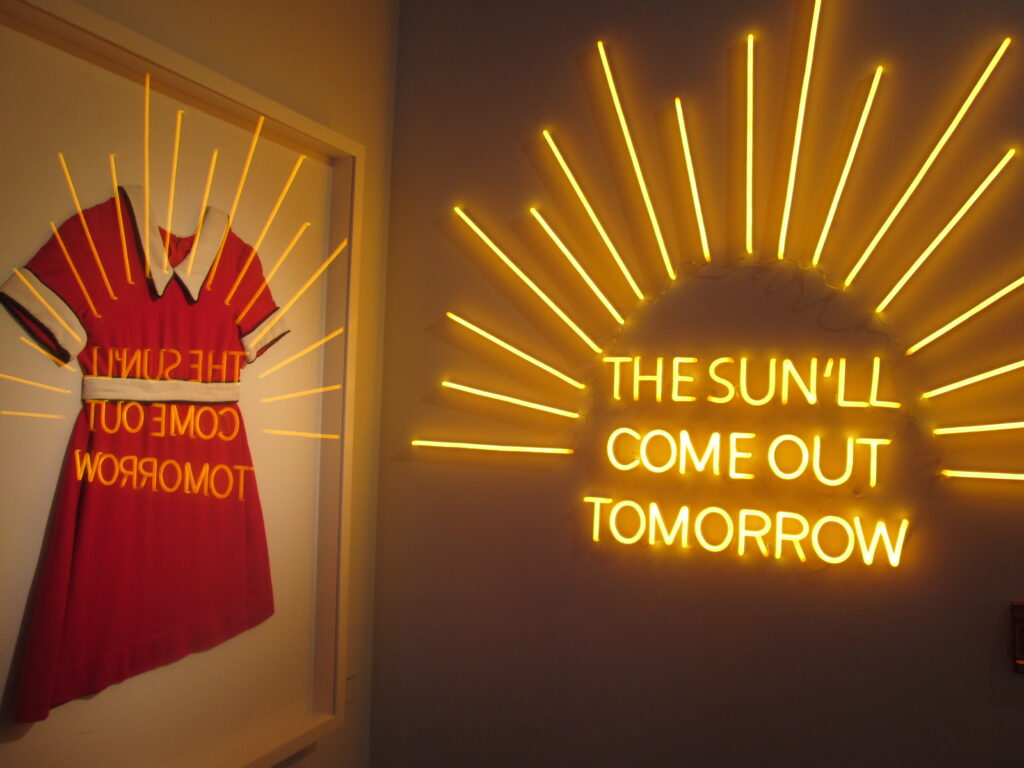 My friend and I agreed there were a lot of missed opportunities. The exhibit lacked good storytelling and used more space for art than for perhaps, uncrowding the timeline.
The museum at many times can feel claustrophobic. The building is pretty narrow. It's a good thing they control the number of people at any given time (granted, I'm sure there's a fire law about that).
There is a lot packed in, and the curators clearly dug up a lot of historical information which would take many more visits to absorb. It was clearly an enormous effort to put this together. They did seem to try to balance the heavy reading with the sets and photo spots.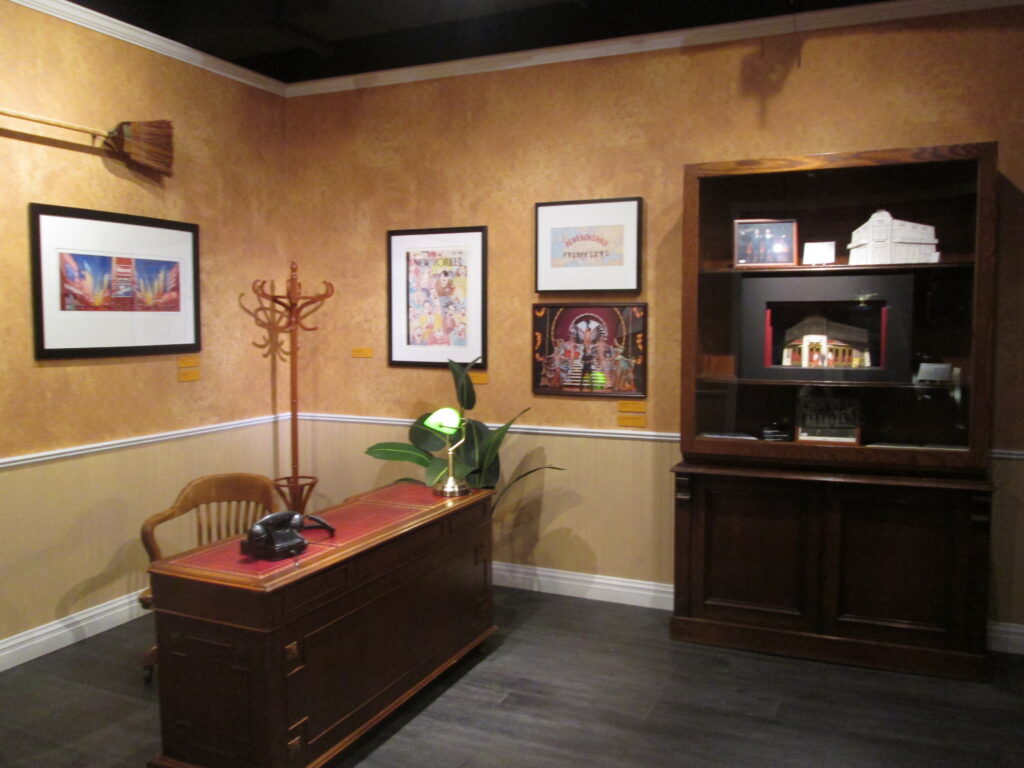 Museum of Broadway with kids
Interestingly, I did not see any kids visiting the museum. I think little ones would be bored and there are a fair amount of things like costumes that are within reach and not behind glass, but obviously you can't touch them. It would be a pricey visit for a family, and to get the most out of it, you need a good attention span.
The tidbits some of the staff members gave made it more interesting, and my friend said, "In this way, I think this part might be good for younger fans to get the basics, though I can't imagine they'd have the patience to get much out of the timeline section." There are some recordings on televisions throughout.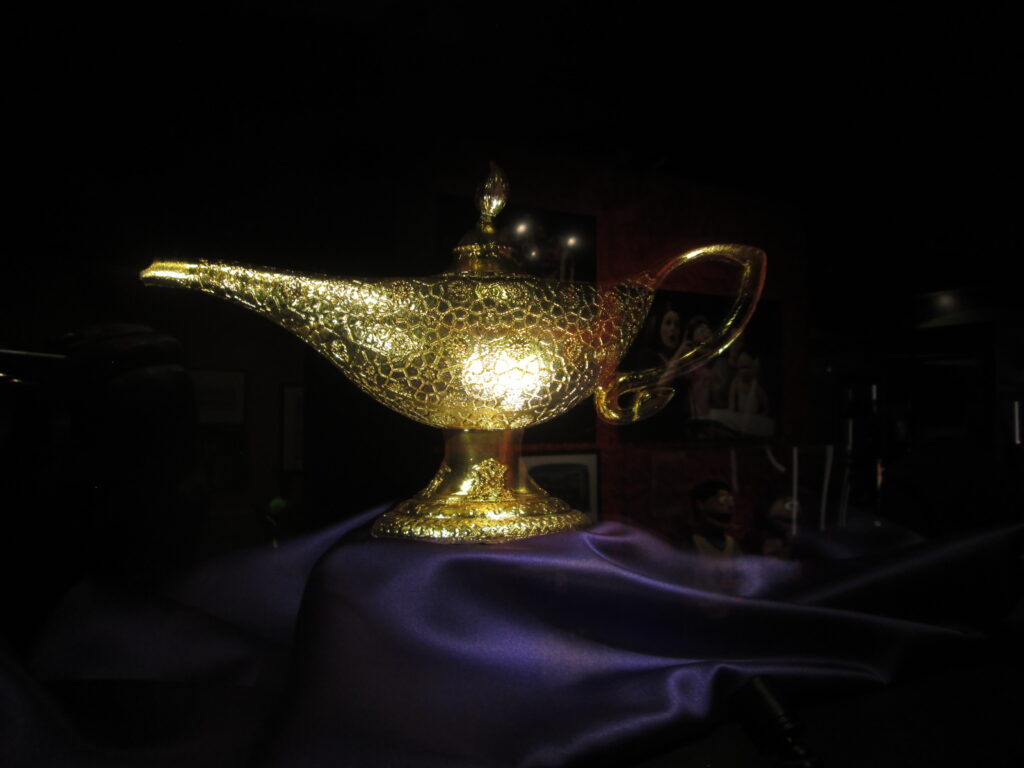 If visiting the Museum of Broadway with kids, I think the best parts for the kids are:
-The stairwell going to the top floor to start. There are interesting facts shared there about how actors prepare for the shows.
-The first floor (which you see at the end) that has information on creating the set, the costumes, the hair and make-up.
-The Wicked diorama, which is fun to look at and brings it all together.
-There were a lot of photo opps, and kids would like that.
If you go to the Museum of Broadway with kids
It's a good idea to get a timed ticket, because they may not be available otherwise. The space is tight and they definitely need to control numbers. They do check ticket times when you go (you have a 15 minute grace period for a timed ticket, or you can pay more and get a flexible ticket). If you miss your time slot, they can try to work you in, but you may have to wait. Once there, you can stay as long as you want. They say people generally stay 1 to 3 hours.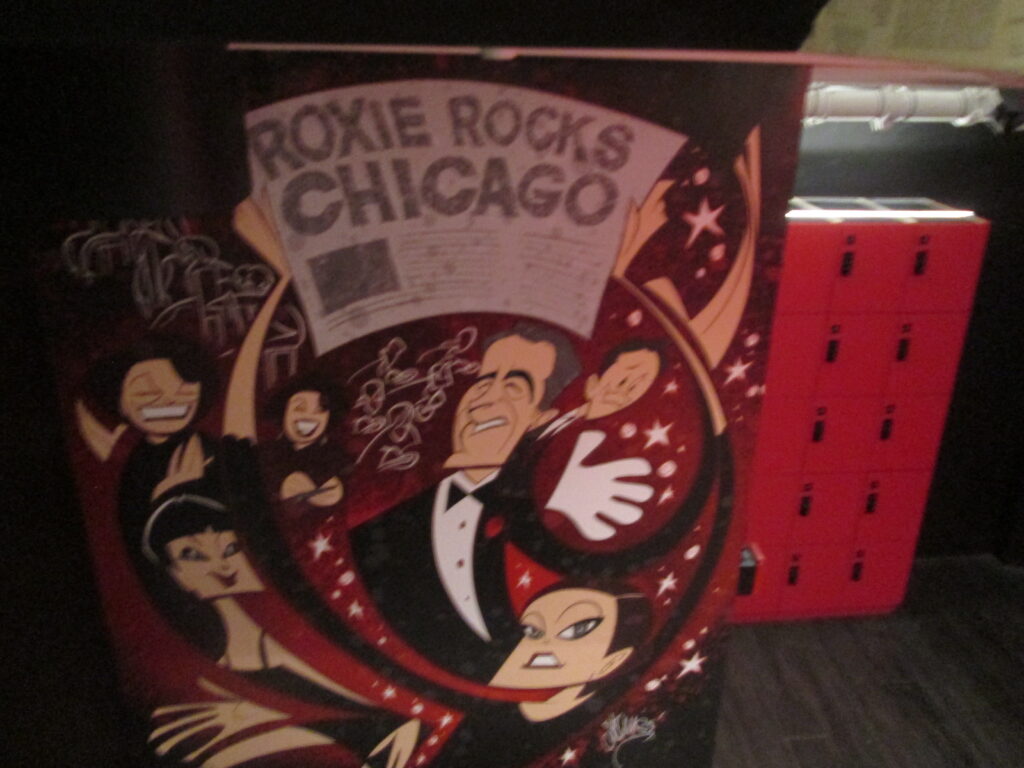 Tickets to the Museum of Broadway: Tickets start at $39. They offer kid pricing Tuesdays through Thursdays, for $33 (including the $4 booking fee). Flexible tickets cost more. Kids 4 and under are free.
Bag and coat check: They have free lockers downstairs for your coats and smaller bags – I advise using them for whatever you don't want to carry around. They also have all-gender restrooms.
Luggage: They do not have luggage storage, but here are some places you can store your luggage in NYC.
It's hard not to linger in the stairwell going down to the lockers, as it's covered in Playbill covers. My friend said it was her favorite part of the whole museum, and she could have stayed there much longer.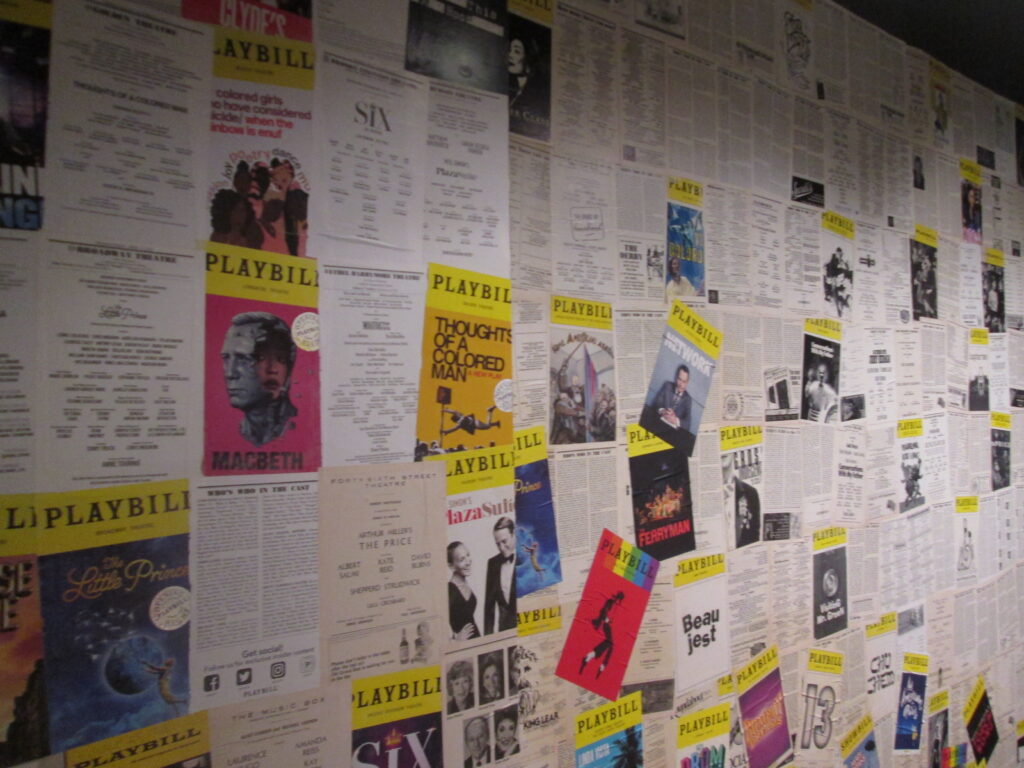 Accessibility: You must check your stroller! There are ADA-accessible restrooms on each floor and ADA-accessible coat check on the first floor.
Disclosure: We were guests of the Museum of Broadway for this review. All opinions are our own.