The Edward Hopper exhibit is only at the Whitney Museum in NYC through March 5, 2023. Don't miss it! You still have a few weekends left. If you want to visit the Hopper at the Whitney with kids, here's what you'll find.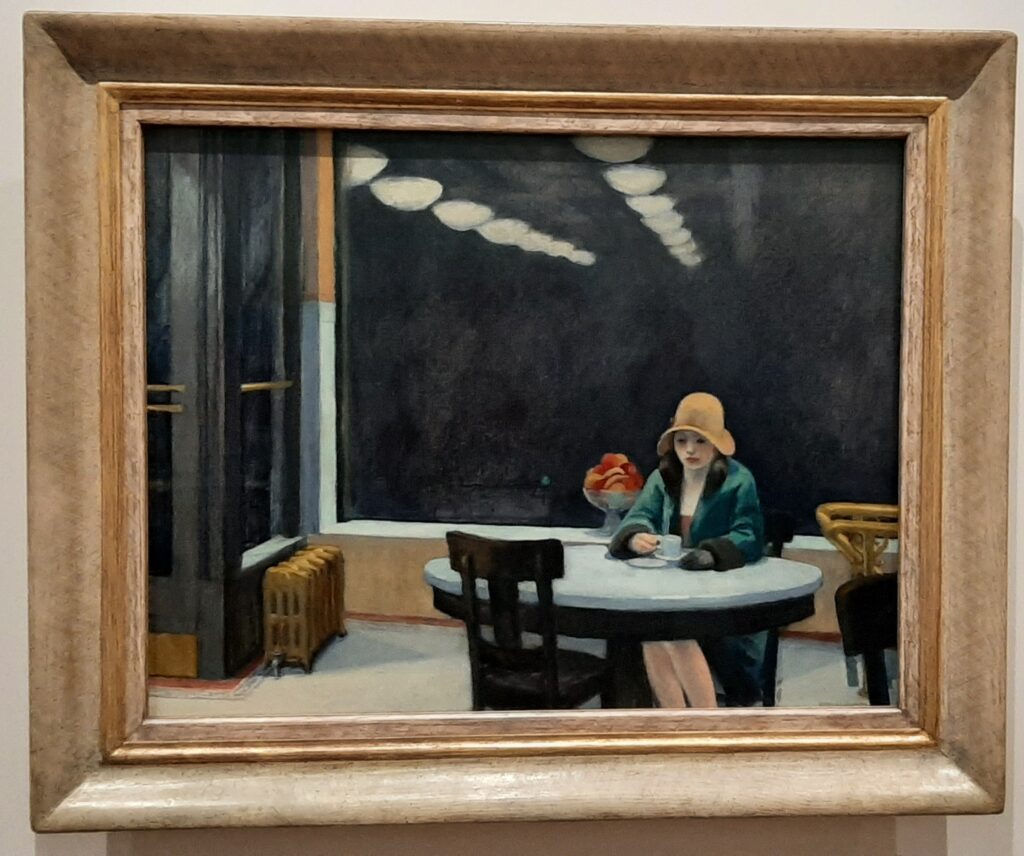 Don't forget to pick up the lovely activity guide for kids to do at the exhibit. The book will keep them more interested, with opportunities to sketch and to look at the artwork with information aimed at their age level. We saw the booklets at the coat check, but I'm sure they have them elsewhere too.
The exhibit is titled Edward Hopper's New York, so it obviously focuses on the city. There is a brief mention of his time in Paris, and some letters he wrote to his mother while there.
The exhibit starts out with his early work. Hopper is from Nyack, and moved to the city where he remained. Early sketches showed city scenes.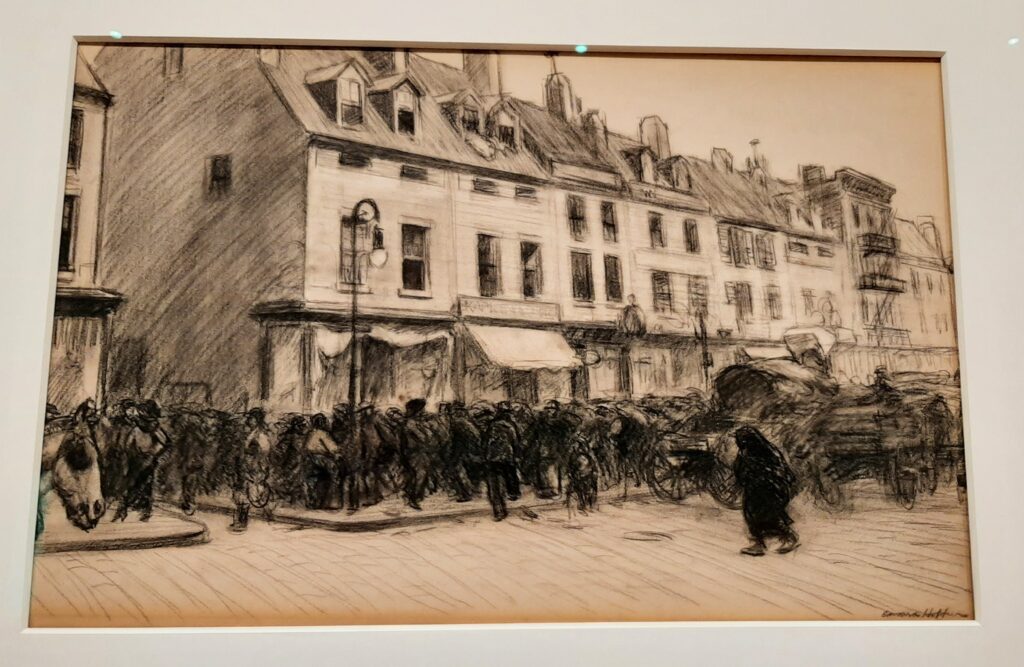 Hopper was an illustrator, which supported his artistic work initially. His work appeared inside magazines and on covers, in addition to advertisements.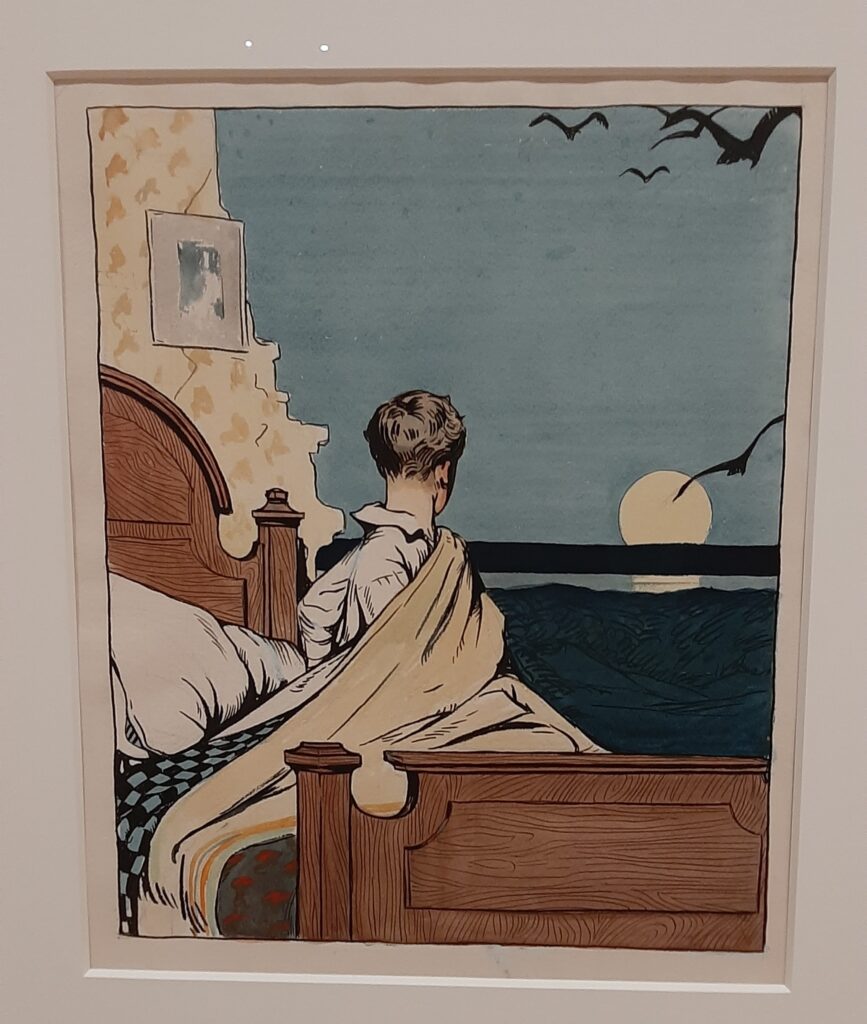 His work shows city life, not always accurately represented. Often he would sketch buildings and then create his own version. He tended to ignore the skyscrapers rising in the city, and many of the bridges too (though there was one section with some bridge paintings).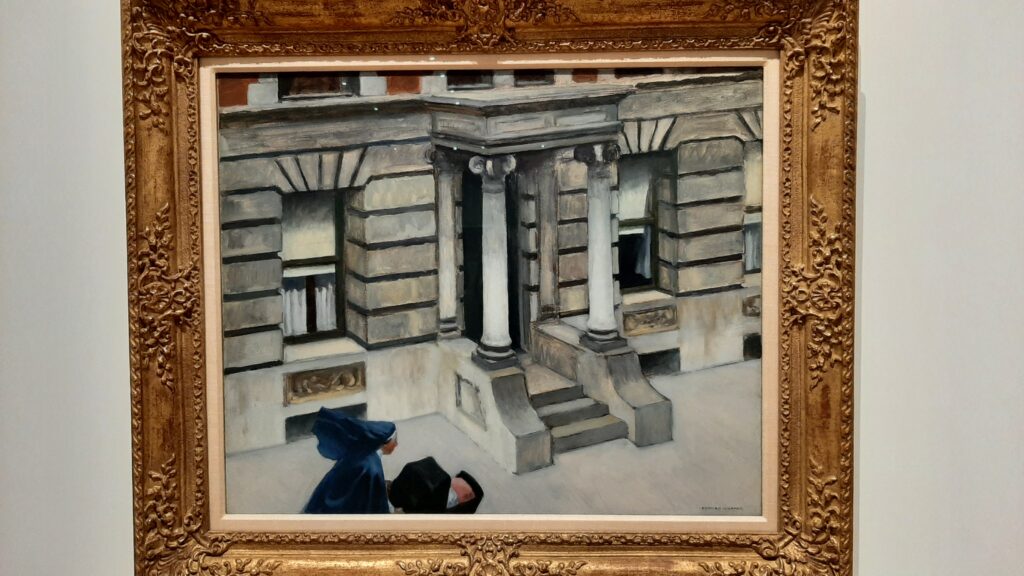 You'll see that much of his work explores windows – what is happening inside, as observed from the outside – often from an elevated subway perspective.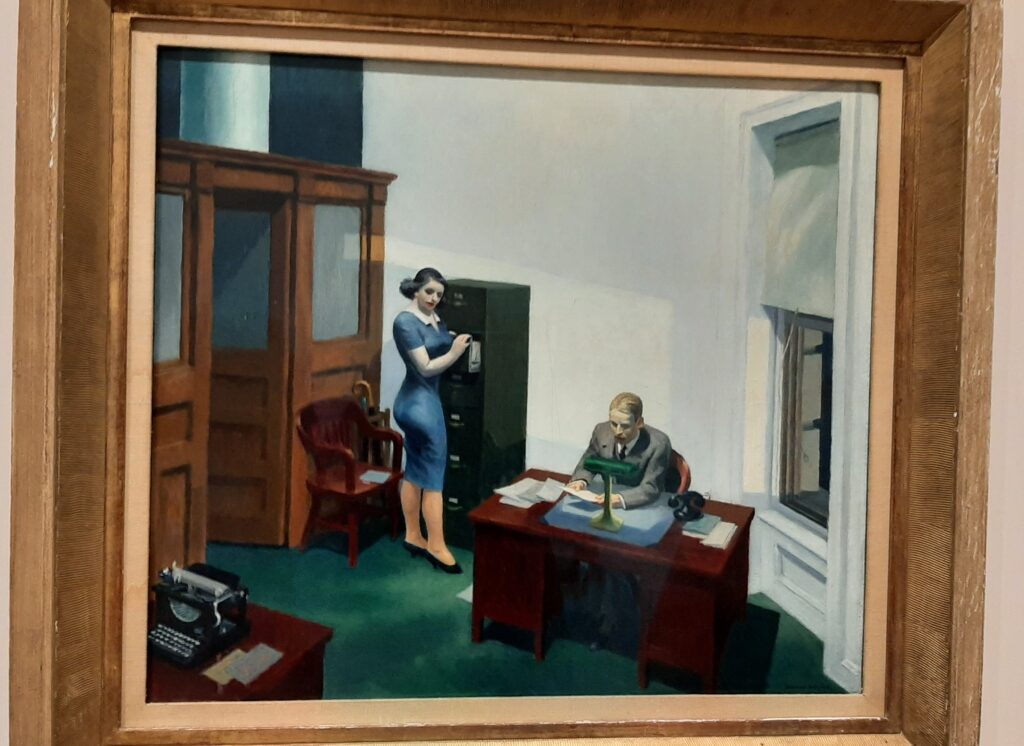 One thing I loved about the exhibit was seeing his sketches, though I wish the sketches were hung next to the finished paintings. I'd see a sketch and then 2 galleries later, see the actual painting. Seeing that progression is interesting. The painting below is based on his wife Jo, who modeled for many of his works, even though he changed her appearance in the paintings.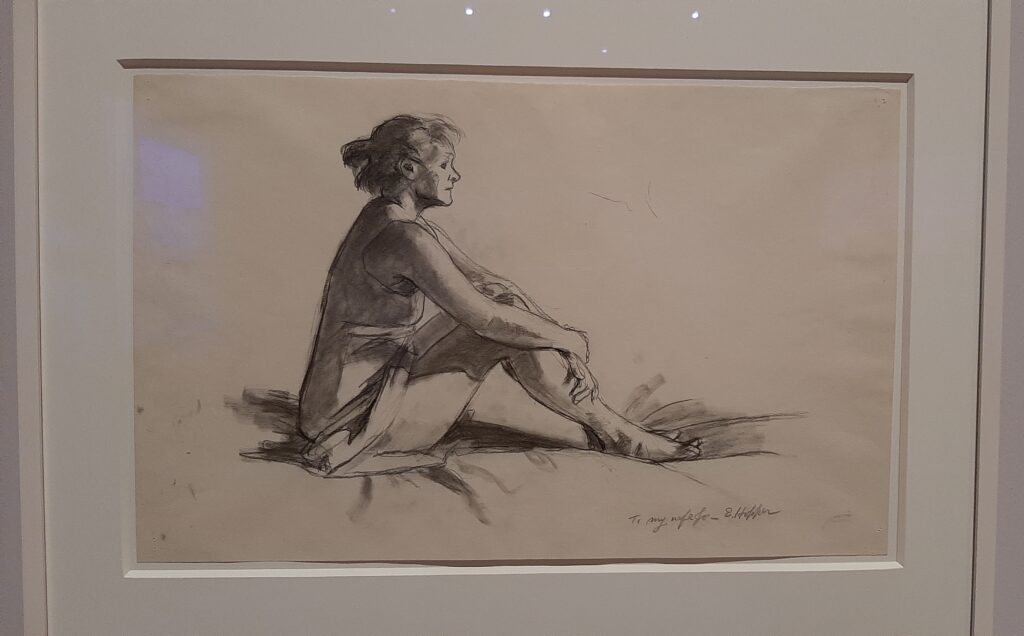 Unfortunately for the Nighthawk work below, the original was not in this exhibit. It's at the Art Institute of Chicago. The exhibit does feature many works that traveled for the exhibit.
In the exhibit we learn more about his personal life. He lived on Union Square, and it talked about how he was to be evicted by NYU when they wanted the building for administrative purposes. He was active with other artists in fighting this effort. I enjoyed some brief videos showing him working in his studio.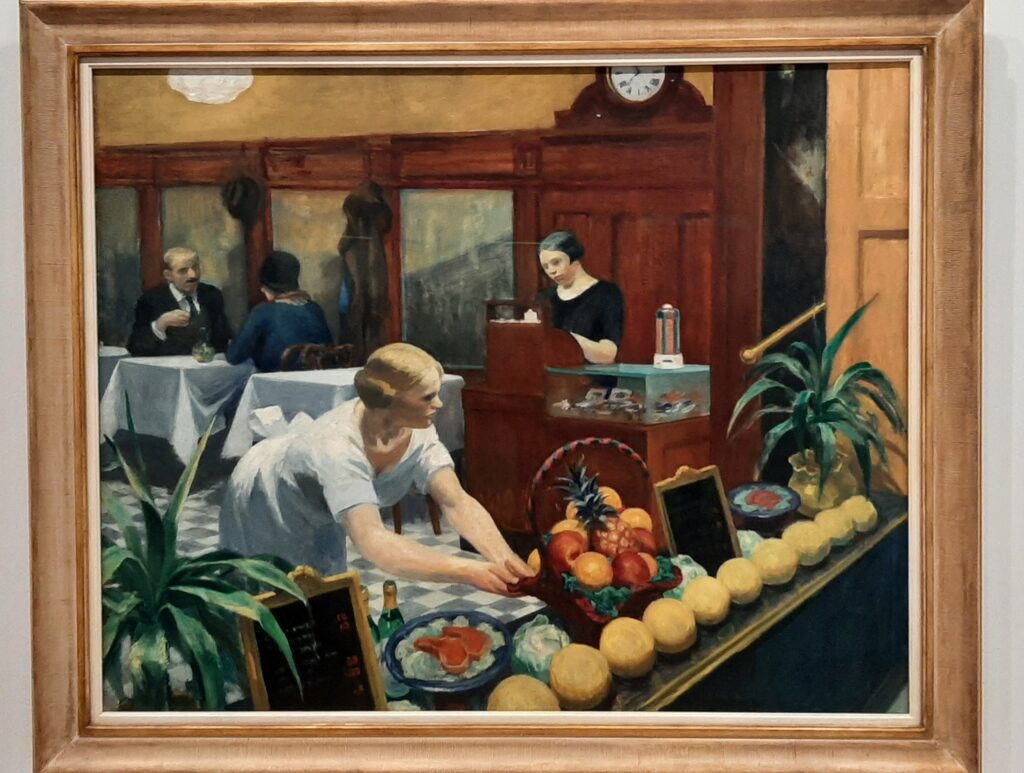 Also there are mentions of his wife Jo, also an artist. They met at an artist colony. She greatly supported his career, while still working on her own to a lesser extent. The exhibit showed a few of her pieces as well, such as the one below. See a darker side of their relationship and what she gave up in the marriage, according to this source.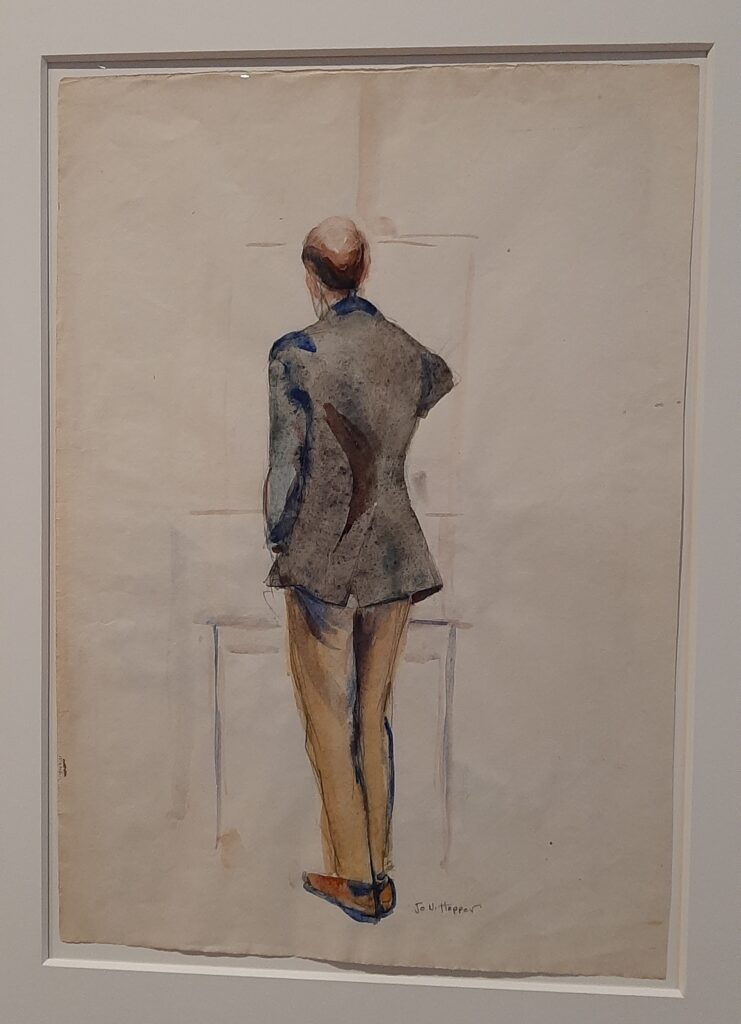 One way Jo supported Edward was by keeping careful records of the work he made, details about it and what it sold for. He did small sketches of the work in these books, purchased from Walgreens. Her handwriting is lovely.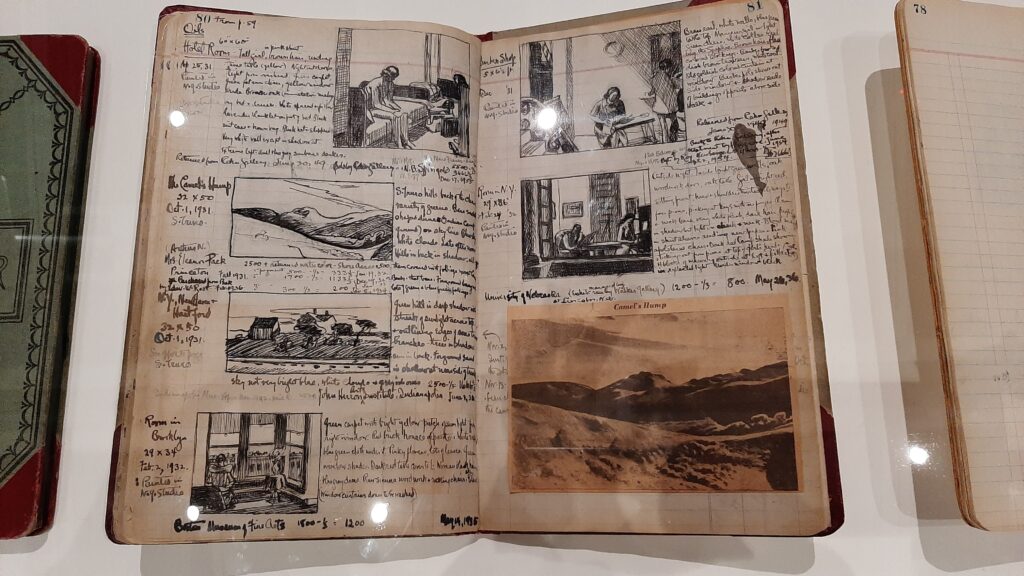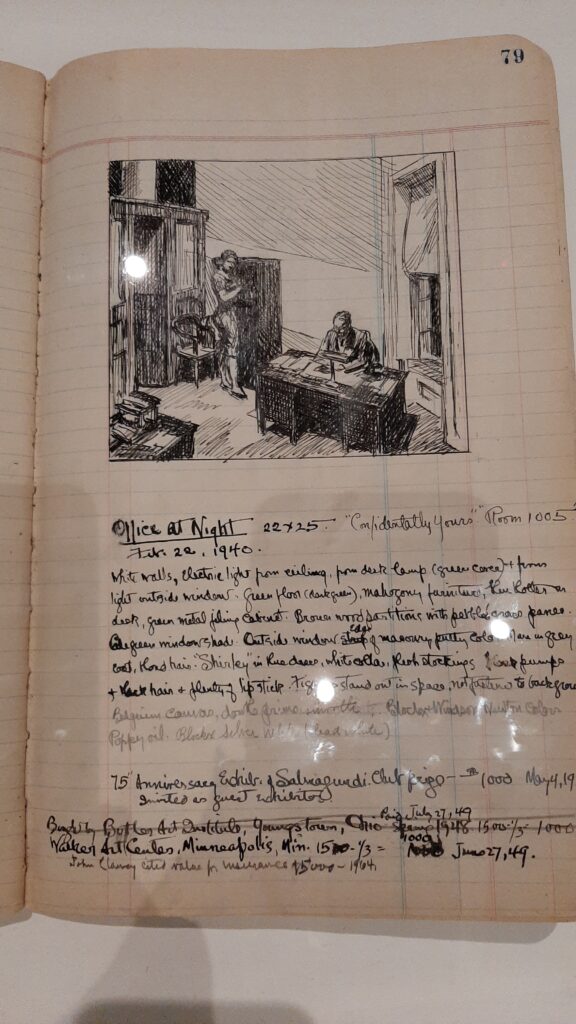 The exhibit was extensive and interesting. We spent about 75 minutes there. They have recorded information in addition to the plaques, so bring headphones if you want to listen.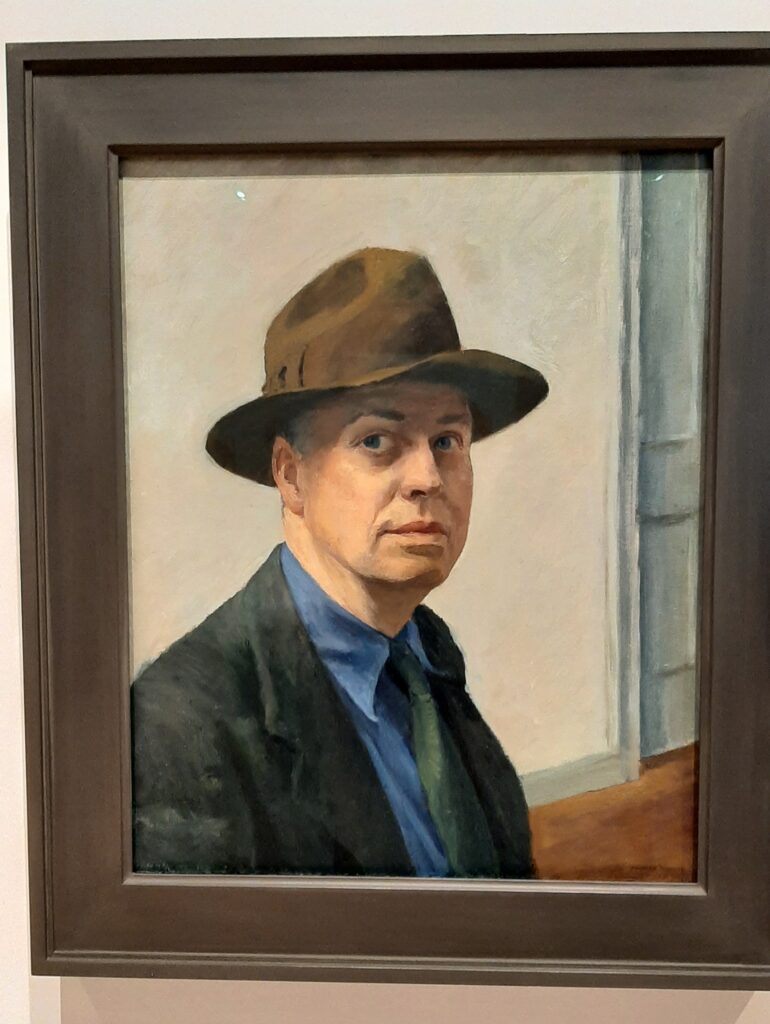 If you go to the Hopper at the Whitney with Kids
Tickets at the Whitney are timed. If you are a member, you can get in on the weekends at 9:30, before it opens to the public. That's what we did and it made a big difference. Obviously, it's better to go on a weekday if you're able. Members do not need timed tickets.
Tickets are free for kids 18 and younger. See what the Whitney offers for families.