My kid competed at the National Havoc Robotics League (NHRL) in November and has been a few times prior to that too. We went to Norwalk to watch the competition and were blown away by the experience. The NHRL with kids is awesome – they will love it and it's a great family outing.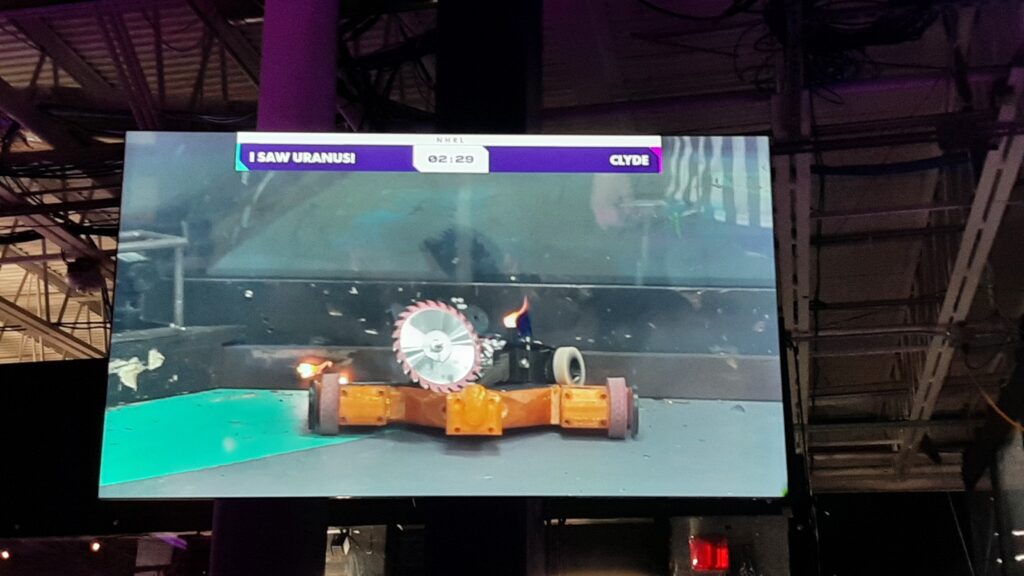 This competition featured 3 and 12-pound bots fighting each other for up to 3 minutes. The match ended if there was a knockout, a tap out (one team decides to forfeit because the bot is disabled or getting destroyed), or the time runs out and the judges decide the outcome. The November tournament featured about 100+ 3-pound bots and was a full day of fun.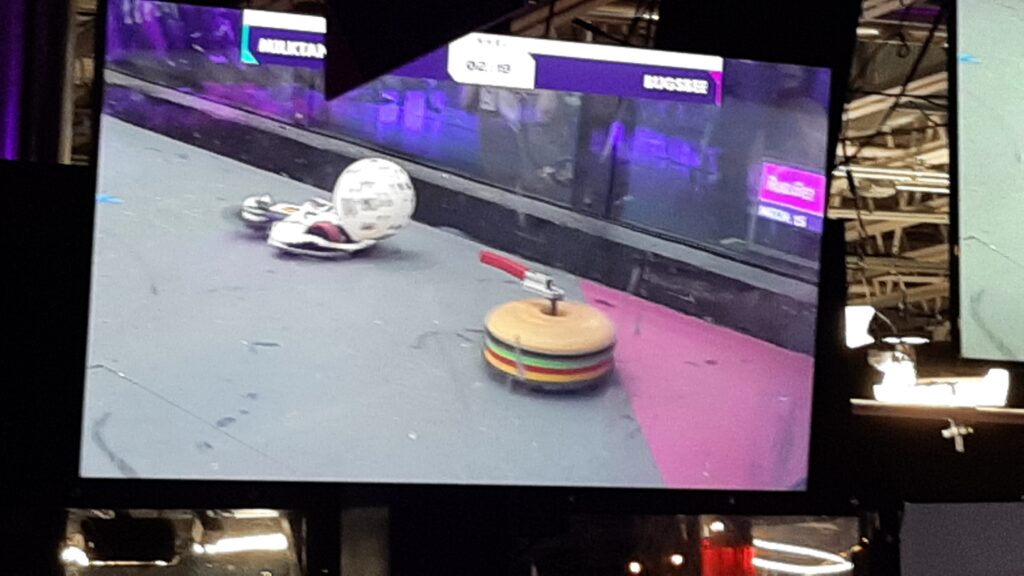 The event takes place in a warehouse-type building set up with a ton of TVs so you can see the action no matter where you are – even when outside eating lunch. They have stadium seating set up to sit and watch the 2 smaller cages (one is pictured below) for the 3-pound bots, bookended by larger cages for the 12 and 30-pound bot fights. We saw a few 12-pound bot fights while there.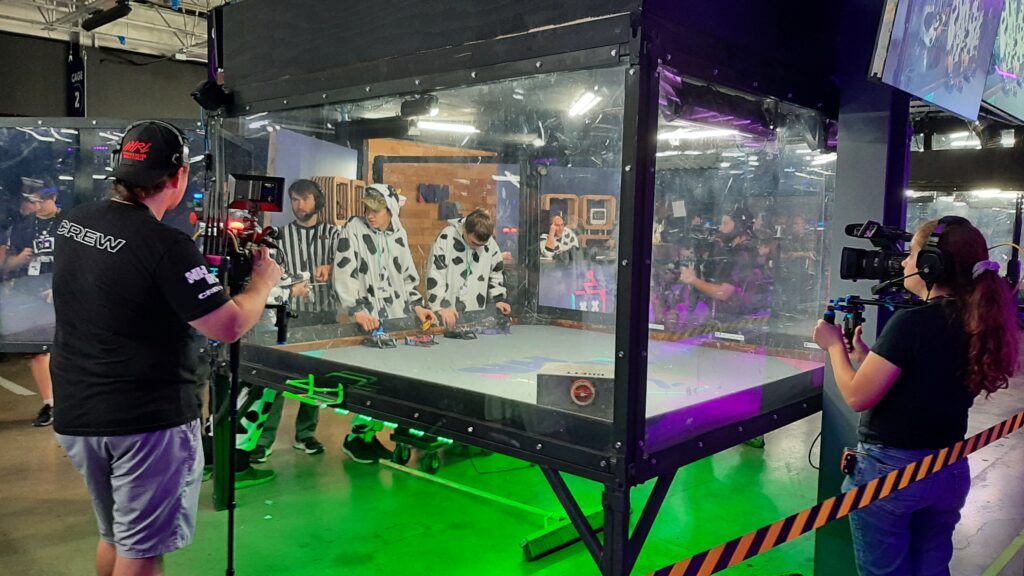 They have a huge filming staff and control room (which you can see at the bottom of the post). While your view may get obstructed by poles and camera people, there are enough monitors that you can see exactly what is happening at all times.
Competitors included kids from middle school on up, college teams (we saw WPI, RIT, Kent State and UConn, and MIT was there too I think). And plenty of adult teams. Some fly in for the events, including Brazilian teams who compete in BattleBots.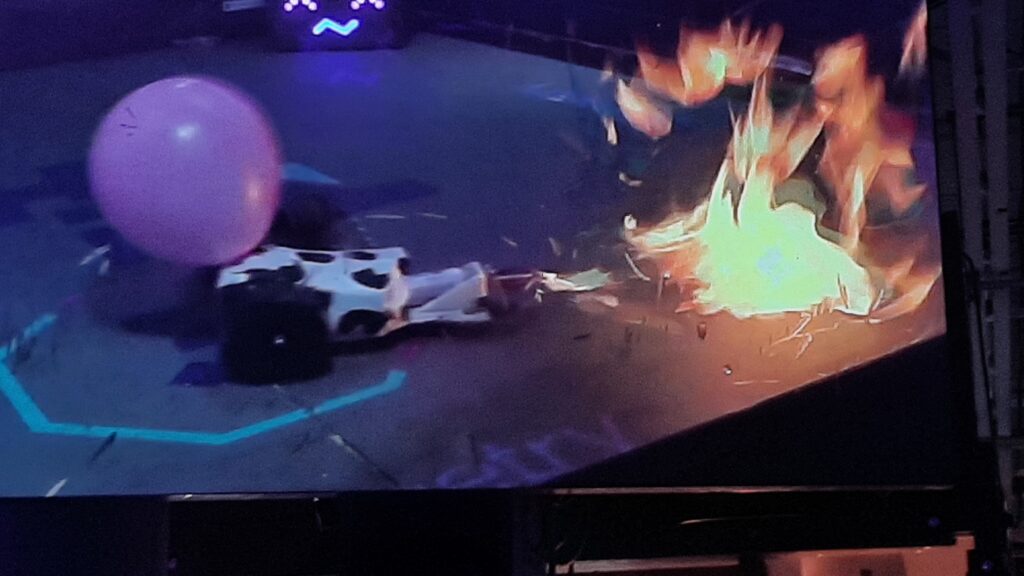 The bots were a lot of fun. Milktank had a bunch of bots there are people were dressed in cow onesies. They all had balloons on the back of their bots which spread glitter when popped. The one above also had flamethrowers. We saw a battle between Lightside (a white bot with Yoda on top) and Darkside. And another between Lightside and a bot with a dinosaur on top.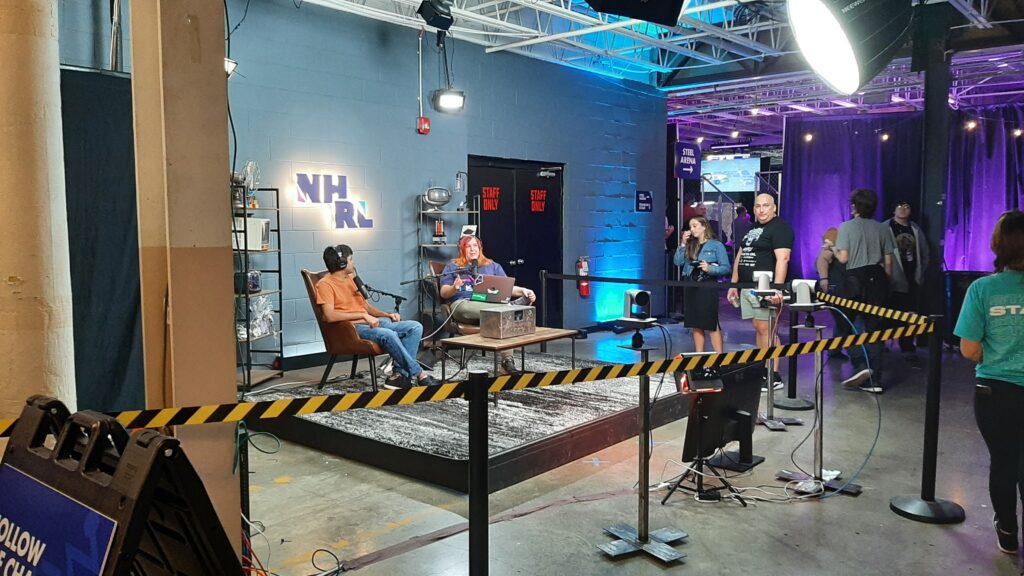 They film and narrate continuously and you can stream live or watch later on the NHRL YouTube channel. One of the commentators was Mammoth's builder. Unfortunately it's hard to hear what they're saying while you're there. It's very loud and there was actually a display with free ear plugs. So don't count on listening to the commentators while you're there.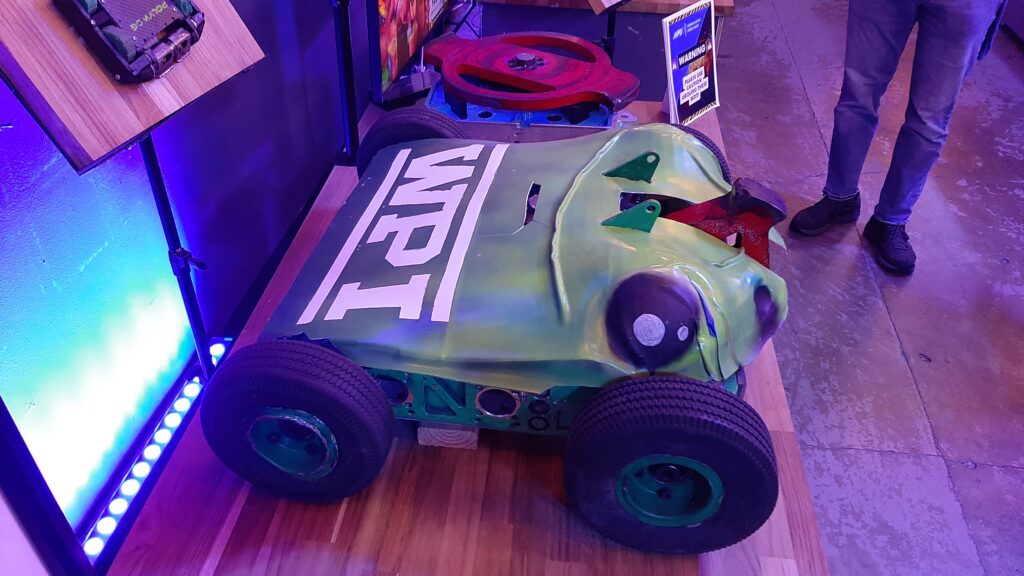 The event features a bot museum with at least a dozen robots that have competed in BattleBots. This was super exciting for this fangirl, who has been to the filming twice (missed the third time because of COVID in 2020). In addition to what you see here (Ribbot from WPI and Mammoth), we saw DUCK!, Tantrum, Slapbox, Jaws, SMEEEEEEEEEEEE and some others. They have video displays next to each bot so you can see the bot in action. They also have displays sharing information about the bots, their history, their construction and other fun facts.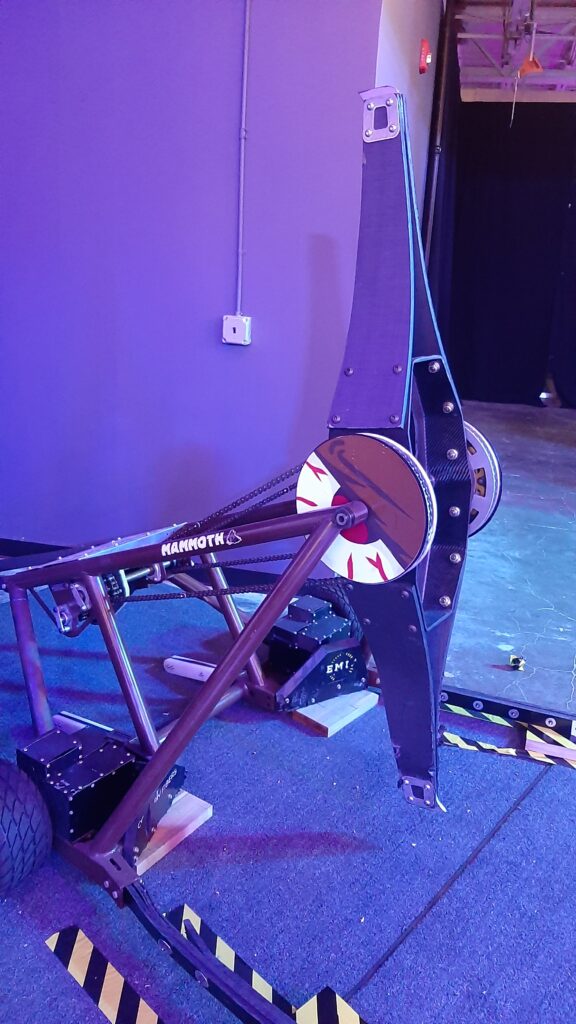 In addition to the bot information, they had a display of materials used in bot construction. The pieces were all cut out to the same size and shape, but you could feel the difference in the weight and how solid they were. And there was a display about bot weapon types. This was a fun way to learn about bot construction in a hands-on way, and good reason to visit NHRL with kids! It's educational but in a good way.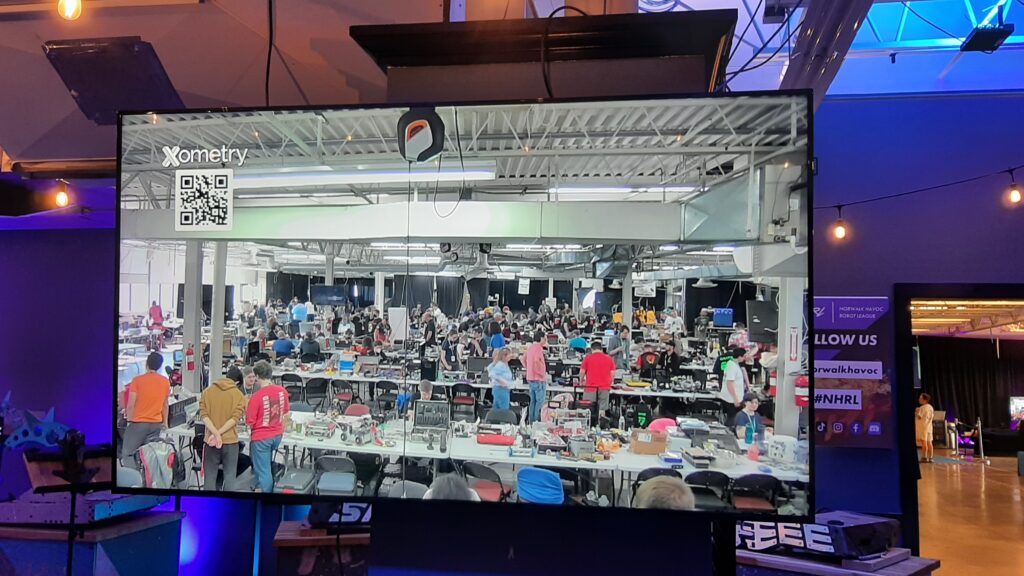 In addition to the bot museum, they had a free grabber machine like you find in an arcade to try your luck and compete against a bot – or something. There was always a line so I didn't look too closely. Outside they had an area where kids could practice driving one of the house robots. They also had a merchandise area, mostly with t-shirts but also some bot-building kits, pillows (Fight, Robot, Fight!) and a few other things.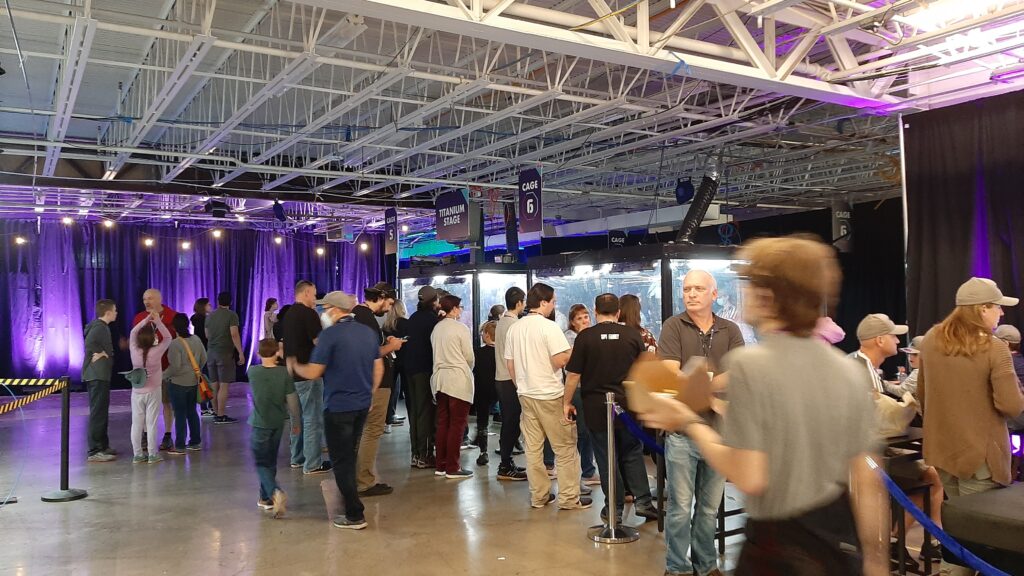 The main fight area (The Steel area) with 4 cages had bleacher seating. While sometimes it got crowded, we could always find a seat. And if we couldn't, we could watch from somewhere else as there were a ton of screens throughout. This area (the Titanium cages) had 2 cages but no seating and it was not shared on video in the facility, but you can find it on YouTube.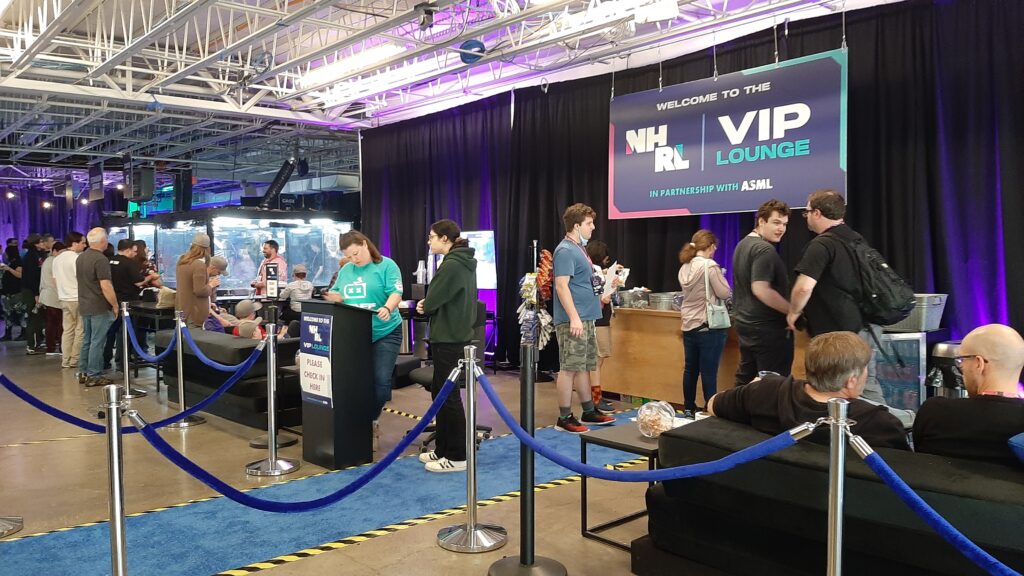 Tickets for the event start at $10 plus a small fee – no discount for NHRL with kids, but it's a good deal. You can get VIP tickets which include a dedicated seating area and the lounge above, some merchandise, a guided pit tour and in/out privileges for the whole festival for $75. You can see a promo video of the NHRL experience here.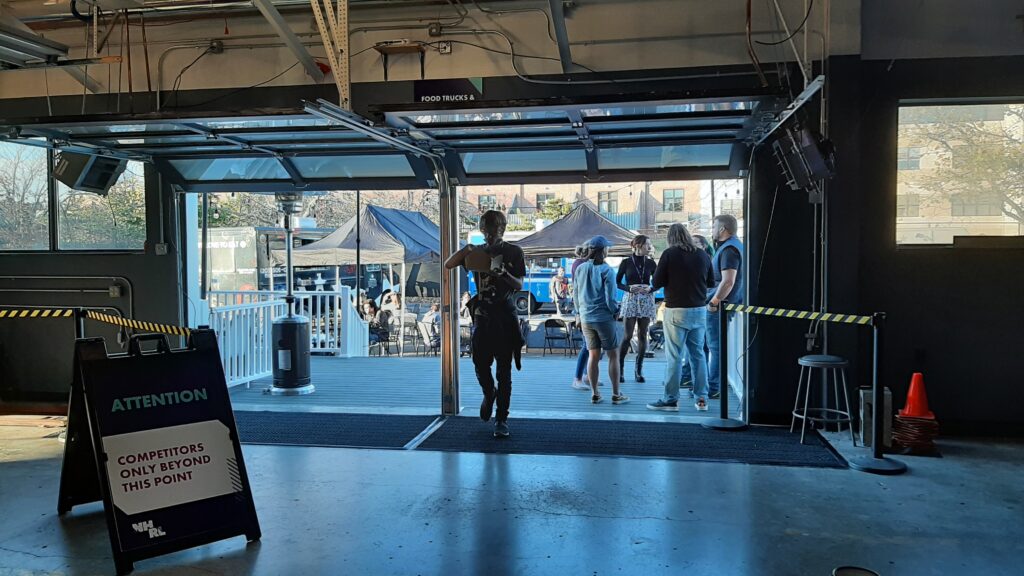 The event had several food trucks available for lunch through late afternoon. They had tents and seating set up outside, though you could also bring your food inside – there are a few cocktail-type tables to the right of the picture above, indoors.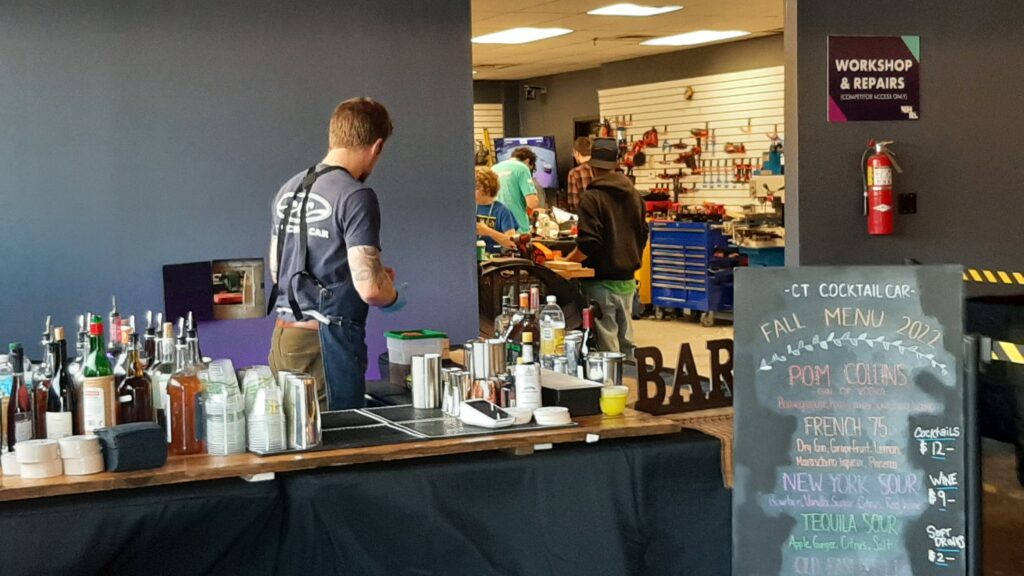 They also had a lovely bar set up with delicious-looking cocktails. I might have had one but I was the designated driver and we had a 1.5 hour drive home at night. Behind the bar is the machine shop for the competitors. They also had a local beer set-up on the other side of that yellow and black tape. My husband enjoyed the offerings there.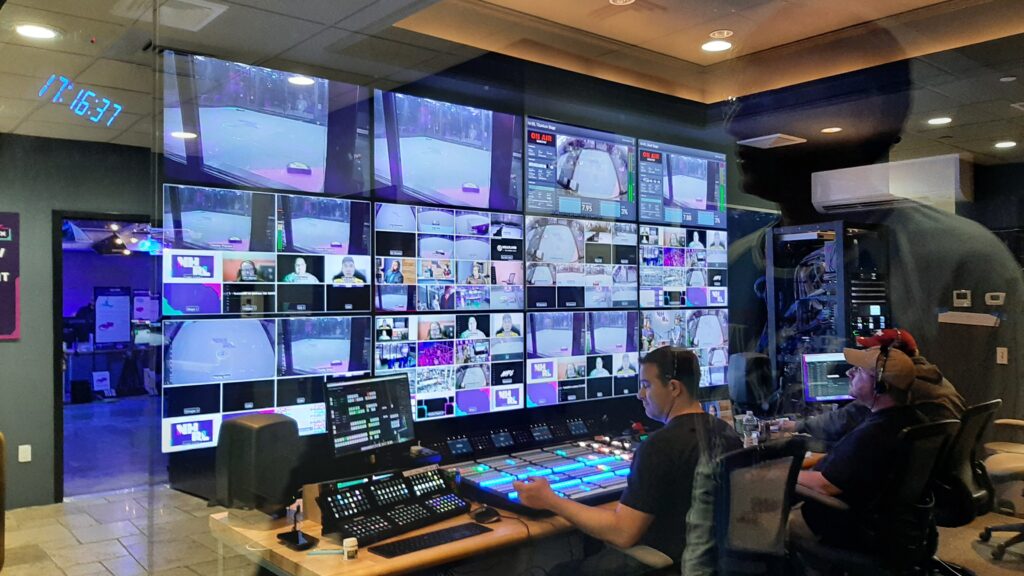 You can buy tickets online or at the door. The finals for the season are on Saturday, December 17 2022, so there's still time to go and enjoy the robot fighting. The competition runs 10 am to 10 pm and you can dip and out as you like. The facility has parking in the lot if you're there early enough, and other parking close by. They send a detailed email with information before you go. The facility is walking distance to downtown Norwalk, with restaurants and stores if you want to get out as well. The Maritime Aquarium is also walking distance and worth a visit. The link has our review.
Let us know if you go to the NHRL (we might be there too). We'd love to hear what you think.