Mardi Gras season began on January 6, or rather the Carnival season began then. I'm still learning about this! When you're in New Orleans, visiting Mardi Gras World with kids (or without kids) is a must, to see how the floats get made and learn more about the parades and history behind Mardi Gras in New Orleans.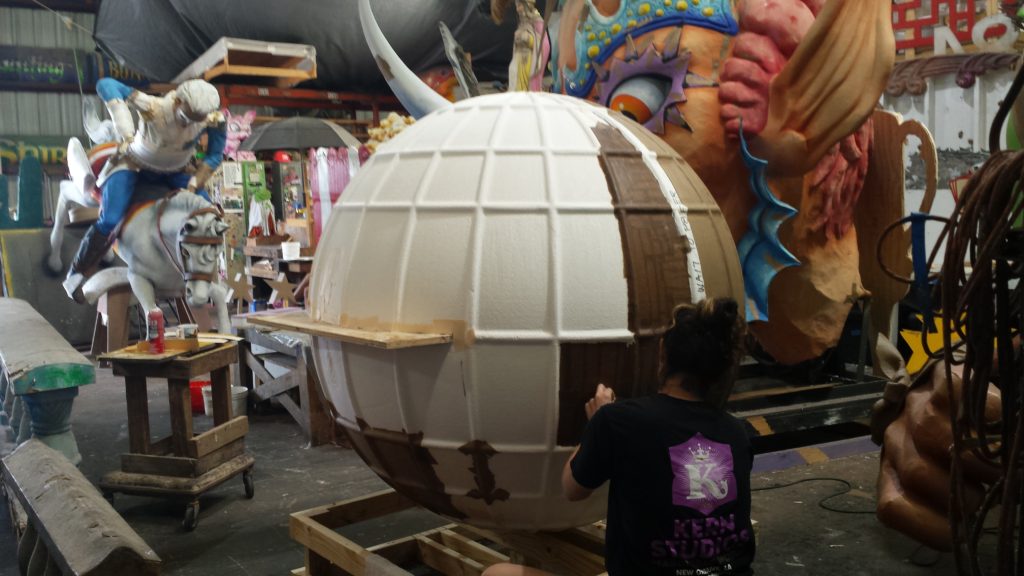 Mardi Gras History – in a Nutshell
The first Mardi Gras parade in New Orleans was in 1857. The parades are organized and sponsored by krewes, which is just a different spelling of crew, and meant to have a mystic flavor. Mardi Gras is a single day (in 2020 it's February 25), as it's 47 days before Easter. Twelve days before Mardi Gras, the parades start. In all, there are 60 parades in those two weeks, each organized by its own krewe. The krewe also sponsors a private ball.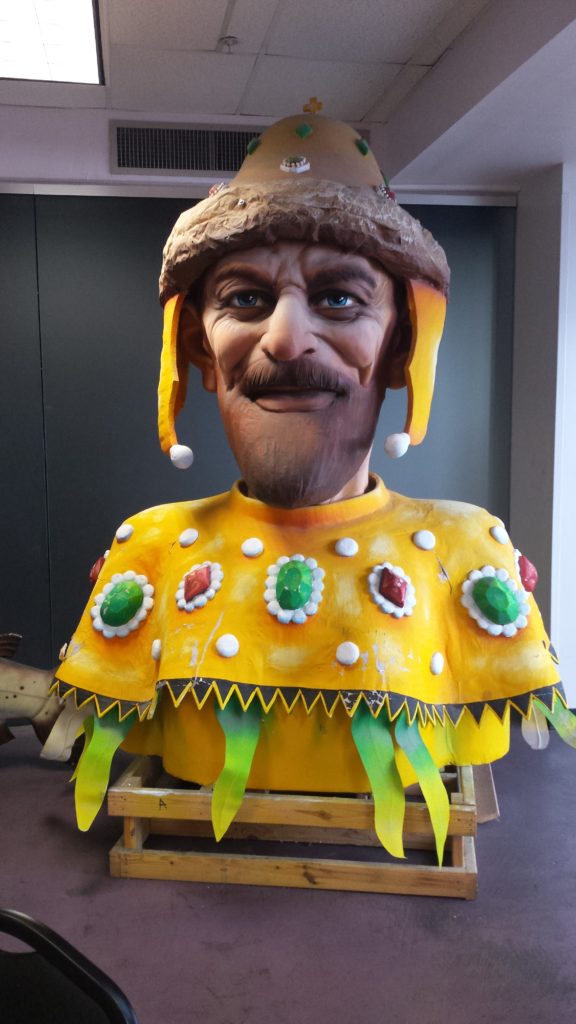 What's a Krewe?
Krewes are nonprofit social organizations with goals to spread joy and have fun (according to our Mardi Gras World tour guide). Krewe members pay $300-1,000 each to be part of the krewe, and the parades and floats are not allowed to have corporate sponsors, according to city rules. Krewes include 400 to 3,000 people each, bringing in $3 million in membership fees for some. Kern makes floats for 17 of the parades, and for a majority of the super krewes.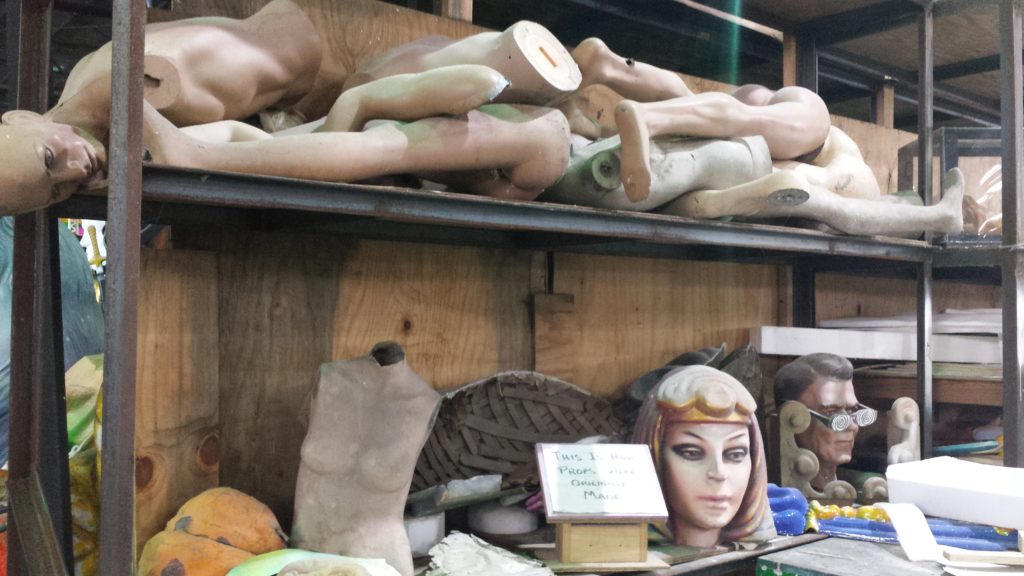 The Kern Role in Mardi Gras
Mardi Gras World is one of the 12 warehouses and spaces Kern works in, though you just tour one of them. Kern has been making floats and props since the 1930s. Blaine Kern started as a sign maker in Algiers, across the river. In the old days, the floats were pulled by mules. In 1968, he cofounded Bacchus, one of the "super krewes." The company now decorates 500 floats a year, making props (the items on the float – pictured below, for example).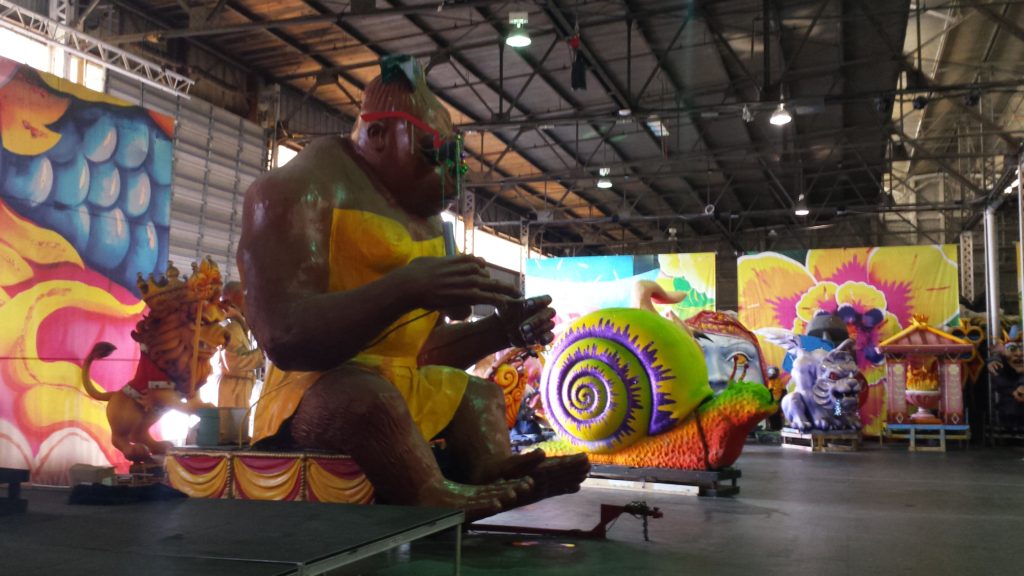 Prepping the Props
Krewe captains determine the themes, and the Kern artist sketches a rough design in black and white. Then it's sketched in pen and ink, and finally in color. After approval, the design is fabricated. The older ones are made with fiberglass molds, which cost five times as much to make and are harder to modify. After the prop is made with the mold (or with the Styrofoam – see below), they are covered with strips of paper mache (you can see this in the top photo). The paper mache primes the prop for painting. The strips are hand-applied in 2 to 3 inch strips, and this is the longest part of the process. If you look carefully, you'll see someone in the foreground doing this.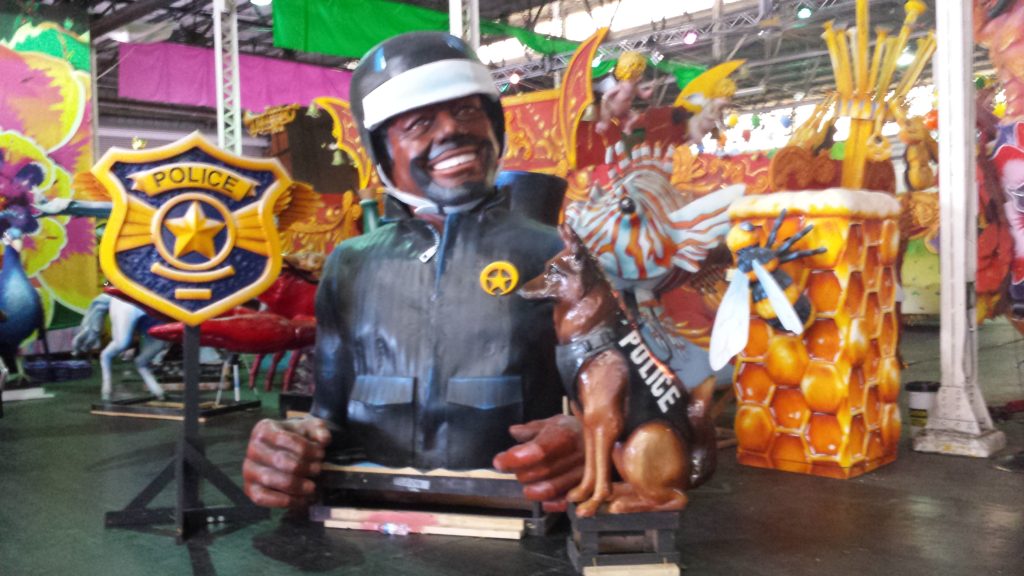 Repurposing Parade Props
The props are repurposed. The one above, the police officer and dog, used to be Jimmy Carter. They've converted heads from Elvis to Elton John, using a basic 1980s model for a male head. They rely on a basic shape, not an exact match. The male head has been used simultaneously for a Greek god and Darth Maul. They turned Hulk Hogan into a gold miner, and then a coal miner. They turned FDR into Steven Spielberg and then into Wild Bill Hickok. At any given time, they have 50-60 bodies available, and hundreds of heads.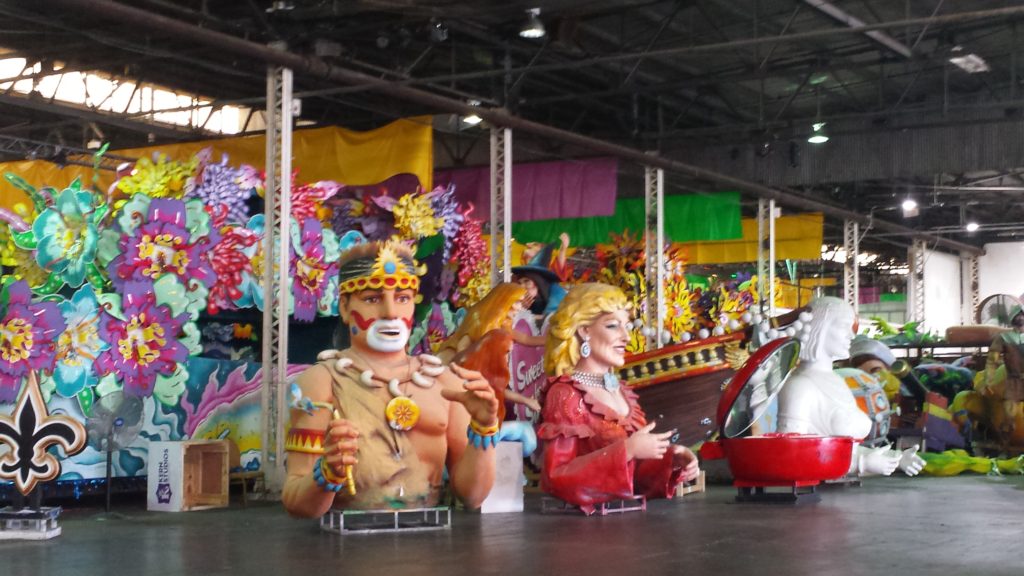 Making a Parade Prop
The newer props are made from layers of Styrofoam. They're glued together and then cut out, using this robot below, which sculpts the prop. The Styrofoam model is hollow inside, and very lightweight. The paint they use is inexpensive exterior household paint – sturdy enough to last through the elements, but not something they'd want to leave outside permanently.
Making Floats for More Than Mardi Gras
Kern makes props for more than just Mardi Gras. The most famous prop is the Chick-Fil-A cow. They make props for Universal Studios in Florida, and Six Flags too. And for the NYC Pride Parade – six floats. M&M World in NYC also sports some Kean M&Ms.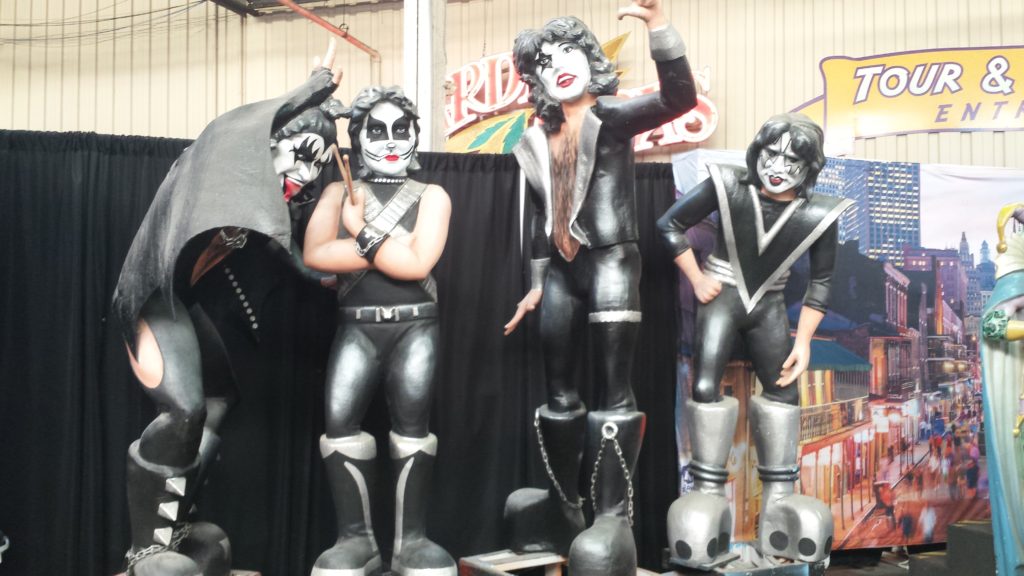 Kean has 20 artists on staff, and 40-50 employees overall.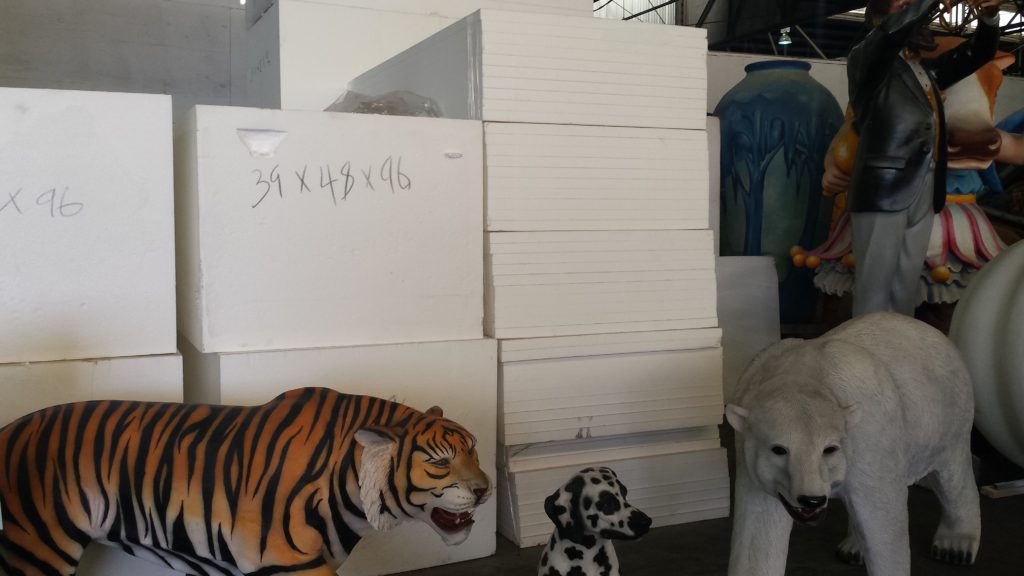 How Much are Mardi Gras Parade Floats?
Kern stores some of the floats (like Harry Connick Jr's Orpheus floats), and the structures can be reused. 75-80% of the inventory needed for new props is already in stock. While Kern owns the props (the krewe rents them), the krewe owns the float structure, which costs $50,000-60,000 new. To repaint and clean a float up for the next year? That costs $25,000-30,000. Total costs of parades can run six to seven figures.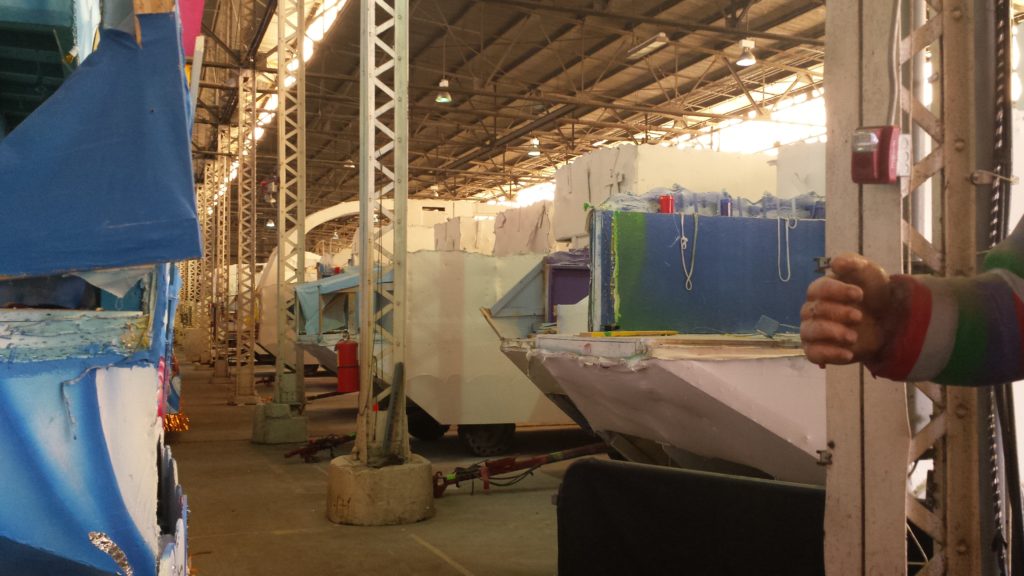 Defining a Mardi Gras Parade Float
Parades can have a maximum of 32 floats, though the units can be attached to keep the 32 number. So the float below which looks like 2 floats, is actually just one, because it's pulled by one tractor. The guide told us that one parade had 87 units! To be an official Mardi Gras parade, they need a minimum of 14 floats and 9 marching bands. Many of the marching bands march in multiple parades.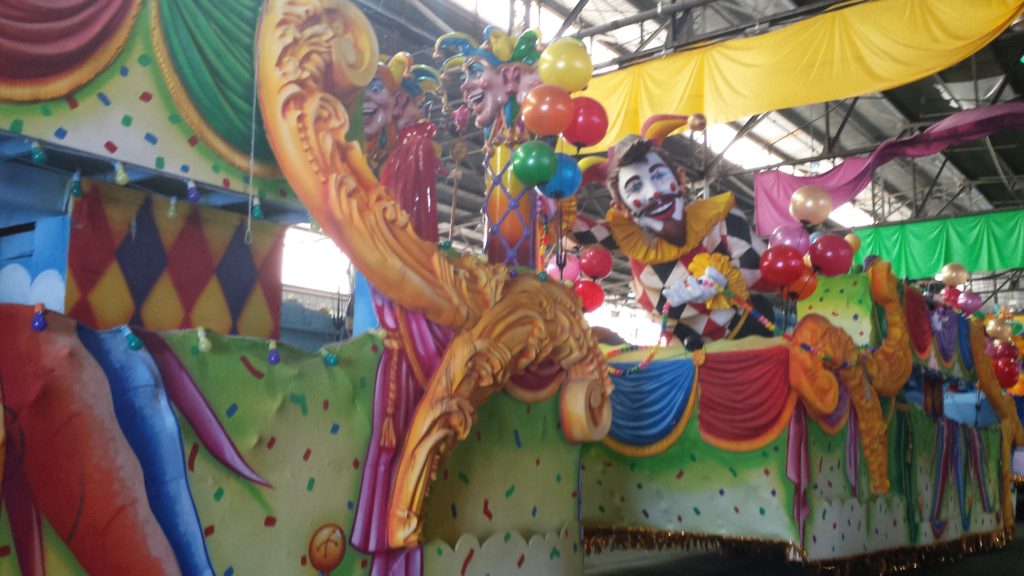 Riding on a Mardi Gras Parade Float
Those riding on floats must wear masks. Each rider is also harnessed in. The float has a PortaPotty on the float, as the riders can be on the float for six to eight hours at a time! The routes are six miles long (parade walkers and marching bands cover this by foot). The krewe membership fee usually allows you to ride on the float, and may include your costume. But it probably doesn't include all the "throws" – the beads and other items tossed out to parade goers. That cost could be an additional $400-$2000. Native Americans have had their own parades since the 1800s, though they don't have floats.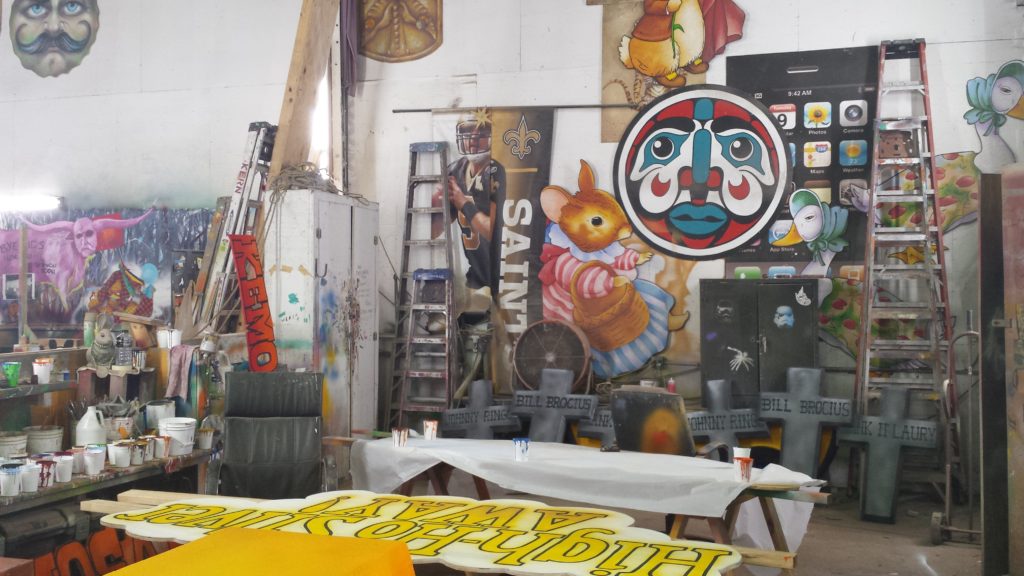 The parades in total throw around 2 million cups and 2.5 million beads each season, plus toys and stuffed animals – with giveaways costing billions of dollars a year.
To read about Mardi Gras as a tourist and a local, this Washington Post article does a good job. There's a good five minute video in there too.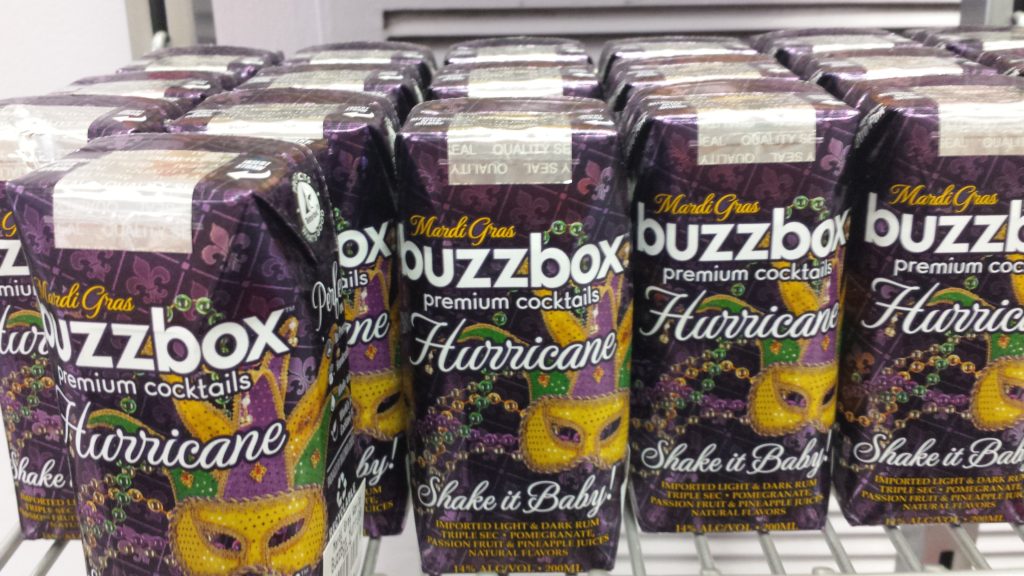 Mardi Gras World With Kids – if you go
Mardi Gras World is at 1380 Port of New Orleans Place in New Orleans. It's in the central business district at the south end of the convention center.
Getting to Mardi Gras World with kids: They operate a free shuttle, which I highly recommend. They have a regular route, but not regular pick-ups, so call them for a ride at 504-361-7821. You can see the Mardi Gras World with kids map here.
Mardi Gras World Hours: You can go to Mardi Gras World with kids 7 days a week, and it's open 9-5:30. Tours are every half hour and last about an hour. Just check the schedule before you go, to make sure. Mardi Gras World is closed on Christmas, Thanksgiving, Easter and Mardi Gras Day. They close early on Christmas Eve and the Saturday-Monday before Fat Tuesday.
The Mardi Gras World tour: Going on the tour of Mardi Gras World with kids lasts about an hour. They gather everyone up in the gift shop before each tour starts, every half hour. You don't make advanced reservations for the tour. The tour was stroller-friendly. There's a film screening with history about Mardi Gras in New Orleans, and the Kern involvement, which is maybe 15 minutes, in a separate room. It's a good film. The guide then serves you some King Cake – a staple this time of year. They also have free bottled water. After a few questions, you'll head to the workshop area to see how the props are made, and you'll walk around some of the completed props on display. You'll have a chance to see parade floats too. What you see depends on what they're working on, and the time of the year. At the end, they bring you to an area where you can pose with some of the props and you can also go back and take pictures with others. Ask for the shuttle in the gift shop, and they'll arrange a return trip for you (no cost).
Looking for other things to do in New Orleans? Check out the World War II Museum with kids.