Should you go to the National World War II Museum with kids ?
New Orleans isn't a city you generally think of when you think of World War II. But the city is home to the country's official WWII museum. Why? Because the Higgins boats were made here. These boats were credited with winning the war (according to President Eisenhower), because without the boats that could land over ocean beaches, they'd have to rethink the entire war strategy. In September 1943, more than 92% of the U.S. Navy boats (12,964 of 14,072) were designed by Higgins Industries, and 8,865 were built in New Orleans. By the end of the war, about 20,000 boats were built in New Orleans at 7 Higgins plants.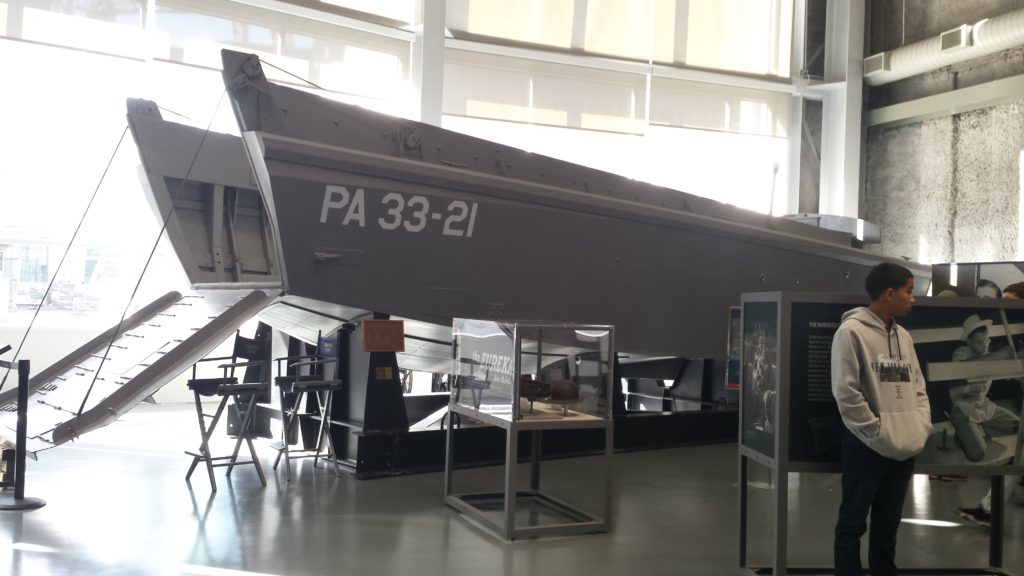 You'll see one of these boats in the main gallery where tickets are sold. Also in the gallery, a dress-up area where you can pose as Rosie the Riveter (they have some male costumes too) and take a picture, like a bomber jacket and helmet.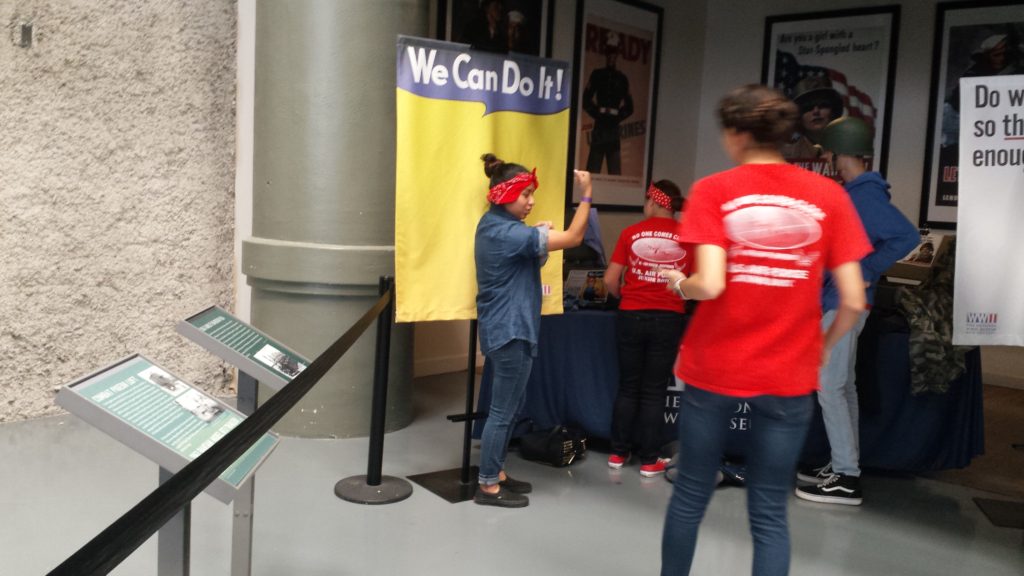 Before you start your museum exploring, they recommend taking a train "ride" on the L.W. "Pete" Kent train, like you're a new recruit to the war. On this stationary ride, you'll learn a little about the war and the museum, and you'll be given a dog tag on the way in.
The dog tag experience
The dog tag is plastic card with a dog tag picture can be used at various dog tag stations in the museum, to learn about a specific person's war experience. This is an interactive element that will engage the kids. The WWII museum dog tag information is available to you online, so you can revisit it when you get home, by typing in your dog tag number or the email address you used to register.
For example, in the train I learned about my soldier's (Jack Bradley) early life. In the atrium, I learned about his flight training at Hamilton Field. At the Desert War exhibit, I learned about his combat operations in England. In the Northwestern Europe and the German Homeland exhibits, I learned about his combat operations in France and Germany. In the museum store, I learned about his life after the war. I could "collect items" like various planes he flew, his flight jacket, his gun camera and his flight helmet.
The Boeing wing
The National World War II Museum displays a number of planes. You can't go in any of them (one is cut open for a view inside), but you can see them from walkways on three levels. It's interesting to see the various planes up close, including where the pilots and bombers were stationed, how the planes were decorated, and size comparisons. There's also an exhibit of uniforms various crews wear. This wing has the Final Mission: USS Tang Submarine Experience. This an add-on exhibit ($7), a 15 minute interactive experience. From the museum website: "Final Mission: USS Tang Submarine Experience is both intimate and personal—accommodating 27 visitors per "patrol." Each will receive a "watch bill" representing a specific Tang crewmember and many will be "enlisted" to perform specific tasks to navigate through the battle. At the end of the experience, they will discover if they were among those lost or one of the few who, after a harrowing ordeal at sea, suffered on in Japanese captivity."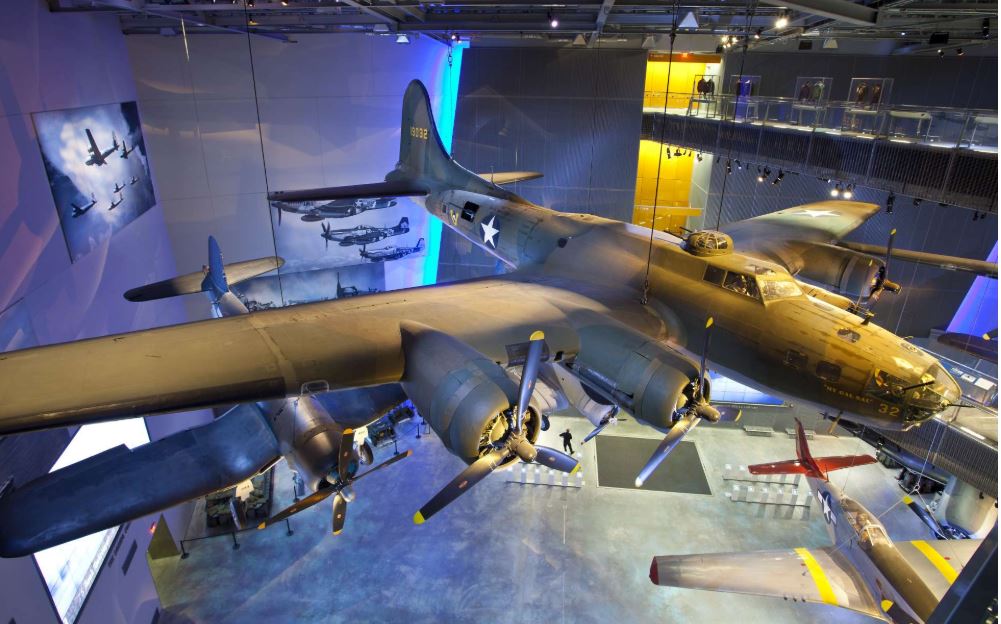 Beyond All Boundaries
This 4D "journey" is a movie with some added effects (like props coming down from the ceiling and up from the stage floor, flashing lights, sudden chair movements, fog effects and snow). The experience takes about an hour, and provides a good introduction to the war. The museum does not recommend it for young kids, and I'd agree. It's a $7 add-on (free for WWII veterans) and the tickets are timed.
Exhibits to see at the National World War II Museum with kids
There are a number of themed galleries, and you won't make it through them all in half a day (our time-frame). Each exhibit (Road to Berlin, Road to Tokyo, the Arsenal of Democracy, the D-Day Invasion of Normandy, US Merchant Marine Gallery and Bayou to Battlefield) contains life-like displays with large artifacts, dramatic scenery, some touch-screens, short films, dog tag experiences, and other interactive elements. My teen son, who is not interested in war-time history, found the displays and presentation engaging and well done.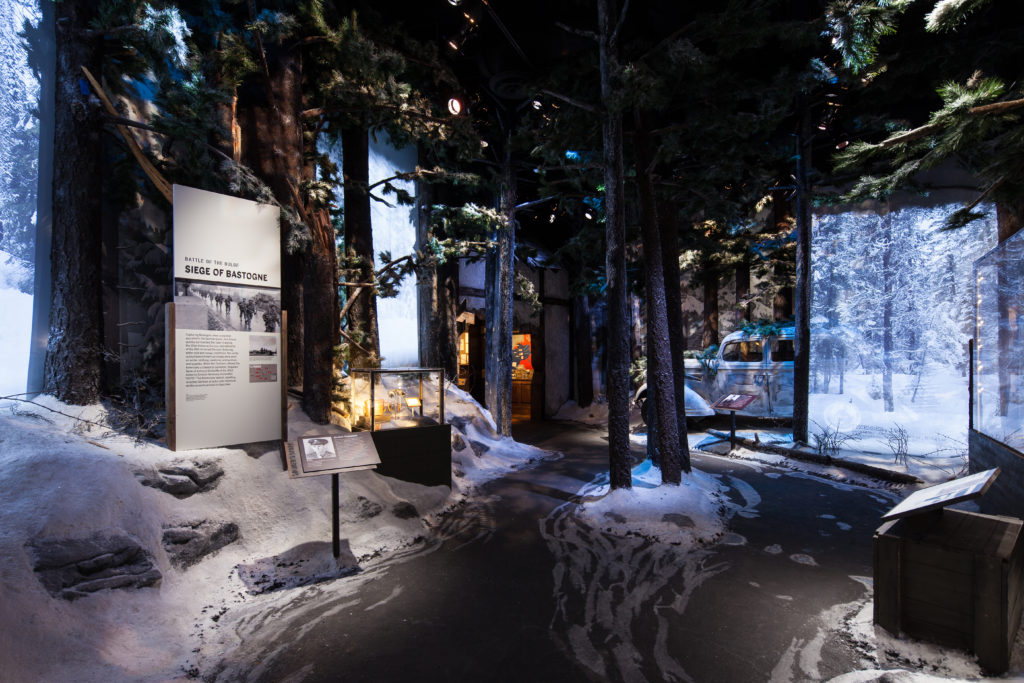 Somehow we missed the Arsenal of Democracy: Salute to the Homefront exhibit, which would be a great one for kids. It covers the experience of war from the United States home perspective. It covers the political discord at home prior to the war, what the Pearl Harbor attacks were like at home, and mobilizing people and manufacturing in the U.S. Some of the galleries have a recreated news stand, a typical home interior from the 1940s, a factory floor, and all these contain narratives are artifacts. I think the kids could relate to this exhibit.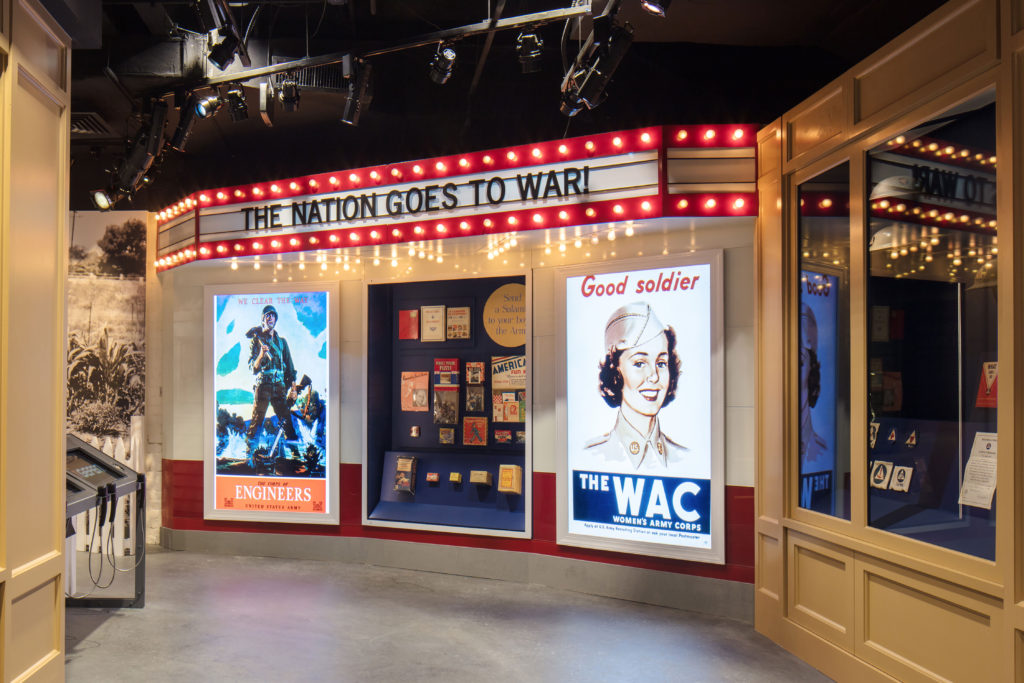 Special exhibits you should see at the National World War II Museum with kids
The museum has a special exhibit hall. Currently there's an exhibit on the capture and trial of Adolf Eichmann, a Nazi war criminal in charge of the logistics for mass deportation of Jews to the ghettos and extermination camps. The exhibit shows how the Israeli Mossad found him in Argentina, captured him, and brought him back to Israel. It's a good exhibit for older kids.
Dining at the National World War II Museum with kids
The museum has a few dining options. There's a lovely full-service restaurant called the American Sector with a good-looking menu. There's a fast-food type restaurant open to the street, called the Soda Shop (breakfast, lunch, snacks). It's adorable and the kids would love it there. In fact, some touring teens said it was great when they overheard us talking about food options. While I decided to continue touring while my family ate, they said the food was fine (overpriced and small portions), not surprising for a museum. BB's Stage Door Cantina offers meals and entertainment on weekends and some Wednesday evenings.
National World War II Museum with kids: Planning your day
The museum is huge, so keep that in mind when planning out your day, and I recommend doing some research before you go, to pick out the galleries you're most interested in. One downside to the museum is that the buildings, while connected, don't flow well. You have to make an effort to figure out which exhibits you want to see and figure out how to get there. While each gallery tells a complete story, the museum itself is broken up into chunks.
The museum is so big that they sell second-day tickets. We didn't need that, but we easily could have spent a few more hours at the museum, because there were a bunch of galleries we didn't see (we were there about 4 hours). That said, when visiting a museum with kids, there's a time limit on how long they'll pay attention (and that goes for my husband too).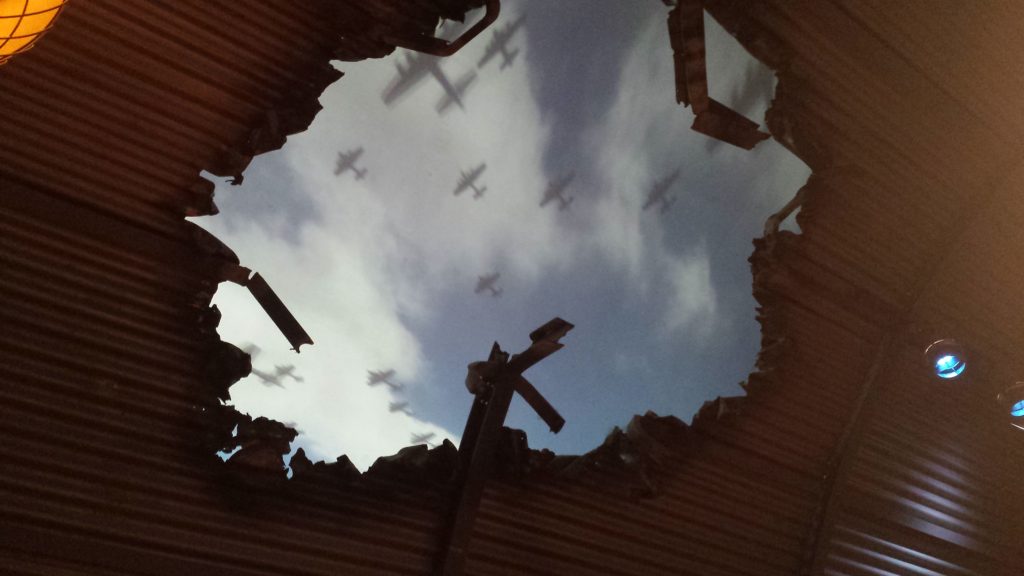 Bookstore/Gift shop
The museum has several gift shops throughout the campus. The main one, close to the entrance, also has a large bookstore. It's broken down, not surprisingly, into various categories, so if you're looking for a specific subject, like women in the military, you'll find a section. Speaking of women in the military, read D-Day Girls: The Spies Who Armed the Resistance, Sabotaged the Nazis, and Helped Win World War II by Sarah Rose (signed copies available at that link). It's a great book, and she recently spoke at a conference at the museum (June 1944: The Month That Changed the World).
Look for other things to do in New Orleans with this travel guide.
What: National World War II Museum with kids
Where: 945 Magazine Street, New Orleans
When: Open daily 9-5, except for Mardi Gras Day, Thanksgiving Day, Christmas Eve and Day
Tickets: $18-28.50 ages 5+, depending on age and category. Free for WWII veterans.
Disclosure: The National World War II Museum provided complimentary admission tickets for purposes of this review. All opinions are my own.