Love it or hate it, The Vessel in Hudson Yards is attracting a lot of attention. Opened in March, 2019, a steady stream of locals and tourists are visiting the interactive artwork by Thomas Heatherwick, to climb the interior staircases or to gawk from outside.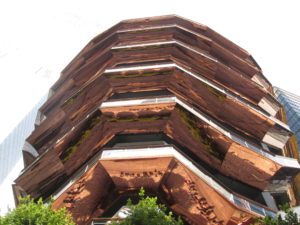 We visited in September, getting tickets a few days before. You can enter with timed free tickets (they book up in advance), or pay $10 for enter on a specific day, no time requirements. This is the option we chose. There are electronic ticket kiosks on site, though they were so busy I wasn't able to get in there to see what option were given.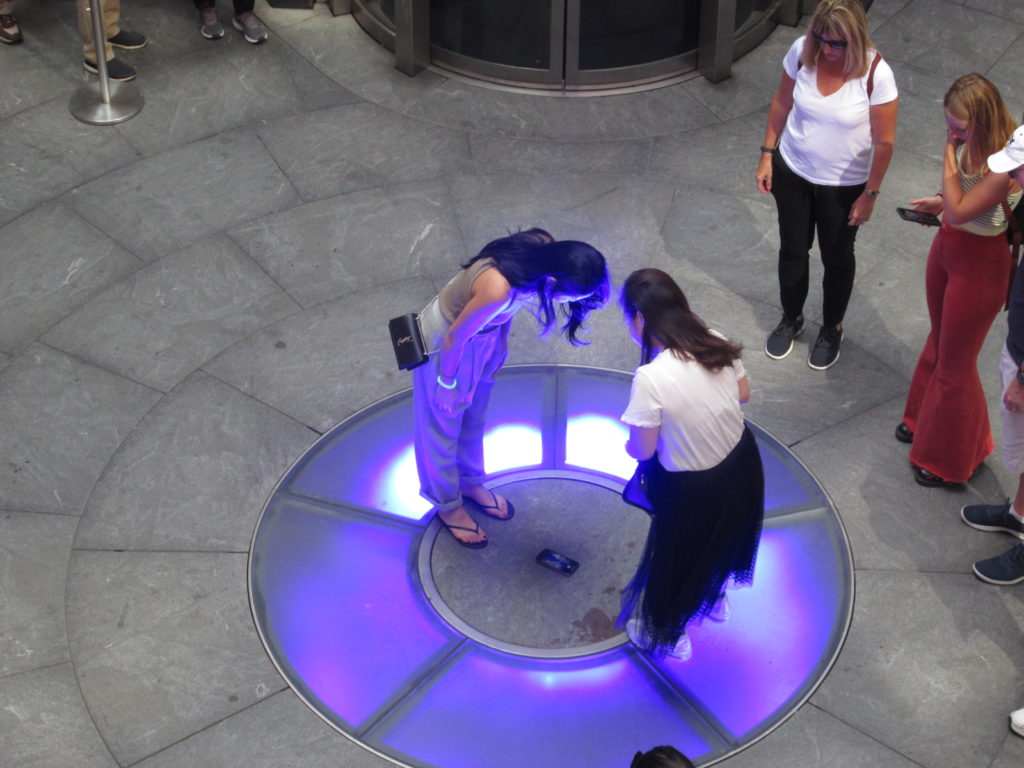 This blue light on the ground was in the center of the floor when we walked in. It's a popular selfie site, if you know how to your phone's timer (I don't) or if you have a selfie stick. The basic view you get is the photo below, but with your faces in it. I know, it's super exciting!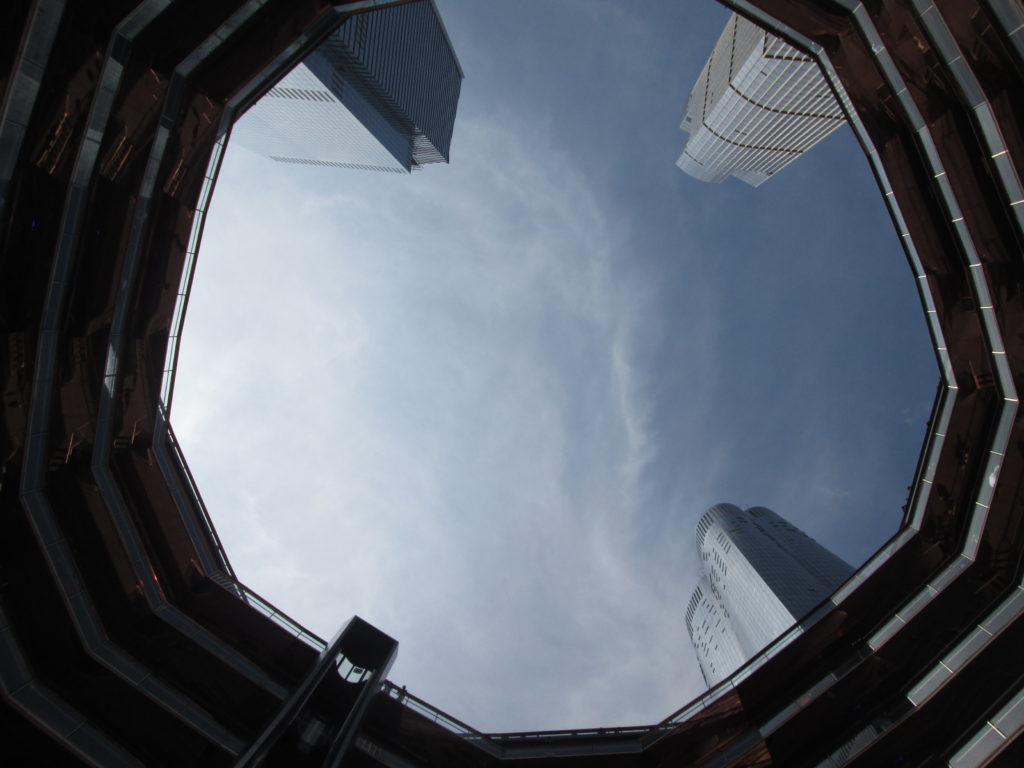 The question I get from many when I tell them we visited the Vessel, is whether there's an elevator. And there is. That's helpful to those who can't climb the stairs, but still want a view. There are openings at each level, but I only saw the elevator go to the top and then back down.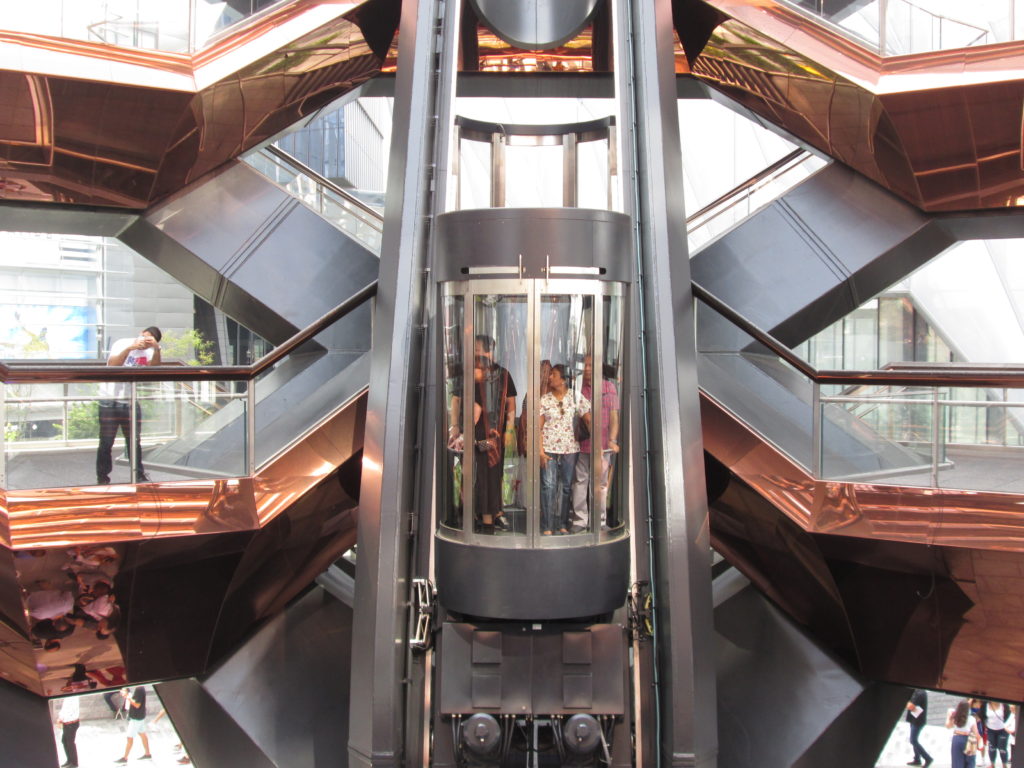 The Vessel elevator track itself is fascinating, as it curves, which you can see in the photo below.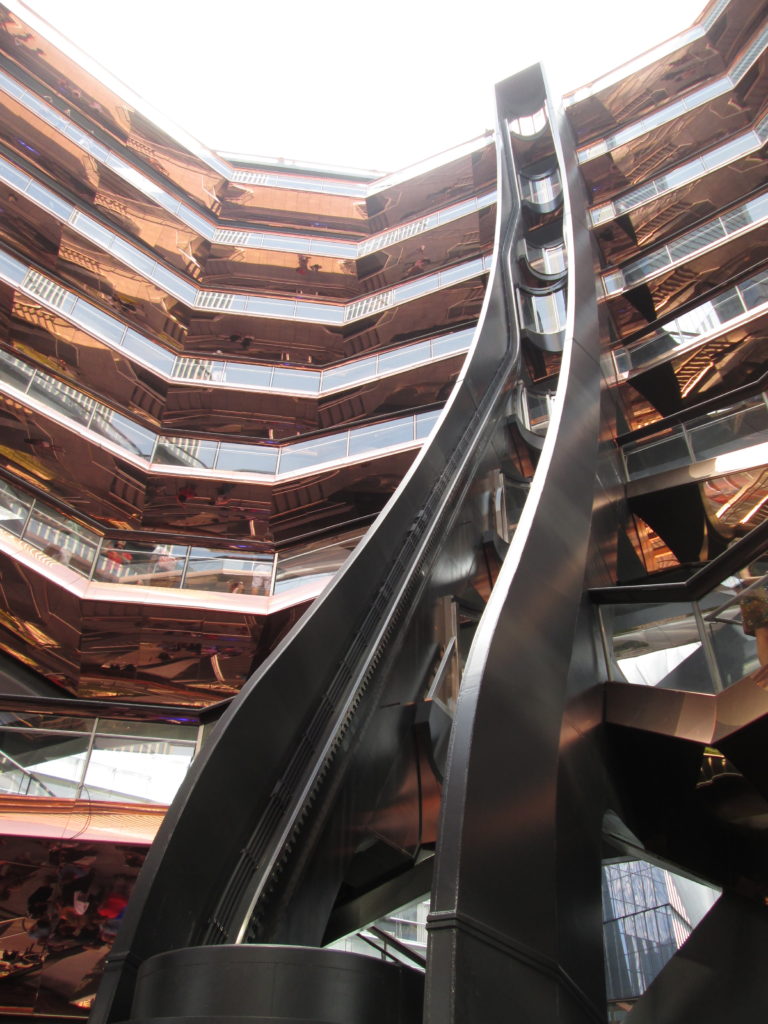 Some statistics about the Vessel at Hudson Yards
–154 interconnecting flights of stairs
–almost 2,500 individual stairs
–80 landings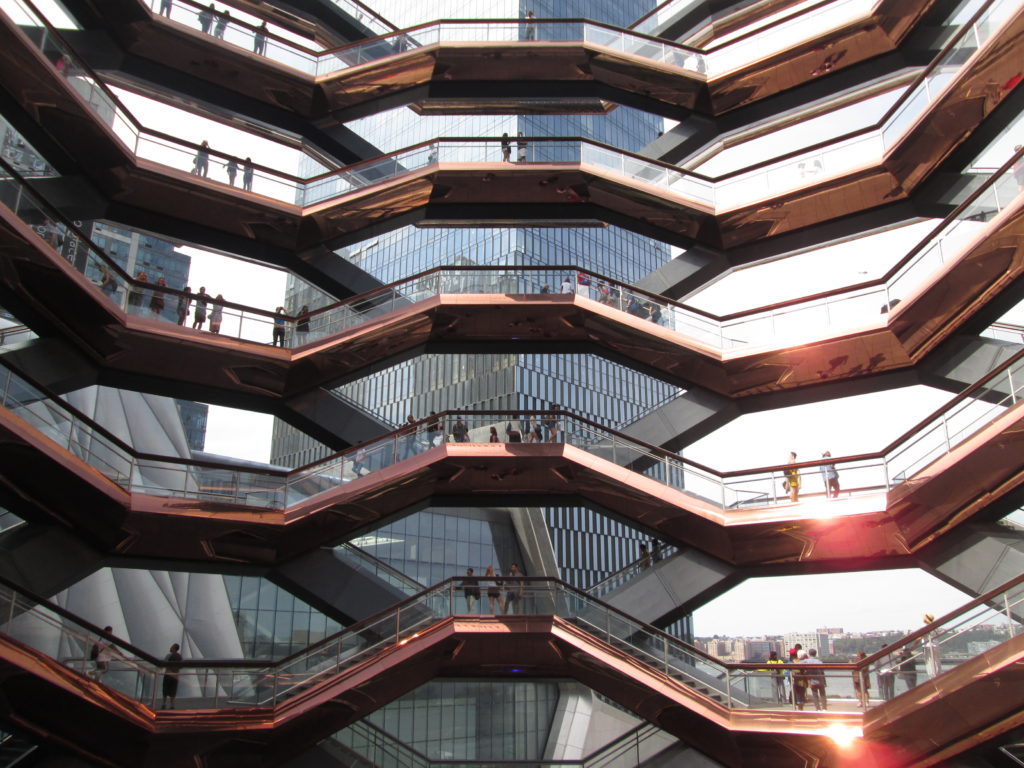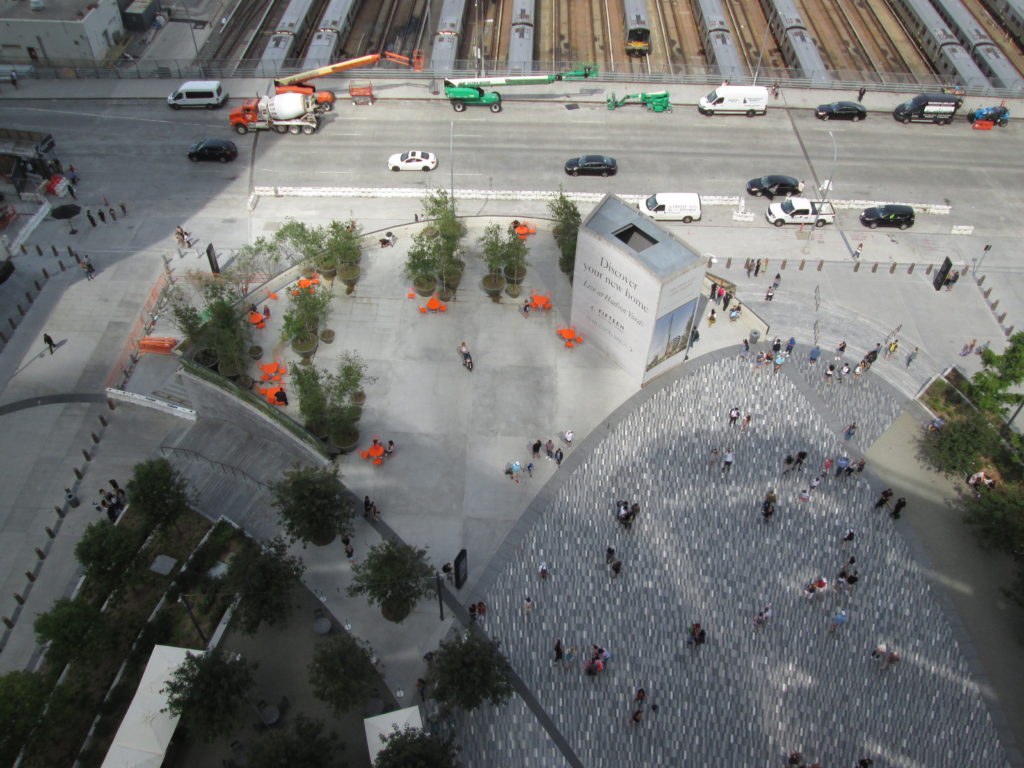 The Vessel and Hudson Yards came under controversy when it opened, with a copyrights-grabbing policy (not posted on site, but only online) saying they could use any photos anyone took of the Vessel and do whatever they want with them. After public outcry, they changed the policy, though it still gives them rights to use the photos, but does not own them. Here's more in the New York Times. I don't love their new policy either, but they're welcome to share the link to this blog post!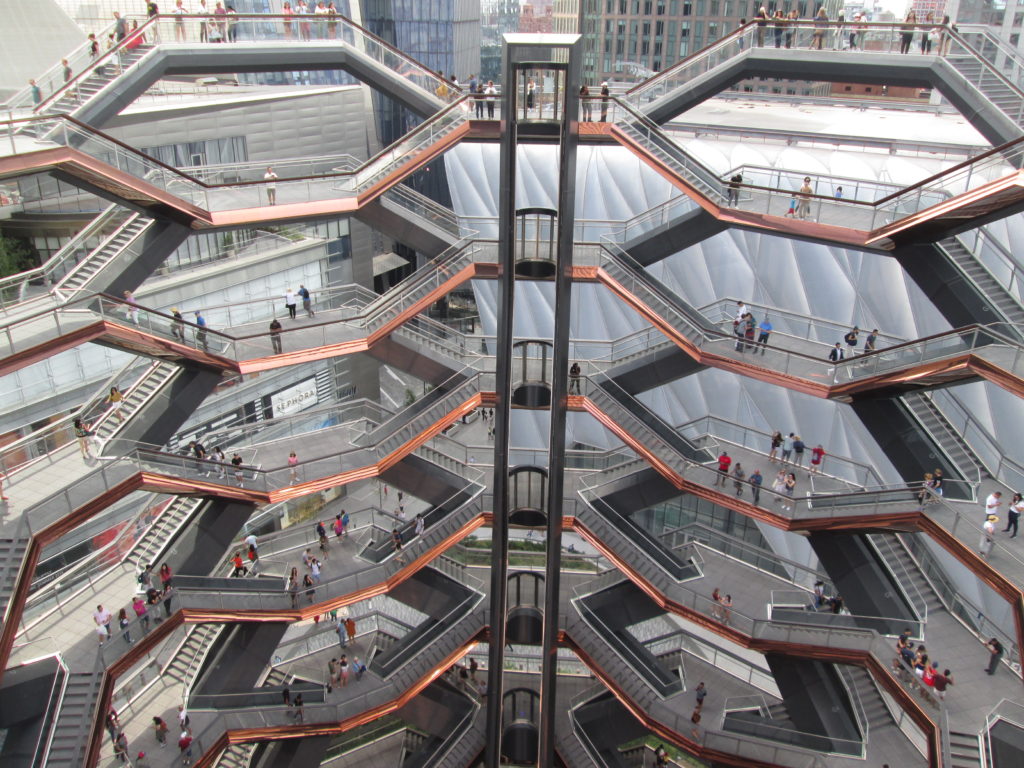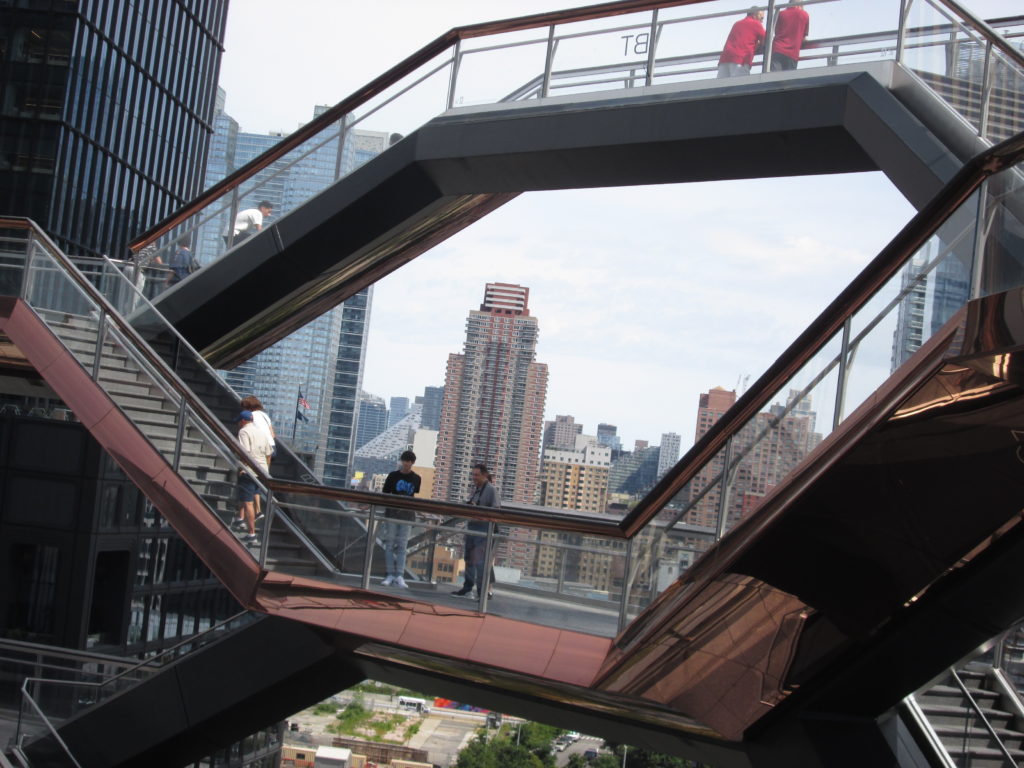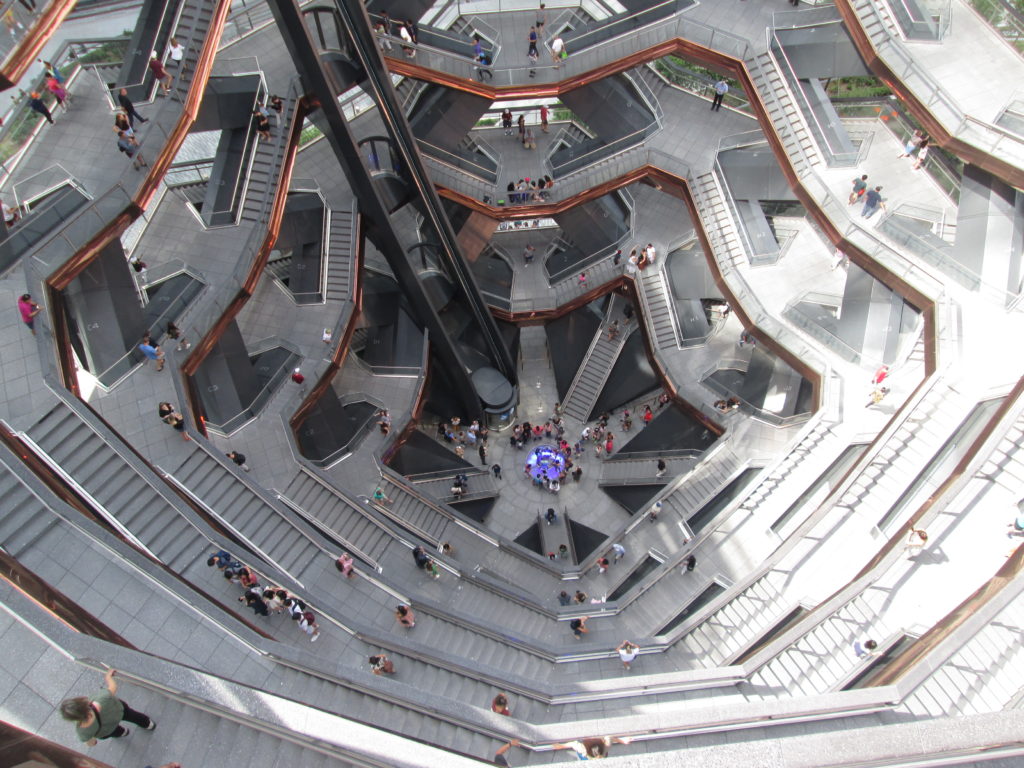 When we got in line, it snaked halfway around the Vessel, but the line moved quickly. We waited probably no more than 5 minutes. They scanned our tickets, but did not check bags or make us go through any metal scanner, which surprised me. Once inside you can spend as much time in there as you want. We probably spent 30-45 minutes which was plenty. Aside from climbing stairs and looking at various views (and of course taking pictures) there's nothing else to do in there. Not a criticism, just a statement.
Next to the Vessel is the Shed, an arts space for performing and visual arts. The silver exterior is part of a canopy that can literally roll (look at the wheels at the bottom and in the photo below), doubling the space by rolling the shell out into the plaza. There's a great video of how the Shed works here. This photo shows the shed rolled out already.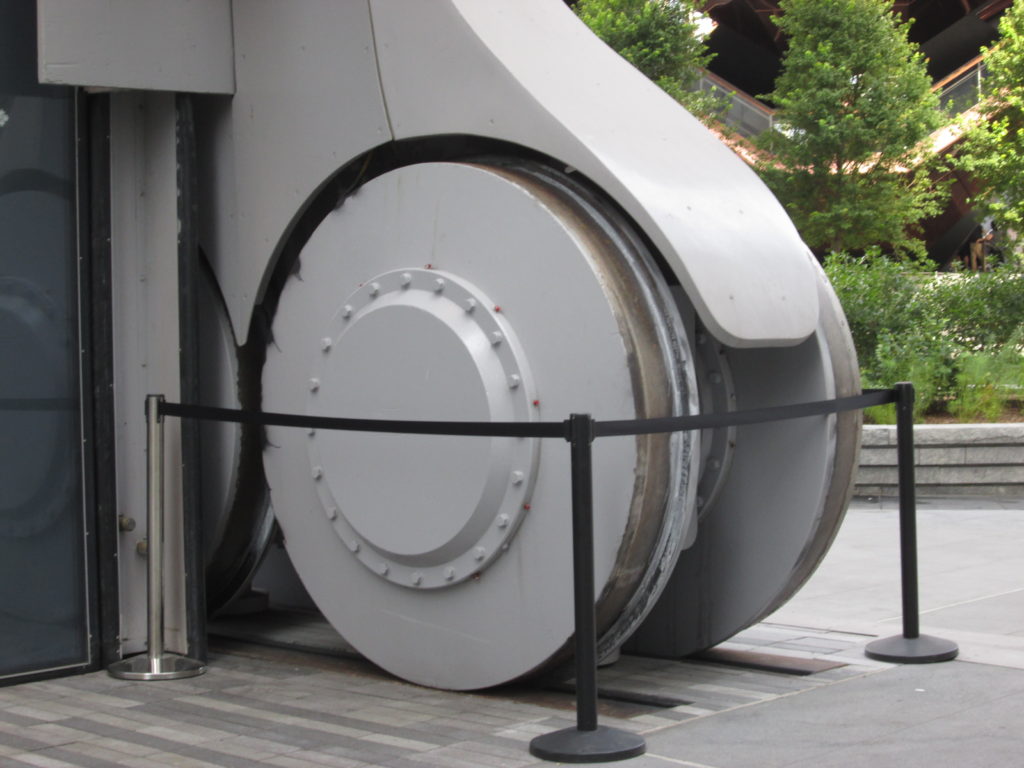 How to get tickets to the Vessel at Hudson Yards
There are 3 ways to get tickets to the Vessel
–Free same day tickets are available onsite starting at 9:30 a.m., first come, first served. They are for a specific time slot. Look for the kiosks in the area, and at Hudson Yards shops/restaurant area.
—Free tickets to the vessel can be reserved up to 14 days in advance. You will start getting Hudson Yards emails as a result.
–Flex tickets (what we bought) are available for $10 days for advanced planning up to 6 months in advance. You will start getting Hudson Yards emails as a result.
The Vessel is open 10 a.m. to 9 p.m. daily
The Vessel is between 30th and 33rd Streets, and 10th and 11th Avenues in Manhattan. It overlooks the Hudson.