Barney's theme this year is the Love Peace Joy Project. It features work from prominent artists you may or may not have heard of. More on that below. These windows were a lot of fun.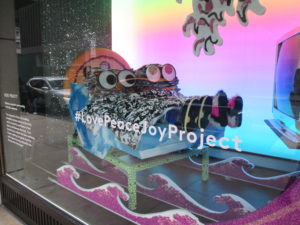 These first two photos are from Rob Pruitt's window creation. It features a couple in bed watching television, just as a tidal wave (not pictured) is about to hit them. If you look closely, you'll see the heads of this couple is made of colorful cardboard stacks. The googly eyes actually move and their headboard is pizza.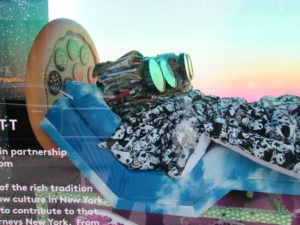 The next two photos are the window designed by Studio Job. Regular Jersey Kids readers will remember Studio Job from the review we did of the Museum of Art and Design exhibit this summer. While our review isn't yet written, Studio Job's fun wallpapers (seen below and also inside Barney"s – go in and look at the columns inside the main entrance) are also featured at the Cooper Hewitt museum in NYC.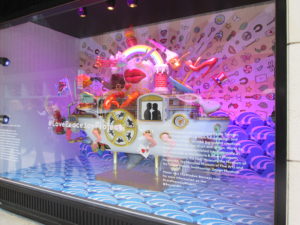 For the Barney's window, Studio Job created Love Boat, complete with the theme from the television show blaring out (my kids sadly didn't recognize this tune of greatness). It's a whimsical piece with a lot of moving parts.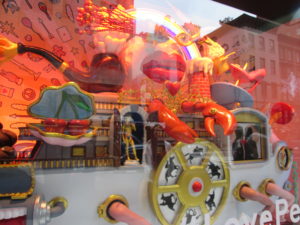 While I didn't capture every window for this post, we were delighted to find our South Park friends with audio commentary coming from the characters in the Trey Parker and Matt Stone-designed window. You can see them talking, thanks to projection mapping technology. They riffed on why shopping was terrible, and why people shouldn't buy expensive clothes. In a meta moment, they're busy looking into a holiday window at toys they want.
[ad name="Google Adsense-2″]
A friend asked me on Instagram if they used any curse words, and I couldn't remember. Another person commented that they did, but according to Barney's, the whole thing is G rated. So I guess that answers it!